Background
---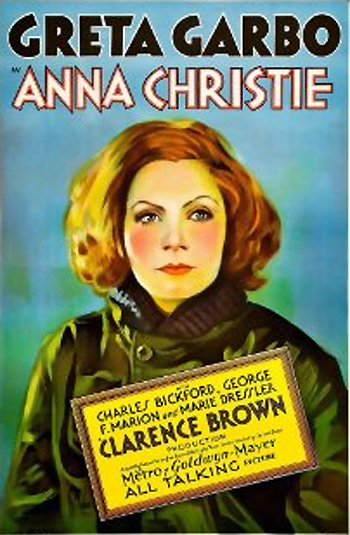 Anna Christie (1930) was advertised, in a two-word ad campaign: "Garbo Talks!" - in "Her First TALKING Picture" (and 14th film) for cinema's greatest silent star - an asexual, supercool Nordic beauty named Greta Garbo. As was the case with The Jazz Singer (1927) (the first feature-length film with audible dialogue), Bwana Devil (1952) (the first US 3-D film, also in color), and The Robe (1953) (the first film released in CinemaScope), Anna Christie (1930) achieved mostly-undeserved notoriety for being a classic milestone film when it was mostly a badly-acted, inferior work.
MGM Studios was quite concerned about their alluring, 24 year-old talented actress. She was one of their biggest stars, but she had a potential liability - her untested, heavy Swedish accent. Even after talkies were inaugurated in 1927, Garbo starred in more silents, e.g., The Single Standard (1929) and The Kiss (1929).
Many other silent stars had already failed or struggled to make the transition to the sound era - Nita Naldi, Vilma Banky, and John Gilbert (satirized in MGM's Singin' in the Rain (1952)).
Finally, the star's first talkie was carefully chosen for her, mostly because it perfectly suited her Swedish accent. And a familiar director Clarence Brown was also assigned to the film, having already directed Garbo in Flesh and the Devil (1926), and A Woman of Affairs (1928) (and later Anna Karenina (1935) and Conquest (1937)). The role Garbo would play, a sickly earthy prostitute, would be in sharp contrast to the glamorous characters she had already played in silent films.
The 74 minute, overrated and stagey, black and white drama Anna Christie (a down-to-earth version of the Cinderella tale) was adapted (by influential screenwriter Frances Marion) from Eugene O'Neill's play of the same name. It had earlier been a stage play, and had been filmed by producer Thomas H. Ince and director John Griffith Wray as a silent picture in 1923, with Blanche Sweet as the heroine, and George F. Marion in the same role that he played onstage (and in this version).
It received three Academy Award nominations (with no wins): Best Actress (Garbo), Best Director (Clarence Brown) and Best Cinematographer (William H. Daniels). Although the award category of Best Supporting Actress hadn't been established yet (until it awarded performances in films beginning in 1936), a nomination (and possible win?) would have been awarded for Marie Dressler's performance.
In 1984, a film directed by Sidney Lumet titled Garbo Talks (1984), used this film's slogan in a story about a woman whose dying wish was to meet her screen idol Garbo.
Plot Synopsis
---
In the film's plot, 20 year-old alcoholic ex-prostitute Anna "Christie" Christofferson (or Gustafson) (24 year-old Greta Garbo), a world-weary and ailing, man-hating Swedish-American, returned home to New York after a long absence (including being raised since the age of 5 on a Minnesota farm by abusive relatives and working in a St. Paul brothel for two years) to locate her estranged and embittered barge captain father Chris Christofferson (or Gustafson) (George F. Marion), the alcoholic skipper of a coal barge.
In the famed, immortalized scene that was about sixteen minutes into the film, she made her grand entrance into a NY Battery waterfront saloon from a foggy street. The bar's waiter held open the door to the Ladies Entrance as Anna struggled in, lugging an old, weighty suitcase. She shuffled over to a wooden table across from where her father's gruff boozing companion Marthy Owens (Marie Dressler in a comeback role) sat, and dropped her suitcase onto the floor. Anna took a seat in a chair, crouched down, and finally delivered her famous opening lines.
In a deep and husky, heavily-accented voice, she ordered:
Anna: Gimme a whiskey, ginger ale on the side. And don't be stingy, baby!
Waiter: (sarcastically) Well, shall I serve it in a pail?
Anna: (bluntly) Ah, that suits me down to the ground. (After the whiskey was served and downed) Gee, I needed that bad all right, all right.
She found a sympathetic ear from Marthy (who saw in Anna an earlier version of herself) and also fell in love with strong and brawny Scottish seaman Matt Burke (Charles Bickford), who initially had an idealized and romanticized view of her. Anna was forced to seek redemption and forgiveness after telling him and her father about her sordid past.