Background
---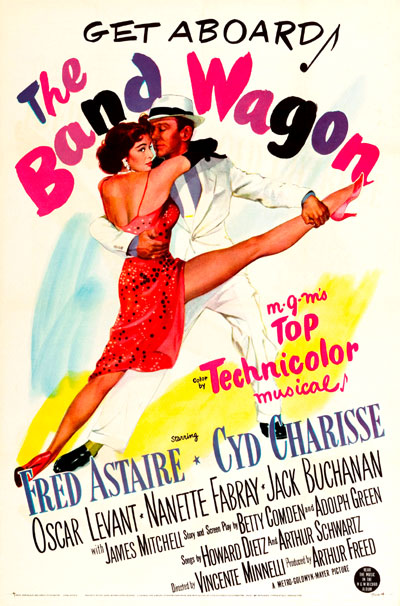 The Band Wagon (1953) is director Vincente Minnelli's and MGM's great movie musical (with Michael Kidd as choreographer) under the guidance of MGM producer Arthur Freed. The "backstage" movie musical was satirically self-mocking, and also took shots at show business and those who were involved in musical-dance productions. It was a light-hearted look at how an entertaining musical show could be foolishly updated, reinterpreted and rewritten as a highly-dramatic, ill-fated Faustian tale. At first, the resultant artsy and semi-dramatic musical product was a major flop, but then, through further revisions, it became a much improved and bigger musical hit. The film's insightful commentary illustrated the constant friction between two "genres" or art-forms of entertainment - serious drama and frothy musicals.
The vibrant film's witty screenplay by Betty Comden and Adolph Green presented a step-by-step survey of all the stages of putting on a theatrical musical production - scripting, assembling a collaborative team, financing, casting and auditions, directing, producing, and choreographing. All the preparations then led to rehearsals and out-of-town tryouts - hopefully followed by a successful opening night on Broadway. Its two taglines were:
GET ABOARD!
MGM's Top Technicolor Musical
The film's title was both the title of the Broadway show "within the film" and of the Dietz/Schwartz musical revue that appeared on Broadway in 1931. Fred Astaire had starred in the original Broadway show, thus identifying with the film's lead role of Tony Hunter even further.
The Band Wagon has often been thought of as Fred Astaire's best MGM musical, although it did poorly at the box-office (with a budget of $2.2 million, it lost approximately $1.2 million for the studio). Star Fred Astaire portrayed an aging, fading Hollywood musical movie star named Tony Hunter who was interested in a Broadway comeback as a sparkling, song-and-dance man. Astaire's portrayal was a clear reflection of his own movie career's changing times (at the age of 54), and mirrored some of the elements of his approaching voluntary retirement.
He appeared opposite talented prima ballerina partner Gabrielle "Gaby" Gerard (Cyd Charisse), with a romance that commenced with clashing egos and chaos until they united to spectacularly dance together. In their first film together, the duo performed "Dancing in the Dark" in Central Park and "The Girl-Hunt" balletic production number - a film-noiric satire of Mickey Spillane's pulp novels (with the characters of a private eye and dangerous femme fatale siren in a sparkling red dress). The two dancers also later co-starred (in their second and last film) in Silk Stockings (1957). Astaire also danced with a black shoeshine boy in "Shine on My Shoes."
This extravagant, Technicolored big-scale classic romantic comedy, that used color to convey emotions and feelings, marked an apex and pinnacle for backstage musicals after the major successes in the two previous years of MGM's An American in Paris (1951) and Singin' in the Rain (1952). It was the last of the lavish, elaborate, complex, and expensive original musicals, to be replaced mostly by adaptations of hit Broadway musicals.
Specifically written for the film was the well-recognized anthem song "That's Entertainment" - a hymn to show business that was sung and danced by the ensemble (Jack Buchanan, Oscar Levant, Nanette Fabray, and Fred Astaire) and also reprised at the end of the film. "The Girl Hunt" ballet was also composed specifically for the production. Comden and Green employed six already-composed songs from the original 1931-1932 Broadway musical revue - "The Band Wagon" (which also starred Astaire and his sister Adele in their last professional appearance together), created by the song-writing team of lyricist Howard Dietz and composer Arthur Schwartz.
"Dancing in the Dark"
"The Beggars Waltz"
"High and Low"
"I Love Louisa"
"Sweet Music"
"New Sun in the Sky"
Others of the film's over a dozen hit songs came from a variety of musical productions (also from Dietz and Schwartz), including:
"I Guess I'll Have to Change My Plan" (The Little Show, 1929 Broadway revue)
"A Shine on Your Shoes" and "Louisiana Hayride" (Flying Colors, 1932 musical revue)
"By Myself" and "Triplets" (Between the Devil, 1937 Broadway show)
MGM producer Arthur Freed realized, after his success with Singin' in the Rain (1952), that he could again reutilize and 'borrow' older songs from previous musical revues or shows and package them into another 'backstage' musical.
It had only three Academy Award nominations (with no wins), including Best Musical Score (Adolph Deutsch), Best Original Story/Screenplay, and Best Color Costume Design.
Plot Synopsis
---
Opening Title Credits:
The title credits were presented by super-imposition over the image of a black top hat, gold tipped black cane, and white gloves, styishly displayed and arranged within a rectangular frame. [Note: A similar image was shown in the title credits for Top Hat (1935), also starring Fred Astaire.]
| | |
| --- | --- |
| The Band Wagon (1953) | Top Hat (1935) |
Opening Sequence - Auction of Movie Memorabilia:
The objects that were framed in the title credits became an essential element of the opening sequence. An auctioneer (Douglas Fowley) from Bullwinkle Galleries in Los Angeles was attempting to sell the "personal effects as used in his starring roles" of famed movie star Tony Hunter (including his furniture, rugs, antiques, silverware, bric & brac, etc.). He called it "a red letter day" for the bidders as he began with Lot 94.
He held up the mementos from an earlier era - Tony Hunter's (and star Fred Astaire's) iconic top hat and cane that the actor had allegedly used in Swinging Down to Panama. [Note: This was an obvious in-joke reference to the title of the first Astaire/Rogers film Flying Down to Rio (1933).] He resigned himself to pathetically begging for "anything" for the lot:
Yes, ladies and gentlemen, we are in luck today here in Los Angeles. Through the years, the Bullwinkle Galleries have brought up for auction many collections of the personal effects of your famous movie stars. But today, today is indeed a red-letter day. The personal effects of Tony Hunter! Lot 94. Ladies and gentlemen, let's start out with Lot 94. Some of the potpourri of Mr. Hunter's own personal costumes that he used in his famous dancing-singing pictures. Remember this? Perhaps the most famous top hat and stick of our generation. Yes, the one he used in Swinging Down to Panama and all his other famous pictures. Let's start with $5. Do I hear $5? It's worth a lot more. All right. Let's start with $2. Well? 50 cents? Anything?
Aging, Washed-Up Actor/Dancer Tony Hunter Returning East to Broadway:
A Twentieth Century Limited, all-Pullman express train only 20 minutes from its arrival in New York City was carrying Tony Hunter (Fred Astaire), a middle-aged star who had left Broadway decades earlier to make movies in Hollywood. In the train's club car, he hid his face behind a red magazine cover, as he listened to two fellow passengers criticizing movie stars in "Sunny Cal." They mentioned fading Hollywood movie star and "singing-dancing fella" Tony Hunter (known for his top-hat, cane and tails acts as "the grand old man of the dance"), who hadn't made a movie in three years. Tony revealed himself during their conversation and joined in, and jokingly admitted that he was outdated and in a slump as a "has-been" whose popularity was waning:
Passenger: Well, he was good 12, 15 years ago, but the columnists out there say he's through....
Tony: Through? He's washed up. Hasn't made a picture in three years.... That Tony Hunter's a has-been....I wouldn't go to see him if they gave away $5 bills with the ticket....The funny thing about what you're saying, boys, is that it's absolutely true.
He offered each of them an "exploding cigar" as he walked off - leaving both of them stunned. He retreated to the cozy safety of his private sleeper-suite just before the train arrived at the Grand Central Station platform. He asked his porter if he could remain on the train overnight: ("You couldn't just make up my berth for the night here, could you?"), but then arranged for his nine pieces of expensive luggage to be taken by taxi to the Plaza Hotel.
A mob of reporters and photographers were awaiting a "big shot" - one of the departing passengers surmised it might be a movie star. On the platform, he spoke briefly to a group of friendly, awaiting newsfolk who calmly recognized him, and non-chalantly thanked them for "the red-carpet bit." Variety had printed a story about how he was interested in a revitalizing comeback in NYC after being in movie musicals for years, in a Broadway show being planned by Lily and Les Marton.
As he talked to them about being in town to be in "a different medium," they suddenly turned away and ignored him and instead favored the arrival of Ava Gardner (as Herself in a brief cameo), who was disembarking. She was gracious enough to pause briefly and speak to Tony for a few moments. A bit wounded but also amused by the brush-off, Tony performed the melancholic solo song "By Myself" as he strolled down the railroad platform to the exit, and nostalgically sang about his own career, changing times, and how he was facing "the unknown" as a performer past his prime:
I'll go my way by myself like walking under the clouds
I'll go my way by myself all alone in a crowd
I'll try to apply myself and teach my heart how to sing
I'll go my way by myself like a bird on the wing
I'll face the unknown I'll build a world of my own
No one knows better than I, myself I'm by myself alone
Tony's Proposed New Part in a Broadway Show Scripted by the Martons:
As the deflated Tony left the train station on foot, he was surprised to be greeted by enthusiastic members of his Fan Club with signs and noisy cowbells. Actually, there were only two members of the 'club' - they were his good friends Lily and Lester Marton (Nanette Fabray and Oscar Levant), a Broadway-show writing couple. They had only learned about his unexpected arrival by his agent in California. The two presented Tony with the script for a new stage show that they had written - "the best thing we've ever written." There was a lead part for Tony in a comeback role, and they would also perform in their own play.
[Note: Director Minnelli claimed that the fictional Martons were based upon the film's actual screenwriters, Comden and Green, who were not married. He stated: "It was a great coup to get them to write the screenplay, and they proceeded to satisfy themselves."]
On the group's way down a crowded and bustling sidewalk on 42nd Street to Sardi's for dinner, Les and Lily divulged that their new, light-hearted stage musical (known as 'The Band Wagon') was to be directed by the hottest new actor-director Jeffery Cordova (Jack Buchanan) in town. They both promoted his abilities ("He can do anything"), although he had never directed a musical comedy. He was currently starring in a new adaptation of Sophocles' Oedipus Rex:
This genius directed Man in a Mousetrap, The Lost Nymph, and did them both while starring in Oedipus Rex. He's got three hits running, and he's starring in one of them....This fella's fabulous, phenomenal, fantastic! He can do anything....He's theatre. He's a new kind of theatre man, Tony. The theatres changed. Lots of things have changed.
Tony had never heard of Cordova and also didn't recognize 42nd Street after so many years, since it had now been more cheapened: ("What's happened to 42nd Street? I just can't get over it. I just can't understand it. This used to be the great theatre street of the town. The New Amsterdam. I had one of my biggest successes there. Ran a year and a half....Sttrictly carriage trade, you know what I mean, nothing but the finest").
[Note: Tony's mention of The New Amsterdam Theatre was a 'real-life' memory. Astaire had starred in the Broadway musical revue The Band Wagon that opened at the New Amsterdam Theatre on June 3, 1931. However, it closed in 6 months - on January 16, 1932 - not in a year and a half.]
As Tony spoke, he was framed between two lobby cards:
MONEY TALKS
JOURNEY TO LOVE
Their thematic juxtaposition as polar opposites suggested that the two antithetical elements were necessary to insure the success and survival of any entertainment product (theatrical production, movie, etc.) - financial profitability and artistic quality.
After Lester suffered a minor leg injury by colliding with a pedestrian and then crying out: "I can stand anything but pain," Tony suggested that Les and Lily grab a cab to take to the restaurant, while he continued his stroll and would meet up with them later. In a garish and colorful Penny Arcade that was erected on the site of the Eltinge Theatre where Tony had performed at the start of his career, he was given an unwanted hot-dog by a vendor that he handed to a disinterested young boy. He noted various exhibits, displays, and games, and tried a few of them:
THE GORILLA'S BRIDE (an exhibit)
ARE YOU A HOT SHOT? TRY YOUR SKILL
KNOCK 'EM OVER
ELECTRICITY IS LIFE
MADAME OLGA - PREDICTIONS
ACES - AND KEEP A STRAIGHT FACE
TEST YOUR LOVE APPEAL
He took two fortune cards from a mechanical gypsy Madame Olga, cheated on the "Aces" electronic solitaire arcade game by tilting the machine, was told that he was "GORGEOUS" by a "Test Your Love Appeal" game, and was dismayed to view himself in a distorted fun mirror. As he continued wandering around, he stumbled over the outstretched legs of a black shoeshine boy (Leroy Daniels). He was inspired to sing: "A Shine on Your Shoes" - as he submitted his shoes for a shining - accompanied by a strong musical beat. After ascending into the shoe-shine boy's chair, and while he was submitting to the shoe-shine, he effortlessly lifted himself up on the chair's arms and kicked his feet forward into the air.
When you feel as low as the bottom of a well and can't get out of the mood
Do somethin' to perk yourself up and change your attitude
Give a tug to your tie Put a crease in your pants
But if you really want to feel fine give your shoes a shine

When there's a shine on your shoes there's a melody in your heart
With a singable happy feeling a wonderful way to start
To face the world every day with the deedle-dum-dee-dah-dah
A little melody that is making the worrying world go by

When you walk down the street with the happy-go-lucky beat
You'll find a lot in what I'm repeating When there's a shine on your shoes
There's a melody in your heart What a wonderful way to start the day...
Middle-class patrons (the extras) in the background, with whom he did not dance, constantly moved around him or stood and watched as he floated around the entire arcade. The film emphasized that shining up one's identity and appearance was a way to perk up one's mood and bring a 'melody' to one's heart.
After the song, Tony continued to dance with increased vitality around the various arcade booths - repeatedly singing about how he was magically shined up: "I got a shine on my shoes, I got a shine on my shoes..." With his newly-shined, enlivened shoes (and personality), he began to show mastery of the arcade games that had previously frustrated him. He took pictures of himself in a 25 cents Photomatic booth, and at another stand, he wound up his arm to throw a baseball at a stack of cans (that magically flew off on their own).
He returned to a mysterious '?' arcade box, where he accidentally - and metaphorically - electrified the arcade game that exploded like a calliope, with fireworks, flags, lights, streamers, and golden horns with steam. The box played the patriotic song: "National Emblem March" - composed and published in the early 1900s by Edwin Eugene Bagley. Afterwards, he again paired up with the shoeshine boy for another energetic dance duet.