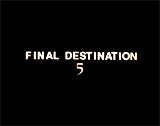 Final Destination 5 (2011)
In this fifth installment of the gimmicky Final Destination series (from 2000 onwards) about the inability to cheat Death, there was a continuing series of bizarre and freakish death scenarios of survivors. The deaths - revealed in a major plot twist - were actually the prequel to the first film in the series.
Employees of the Presage Paper company were being transported across a bridge on a bus bound for a company retreat when one of the passengers Sam Lawton (Nicholas D'Agosto) experienced a premonition of the North Bay Bridge (Lions Gate Bridge in Vancouver) suffering a catastrophe after high winds, causing many deaths. He and seven others escaped before his premonition came true - a spectacular almost five-minute sequence of the bridge's collapse.
Thereafter, the eight survivors experienced a wide array of gruesome deaths, some enhanced by the effects of 3-D:

Candice Hooper


Isaac Palmer

Olivia Castle
Candice Hooper (Ellen Wroe), Peter's girlfriend, an intern and gymnast, her bones and body were pretzelized in a jump off gymnastics equipment
Isaac Palmer (P.J. Byrne), he was impaled with acupuncture needles and crushed by a Buddha statue in a Chinese Massage Spa
Olivia Castle (Jacqueline MacInnes Wood), a promiscuous and flirtatious office assistant, her eyeball was burned during laser eye surgery when the mechanism malfunctioned and overheated, then she fell out a window onto a car's windshield a few stories below and had eyeball squished by apassing car

Nathan Sears (Arlen Escarpeta), the factory supervisor, accidentally killed construction worker Roy (Brent Stait), who was pushed backwards and impaled in the chin by a giant construction hook


Dennis Lapman (David Koechner), the company boss, a stray wrench was propelled by a belt sander into his head (eyes and skull)
Peter Friedkin (Miles Fisher) was impaled in the back by cooking skewer metal spikes in a meat pit oven - killed by Sam Lawton (Nicholas D'Agosto)
Molly Harper (Emma Bell), Sam's girlfriend, was sucked out of the side of the fuselage of a crashing plane (Flight 180, bound for Paris) and bisected in half by the wing
Sam Lawton was burned to death in flaming plane crash
Nathan Sears was crushed by flaming jet landing gear while in bar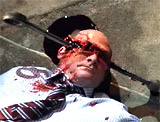 Dennis Lapman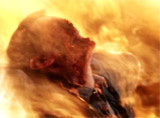 Sam Lawton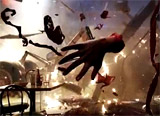 Nathan Sears