Background
---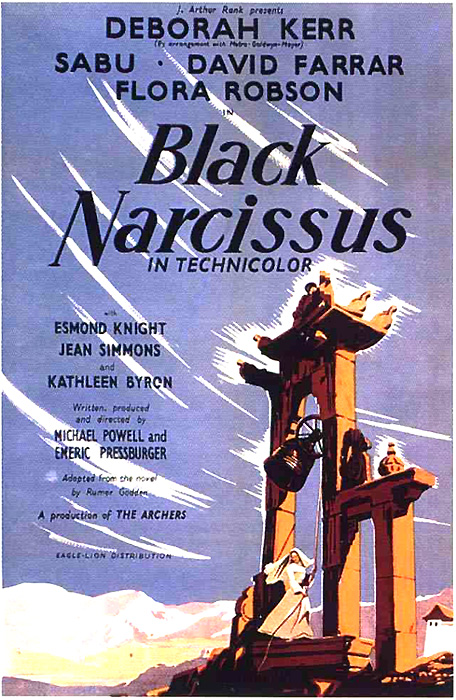 Black Narcissus (1947) is a provocative, dazzling and rich-colored psychological-religious and sexual drama from the legendary partnership duo of the 'Archers': British director Michael Powell and scriptwriter Emeric Pressburger. With breath-taking imagery and Technicolor cinematography, it told about the ill-conceived mission of a group of five repressed Anglican-British nuns to a cliff-top Himalayan palace (with a village school and hospital infirmary) once used as a pleasure palace, to administer education, health care and other civilizing services to the backward and immoral natives. The spiritual and erotic melodrama (with Oscar-winning cinematography by Jack Cardiff) from the UK was based on the 1939 novel by Rumer Godden.
The compelling and subversive story of lustful passion and jealousy was told through intense imagery and charged plot threads or themes (asceticism vs. eroticism, or the flesh vs. the spirit). Some reviewers have also interpreted the film as a criticism of British colonialism and imperialism that was actually declining in the post-war era. In fact, the British granted India independence in the same year that Black Narcissus was released, and British colonialism was decreasing.
It commented upon the idea that the good-intentioned but world-denying nuns had been unnecessarily dispatched to rescue and bring much-needed services to the natives, and to 'convert' the locals to their restrictive world-view of rewards found in the after-life. However, the strange atmosphere of the locale 'exaggerated' their increasing number of problems and exotic urgings that they could not understand, repress, control or overcome.
The film's title 'Black Narcissus' (although with many other allusions) referred directly to an expensive, imported brand of pungent cologne from London, that was favored by the Young General character. Its secondary meanings were references to (1) an exotic type of flower, (2) the dark quality of narcissistic behavior, and (3) the handsome Greek mythological figure who perished due to his own obsessive vanity.
The film's main tagline was:
A STORY OF FASCINATING ADVENTURE in a Strange and Beautiful Land!
The pioneering film was mostly shot on a British sound stage (utilizing glass shot painted backdrops and miniature models), although the film convincingly transported the viewer to the remote and forbidding setting - a donated exotic sultan's dilapidated palace (once a bordello for concubines) with a bell tower on the edge of a 9,000 ft. precipice. The locale aroused dormant feelings and subliminal sensual desires in many of the nuns. The missionary effort was led by devout and pious Sister Clodagh (Deborah Kerr), the Sister Superior, who was being haunted and tormented by memories of a past lover in Ireland.
One of the unstable, sexually-conflicted and troublesome Anglican nuns, mentally-insane Sister Ruth (Kathleen Byron), was driven hysterical and mad by repressed and starved sexuality and jealousy after lusting for and being spurned by a government intermediary - the sexy yet cynical and very manly local British officer Mr. Dean (David Farrar). The free-spirited and attention-craving Sister Ruth became crazed for the property's handsome, swaggering British intermediary and virtually threw herself at him before a complete mental breakdown.
Amidst the atmosphere of the seemingly-ordered convent life were never-ending winds, mysterious tribal drum-beats, a questionable water supply, troubling skin conditions and illness (rashes and insomnia), dissonant culture clashes, a stoic and mute Holy Man, distracting exotic smells and sights surrounding the palace (flowers, gardens, music, vistas - the intoxicating world of the sensual), the effects of isolation and high-altitude mountains, and strange native rituals. In a sideplot, 'the Young General' Dilip Rai (Sabu), heir to the throne of the princely state, arrived at the convent to be educated, where he became infatuated with sexually-intriguing, lower-caste native dancing girl Kanchi (18 year-old Jean Simmons in her second major film role, in brown-face).
In the unnerving, climactic conclusion, Sister Ruth renounced her nunhood vows of celibacy with two symbolic statements: she adorned herself in a forbidden scarlet dress, and sensuously applied matching lipstick. She also exhibited spiritual warfare by attacking her rival Sister Superior Clodagh, who begged: "I know that you've left the order. I only want to stop you from doing something that you'll be sorry for." In the catharctic ending, when the jealous, vengeful and mad Sister Ruth confronted the Sister Superior, her intended victim was saved from death as she grabbed hold of the bell-tower rope after being pushed toward the precipice. Sister Ruth lost her own balance and fell to her death into the chasm during the lethal struggle.
The classic, taut and tense film also prominently displayed elements of horror, noirish expressionistic chiaroscuro photography, and dark fantasy with its lyrical vision of an enchanted Himalayan locale. It was noted for its theme of repressed sexuality within the nun's mission (located in a former brothel with sensual murals on the walls), where the nuns were sworn to their religious duties but fought off their nagging passions and temptations. It was controversial for a number of offending scenes and plotlines that were edited out of the film's original release of US prints, at the behest of the Catholic Legion of Decency.
The sequences that were excised included: (1) Sister Clodagh's four flashbacked and deeply-tormenting, buried inner memories of Ireland and her failed, unfulfilling emotional romance (symbolized by the deep chasm next to the convent), (2) some of the suggestive dialogue, and (3) the sequence depicting Sister Ruth's mad tirade and her application of carnal lipstick. Also, a disclaimer was added to suggest that the nuns were not Catholic but Anglican. The censored parts of the film were restored when the film was re-released in the US in the 1980s. Other controversial scenes included the provocative and censor-defying dance through the palace's painted bordello room by beautiful, alluring, orphaned local Indian maiden Kanchi. She later closed her eyes and sensuously smelled the perfumed essence (of black narcissus) of the Himalayan General's nephew.
The acclaimed film was criticized for its ethnocentric bias, given that two of the roles were in brown-face (Jean Simmons and May Hallatt), and that there was only one significant speaking role (Sabu as the Young General) played by a non-white European actor.
There were hints of two other nun-related dramas: director John Huston's Heaven Knows Mr. Allison (1957) - also starring Deborah Kerr as Irish nun Sister Angela on a tropical South Pacific island during the war, and The Nun's Story (1959) (with Audrey Hepburn as Sister Luke) who struggled with challenges to her faith.
The highly-praised film deservedly won both of its Academy Award nominations: Best Color Cinematography (Jack Cardiff), and Best Color Art Direction-Set Decoration.
Plot Synopsis
---
The title credits were shown over spectacular panoramic views of the summits of Himalayan snow-capped mountain vistas and its correlative deep bluish valleys.
The Appointment of Sister Clodagh to Take Charge of the Palace of Mopu:
At the Convent of the Order of the Servants of Mary in Calcutta (Bengal), India, the Reverend Mother Dorothea (Nancy Roberts) opened a letter, but before reading it, she viewed a stylized colonial engraved painting of "The Palace of Mopu" reprinted in a book. The open book rested upon stark black-and-white photographs of the present-day palace.
Sister Clodagh (Deborah Kerr), first viewed faceless and from behind, was summoned from her classroom (where she was instructing young female Indian students in mathematics), to speak to the Reverend Mother. The radiant-faced and graceful young nun was bluntly informed about a new proselytizing, imperialistic venture: "We may proceed with our plans at Mopu." By orders from the convent, Sister Clodagh would take charge and oversee the establishment of a new school and dispensary (hospital), to be known as Saint Faith, to be established at the Palace of Mopu in the Himalayas. It was notable that the inexperienced Sister Clodagh would be "the youngest Sister Superior in our order." Arrangements had been made with an agent at Mopu - an Englishman named Mr. Dean (David Farrar) - considered "a difficult man," who was introduced in a letter.
Mr. Dean's Letter of Introduction:
According to a letter to the Reverend Mother from Mr. Dean sent from the Mopu Estate in Darjeeling (Bengal), India, located in the Himalayan foothills, General Toda Rai of Mopu had offered the use of his deserted "old palace." The letter was read (with Mr. Dean's voice-over), informing the reader of the remote, windy, high-altitude setting and how to travel there. The house was introduced through Sister Clodagh's imagination as she listened - a visual tour of the area viewed the actual mountains, the palace, the local people, and a long white-haired, loin-clothed ascetic Holy Man. The palace in the hills north of Darjeeling was originally built by the General's deceased father General Ranjit Rai to house his harem of concubines, and its only current occupant was a slightly-odd caretaker named Angu Ayah, who lived there with "the ghosts of bygone days":
I understand the General has offered you the old palace at Mopu to make a school and a dispensary for the natives. It's not the first time he's had such ideas. He's asked me to tell you about the place and the people. It's not a comfortable spot, and it's at the back of beyond. First you have to get to Darjeeling, and then I have to find you ponies and porters to take you into the hills. Mopu is 8,000 feet up. The peaks on the range opposite are nearly as high as Everest. The people call the highest peak Nanga Dalle. It means the 'bare goddess'. I live down in the valley, out of the wind. So does the General, and so do the people. Mopu Palace stands in the wind on a shelf on the mountain. It was built by the General's father, to keep his women there. It's called a palace, but there may be a slight difference between your idea of a palace and the General's. Anyhow, there it is.

The people are like mountain peasants everywhere - simple, independent. They work because they must, they smile when they feel like it and they're no respecters of persons. The men are men - no better, no worse than anywhere else. The women are women. The children, children. Up on the mountain above the palace, we have our Holy Man who sits there day in and day out in all weathers. All the people around are very proud of him and bring him food and little offerings. The wind up at the palace blows seven days a week, so if you must come, bring some warm things with you. Nobody has lived there for a long time, except Angu Ayah who's always been there and stays on as caretaker. As a caretaker, she's a bit of a failure, but she's a faithful, dirty old bird and goes with the place. She lives there alone with the ghosts of bygone days.
The prologue (presented by the arrogant and cynical Britisher who had gone native) presented views of the other-worldly setting of the ambitiously-named Saint Faith, including close-ups of the smiling Asiatic faces of the area's inhabitants (whom he claimed were like ordinary people everywhere). A cold wind blew through the rocky sculptured structure that was perched on the edge of sheer walls on top of the angular mountain. The voyeuristic camera tracked around the dilapidated exterior of the palace with parched white stone that had fallen into decay, where a predatory hawk ("dirty old bird") fed on dead carrion. The ominous, deserted, eerie and run down 'palace' was infused with the profane and sinful atmosphere of the previous warlord's harem of concubines. The gloomy cloister's past eroticism and debauchery was displayed via colorful, erotic art-work of drawings, frescoes and murals portraying nearly-naked, big-breasted Indian maidens-goddesses on its disintegrating walls.
The entrance to the living quarters of the crazed, toothless and eccentric servant Angu Ayah (May Hallatt) was decorated with two vertical strips of fabric billowing and flapping in the wind as she pranced out when summoned by an invisible chorus of inner voices (concubine-music from the past?). The old crone caretaker paused and contemplated for a moment, and then ran to the central courtyard with a shallow, tiled circular pool of water, playfully baptized herself from a metal cup, and then continued to dance, scuttle and cavort through other rooms. In her aviary filled with empty bird cages, she communicated with her exotic feathered companions on perches.
The Old General's Preparations for the Nuns' Arrival:
She became excited and squawked when a trumpet heralded the arrival of an entourage, including Mr. Dean, who arrived riding bareback on a trotting miniature pony. Looking ridiculous mounted on such a small animal, he was wearing very skimpy shorts, a short sleeved shirt and floppy hat, and his knees were elevated on either side of the tiny beast, revealing his hairy, manly legs. The bearded Old General Toda Rai (Esmond Knight) wearing a red turban, an exotic red garment and white tights, was already seated inside the palace before a mirror, where he announced his enlightened ideas to Ayah:
I have invited some ladies to stay here at the house of women...It will not be in the least like old times. They are not that kind of lady at all....They are not coming for fun. These are nuns. Do you know what a nun is? They kneel and pray all day like the monks you invited last year. I'm going to give them this house to make a school and a hospital for the people.
Ayah was clearly irritated and disappointed that the new "lady" occupants would be fun-denouncing nuns - unlike the debauched consorts in older glory days who used to occupy the house when the General's father was alive. She was disdainful: "They kneel and pray all day like the monks you invited last year," and she argued against the unwanted need for a school and hospital for the locals: "You know nobody here wants a school, and I'm sure they don't want a hospital!... It was free last time, and nobody came!"
With dramatic flourishes and gestures, the Old General dictated orders to welcome the soon-to-arrive nuns, who would be assisted by his English agent Mr. Dean, and by the caretaker-servant Ayah:
To Mr. Dean: "Mr. Dean! You will receive them for me, and you will do everything for them that they want doing."
To Ayah: "You too. You will engage servants for them."
To both: "And you will both look after them until they care to look after themselves."
The European-leaning, beneficent potentate (an enlightened despot) had brought provisions of perishable sausage in large wooden crates: "They will eat sausages. Europeans eat sausages wherever they go. They will eat them when they come and until they can cook what else they want to eat." He gave Ayah an ultimatum as he departed: "Now remember, Ayah, if you give any trouble, you will be sorry." She screamed back: "I'm sorry now!"
She recalled mischievously, with Mr. Dean, as they gazed at a painting of the palace crowded with dozens of concubines (bathing and lounging), about how the previous experiment with monks (at the palace when it was transformed into a monastery) had been a short-lived disaster, lasting only five months. Both were skeptical and dismissive of the success of the Old General's mission and plan to transform the 'house of women' into an outlying British convent filled with high-minded, idealistic nuns:
Ayah: A convent in this house. What do you think of that?
Mr. Dean: The brothers only stayed five months. Perhaps the sisters won't stay long, either.
Preparations for the Sisters to Depart for the Palace:
In the Reverend Mother's study in Calcutta, the camera panned left over the curled collection of black-and-white photographs of the Himalayan setting for the Palace of Mopu, as she described it:
The house is 9,000 feet up, very cold, but good air. General Toda Rai, who has invited us to Mopu, has promised us every help. He was a little afraid when he learned that we are bound to our order only by yearly vows...For more than a century, to serve voluntarily has been one of the glories of our order.
The exposition revealed an important detail - the order of the nuns had to renew their vows yearly, and they only served voluntarily. With an overhead camera angle, the Reverend Mother and Sister Clodagh stood above the order of nuns assembled together in the dining hall below, who were filing in and sitting at a large cross-shaped table. The Mother Superior (with a fan's blade casting a blinking shadow on her face) advised Sister Clodagh about her new environment and the supervision of a team of other nuns for a year: "Remember, a community is not a class of girls. The sisters won't be easy to manage or to impress." She had selected four of the Sisters to accompany Sister Clodagh - each with a particular strength (that would each become their major weakness):
Sister Briony (Judith Furse) - large-framed and strong, "You'll need her strength"
Sister Philippa (Flora Robson) - green-thumbed gardener, "For the garden"
Sister 'Honey' Blanche (Jenny Laird) - sweet and kind, giggly, and positive-thinking, "She's popular, and you'll need to be popular"
Sister Ruth (Kathleen Byron) - problematic and possibly unmanageable
Sister Clodagh doubted the appropriateness of the fourth choice - Sister Ruth (who was conspicuously absent from the dining hall - a camera shot revealed her empty seat), since she suffered from poor health, and her commitment to the Order was also questionable and uncertain: "Sister Ruth is ill....Do you think our vocation is her vocation?" The Mother Superior explained her choice of the troubled novitiate. She also warned that Sister Clodagh might become lonely, and point-blank expressed her clear doubts about young Sister Clodagh's maturity or readiness to handle Sister Ruth and her entire assignment:
Yes, she's a problem. I'm afraid she'll be a problem for you too. With a smaller community, she may be better. Give her responsibility, Sister. She badly wants importance....Spare her some of your own importance, if you can....I don't think you're ready for it, and I think you'll be lonely.

Never forget, we're an order of workers. Work them hard. And remember, the superior of all is the servant of all.
She had stressed the main belief of the order - that hard work and toiling was the way to salvation, since it kept the mind from frivolous, earthly distractions. Sister Clodagh was determined to prove her worthiness ("I understand") since it was her first leadership assignment. The sequence dissolved slowly to blackness.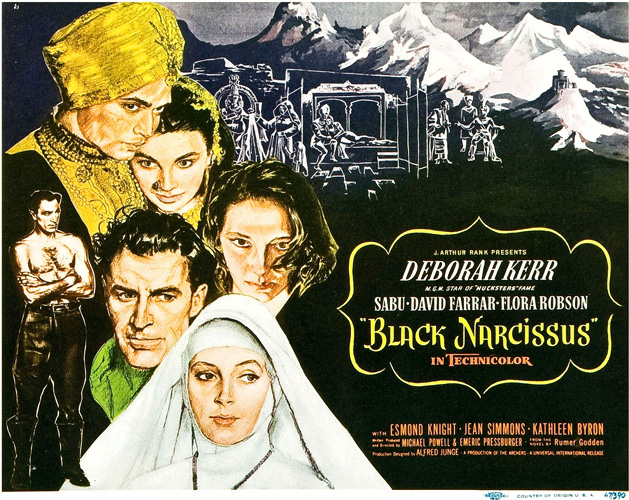 At the Palace of Mopu:
[Note: It was assumed that off-screen, the nuns had set themselves up at the palace after a strenuous uphill journey and assistance from Mr. Dean.]
The arrival of the nuns was visualized by Sister Ruth bursting open two solid wood doors of the palace, and in the wind-blown environment, approaching the imposing bell-tower at the edge of the mountain. As she stood under the giant bell, she pulled on the bell-tower rope to signal their presence to serve the people. A pair of horns also sounded over the valley.
The aging Sister Philippa (with dirty fingernails) complained about the inhospitable climate and weed-infested garden as she looked at an illustrated book on vegetables (radishes, onions, tomatoes and lettuce), and then was compelled to turn back to a page of colorful and exotic flowers:
The whole garden's so terribly overgrown, I don't know where to begin!
There seemed to be disorder and chaos as the nuns struggled to adapt and acclimate to their new environment - and to the overwhelming response to their arrival. Unlike the previous missionary effort when everything was free and nobody came (as Ayah had remarked), the nuns couldn't cope with the onslaught. She was interrupted by Ayah (who called Sister Briony a "fat lady"), to alert her to both the school and dispensary that were full of villagers. Sister Blanche was assigned to supervise a "lay school" - which was already "overflowing" with students. She was to be assisted by three young girls sent by the General. Joseph Anthony (Eddie Whaley Jr.), the pre-teen son of the General's cook, had also just arrived to provide interpretive services for Sister Clodagh. She was shocked when he told her: "I have my books and my bedding outside. I shall live here with you."
Sister Blanche was also frantic about the school's unpreparedness:
Sister, the schoolroom is overflowing with children. We've nothing unpacked yet. No one understands the language. There are too many of them anyway, and they smell. I don't know what to do with them.
The Sisters were also dismayed to learn through young Joseph Anthony that the villagers had been paid by the General to attend: "They won't go away....They were paid to come, so they can't go away." And then Sister Briony from the dispensary burst in with similar news: "The General's clerk has orders to pay everybody who comes to my dispensary. So, of course, they all want to come." Obviously, to make this venture a success, the Old General had persuasively bribed the locals to visit the school and dispensary.
[Note: It was ironic that the success of the nuns' mission was dependent upon a number of flimsy premises: the donation of the ex-bordello palace for the convent, the services of a young child interpreter, the bribery of the locals to attend, and the nuns' own ill-suited lack of skills to survive in the demanding environment. It would later be revealed that the lessons in the school were entirely irrelevant and useless, and the medicinal treatments were ineffective and viewed as "magic."]
Although Sister Blanche was enthusiastic about the idea of hordes of locals who had arrived to be schooled, Sister Ruth condescendingly criticized her compassionate optimism about the situation and downplayed how she would persevere with rudimentary blackboard lessons taught to the "stupid" natives:
What can you do with them? They look very stupid to me. Remember, they can't speak a word of Hindustani or English.
It was the very first instance of Sister Clodagh expressing non-verbal upset with Sister Ruth.
Mr. Dean's Harsh Visit with Sister Clodagh:
A contentious and tense meeting was held between the General's agent Mr. Dean and the very wary and slightly haughty Sister Clodagh (with Sister Briony) who immediately sparred with each other. Although officially welcoming, the virile, rugged and scruffy Mr. Dean was sharp-tongued, saucy and rude with them during their initial stand-off. He immediately recognized that she took her role as 'Sister Superior' too literally and insisted on talking "business" and keeping her professional distance:
Sister Clodagh: We want to talk to you on business.
Mr. Dean: I didn't suppose you wanted to talk to me on anything else. (pause) Sorry. Perhaps that wasn't fair.
Sister Clodagh: Mr. Dean, you know that General Toda Rai has given us this house for a new foundation of our order. We very much appreciate it. It's very generous of him.
Mr. Dean: Yes. You'd like the General, Sister. He also has a superior being.
Sister Briony: Really!
Sister Clodagh: I don't know why you are being so rude to me, Mr. Dean. I have to talk business with you whether I like it or not.
Mr. Dean: Well, talk it then, and don't teach at me.
He was dismissive of the success of their Order, as he stood next to a Christian-cross statue in front of a bordello mural:
Mr. Dean: It's no place to put a nunnery, I can tell you that.
Sister Clodagh: Difficult, but not impossible. Nothing is impossible.
The Sisters were hopeful that their mission would be a success, in their domesticating efforts to establish "a dispensary, a school for children and a class for girls." He responded with cynicism and roguish sexual innuendo: "Good. You'll be doing me a great favor when you begin to educate the local girls, Sister." He explained how the reputation of the palace was as a "House of Women," where the General's father used to keep his consorts. Sister Clodagh stressed how the place would be transformed into the "House of Saint Faith."
He predicted that their efforts at a mission were futile and would fail, and that they would be leaving before the spring's monsoonal rains - due to his knowledge of previously-failed experiments at Mopu.
Late Night Doubts About the Mission:
After a dissolve, tribal drumming was heard that evening in the wind-blown, inhospitable palace as both Sister Clodagh and Sister Briony restlessly couldn't sleep in the bluish light of the moon. Medically-trained Sister Briony met to discuss her concerns about Sister Ruth's continuing infirmities, and also expressed doubts about their entire mission - echoing Mr. Dean's warning about their doomed enterprise:
Sister Briony: She has violent pains in her joints, a boil on her finger, and headaches. It's this wind. And they all seem so tired.
Sister Clodagh: It's the altitude.
Sister Briony: Our dispensary is more crowded than ever. This big house to look after and all the unpacking still to be done. And the plumbing's broken down again. What do you think, Sister? Perhaps Mr. Dean ---
Sister Clodagh: (interrupting) Certainly not. We can manage without Mr. Dean.
Sister Briony inspected Sister Clodagh's left arm and noticed her own skin rash of spots - an affliction among all the nuns, possibly caused by a contaminated water supply: "Every one of us has got them. There must be something in the water here that's very unhealthy." Even the natives had become very ill from the drinking water, including the General's heir, the Young General, and the drums were beating for him ("They beat all night while he's ill. If you hear them stop, he's dead"). The silent, contemplative Holy Man on the hillside sat meditatively staring forward - when suddenly the drum beat stopped.