Background
---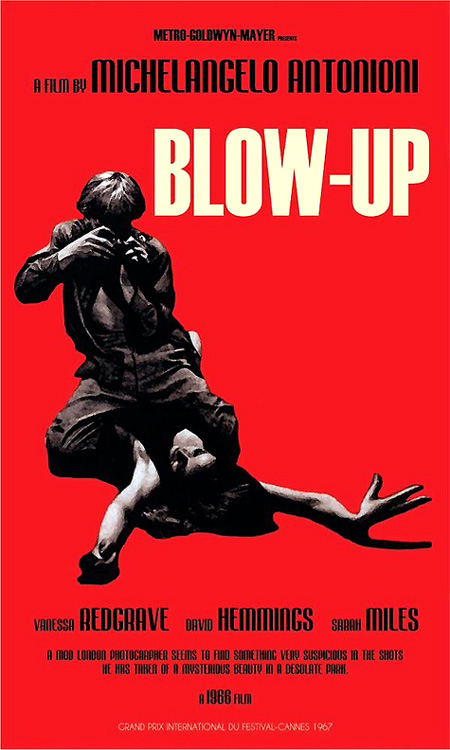 Blow-Up (1966) is writer/director Michelangelo Antonioni's view of the world of mod fashion, and an engaging, provocative murder mystery that examined the existential nature of reality interpreted and perceived through photography (and also via painting and pantomime). The central theme was that the mere presence of an observer of a phenomenon always altered the reality of the event due to perception (similar to the theme of Alfred Hitchcock's Rear Window (1954)). Antonioni's film strongly resonated after the intense frame-by-frame scrutiny received by the short Zapruder film of the Kennedy assassination in Dallas (November of 1963).
Two later films were directly and strongly influenced by Blow-Up: Francis Ford Coppola's The Conversation (1974) and Brian De Palma's Blow Out (1981), but both substituted the photographic aspect with the theme of sound.
The 111 minute arthouse film was set in mid-60s London, a locale fairly unfamiliar to the director, although well known at the time for its trends including the Beatles (and their mop-head hair-styles), stick-thin fashion model Twiggy, and the mod styles at Carnaby Street. The film's tagline was:
Antonioni's camera never flinches. At love without meaning. At murder without guilt. At the dazzle and the madness of London today.
This was Antonioni's second color film (after Il Deserto Rosso (1964, It.) (aka Red Desert)) and his first film in the English language, and it broke the four-film streak of Antonioni's films starring Monica Vitti (Red Desert (1964), L'Eclisse (1962), La Notte (1961), and L'Avventura (1960)).
It quickly became one of the most important landmark films of its decade, and was the director's first international box-office success, made on a small budget of about $2 million while grossing $20 million. It was also a milestone in liberalized attitudes toward film nudity and expressions of sexuality (reportedly the first British film to display full-frontal nudity), and forced changes upon the current MPAA rating system.
Co-writer Antonioni worked with the great Italian poet and writer Tonino Guerra (and English playwright Edward Bond for the English dialogue), and the two based their script upon Argentinian writer Julio Cortázar's short story The Devil's Drool (aka Las babas del diablo). The diegetic musical score was provided by American jazz pianist Herbie Hancock (with his first soundtrack).
The taut and provocative film about perception and voyeurism was a combination murder mystery, a critique of the world of mod fashion, and one of the greatest films ever made about watching and making movies (literally composed of a succession of still images). Antonioni's story was inspired by the 1959 short story "Las Babas Del Diablo" ("The Devil's Drool") by Julio Cortazar. It followed the day-and-a-half long quest of an unnamed, mid-20s photographer who believed he saw something intriguingly objective via his camera that turned out to be very tragic and possibly unreal.
The film was nominated for two Academy Awards (with no wins): Best Director, and Best Original Screenplay (Michelangelo Antonioni and Tonino Guerra, and Edward Bond), and it won the Palme d'Or at the Cannes Film Festival in 1967. Whether it was just pretentious film-making or serious cinematic art was left up to the audience.
Plot Synopsis
---
The title credits were viewed atop a verdant green lawn (at Maryon Park, later a crucial location in the film), with the transparent letters revealing a bikinied model undulating during a photo-shoot on a roof-top against a light blue sky. The film proceeded to unfold as a series of episodic vignettes or narratives:
Introducing Two Pretenders: the Mime Troupe and a London Fashion Photographer:
The film opened in the era of Swinging London, following a group of happy street revelers jam-packed into an open Land Rover careening through the streets, while shouting and waving. The white-faced and masked group of mime pranksters caroused and ran through the streets engulfing cars and their drivers (collecting and panhandling for charity donations and activist causes). [Note: They were participating in a British ritual known as "RAG" Week in which students dressed up and cruised around town to fund-raise.]
Meanwhile, a group of down-and-out, ragged homeless men (including Charlie Bird and Robin Burns) left Camberwell Reception Centre, a hostel (dosshouse or flophouse) for the indigent. One of the men (David Hemmings) (named 'Thomas' in the film script - a deliberate reference to the "Doubting" Thomas disciple of Jesus) who was dressed shabbily and had tossled, scruffy hair, exited with the men, and was carrying a brown paper bag in his arms.
After looking carefully in all directions, the young disheveled man walked off on his own, and then ran down the block to his parked Rolls-Royce Silver Cloud III convertible - a complete and unexpected surprise. It was clear that he had been pretending to be a low-income, impoverished individual, in order to secretly photograph the old men in the flop house overnight (later, it was revealed that his goal was a personal art project - to document in a photo book the violent aspects of destitution and homelessness, to stir people's consciousness).
His open car was besieged by the mob of RAG students urging: "Give me your money." He rummaged through his back seat, revealing that an expensive camera (a Nikon F, the world's first 35mm SLR camera) was in the paper bag, and donated to them. As he drove through traffic in London, he spoke through a radio-telephone, identifying himself as "Blue 439" on a call to "Western 0219" - to notify his destination of his impending arrival. On Pottery Lane, he parked in front of a black garage door boldly marked with the painted number 39. He grabbed the paper bag, stuffed his camera in his locked glove-box, and entered a smaller door into a photographic fashion studio.
Up the stairs, he passed by two semi-nude models dressing, and in the kitchen handed off two rolls of film to be developed. Obviously late for his photo-shoot, his model Verushka (as Herself) (wrapped in a black shawl) was seated on the floor impatiently awaiting his arrival ("I've been ready for nearly an hour"). He was non-chalant, seemingly bored and uncommitted to his lucrative career in the illusory world of glamour and high-fashion photography. In contrast, he much preferred to be with his camera elsewhere - capturing social realism of sick elderly homeless men the previous night in the flop-house.
The session with the lifeless, self-absorbed fashion model began with her complaint: "I'm catching a plane for Paris at 11:00, so I can't..." - and he implied that she looked sleepless and terrible: "Who the hell were you with last night?" His assistant Reg (Reg Wilkins) helped with the lighting and set-up, as Verushka removed her shawl to reveal a loose, low-cut glittery dress with open sides - she was naked underneath.
During the erotic, frenzied picture-taking performance with jazzy music playing, he energetically snapped fashion photos over her skinny, writhing, supine body while pointing his phallic camera at her. In a purple shirt, Thomas was totally in command of the provocative situation with his camera in action, as she posed and undulated below him as if they were engaged in intercourse together. He crouched down, straddled her and crawled over her, bringing her to the point of orgasmic release and satisfaction while urging her to move for his still photos during their improvised creative dance:
On your back. Go on. Yes. Now really give it. Come on. Come on. Work, work, work! Great. Great. And again. Come on. Back. Back. Arms up. Arms up. Stretch yourself, little lady. Great. And again. Go on. Go. Go. Great. That's it! Keep it up. Lovely. Yeah, make it come. Great. No, no, head up, head up. Now for me, love. For me. Now! Now! Yes! Yes! Yes!
However, it was only another mundane and typical shoot for him, and he reclined and slumped back exhausted onto the sofa. He received a phone call from a client named Peter Walker, and then, while shaving in front of a mirror, and now dressed in a clean blue shirt and white jeans, he was shown the large contact prints from his developed film. The desensitized-to-life, nihilistic, high-fashion photographer had become bored and uncommitted to his lucrative career of commercial glamour photography, but on the side in a complete about-face, he was more committed to photographing, in verite documentary style, the seamy and sordid side of life in London - including its bums, poverty-stricken individuals, and the aged in flophouses and slums. He was visibly happy with the photos: "Fabulous!"
As he was leaving the studio, he also was called upon to photograph (using a tripod) a vapid flock of five, unsmiling, stationary "birds" (the models included Melanie Hampshire, Jill Kennington, Peggy Moffitt, Rosaleen Murray, and Ann Norman) standing diagonally before rectangular black glass panes. He was critical of them for chewing gum and assuming "terrible" stylized poses like brain-less mannequins, and at one point shouted out: "Wake up!" The 'mods' ignored his direction to "Smile" and he reprimanded them: "What's the matter? Have you forgotten what a smile is?" Seeming bored, cranky, demanding, and slightly contemptuous, he cut short the photo-shoot when he realized that he had tired them: "I can't see your eyeballs anymore. They're just slits." He instructed the vacant-looking, vapid girls to "close your eyes - and stay like that. It's good for you" - as he left (to the tune of John Sebastian's and the Lovin' Spoonful's "Did You Ever Have to Make Up Your Mind?"
With Neighbors Bill and Patricia, Two Teen Groupie-Models, and the Antiques Store Shopkeeper:
Outside the studio, he crossed a small yard and entered into the home of neighbor Bill (John Castle), who was standing across an open courtyard next to the doorway into his art studio. An abstract impressionistic painter, Bill was contemplating the meaning of one of his older Cubist oil paintings propped up on an easel, when he offered prescient clues about the film's theme - he declared that the meaning of art only came much later.
That must be five or six years old. They don't mean anything when I do them. Just a mess. Afterwards, I find something to hang on to, like that, like that leg (he pointed to part of a painting). Then it sorts itself out and adds up. It's like finding a clue in a detective story.

[Note: For Thomas, this would also hold true. He would have to solve a photographic puzzle with messy parts - clues which eventually sorted themselves out and added up to a possible solution to a murder mystery.]
Thomas looked down at another abstract painting (composed only of spattered paint drops) on the floor - he offered to buy it, but was refused. Bill's wife Patricia (Sarah Miles) joined them and offered Thomas a beer, as he jokingly complained about her "tight-faced bastard" husband who wouldn't sell him one of his "crappy" paintings. She lovingly massaged Thomas' head, revealing that she was in an unhappy marriage, and was comfortably affectionate with Thomas.
Back in the nearby fashion studio, the Asian receptionist (Tsai Chin) mentioned to Thomas that two wanna-be, naive teenage groupies/models (Blonde Jane Birkin and Brunette Gillian Hills) said that they had been invited there, but Thomas knew otherwise and claimed he was busy ("I haven't even got a couple of minutes to have my appendix out"). At the receptionist's desk with his legs stretched out, as the girls stood waiting, he played with a coin that he rolled over his fingers, and turned on the portable radio. When the receptionist returned with all of the printed contact sheets, he brusquely rejected the two teens who were pestering him about a future photo session. They ran after his car as he sped away, with the Blonde shouting: "Can we come back this afternoon?" The jaded and indifferent Thomas was living a mid-60s life of excess (riches, fame, and women) at every turn.
Thomas drove haphazardly through a row of red houses on Stockwell Road, turned right off Woolwich Road to cruise past a dilapidated construction zone on his left, and watch as two gays walked their white poodles on the sidewalk outside an ANTIQUES store. In the up-and-coming area, Thomas parked and entered the small, cluttered, and dusty shop to browse and shop around, as the elderly, unfriendly, substitute shopkeeper (Harry Hutchinson) asked sharply from behind a protective iron grating: "What do you want?...There are no cheap bargains here. You're wasting your time." Thomas claimed he was looking for "pictures... landscapes" to buy, but they were allegedly all sold out.
Taking Candid Photos of a Romantic Couple in a Grassy Park with Tall Trees and Blowing Wind:
After leaving the store, Thomas removed his camera from his glove box, and as he snapped some pictures, he found himself strolling up the street to the entrance of a green, grassy park with tall trees blowing in the wind. [Note: Mayron Park was located in the SE London suburb of Charlton.] Inside the gates of the serene and almost-deserted park, a fat refuse collector was spearing pieces of litter on the green lawn. Tennis courts surrounded by high fencing (two players were volleying together - with the prominent sounds of their racquets and tennis ball) were positioned near a bed of blooming white roses. He began to take a series of photographs, and chased pigeons flocking on the lawn, as the view focused on a row of white attached homes on an adjoining hillside.
He noticed two individuals climbing up the wooded slope of one of the park's hillsides:
a black kerchief-wearing woman (Vanessa Redgrave) (named 'Jane' in the written script) - with a tight gray skirt
a middle-aged, gray-haired man (Ronan O'Casey) - well-dressed in a light-gray suit
Innocently and voyeuristically, he interpreted them to be involved in a lover's tryst-rendezvous, as they held hands and laughed while assisting each other up the incline. Thomas slowly and discreetly walked in their direction across a paved path, then took off in a fast run and clicked his heels together as he lept into the air. He climbed up a series of steps bounded by a green picket-fence. At the top of the stairs, as he peered over an overhanging green branch, he focused his camera on a distant, completely peaceful clearing in a meadow. Only the sound of the wind was heard on the soundtrack. He took candid photos of the far-away couple in the distance - it appeared that the woman was pulling the reluctant man toward her, as she laughed and urged him onward. Thomas jumped behind the fence surrounding the meadow and continued to snap photographs from various vantage points. Without a telephoto lens, he had to move closer to capture some better angles, and he stealthily ducked behind a tree, as the woman urged the man into the middle of the meadow where they began to kiss each other. He moved closer and hid behind a second tree for more photos.
Then, as he walked back to the path and hid behind a third tree, he watched as the couple had now moved closer to the perimeter of the meadow where they hugged and affectionately kissed. Suddenly, as Thomas was about to depart from the quiet park, the woman noticed him, left her partner standing in the meadow, and pursued after him. Halfway down the stairs, Thomas took more photos of her as she called down to him, and raced forward to demand the negatives - claiming he had invaded their privacy:
What are you doing? Stop it! Stop it! Give me those pictures. You can't photograph people like that.
He refused, and in one of the most crucial dialogues in the film as they argued together, he defended his career of watching and capturing reality by taking objective photographs. His suspicions became aroused when she frantically grabbed for his camera, and when she stated that their meeting was to be forgotten:
Thomas: Who says I can't? I'm only doing my job. Some people are bullfighters, some people are politicians. I'm a photographer.
Female: This is a public place. Everyone has the right to be left in peace.
Thomas: It's not my fault if there's no peace. You know, most girls would pay me to photograph them.
Female: I'll pay you.
Thomas: I overcharge. There are other things I want on the reel. (He stepped back up to the top of the stairs, and contemplated taking more photos toward the meadow)
Female: (urgently - as she raced up to him) What do we do then?
Thomas: I send you the photographs.
Female: No, I want them now. (She grabbed for the camera and tried to bite his hand, but he had the camera strap securely wrapped around his wrist)
Thomas: No! What's the rush? Don't let's spoil everything. We've only just met.
Female: No, we haven't met. You've never seen me.
She ran off down the length of the meadow - and it appeared that her male companion had disappeared from the park. He took more photos of her standing momentarily next to a tree and low-lying bushes far away at the other end of the meadow.
[Note: On close inspection, she was standing next to a body lying face up, although most viewers would not notice it on first viewing.]
And then she continued running and disappeared down the backside of the meadow. It was a moment of 'reality' and truth for the photographer, but he had no idea what was lying beneath the surface of the scene he had just documented.
Second Visit to Antiques Shop - and the Wooden Propeller:
Back at the antiques shop that same Saturday morning, the shop owner (Susan Brodrick) was listening to music on a long-playing vinyl record. Thomas discussed an earlier offer to purchase her shop for his wealthy, cigar-smoking client-agent, Peter Walker. She claimed that she was willing to consider a lower sales price: ("Money's always a problem, isn't it? Tell him to come back"). The young pretty owner was considering a major life-change: "I'd like to try something different. Get off somewhere. I'm fed up with antiques....To Nepal." He confidently quipped: "Nepal is all antiques" and she thought twice: "Perhaps I better try Morocco." She accepted his offer of £8 pounds to purchase a huge, vintage wooden airplane propeller for decorative purposes, even though it was an entirely useless and bizarre artifact (as an inert, stalled and inactive relic from the past). Impulsively, he insisted that he must have it immediately ("I can't live without it"), and she helped him to load the oversized, heavy and unwieldy piece of art-junk into the back of his convertible. She proposed waiting until she could procure a better delivery vehicle that day, and he agreed.
On the way back to London, he radio-phoned "Flaxman 2249" to deliver a message to his client Mr. Peter Walker about the acquisition of the junk shop: "Tell him I saw the junk shop. It's pricey, but the kid will come down. Let him ring her right away, then nobody else will get it." Walker immediately rejected the message: "Your caller doesn't like it." Thomas responded with his opinion about the burgeoning, promising area as a wise, real estate investment:
Tell him to get stuffed. What about all the buildings going up around the place? Already there are queers and poodles in the area. I saw some in the couple of minutes I was there. It'll go like a bomb, over.
[Note: The growth of urban developments in the low-income area of south eastern London was actually the cause of the increase in homelessness and poverty for people living on the edge - those whom Thomas was shooting and documenting.]
Thomas' Documentary Homeless Photographs:
In a fancy restaurant, he shared his surreptitiously-taken photos of homeless men from the night before with his bearded writer/collaborator Ron (Peter Bowles). Three or four of the photos were to be included in a high-brow, documentary photo-essay book they were producing together - it was his own purposeful personal project. He proposed that the last photo should be entirely different in tone. It would be one from the idyllic park romance between the archetypal Adam and Eve characters on the grassy lawn ("I've got something fab for the end...It's very peaceful, very still") as a contrasting and juxtaposed optimistic counterpoint to the more depressing, "pretty violent" and disturbing pictures earlier in the book. Ron responded favorably: "Yeah, that's best, rings truer."
Thomas complained about his jaded daily profession with "those bloody bitches" after observing the female waitress, and considered leaving London for a week to escape:
I'm going off London this week....It doesn't do anything for me...I'm fed up with those bloody bitches. I wish I had tons of money. Then I'd be free.
As Ron asked: "Free to do what? Free like him?", he pointed out one of the disturbing photos in the mock-up of the book - a scruffy-looking, dirty homeless man.
At that moment, Ron noticed a suspicious, tall, fair-haired stranger (Dyson Lovell) outside the restaurant window who proceeded to try to open the trunk of Thomas' parked car across the street - was he the park female's accomplice? (He was definitely NOT the older man in the park.) But then, he tried to briskly scurry away by hiding behind a group of Africans in colorful native dress. As Thomas drove home, he honked at the group of Africans mingling in the street, then encountered a parade of anti-war demonstrators and marching protestors marching. Escorted by a police officer, the group's members were carrying placards with peace slogans ("NOT OUR LADS," and "NOT THIS"), and he graciously let the group pass in front of him. He allowed one of the female protestors to tuck her anti-social sign ("GO AWAY") into his back seat, but it soon blew off. He was definitely being pursued in a 4-door dark gray sedan (with license plate CLH 1298) driven by the stranger with the female (with the black kerchief) in the passenger seat
As he parked on a crowded street down the block from his studio's entrance, he sensed something in the stillness, and reached to lean on his car's horn. He walked back to the entry door leading to his studio, but then had a second thought. He approached a red telephone booth, dialed the operator, and asked for Frobershire 3229, and spoke to an unknown individual - presumably Patricia: "Weren't you supposed to be going off to Hurley? Hmm. Listen, stay where you are. Call me soon at home."