Background
---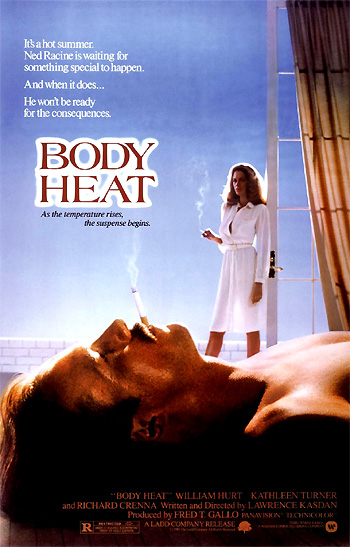 Body Heat (1981) is writer/director Lawrence Kasdan's debut feature film - a modern-day, melodramatic film noirish tale of a deadly and obsessive love triangle, involving adultery, murder, a few devilish twists, and a deceptive femme fatale. It was clearly modeled after Double Indemnity (1944) and The Postman Always Rings Twice (1946).
The neo-noir paved the way for other similar films with a sexy and deadly femme fatale character, including Brian De Palma's Body Double (1984), Adrian Lyne's Fatal Attraction (1987) with Glenn Close, Paul Verhoeven's Basic Instinct (1992) with Sharon Stone, Nicholas Kazan's Dream Lover (1993) with Madchen Amick, John Dahl's The Last Seduction (1994) with Linda Fiorentino - and later David Fincher's Gone Girl (2014) with Rosamund Pike.
The film was set in the hot and steamy atmosphere of the fictional town of Miranda Beach, Florida. The sexy suspense thriller with a bluesy and moody John Barry score, featured the following descriptive poster tagline:
It's a hot summer.
Ned Racine is waiting for
something special to happen.

And when it does...

He won't be ready for the consequences.
The subtitle was: "As the temperature rises, the suspense begins." Another tagline described the film's main theme: "She taught him everything she knew - about passion and murder." Early in the film (at about the 27 minute mark), one of the secondary characters, a police detective, commented with foreboding caution about the hot-house atmosphere of the summer's heat-wave that was inspiring more crimes to be committed:
"When it gets hot, people try to kill each other....We got more of everything bad since the wave started. It's that crisis atmosphere, you know? People dress differently, feel differently, sweat more, wake up cranky and never recover....Everything is just a little askew. Pretty soon, people think the old rules are not in effect. Start to break them, figurin' nobody'll care 'cause it's emergency time!"
The main female star - a newcomer to feature films, Kathleen Turner, had agreed to film the many nude scenes, and had previous acting experience on the daytime soap opera The Doctors, as the character of Nora Aldrich. Later, she spoofed her own role in The Man With Two Brains (1983).
Kasdan had also contributed as co-screenwriter for two of the biggest early 1980s films - Star Wars: Episode V - The Empire Strikes Back (1980) and Raiders of the Lost Ark (1981). Kasdan's film was up against heavy competition in the Academy Awards race in 1981, when Raiders of the Lost Ark (1981), On Golden Pond (1981), Chariots of Fire (1981, UK), and Reds (1981) were vying for multiple nominations and awards, and therefore it received no accolades.
Plot Synopsis
---
Introducing Ned Racine and Matty Walker:
The post-noir erotic thriller opened in the aftermath of a sexual encounter in an upper-floor apartment bedroom in the middle of the night in a humid, sweltering southern city (fictional Miranda Beach, Florida), where the sky was orangish-red and smoky. [Note: The opening sequence evoked memories of the similar scene at the start of Hitchcock's Psycho (1960).] A naked, frustrated female partner named Angela (Lynn Hallowell), who knew her male partner was sexually satiated and now uninterested in her ("You're done with me. You've had your fun. You're spent"), dressed in her airport rental car-company uniform (she was on her way to work):
My God, it's hot. I stepped out of the shower and started sweating again.
Her distracted male partner - seedy, dense or simple-minded, corruptible small-town Florida lawyer Ned Racine (William Hurt), was more interested in voyeuristically viewing a burning restaurant known as the Seawater Inn. He provided a foreshadowing clue to the film's themes of heat (destructive passionate lust, murder and arson), and also identified himself as a sleazy, incompetent, low-rent, ambulance-chasing attorney:
My family used to eat dinner there 25 years ago. Now somebody's torched it to clear the lot...Probably one of my clients.
The next hot and torrid evening, while restless Florida attorney Ned Racine was cruising for another casual one-night stand, he attended a beachside bandstand concert where he noticed a tempting, sizzling cool, alluring, sultry, smoky-voiced, husky-voiced and highly-sensual femme fatale "Matty Tyler" Walker (Kathleen Turner in her feature film debut). She rose up from her seat and strutted in a white dress down the audience's center aisle past him (like an open flame) - appropriate for a woman with the surname of "Walker"! They took a stroll on the boardwalk (beyond the railing was the endless blackness of the ocean) where she immediately tried to discourage him from flirtations and romantic interest. She told him that she was a married woman (but not necessarily happy) who was not looking for any company. She delivered her famous line toward the naive and incompetent small-town attorney Ned Racine:
"Matty": You're not too smart, are you? I like that in a man.
Ned (willingly): What else do you like? Lazy, ugly, horny, I've got 'em all.
As they consumed 'cherry' snow-cones, she told him she had an out-of-town wealthy husband (with real estate holdings) who only came around on weekends to their Pinehaven mansion located on the waterway. He had guessed that she had the look of the "well-tended" who lived in Pinehaven. She quickly deserted him when he entered a restroom to get a wet paper towel after she spilled the snow cone on the front of her white blouse (a bright red stain right over her heart).
A Sexy, Adulterous Rendez-vous at the Pinehaven Bar and at Matty's Nearby Home:
The next night, he found her by accident at the Pinehaven Tavern, the only "joint" in the small town where she lived. At the bar in the cocktail lounge as they consumed drinks with ice, she mentioned her porch's wind chimes that normally made sounds during a cool breeze, but the current summer was only blowing "hot air". The unhappily-married female told him: "Some men, once they get a whiff of it, they trail you like a hound." He falsely claimed: "I'm not that eager." When she said her temperature (or "body heat") was normally high or elevated (hence the film's title), he quipped: "Maybe you need a tune-up," to which she answered - with a sexy double entendre:
Don't tell me. You have just the right tool.
She warned him about his romantic prospects with her: "You're going to be disappointed," but he didn't take the hint. He was enthralled by her mode of dress (a braless, open blouse and bright red skirt), and told her that she was dangerously seductive:
Ned: Maybe you shouldn't dress like that.
"Matty": This is a blouse and skirt. I don't know what you're talking about.
Ned: Then you shouldn't wear that body.
She seemed very dissatisfied with life: "Sometimes, I don't know. I just get so sick of everything, I'm not sure I care anymore."
[Note: He did not realize that the predatory female had ultimately set her sights on him to both seduce him, and to help plot the murder of her wealthy husband Edmund Walker (Richard Crenna) - making him her duped accomplice. "Matty" was the embodiment of the heat and corrupt individual (one of Ned's clients?) that set fire to the Seawater Inn in the opening scene, although now, she was trying to stir up flames in Ned to get rid of an unwanted 'building' in the form of her detested husband.]
Ned responded: "I know that sometimes the s--t comes down so heavy I feel like I should wear a hat."
[Note: This was a pure set-up for a future scene.]
He invited himself to her Pinehaven mansion - subtly telling her: "I wanna see the chimes" after promising: "I'm not looking for trouble." Before leaving, she slapped him hard across the face - to appear as if they were having a spat and to avoid arousing any suspicion amongst other patrons. They left at separate times, and he followed her in her car. At her expansive Pinehaven property, she deliberately pointed out her home's gazebo and boathouse. After briefly showing him her tinkling wind chimes on the outdoor porch, she tensely urged him: 'I think you should go now....You've seen them. Please go...I shouldn't have let you come."
In the following erotic, well-edited preface to a steamy sex scene, Ned began to leave Matty's mansion. The windowed front door was symbolically marked with 'double-cross' windows. He was enticed to reenter by an eager-looking, feverish-looking Matty inside, standing at the bottom of the stairs in the foyer and non-verbally beckoning him inside. He broke into her locked house - literally breaking the rules - by busting through the side porch's windowed doors with a garden lawn chair (to the sound of her wind chimes) to the awaiting, horny and receptive Matty. After feeling her breasts and crotch through her clothing, she laid back on the floor. He removed her panties to make love to her, exclaiming: "It's so right!" She begged:
Please, Ned. Do it!
Further Sexual Foreplay and Matty's Alleged Unhappiness With Her Husband:
During numerous, subsequent, incredibly sweaty, highly-charged sexual encounters and sexy non-stop love-making with her, and while taking an icy bath with her, Ned was forced to beg to give him a rest after too much sex: "You are killing me. I'm red, I'm sore...Look at it. It's about to fall off." Their initial encounters and conversations were laced with lots of verbal foreplay and double-entendres. She used everything as an instrument of seduction, including lewd suggestive dialogue to manipulate his emotions.
The predatory and ensnaring Matty inadvertently (but deliberately) kept referring to her wealthy husband Edmund Walker's (Richard Crenna) many faults ("I can't stand the thought of him. He's small and mean and weak").
In a scene that foreshadowed a future plot twist, after Ned had just arrived at Pinehaven, he rushed over to a white-dressed figure by the outdoor gazebo; he approached and offered a very forward proposition: "Hey, lady, ya wanna f--k?" Surprised, she turned slowly - revealing herself to be "Matty's" visiting look-alike high school girlfriend Mary Ann Simpson (Kim Zimmer), who slightly resembled "Matty." She responded to him: "Gee, I don't know. Maybe. This sure is a friendly town." Ned quickly apologized - and she was slightly hurt: "You mean the offer's no good?" Then she added: "You must be looking for the lady of the house"; as "Matty" walked up to them (and handed Mary Ann an envelope - a payoff?); after Mary Ann left, "Matty" explained that Mary Ann was "an old friend, she's like a sister to me. She wants me to be happy."
Later, "Matty" continued to explain the many reasons for her marital unhappiness -- she told Ned that her husband was engaged with shady, crooked, and corrupt dealings (the stock market, real estate and other investments, and venture capital). And then off-handedly she explained how Edmund owned the "old place" known as The Breakers, a shorefront property near Miranda Beach - an example of one of many properties he owned along the shoreline. She described Edmund's associates: "I'm not sure if they're all legitimate."
[Note: "Matty's" ultimate aim wasn't Ned, but he was her means to ultimately inherit the wealth Edmund had corruptly acquired from his real estate deals - which involved the arson-destruction of buildings to acquire the valuable land and empty lots underneath.]
Although "Matty" vowed she didn't want to talk about her inner greed ("it scares me to talk about these things"), and her husband's wealth ("let's just not think about all he's got"), she continued to explain her horrible desires and wishes that her husband would die - part of an amorous ploy: "I wish he'd die. That's really what I want. It's horrible and it's ugly, and it's what I most want." He voiced what she had been implying: "How good it would be if he was gone. It would be real sweet." She cautioned: "Don't talk about it. Talk is dangerous, it makes things happen. It makes them real."
One night during a rendezvous on the beach, when Ned suggested that she should possibly get a divorce, an easier way out of her dilemma, she told how she was discouraged from seeking a divorce because it would leave her with little money due to a pre-nuptial agreement and Edmund's will. Ned blurted out his own hidden greed: "I had wished you were gonna be loaded."
"Matty" presented Ned with a wrapped gift package of a fedora hat - with a promise that it would protect him from "it" (Ned had spoken about 'shit' (not rain) that would come down on him, and now, she was prophetically referring to the crisis that would soon strike him down):
From now on, when it starts coming down on you, I'll be there to protect you.

[Note: the gift of a fedora was an acknowledgement by writer Kasdan of the film's noirish roots in 1940s crime dramas.]
After he tried on the fedora-hat, she sat in the passenger seat of his red 1964 Chevrolet Corvette Sting Ray sports car convertible and rolled up the side window. The view of her was replaced and superimposed with his own reflection in the glass as he admired himself.
While Matty's young niece Heather Kraft (Carola McGuinness) was staying at her Aunt Matty's home for a few days, Ned was cautioned to stay away, but he couldn't resist showing up to surprise Matty (once Heather had gone to bed). The young girl was awakened and caught Matty giving Ned fellatio on the porch. [Note: Much later in the film, when Edmund's will was being contested, she couldn't identify the man with the erection.]
Ned's Face-to-Face Restaurant Meeting with Edmund:
At a local restaurant in town, Ned happened to encounter "Matty" again. Their meeting was filmed to create the illusion, as they each approached an archway, that they were mirror-reflections of each other.
This time, she was with her shady businessman husband, who was introduced to Ned, while Matty pretended to not really know him (or his first name), but claimed she had contact with him as a lawyer. Edmund was openly condescending toward Matty, whom he called too "dumb" to understand his business dealings with The Breakers. The highly self-confident and tough-talking Edmund mentioned how he would kill anyone who might be having an adulterous affair with his hot wife: "If I thought she was seeing another guy...I think I'd kill the guy with my bare hands."
He then went on to brush off Ned while indirectly referring to him as a low-class "slimy" lawyer and as a "dorkus" (similar to the man his wife was dating before they were married). He also slyly identified Ned as a potential cuckolder scoring with his wife - and discreetly encouraged him to "do what's necessary" (which in this case meant proposing his own murder to "Matty"):
Edmund: You'd never believe the dorkus she was with when I met her. The guy came to us with a business proposition. We're always looking for opportunities. We're willing to take an occasional risk, if the downside isn't too steep, if the conditions are right. But this guy, he hadn't done his homework. He didn't know the bottom line. That's how I knew he was full of s--t. Gotta know the bottom line. That's all that counts. But he didn't have the goods, this guy. He's like a lot of guys you run into. They wanna get rich, they wanna do it quick. They wanna be there with one score. But they're not willing to do what's necessary. You know what I mean?
Ned: I'm not sure. You mean, do the groundwork? Earn it?
Edmund: No. No, I mean, do what's necessary. Whatever is necessary.
Ned: Yeah. I know that kind of guy.
Edmund: Me too.
Ned: I'm a lot like that. (nervous laughter)
The Plot to Murder "Matty's" Husband - With Ned's Assistance:
During a private meeting with Ned in his office, Matty was successful in convincing her duped lover Ned to eliminate her rich husband by murder, and he affirmed for her what they were conspiring to do - following Edmund's advice:
Because we're gonna kill him. We both know that. It's what you want, isn't it? We knew it was coming. It's the only way we can have everything we want. That man is going to die, for no reason but we want him dead. He doesn't deserve it. Let's not ever say that. We're doing it for us. You'll inherit half of everything he owns. That's what the will says, right? That's it, then. That's it. We're gonna kill him. And I think I know how....And if we're not careful, it's gonna be the last real thing we do.
Shortly later, Matty proposed to Ned that Edmund's will could also be rewritten and changed. Presently, Edmund's will left everything instead to his young niece, Heather, and indirectly to Heather's mother Roz (Lanna Saunders) - Edmund's sister. It appeared that Matty's ultimate objective was to get Ned to change the will:
Every little change would mean a lot for us, Ned. And you're a lawyer. You know how to write it. It wouldn't seem so odd. I could say that he brought it home and we decided to make some changes up here.
Ned was reluctant and worried about changing the will: ("Forget it...Nothing strange can happen in his life right now. Not one thing out of the ordinary. That's vital, that's the most important thing. If it does, the chances double that we get caught. You'll get half of everything. It'll be plenty. No matter what it is, we'll be satisfied. We're not gonna get greedy. If we do, we'll get burned"). However, fueled by his lust for both Matty's body and wealth, Ned was completely committed to murdering her unsuspecting husband.
Ned met with ex-client and rock 'n' roll arsonist Teddy Lewis (Mickey Rourke) in his workship to oversee construction of a timer-explosive to be detonated at Edmund's abandoned Breakers beachfront hotel (one of Edmund's properties), to make it look like a botched arson job that would provide Edmund with insurance money. (However, Ned's plan was to also make it look like Edmund was killed in the fire). Teddy warned Ned - after realizing that he wasn't very bright: "Any time you try a decent crime, you've got 50 ways you can f--k up. If you think of 25 of them, then you're a genius. And you ain't no genius." Teddy also discouraged Ned from carrying through on the crime:
I sure hope you know what you're doing. You better be damn sure, because if you ain't sure, then don't do it.
While lying naked together in bed, Ned and "Matty" plotted the steps to murder her husband. Edmund would be alerted by "Matty" to check a noise downstairs in his home at 3:30 am. Ned predicted: "We won't talk again after I leave here tonight. I'll be in Miami by noon, Friday. You won't be able to reach me. When I see you again, he'll be dead."
to conspicuously be out of town, Ned drove in his red sports convertible on Friday to meet with a real estate agent in Miami
afterwards, he parked his own car near an Ajax Rent-a-Car lot, and rented a plain 4-door sedan vehicle; he parked the rental on a side street, and then drove his car to a nearby downtown Miami hotel and checked in
his plan was to drive back to Pinehaven to the Walker estate in the early morning to commit the murder
[Note: A subtle and very random omen of Ned's self-awareness and a foreshadowing - that he was being played for a clownish fool - occurred as he stood in the Miami street, and watched (from his point-of-view perspective) as a representation of himself (out-of-place and driving in an open red vehicle similar to his own car) passed by. He saw a clown in full face make-up - with a yellow wig, red bulbous nose, and complete costume, as tinkling wind-chimes were softly heard in the background.]
The night of the planned murder of Edmund, Ned drove his rented car (his own car was parked back in Miami at the hotel) to the Walker estate, where the murder was planned to occur at 3:30 am. At around 3 am, Edmund woke up - and to avoid getting off schedule, "Matty" was forced to have sex with her husband, who ironically remarked after vigorous intercourse: ("Are you trying to kill me?"). When Edmund heard a noise a few minutes later, he grabbed his silver .38 caliber snub-nosed revolver and descended the stairs to the front hallway. At the top of the stairs, Matty shouted out a warning to Ned about Edmund's unexpected weapon: "He has a gun."
During the botched plan, they engaged in a struggle in the hall of his opulent home, and Ned was able to lethally strike Edmund over the head with a wooden plank. He placed the now-dressed corpse (wrapped in plastic) in Edmund's car trunk, drove to the Breakers in thick fog, stashed the body there (and staged it to look like an accident when a timber support failed), and then detonated the bomb to explode in the building. To escape, Matty picked him up in his rental car, and he drove her back to Pinehaven before his return to Miami.