Background
---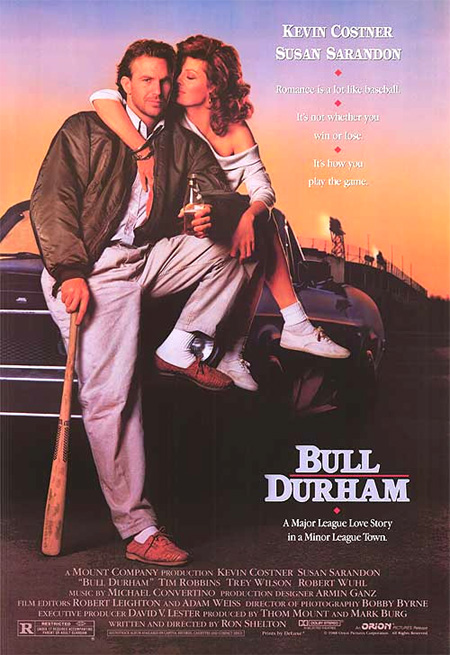 Bull Durham (1988) is a humorous and intelligent romantic sports comedy-drama about a mediocre Carolina minor leagues baseball team - the Durham Bulls, from first-time director Ron Shelton. It is the quintessential modern sports film about America's greatest game, starring three very complex characters involved in a love triangle and mentoring relationship - the film's plot integrally wove together minor-league baseball and sex during one long and hot summer season of ball-playing in 1987:
"Crash" Davis (Kevin Costner), a veteran, romantic-minded, aging catcher for the Durham (NC) Bulls (a Single-A minor league affiliate), still remembering his 21-day stint in 'The Show' (slang for the Major Leagues) during his 10-year career
Ebby Calvin "Nuke" LaLoosh (Tim Robbins), a wild, young, hot-shot, dim-witted rookie pitcher for the Bulls who was being tutored by "Crash" to become more disciplined and mature by channeling his talent
Annie Savoy (Susan Sarandon, Robbins' future 'real-life wife'), a part-time Alamance Junior College English 101 and Beginning Composition teacher and sexually-seductive baseball groupie and dedicated super-fan
[Note: Baseball groupies used to be known, politely and affectionately, as "Baseball Annies" (or Shirleys) - clarifying the reason why the name was chosen for the overzealous, flirtatious, sexually-desirous female fan.]
By the way, "Bull Durham" was actually the brand-name for a type of loose-leaf smoking and chewing tobacco manufactured in Durham, North Carolina (where the Bulls played), in a plant that shut down in 1988 after approximately 140 years of production. One of the company's advertising campaigns involved placing Bull Signs on outfield fences of ball stadiums, and offering prizes or free products to any ballplayer who hit the sign or knocked out a home run. Some also believed that the baseball term "bullpen" was derived from the product's name. In addition, "Bull Durham" was a slang term for a marijuana joint.
The film's taglines reinforced the film's sexual angle:
"Romance is a lot like baseball. It's not whether you win or lose. It's how you play the game."
"A MAJOR LEAGUE LOVE STORY IN A MINOR LEAGUE TOWN."
Shelton, who was a former second-baser in the minor leagues for the Baltimore Orioles' farm team, made a prominent career of sports movies that realistically and authentically provided truisms and examined life's lessons through the participants' heart, both in terms of team sportsmanship and in terms of sex and romance. The film was true in its depiction of the life of baseball jocks, who regularly boasted, joked, and put-down their fellow players in conversations or interactions in the bullpen, on the mound, or in the locker room. [Note: Allegedly, Bull Durham was based upon phenomenal pitcher Steve Dalkowski who played for the Orioles in the late 1950s, and was known for his fastball - but also for his out-of-control pitching.]
Often regarded as one of the top sports films of all-time, it contained many allusions linking sex and baseball. It is not surprising that there are dozens of baseball-related euphemisms or metaphors for sex, including:
"getting to first, second, third base, or scoring a home run" (degrees or levels of sexual encounter up through intercourse)
"striking out" (failing to have sex or foreplay)
"playing for both teams" or "switch hitter" (bisexuality)
"playing for the other team" (homosexuality)
This mature, authentic and earthy baseball film did not have an unrealistic, curtain-closing, climactic come-from-behind underdog 'Big Game' victory, or lots of sentimental elements of other sub-genre films such as the reverential biopic ode The Pride of the Yankees (1942), the sappy and allegorical The Natural (1984), or the fanciful Field of Dreams (1989). The R-rated, adult-oriented sports romance and coming-of-age film with low-key humor was also not a silly baseball comedy such as the kids-oriented Bad News Bears (1976) or the formulaic and nastier Major League (1989).
In many ways, Shelton's premise that the game of baseball ("America's favorite pasttime") was like a religion was well-founded:
both have a regular schedule of games or meetings, with both beginning their 'liturgical season' around Easter-time
both involved various rituals (the national anthem, pre- and at-bat rituals such as unstrapping and re-strapping batting gloves, the 7th inning stretch's singing of 'Take Me Out to the Ballgame,' the ceremonial first pitch, keeping a score sheet, players throwing the ball 'round the horn' after a strike-out, etc.)
stadiums are often referred to as cathedrals or temples, with fans faithful or loyal to a particular player or team (the saints - the home team vs. the sinners - the visiting team)
the 'shrines' of baseball: the Hall of Fame, the commemorative plaques, statues or honored relics at various stadiums, etc.
the central focus of each endeavor: the pitcher's mound (or the entire baseball diamond) and the preacher's pulpit or altar
each practice's 'saints' or mythic heroes, such as Saint Paul or Jackie Robinson/Babe Ruth/Willie Mays
Shelton's other writing (and directing) credits have also included:
The Best of Times (1986) (football)
White Men Can't Jump (1992) (basketball, also directed)
Blue Chips (1994) (basketball)
Cobb (1994) (baseball, also directed)
The Great White Hype (1996) (boxing)
Tin Cup (1996) (golf, also directed)
Play It To the Bone (2000) (boxing, also directed)
Bull Durham would only receive a single Academy Award Oscar nomination for Shelton's original screenplay. With a production budget of $9 million, the film (from Orion Pictures) made a total of $50.9 million (domestic), and was the 18th highest-grossing film (based on revenue) for its year.
Costner's next film would be another very popular baseball film, the mystical sports fantasy Field of Dreams (1989) from Universal Pictures, based on the W.P. Kinsella book, in which he starred as farmer Ray Kinsella who felt compelled to build a baseball diamond in the middle of his Iowa cornfield. (Costner and Shelton again reunited for the golf film Tin Cup (1996).) Writer/director David Ward's R-rated underdog sports comedy Major League (1989) from Paramount Pictures - with lots of foul language - was another attempt to follow up on Bull Durham's success. [Note: Currently, the highest-grossing baseball sports film of all-time has been Sony's/Columbia's and director Penny Marshall's A League of Their Own (1992).]
Plot Synopsis
---
The Title Credits - Groupie Annie Savoy's "The Church of Baseball" Monologue:
A series of still black and white photos from baseball's past (including images of Pete Rose, Babe Ruth, and others) provided the backdrop for the title credits, with accompaniment by cultured and literate baseball and sports groupie Annie Savoy (Susan Sarandon), a junior-college English teacher and sexually-seductive baseball groupie. She also functioned as the film's voice-over narrator, and delivered an off-screen speech during the opening credits regarding her beloved team - the Durham Bulls of North Carolina. During the monologue, the camera panned over more black and white framed sports pictures in her home's small baseball 'shrine' (with candles) dedicated to the sport.
She described her offbeat 'life-as-baseball' belief in a celebrated "The Church of Baseball" monologue (sermon, actually) to the accompaniment of church organ music, as the camera panned from the pictures toward the right of the frame, to her bedroom and her makeup mirror where she was touching herself up in front of a mirror at her dressing table:
"I believe in the Church of Baseball. I've tried all the major religions and most of the minor ones. I've worshipped Buddha, Allah, Brahma, Vishnu, Siva, trees, mushrooms, and Isadora Duncan. I know things. For instance, there are 108 beads in a Catholic rosary and there are 108 stitches in a baseball. When I learned that, I gave Jesus a chance. (sigh) But it just didn't work out between us. The Lord laid too much guilt on me. I prefer metaphysics to theology.

[Note: Actually, there are only 59 beads in a Catholic rosary, but there are 108 beads in a Buddhist rosary.]

You see, there's no guilt in baseball, and it's never borin' (giggle) - which makes it like sex. There's never been a ballplayer slept with me who didn't have the best year of his career. Makin' love is like hittin' a baseball. You just gotta relax and concentrate. Besides, I'd never sleep with a player hittin' under .250, unless he had a lot of RBIs or was a great glove man up the middle.

You see, there's a certain amount of life wisdom I give these boys. I can expand their minds. Sometimes when I've got a ballplayer alone, I'll just read Emily Dickinson or Walt Whitman to him. And the guys are so sweet, they always stay and listen. Of course, a guy'll listen to anything if he thinks it's foreplay. I make them feel confident, and they make me feel safe - and pretty. Of course, what I give them lasts a lifetime. What they give me lasts 142 games. Sometimes it seems like a bad trade, but bad trades are part of baseball. I mean, who can forget Frank Robinson for Milt Pappas, for God's sake? It's a long season and you gotta trust it. I've tried 'em all, I really have. And the only church that truly feeds the soul - day in, day out, is the Church of Baseball."

[Note: Annie's last name 'Savoy' made plain that she was a feminine 'savior' figure, imparting knowledge ("life wisdom") to the male ballplayers to "expand their minds" and feed their souls through literature, poetry, holistic thinking and metaphysics.]
She was preparing to leave her house in her preferred off-the-shoulder outfit. After her sermon, she departed from her home on foot, and walked downtown to the local Durham Bulls ballgame that was just about to begin. [Note: If one had followed the actual direction of her path to the ballpark, from the location of her home (on N. Mangum Street) to the ballpark (on Morris Street), she would have been going north, but the ballpark was a mile south of the home.]
After arriving at the ballpark, there were the typical sights and sounds surrounding the game (Bill Haley and the Comet's "Rock Around the Clock") - the team mascot (a Bull), a popcorn vendor, fans in the stands, a goofy hip-swiveling dance by the 'Clown Prince of Baseball' (Max Patkin as Himself) at home plate, a father attending the game with his sons, etc. In addition, most of the other main characters (and some plot threads) were now to be introduced.
The Debut Performance of Durham Bulls' Rookie Pitcher LaLoosh:
The new hotshot pitcher for the perennial losing team - the Durham Bulls - was moronic, dim-bulb young, up-and-coming rookie pitcher-ballplayer Ebby Calvin LaLoosh (Tim Robbins). He was derided as a "bonus baby" by the team's assistant pitching coach Larry Hockett (Robert Wuhl) to the team's tobacco-chewing manager Joe "Skip" Riggins (Trey Wilson). LaLoosh, who was making his professional debut, had not yet appeared to warm up in the bullpen. With only four minutes until the game was about to start, manager Skip found him in the clubhouse with his pants down having stand-up quickie sex with young, blonde baseball groupie Millie (Jenny Robertson). He upbraided him:
"Million guys give their left nut to be in your shoes. And you're leavin' your fastball in the locker room for some piece of ass."
Millie reminded Skip that she was a familiar figure to him, and not just a 'piece of ass': "Skip! It is me! I am not some quote 'piece of ass' unquote." He apologized, but then warned her that she'd be banned from the ballpark for any further intrusions into the locker room. She countered that her father had donated the scoreboard, but Skip wasn't swayed by her blackmail attempt: "We ain't scored any runs all year." The dim-witted LaLoosh was more concerned about his nickname than the game: "All the great ones have nicknames like 'Oil Can' or 'Catfish.'...What do you think of 'Pokey'?" LaLoosh was given three minutes to get to the field, as Skip left muttering to himself: "Goddamn, son of a bitching, motherf--king s--t-head!"
The Durham Bulls took the field as the booth announcer introduced the team: "And now, 'The Greatest Show on Dirt,' your own Durham Bulls!" The "official voice" of the Bulls was WRDU's radio announcer Teddy Garland (Garland Bunting), who told the crowd that the Bulls had lost their first three games. In the stands, Millie sat next to Annie in her box seat, where the older, strong-willed feminist groupie Annie advised: "You've gotta stay out of the clubhouse." She insisted that Millie's misconceived excuse of being 'lured' there was not appropriate for take-charge women, and coerced her to repeat the phrase: "I did not get lured. I accept full responsibility for my actions."
During his first game, the wet-behind-the-ears pitcher exhibited his notorious out-of-control, haphazard fastball by throwing his first pitch at the broadcast booth. Millie recorded the speed of the throw with a Speed-Gun and reported back: "95 miles an hour." His second pitch struck the batter, incurring a walk. Annie wrote a note about the young pitcher's problem: "He's not bending his back on his follow-through." (Later, the note was delivered to LaLoosh in the dugout.) And then she asked co-groupie Millie about sex with LaLoosh, and was memorably told:
"Well, he f--ks like he pitches. Sorta all over the place."
A humorous and amusing montage (with Haley's "Rock Around the Clock") illustrated LaLoosh's wild pitches throughout the entire night game, including one pitch that beaned the Bulls' mascot. In the manager's office after the game, Larry and Skip summarized that LaLoosh had walked and struck-out 18 players - both new league records. Larry added: "In addition, he hit the sportswriter, the public address announcer, the Bull mascot twice. Also, new league records." But they both recognized hidden talent in the new recruit: "But, Joe, this guy's got some serious s--t."
The Arrival of "Crash" Davis to Mentor LaLoosh:
12-year veteran journeyman baseball catcher "Crash" Davis (Kevin Costner) entered their office in street clothes, introducing himself to Larry as "the player to be named later" - a hint that he was an older, more experienced hired hand. Larry and "Crash's" paths had crossed five years earlier as competitors in a Texas League game between El Paso and Shreveport, when "Crash" had smashed a game-ending home run. Admitting that he was "too old for this s--t," "Crash" acknowledged that his contract had been purchased, and he was being returned to the A-league to mentor the green young upstart LaLoosh. He had been acquired to teach the clueless LaLoosh (who was being groomed for the major leagues and was worth 100 grand) how to discipline his behavior and improve his concentration, including his erratic pitches from the mound and his off-the-field problems:
Larry: "He's got a million dollar arm with a five cent head."
Skip complimented "Crash" for his years of professional experience, but "Crash" was initially insulted by being demoted to the Carolina League, and wondered what he was going to get out of it:
Skip: "You've been around. You're smart. You're a professional. We want you to mature the kid. We want you to room with him on the road. Stay on his case all year. He can go all the way."
"Crash": "Yeah? Where can I go?"
Skip: "You can keep goin' to the ballpark and keep gettin' paid to do it. Beats the hell outta workin' at Sears....Even if it is the Carolina League this is a chance to play every day."
"Crash": "You don't want a player. You want a stable pony...Well, my AAA contract gets bought out so I can hold the flavor-of-the-month's dick in the bus leagues. Is that it? Well, f--k this f--kin' game! I f--kin' quit, all right? I quit."
He stormed out of the manager's office, but then paused and reconsidered, due to his love of the game and his professionalism. He reentered the office and asked: "Who do we play tomorrow?"
As LaLoosh soaked his pitching elbow in a tub of ice after his first game, he was being interviewed by sports-reporter Whitey (Robert Dickman). He gave a dim-witted reaction to his first win - with a flustered and incomprehensible answer: "It feels out there. It's a major rush. I mean, it doesn't just feel out there, I mean, it feels out there, you know. Uhm, kind of radical in a kind of tubular way, you know. But most of all, it's out there." "Crash" overheard the inane pitcher's brainless interview and reacted: "This is hopeless. This is utterly, f--kin' hopeless."
LaLoosh's and "Crash's" Encounter in a Country Western Bar:
In Mitch's Bar later that night where players would often hang out after games, patrons danced to country-western music. Sexy groupie Millie came on to Tony (Tom Silardi), the team's second-baseman. Behind them, Annie sat at another table asking 'Clown Prince' Max: "Max, how do you just keep coming back every year?" He responded that it was because of his love for the game. She was surprised when beers were anonymously bought for them by "Crash" - waving and sitting by himself in another booth. Max knew his reputation and introduced him to Annie: "He's played in more ballparks than I have. Helluva guy. He's really different. I actually saw him read a book without pictures once." Annie thought to herself that "Crash" was cute and asked him to dance, but he declined: "I don't dance."
Nearby, they watched LaLoosh on the dance floor, spinning and whirling around with at least four other younger females (to the tune of George Thorogood's "Born to Be Bad"). The newbie pitcher came over and thanked Annie for her note and tip about his pitching: "You're right. I wasn't bending my back." She suggested that he needed a nickname. "Crash" was prompted to 'fight' over Annie when LaLoosh asked her to dance (he rebutted the pitcher: "She's dancing with me"), and the two soon retreated to the bar's back alley after LaLoosh invited him to a fight: ("Step outside and party, man...You comin' or not, homeboy?").
Facing off outside, "Crash" declined to fight: ("Look, I don't believe in fighting"), but LaLoosh egged him on, and "Crash" counter-taunted and challenged him: "Take the first shot at me." He reached for a baseball in his jacket pocket and tossed it at the pitcher. He challenged him to throw it directly at his chest - not fearing the player's accuracy at all, while insulting LaLoosh's ball-play:
"From what I hear, you couldn't hit water if you fell out of a f--kin' boat. Throw it, Throw it, come on. Right in the chest."
When LaLoosh refused, "Crash" nicknamed him "Meat" (a demeaning and derogatory term for a novice or rookie, short for 'fresh meat') - and teasingly reasoned why LaLoosh would fail - he would start worrying and thinking too much and wreck his aim:
"You're not gonna hit me 'cause you're startin' to think about it already. Startin' to think how embarrassin' it would be to miss in front of all these people, how somebody might laugh. Come on, rook. Show us that million-dollar arm, 'cause I got a good idea about that five-cent head of yours."
Thoroughly insulted and intimidated, LaLoosh wound up and wildly tossed the ball - breaking the window of the bar's closed back door. "Crash" casually reacted: "Ball four." "Crash" then effortlessly punched the enraged LaLoosh to the ground when he approached. After the stunned LaLoosh complimented him: "Good punch," "Crash" introduced himself - and added that this was going to be his first baseball lesson:
"I'm Crash Davis. I'm your new catcher, and you just got Lesson Number One. Don't think. It can only hurt the ball club."

[Note: The bar's back door with a broken window was now open, although no one had entered or exited.]
"Crash" helped LaLoosh up, and offered to buy him a drink. Inside the bar, they watched Annie dancing with Max. As an empowering female, she was pleased that the two 'adolescent-acting' men had settled their macho differences - and invited them both to her place:
"Did you boys stop fightin'? Pals now? That's good. I love a little macho male bondin'. I think it's sweet, I do. Even if it probably is latent homosexuality being rechanneled. I'm all for rechanneling, so who cares, right? Okay, shall we go to my place?..Both of you, of course."
Annie's Yearly Proposition to Promising Ball-Players:
In Annie's home, seen briefly in the opening credits sequence, she lit some of the candles to illuminate her baseball shrine mounted on her living room wall, displaying many game relics (an old leather glove, a baseball, old pics, and other memorabilia). In one of the film's central scenes, she approached the two men awaiting her and sitting on her couch. Both dating prospects were introduced to her annual proposition that she would "hook up with one guy a season" after she had picked one ballplayer. She announced that she was deciding between them, because she regarded them as the two "most promising prospects of the season so far." She called it "kind of my own spring training."
"These are the ground rules. I hook up with one guy a season. Usually takes me a couple weeks to pick the guy. It's kind of my own spring training. And well, you two are the most promisin' prospects of the season so far. So, I just thought we should kind of get to know each other."
Crash confronted her bold affections and asked why she was the one to choose: ("Time-out. Why do you get to choose?...Why don't I get to choose? Why doesn't he get to choose?"). She provided a metaphysical explanation to the two males, before LaLoosh boiled her proposition down to the basics of sex:
Annie: "Well, actually, nobody on this planet ever really chooses each other. I mean, it's all a question of quantum physics, molecular attraction and then timin'. There are laws we don't understand that bring us together and tear us apart. It's like pheromones. You get three ants together, they can't do dick. You get 300 million of them, they can build a cathedral."
LaLoosh: "So is somebody gonna go to bed with somebody or what?"
Annie: "Honey, you are a regular nuclear meltdown. You better cool off."
"Crash" stood up and announced that he refused to "try out" for Annie as one of her draft picks, telling her: "After 12 years in the minor leagues, I don't try out." He also refuted her belief in Quantum Physics: "I don't believe in Quantum Physics when it comes to matters of the heart."