Plot Synopsis (continued)
---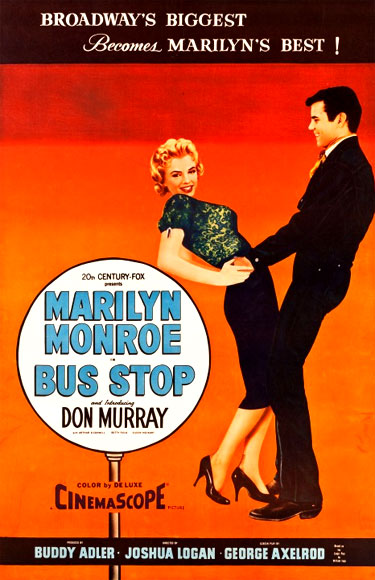 Cherie's Dreams and Employment in the Blue Dragon Cafe:
The dim-witted, fifth-rate, shapely, wanna-be saloon singer was named Cherie (Marilyn Monroe). Her enraged boss-manager (Henry Slate) called her "an ignorant hillbilly" for lazing about and for being late for her shift, and ordered her to leave her back dressing room area to perform and to mingle with the customers: "Why ain't you outside where you belong?"
Cherie's friend and co-worker Vera (Eileen Heckart), one of the Cafe waitresses, urged Cherie to put on her show-costume before taking the stage. The talentless singer had grown up in an impoverished family in the Ozarks in River Gulch, Arkansas, and had decided to take a job as a 'chanteuse' (she pronounced it "chantooze") to make something of herself: "I've been tryin' to be somebody." But now very unhappy in her job, she couldn't quit because of overdue bills for her room and board. She showed off a map with a red line drawn westward toward the coast. Cherie had left River Gulch, Arkansas with her baby sister Nan after floods destroyed their home, and had first stopped in Lubbock, Texas to work at Liggett's Drugstore. She described how she had won second prize in an amateur talent show, where she acquired her "direction" and her shabby, idealistic dream to end up where movies were made:
"That's how I got my direction and all....If you don't have a direction, you just keep going around in circles. And look. You can see by this just how straight my direction is....Straight as an arrow."
She announced her ultimate destination - Hollywood: "Look where I'm goin'...Hollywood and Vine...You get discovered. You get tested, with options and everything! And you get treated with a little respect, too."
Once out on the Cafe's floor, Cherie approached Virgil sitting by himself at a table, and following some coaching from Vera, hustled him to buy her whiskey drinks: "I wonder if you'd buy me a drink. I'm so dry, I'm spittin' cotton." After Vera had served four shots of 'tea,' while Virgil was downing beers and Cherie was pretending to be drunk, he became incensed when he discovered he was being duped: "You've been hustlin' me for drinks, 60 cents a shot! If there's one thing I can't stand is a woman tries to make a sucker outta me!" Bo explained that he wasn't upset because angels don't drink liquor.
Cherie's Performance of "That Old Black Magic":
In the cafe/club's floorshow, the film's most memorable 'live' moment was Cherie's off-key, inept, but innocently sensual, jazzy torch-song rendition of "That Old Black Magic" for an unappreciative audience. Her low-cut greenish and gold showgirl outfit (with gold fringe on the lower bustline and on her panty bottoms), with a turquoise boa-scarf and elbow-high black gloves including slightly-ripped, tattered fishnet stockings. She mixed sensuousness with a wistfully sad, soulful quality, and her off-pitch singing was accompanied by awkward and corny theatrical gestures:
That old black magic Has me in its spell
That old black magic That you weave so well
Those icy fingers Up and down my spine
The same old witchcraft When your eyes Meet mine...
Suddenly, Bo burst in, and when he saw the "pale and white" Cherie performing, he was immediately smitten and confidently confirmed: "That's her, Virge....That's my angel." Upset that she wasn't being treated respectfully by the audience, he stood on a table, whistled three times to get their attention, and then shushed the patrons: ("Can't you see the little lady's tryin' to sing?"). As she continued singing the number, she kicked a floor switch with her gold high-heeled shoe to turn a red spotlight on herself to look "aflame."
I should stay away But what can I do
I hear your name And I'm aflame...
Aflame with such A burning desire
That only your kiss, kiss Kiss Can put out the fire
For you're the lover I have waited for
The mate that fate had me created for
And every time Your lips meet mine
Darlin', down And down I go
Round and round I go
In a spin Lovin' the spin I'm in
Under that old black magic
Called love Love, love, love, love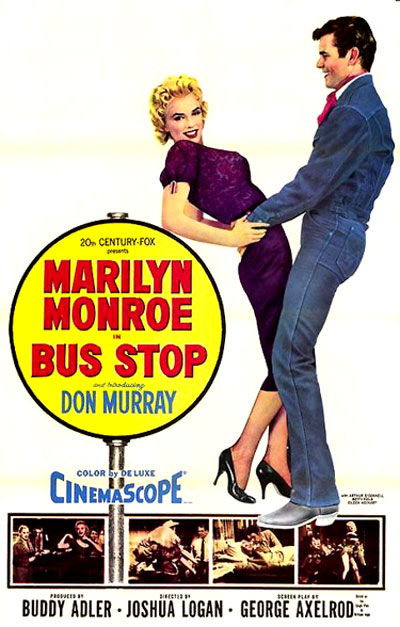 The Love-Struck Bo With Cherie:
After Bo saw her perform, the love-struck, stubborn country bumpkin Bo pursued Cherie off-stage and introduced himself - it was the first of many persistent attempts to woo her and try to win her over. He delivered a memorized speech describing his intention to find an "angel" to marry:
"My name is Beauregard Decker, ma'am. I'm 21 years old and I own my own ranch up in Timber Hill, Montana, where I got a fine herd of Hereford cattle, a dozen horses, and the finest sheep and hogs and chickens in the country. Now, I come down for the rodeo tomorrow with the idea in mind of findin' me an angel, and you're it. Now, I don't have a whole lot of time for sweet talkin' around the bush, so I'd be much obliged to you if you'd just step outside with me into the fresh air."
She quizzically asked: "What'd you say?" He forcefully demanded that she join him outside, but she politely declined his invitation: "We're not allowed to go out with the customers, but you could buy me a drink if you wanted. I'm so dry I'm spittin' cotton." As he passed Virgil on his way outside with her, he told VIrgil where he was going - "Splash!" - a reference to Virgil's advice about how women and swimmin' were pretty much the same.
They became slightly acquainted after he pulled her into the back alleyway against the cafe's rules. She described her profession as a "chanteuse" and why she was named Cherie ("It's French. It means 'dear one'"), although he could only crudely pronounce it as "Cherry." He felt a kinship with her when he described the meaning of his own formal French name - Beauregard - "It means "good lookin'" - although his nickname was "Bo."
She thanked him for quieting the audience: "It was real nice the way you made everybody shut up in there, like you had respect for me." He was thrilled when she told him how she first thought he was a crazy "hooligan," but then said she was physically attracted to him: "You're so big and strong and, well, so darn healthy-lookin'." They exchanged a series of passionate kisses.
[Note: The passionate kissing scene between Bo and Cherie had to be reshot after major filming had ended - it was common knowledge that censors routinely cut love scenes in films with open-mouthed kisses.]
The scene transitioned back to the inside of the Cafe where Cherie's second show was about to begin. Back inside the club with Cherie, Bo introduced Virgil to his new fiancee, and attributed the idea to Virgil: ("It was really your idea"). He bragged to Virgil that they were immediately engaged and that he was planning for their marriage during the rodeo the next day after the purchase of a marriage license, and then would return on the bus to Montana:
"We're engaged...We'll get married out there!...At the rodeo....I know she's my angel. That's good enough for me....Cherry, I just know we're gonna be very happy together - Till death do us part!"
He stubbornly disregarded Cherie's and Virgil's objections about his continual 'undignified' mispronouncing of her name, about how they barely knew each other, and about his far-fetched, preposterous proposal. He even ignored Virgil's complaint that the cheap bar-singer had hustled him for drinks. Before leaving for his 10 pm bedtime to rest up before the rodeo, Bo promised Cherie a wedding present for a proper mid-1950s homemaker: "I'm gonna get you a deep freeze, or an electric washer, or any other major appliance you want."
The next day early in the morning, while Bo performed more sit-ups, he was cautioned by Virgil to not impulsively decide to immediately get married to the first female he met: ("A fella can't go around marryin' the first gal he meets...she has no intention of marryin' you"), although he could practice on her. Bo thought he had a good chance with Cherie since she admitted to a "physical" attraction for him, and also might be attracted to his mind since he could recite the Gettysburg Address.
Cherie and Bo in Her Boarding House Bedroom:
Bo sang a few lines of "That Old Black Magic" while locating Cherie's boarding-house address. He barged in the front door past the landlady (Helen Mayon), and banged on Cherie's bedroom door. He attempted to wake up an exhausted Cherie (who had only four hours sleep), who he claimed was his fiancee. The landlady complained about the noise and told him how "callers" weren't allowed.
Bo invited Cherie to breakfast and the 10:30 am rodeo parade, while the landlady asked: "How do I know that you're engaged?" Cherie cried out: "Oh, it's you!" Bo insisted that it was their wedding day: "We gotta get goin' because we're gonna be married today, and we got a lotta things to do." Just in case there was trouble, the landlady kept her bedroom door propped open.
Bo was upset that Cherie was so pale and white due to her late work-hours and lack of sunlight: "Well, no wonder you're so pale and white. Cherry, know what that is out there? That's the sun." Apparently, Cherie was naked beneath her sheets - and she immediately rejected him and threatened to call the police:
"I have no intention in the world of marryin' you, so you might as well get it out of your head."
To impress her with his mind, he cluelessly recited or quoted the Gettysburg Address as she was lying in bed, as she tried to interject: "I hate parades. I'm not goin' to that parade." They were interrupted again by the landlady who entered through the door with an announcement:
"If you go any further, Mr. Lincoln, you're gonna miss the parade."
The Pre-Rodeo Phoenix Parade:
The main street was lined with crowds in bleachers and on the sidewalks applauding the parade. Behind the bleachers, Vera met Life Magazine reporter (Max Showalter) and his photographer (Hans Conried) who were making a documentary. Bo dragged Cherie into the stands to watch the parade and let her sit on his right shoulder for a better view, while she wore Bo's hat. Bo was thriled: 'I'm glad I'm not in this parade, so I can see it."
Cherie waved at Vera in the crowd, and gestured that Bo - who was below her - was crazy (by twirling her finger next to her head). When Vera asked what Cherie was planning to do with Bo, she denied both marrying him and going to the rodeo, and instead said she would "run away." Then, however, Cherie claimed to Bo that she and her friend Vera were going to get two tickets to the rodeo to see him compete. They both ran into the on-going parade to greet Virgil in horseback.
Cherie's Shocked Realization That She Was Actually 'Legally' Married to Bo:
At the rodeo, with cotton candy in their hands, Vera and Cherie were redirected from the high-priced seats to their ticketed seats across the way in the hot bleachers. Cherie commented as they approached their cheap seats: "They got us over here with the livestock."
During the rodeo while Cherie and Vera sat in the open and watched the bronc-riding competition, Virgil readied Bo to ride as he tied Cherie's green scarf around his neck for good-luck. Pale-skinned Cherie's lack of sleep, the hot sun, and the noise from the crowd was causing her extreme discomfort. Both Vera and Cherie agreed on Bo's crazy nature:
Vera: "You know, I think he is crazy."
Cherie: "Sure he is. Crazy as a bedbug. I told you he was. He thinks we're gettin' married this afternoon here at the rodeo."
Cherie told her friend Vera about Bo buying them a marriage license: "This mornin' after the parade, he dragged me down to the city hall and bought us a marriage license" - and she admitted she was forced to sign it: "Well, I had to do somethin'. He was makin' such a fuss in front of all those people." She also showed off her $43 dollar shiny engagement ring in a heart-shaped box that he had bought for her, plus mentioned a wedding ring for later.
Meanwhile, Bo was competing in various rodeo events, and described his strategy just before the calf-roping event:
I'm just gonna pretend that little ol' calf is Cherry. I'm goin' after her and I'm gonna get her. Now when I get her, I'm gonna rope her.
Just prior to the brahma-bull riding competition, Bo confidently stated to Virgil: "Don't worry about me, Virge. I ain't gonna break my neck. If I was to break my neck, I couldn't get married." At the same time, Vera mused to Cherie: "If he was to break his neck, that's about the only hope you've got." After each event, Bo would face Cherie, now known as "the cowboy's girl" and yell out to her.
When Cherie suspiciously spotted a preacher in the arena, and two delivery men with flowers and a wedding cake, she realized that Bo had planned for a wedding at the rodeo, and she nervously fled with Vera. To avoid going all the way around the ring to the exit, they crossed through the main competition area as Bo called out: "Cherry! Where you goin'?" Bo left the arena with Virgil and pursued after Cherie to her boarding house. He was prepared to forgo the rodeo finals that evening with single-minded determination: "I want Cherry."