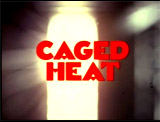 Caged Heat (1974)
In director Jonathan Demme's (The Silence of the Lambs (1991)) early trashy cult women-in-prison flick, and campy exploitation classic produced by B-movie king Roger Corman:
the early scene of full-cavity searches (allegedly for drugs) upon entry to the prison - when the prison's demented, perverted and twisted Dr. Randolph (Warren Miller) warned of the inmates' last chance to surrender "concealed" drugs, including calisthenics (deep knee bends)
the character of Superintendent McQueen (scream queen veteran Barbara Steele) - the wheelchair-bound, repressive, perverse and butch, semi-lesbian prison warden with an English accent
the inmates' amateur improv skit-show with dirty bawdy humor
the three dream sequences (1) Lavelle (Cheryl Rainbeaux), (2) Jackie (Erica Gavin), and (3) McQueen
the scene of implied masturbation before revealing that inmate Pandora (Ella Reid) was playing dice: "Come on, baby, come on! Hmm, mmm"
various attractive and empowered cell-block prisoners, including Erica Gavin as Jackie (sentenced for drug possession to "no less than ten, and no more than forty years"), Roberta Collins (as Belle) and Cheryl Rainbeaux Smith (as Lavelle), often glimpsed in shower scenes, or in various undressing situations
Requisite Shower and Strip Scenes
with expected exploitative scenes of sadistic torture, tongue-in-cheek humor, dirty catfights, rebellion and the requisite prison escape, etc.
Dr. Randolph's rape of drugged prisoners or performance of invasive CPT (corrective physical therapy) including brain surgery with a power drill - who took Polaroid pictures of one naked conquest, kleptomaniac Belle Tyson
Exploitation of Belle by Dr. Randolph
the concluding shoot-out after taking the warden and doctor prisoner - ending with their deaths during the getaway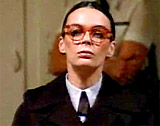 Warden McQueen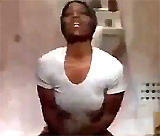 Pandora Playing Dice!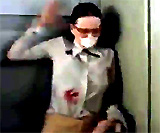 Shootout - Death of Supt. McQueen