Background
---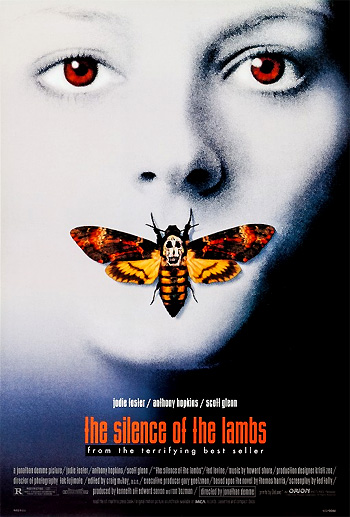 The Silence of the Lambs (1991) is one of the most taut, suspenseful, psychological thrillers ever produced. Director Jonathan Demme's superbly-crafted, harrowing film is dark, moody, somber, and truly frightening, yet exhilarating.
[Note: Until this A-list film and the director's subsequent opportunity to make more mainstream Hollywood films, Demme was better known as a maverick film director for B-films such as Caged Heat (1964), Melvin and Howard (1980), Something Wild (1986), Swimming to Cambodia (1987), and Married to the Mob (1988).]
Ted Tally's screenplay was based on Thomas Harris's 1988 best-selling novel of the same name. An earlier stylish and slick film thriller, also based on a Thomas Harris novel titled Red Dragon published in 1981, was Michael Mann's Manhunter (1986), (aka Red Dragon: The Pursuit of Hannibal Lecter) - it was the first film to represent psycho-killer Dr. Lecter (played by Brian Cox).
[Note: Manhunter probably inspired the short-lived (8 episodes) NBC-TV series titled Unsub (1989) with David Soul - an ahead-of-its-time 'forensic or crime scene investigation' show that likewise led to this 1991 film, and also to the police procedural TV show Profiler (first appearing on NBC in 1996) and to the immensely popular CBS-TV show CSI (and its spinoffs).]
The intimate and disturbing characterizations of mass murderers who mutilate their victims (usually female) were shocking, particularly the character of evil personified - the notorious, cobra-like, intelligent psychiatrist turned psychopath Hannibal Lecter (portrayed masterfully by British actor Anthony Hopkins) and his bargaining game to share information about another wanted serial killer ("Buffalo Bill") with dedicated, fledgling, vulnerable and rising female FBI agent-trainee/investigator Clarice Starling (Jodie Foster). One of the film's posters described the two main protagonists:
Dr. Hannibal Lecter.
Brilliant. Cunning. Psychotic.
In his mind lies the clue
to a ruthless killer.

Clarice Starling, F.B.I.
Brilliant. Vulnerable. Alone.
She must trust him to stop the killer.
The most compelling part of the film is in the developing dynamics of their participation in a cat-and-mouse battle of nerves, and the many chilling, spell-binding discussions in four scenes between them. Their relationship dances and alternates back and forth between psychopath/aspiring female agent, deranged psychologist/therapeutic patient, and father/daughter.
The film was a major commercial and critical success (the last successful release by Orion Pictures), although gay groups complained about its stereotypical depiction of the trans-sexual killer in the finale. It was a five-time major Academy-Award winner, sweeping Best Picture, Best Actor (Anthony Hopkins), Best Actress (Jodie Foster), Best Director (Jonathan Demme), and Best Adapted Screenplay (Ted Tally) - in the Academy's history, that remarkable feat has only been duplicated twice before [It Happened One Night (1934), and One Flew Over the Cuckoo's Nest (1975)]. Demme's Best Director Oscar win made him the first (and only) film-maker to have ever won for a thriller. Foster's strong, yet restrained, vulnerable female lead role in the much talked-about film was intensified by public knowledge of her real-life associations as a victim with assassin John Hinckley and her role as child-prostitute Iris opposite Robert De Niro's portrayal of a crazed killer in Scorsese's Taxi Driver (1976).
Thomas Harris' gruesome sequel, titled Hannibal (2001) from acclaimed director Ridley Scott, brought back Anthony Hopkins in the title role, but replaced Jodie Foster (as Clarice) with Julianne Moore. Scott replaced Oscar-winning director Jonathan Demme. And Steven Zaillian, the Academy Award-winning screenwriter of Schindler's List (1993), took the place of Oscar-winning screenwriter Ted Tally (after receiving a project draft from top screenwriter David Mamet). The prequel (and remake of the 1986 film) to the series' trilogy was filmed another year later by director Brett Ratner (from a script again written by Ted Tally), and named after Thomas Harris' original book, Red Dragon (2002) - it was billed as "the first and most terrifying chapter in the Hannibal Lecter trilogy."
See more information about the films in The Hannibal Franchise
Summary of Hannibal Films
(in the story's chronological order)

Hannibal Rising (2007)
d. Peter Webber
screenwriter: Thomas Harris

A prequel/origin story-thriller followed serial killer Hannibal Lecter (Gaspard Ulliel) from his WWII-era childhood in war-ravaged Eastern Europe (Lithuania), through his stay in a Soviet-run orphanage after his parents were killed by the Nazis, his flight to Paris in his teens, his stay with his uncle's Japanese widow Lady Murasaki (Gong Li), and his time in medical school to learn how to exact revenge on cannibalistic war criminals (and others) as a serial killer. This film marked the first time in the award-winning series that best-selling author Thomas Harris wrote the screenplay.

(1) Based on Thomas Harris' 2006 novel of the same name.

Manhunter (1986)
(aka Red Dragon: The Pursuit of Hannibal Lecter)
d. Michael Mann
screenwriter: Michael Mann

The infamous Hannibal Lecter was played by Scottish actor Brian Cox, with William L. Petersen starring as retired, tormented FBI agent Will Graham in pursuit. He engages his wits against the evil Doctor again, in order to find the culprit dubbed "The Tooth Fairy".

(2) Based on Thomas Harris' 1981 novel Red Dragon.

Red Dragon (2002)
d. Brett Ratner
screenwriter: Ted Tally
A remake of Manhunter. Anthony Hopkins reprised his role as the cannibalistic criminal Lecter, with Edward Norton as FBI agent Will Graham, Ralph Fiennes as serial killer Francis ("The Tooth Fairy") Dolarhyde, and Emily Watson as blind woman Reba McClane - the brutal killer's love interest.
The Silence of the Lambs (1991)
d. Jonathan Demme
screenwriter: Ted Tally

See plot analysis/review below. Considered a 'sequel' to the 1986 original film. Won five Oscar awards.

(3) Based on Thomas Harris' 1988 novel of the same name.

Hannibal (2001)
d. Ridley Scott
screenwriters: David Mamet, Steven Zaillian

Lecter was on the loose in Florence, Italy, where he was being stalked by his sole surviving victim - a disfigured and deformed Mason Verger (Gary Oldman), by an Italian detective (Giancarlo Giannini), and by FBI Special Agent (Julianne Moore) and her boss (Ray Liotta).

(4) Based on Thomas Harris' 1999 novel of the same name.

The only actor to appear in all four of the Hannibal movies listed above was Frankie Faison as the characters of a cop named Fisk (in 1986), and a male nurse named Barney Matthews.
Plot Synopsis
---
The 1991 film opens during the credit sequence in the "Woods near Quantico, Va," where young Federal Bureau of Investigation Academy trainee Clarice Starling (Jodie Foster) in a bluish-gray sweatshirt is in solitary - climbing up a rope on an incline, sweatily hauling herself up hand over hand. [It is a perfect metaphor for the personal journey and ordeal she will soon experience in the film. Her name symbolically signifies a feminine bird, trembling and quaint.] As part of her indoctrination and test of her skills, the trim, pretty, mid-20's young woman is undergoing a physical challenge to her endurance through an obstacle course. Clarice jogs through the woods, climbs a rope-netted barrier, and passes signs on a tree that read: "HURT," "AGONY," "PAIN," "LOVE - IT." Midway, she is pulled off the course and called in to see her supervisor. One of the few female trainees at Quantico, an elevator door in the building closes on her - she is surrounded by red-shirted males.
In the Behavioral Science Services section of the Academy, she enters into the cinder-block office of her senior, FBI supervisor, Special Agent Jack Crawford (Scott Glenn). There in the cluttered office, she turns and is startled to see a wall covered with glossy pictures and clippings of a current investigation into multiple murders. Ghastly enlarged photos of mutilated female corpses are particularly lurid and gruesome. One headline in The National Inquisitor stands out:
BILL SKINS FIFTH
Others describe the nature of the murders: "FBI Links Skinning Murders But Finds No Pattern - Murder Across Three States," and "Bill Attacks Again, Woman Missing Leaving Blouse Behind." Crawford enters his office where he praises her for her progress: "Top quarter of your class." He has thought of the young trainee with an Appalachian twang for a job - more like an "interesting errand." Her dry, uptight, three-piece suited mentor Crawford reviews her distinguished background:
Double major, Psych and Criminology. Graduated magna. Summer internships at the Reitzinger Clinic.
Presumably baffled by a series of similar murders, in which the killer removes the skin of his victims, Crawford describes the unusual assignment he has for her - to interview and obtain a psychological-behavioral profile - in a purely scientific way - on an uncooperative, psychotic psychiatrist who has been in prison for many years:
Crawford: We're interviewing all the serial killers now in custody for a psycho-behavioral profile. Could be a real help in unsolved cases. Most of them have been happy to talk to us. Do you spook easily, Starling?
Clarice: Not yet, sir.
Crawford: You see, the one we want most refuses to cooperate. I want you to go after him again today in the asylum.
Clarice: Who's the subject?
Crawford: The psychiatrist - Hannibal Lecter.
Clarice: Hannibal, 'the Cannibal.'
Crawford: I don't expect him to talk to you, but I have to be able to say we tried. So if he won't cooperate, I want just straight reporting. How's he look? How's his cell look? Is he sketching, drawing? If he is, what's he sketching?
By establishing a relationship with a captured serial killer Lecter, Crawford hopes that Clarice will find special insights into the personality of "Buffalo Bill" - the at-large, random serial killer. Clarice is given a dossier on Lecter, a questionnaire, and a special ID. Instinctively, she has guessed that there may be some connection between the homicidal "Buffalo Bill" and Lecter. Crawford cautions her about her upcoming interview and contact with the quick-witted, brilliant, convicted and imprisoned serial murderer, Dr. Hannibal "The Cannibal" Lecter (Anthony Hopkins), who has turned his ferocious oral desires for flesh into an astonishing facility with language:
Be very careful with Hannibal Lecter. Dr. Chilton at the asylum will go over all the physical procedures used with him. Do not deviate from them for any reason whatsoever. And you're to tell him nothing personal, Starling. Believe me, you don't want Hannibal Lecter inside your head. Just do your job, but never forget what he is.
The scene ends with a question: "What is that?" There is a transitionary cut to the Baltimore hospital, where the answer is heard in voice-over from Dr. Frederick Chilton (Anthony Heald) in his office:
Oh, he's a monster. Pure psychopath. It's so rare to capture one alive. From a research point of view, Lecter is our most prized asset.
The smarmy, self-serving Dr. Chilton, who runs the facility where Lecter is imprisoned, is rebuffed for showing some uninvited letchery toward the seemingly-helpless young woman. Expectations for the introduction of the sinister Lecter (Chilton mentions that Lecter considers Chilton his "nemesis") are raised to great heights on their maze-like journey through the state institution for the criminally insane.
An important parallel is established in the way that males have become predators, both on the side of the law and in the criminal behaviors of the mass murderers. The doctor divulges that her employer Crawford may be exploiting his young trainee - he may be deceiving the attractive Starling into her mission with a fake questionnaire - using her as bait to lure, provoke and inspire psycho Lecter into providing the Bureau with information into the case of the latest serial killer Buffalo Bill. Chilton uses a disguised pun on Lecter's penchant for eating his victims:
A pretty young woman to turn him on. I don't believe Lecter's even seen a woman in eight years. And oh are you ever his taste, so to speak.
Dr. Chilton rattles off rules as they pass through locked gates in their menacing, lurid approach to the high-security area where she will have access to the killer:
Do not touch the glass. Do not approach the glass. You can pass nothing but soft paper - no pencils or pens. No staples or paperclips in his paper. Use the sliding food carrier, no exceptions. If he attempts to pass you anything, do not accept it.
There are reasons for the high-security precautions - nearly a decade earlier, the cannibalistic Lecter proved how dangerous he really was:
On the afternoon of July 8, 1981, he complained of chest pains and was taken to the dispensary. His mouthpiece and restraints were removed for an EKG. When the nurse leaned over him, he did this to her? (In the reddish-hued light, Chilton holds up a small photo) The doctors managed to re-set her jaw more or less, and save one of her eyes. His pulse never got above eighty-five, even when he ate her tongue.
The film is most memorable for her introduction scene to the notorious, satanic, cannibal-psychiatrist Lecter, as she takes a tense walk along a dank row of medieval, high-security underground prison cells on her left to meet him. Before she proceeds - by herself - past other barred cells toward a chair in the middle of the corridor next to Lecter's cubicle - down a gauntlet in Hell itself - she steels herself for the confrontation. One of the gibbering crazy inmates, a dark, grotesque occupant in one of the cells named Miggs (Stuart Rudin), mashes his face against the bars and hisses charmingly with some verbal abuse:
I c-can sssmell your c--ttt!
She finds Hannibal Lecter, the brilliant, but insane criminal monster, imprisoned in a windowless, glassed-in, dungeon-like cell, decorated with his own charcoal or crayon drawings of European cityscapes. [The name is symbolic, recalling the legendary, elephant-leading military leader Hannibal, and Lecter or lecteur, a French word for reader becomes the intellectual, cultured component of his fiercesome character.] Filmed from her point of view, the notorious psychiatrist makes a dramatic film entrance. He first appears standing, ironically still and at attention in his cell, watching her with twinkling, chillingly-dead, blue eyes. His hair is closely-cropped and his head is tilted slightly in her direction. The menacing, fiendish, but polite, suave and gracious Hannibal takes the initiative and urges the clever, intelligent, but inexperienced Clarice to step closer to his cell to show her ID credentials: "Closer, please. Clo-ser." She complies, trying to hide her fear from the lethal predator.
Their dialogue is a masterful parry and thrust confrontation, complemented with long, sustained, extreme close-ups of their faces on opposite sides of the glass wall - the elegantly-evil, brilliant, omniscient Lecter is skillfully observant with extraordinary, diabolically-developed human faculties, perceptively capable of acutely deducing much about her identity, life, and character with just a cursory glance (and smell). Contemptuous of her from the start, Lecter is initially insulted when he learns that Crawford sent a neophyte "trainee" to him. He tries to unnerve her by staring directly into her eyes and testing her with questions. Clarice struggles to maintain her separate identity from him to avoid being overwhelmed - she never flinches away or averts her gaze, and he begins to take an analytical and personal interest in Crawford's protege:
Lecter: You're not real FBI are you?
Clarice: I'm still in training at the Academy.
Lecter: Jack Crawford sent a trainee to me?
Clarice: Yes, I'm a student. I'm here to learn from you. Maybe you can decide for yourself whether or not I'm qualified enough to do that.
Lecter: Mmm. That is rather slippery of you, Agent Starling. (In a gentlemanly way, he offers her a seat in the metal chair in the corridor) Sit, please. Now then, tell me, what did Miggs say to you? Multiple Miggs in the next cell. He hissed at you. What did he say?
Clarice: (openly with honest candor) He said, 'I can smell your c--t.'
Lecter: I see. I myself cannot. (He acutely senses her smells through the air holes above him.) You use Evyan skin cream, and sometimes you wear L'Air du Temps, but not today.
Clarice: (She changes the subject after noticing his works of art.) Did you do all these drawings, Doctor?
Lecter: Ah! That is the Duomo, seen from the Belvedere. Do you know Florence?
Clarice: All that detail just from memory, sir?
Lecter: Memory, Agent Starling, is what I have instead of a view.
To get on with her job, Clarice changes the subject (and mood) and takes the questionnaire from her case, readying herself to proceed with the questions. But Lecter chides her, an ever-scolding teacher in her presence:
No, no, no, no, no. You were doing fine. You had been courteous and receptive to courtesy. You had established trust with the embarrassing truth about Miggs, and now this ham-handed segue into your questionnaire. (He tuts reproachfully) It won't do.
Lecter knows that Crawford has recruited help from "the student body" to "hunt" for "that new one" - the country's latest serial mass murderer: "Buffalo Bill":
Lecter: What a naughty boy he is! Do you know why he's called 'Buffalo Bill'? Please tell me - the newspapers won't say.
Clarice: Well, it started as a bad joke in Kansas City homicide. They said, 'this one likes to skin his humps.'
Lecter: Why do you think he removes their skins, Agent Starling? (sarcastically) Thrill me with your acumen.
Clarice: It excites him. Most serial killers keep some sort of trophies from their victims.
Lecter: I didn't.
Clarice: No. No. You ate yours.
Smiling to himself for her precise boldness and accuracy, he allows Clarice to send through the profile questionnaire. But he is deeply insulted by the few pages he glances at:
Oh, Agent Starling, do you think you can dissect me with this blunt little tool?
With a purring, soft voice, he dissects her personality with a witty, but perversely intimate portrait of her soul - it is a chilling speech, imitating her way of speech with mocking criticism. His assumptions about her hillbilly roots, her limitations, and her aspiring ambitions are based solely on her West Virginia accent and the appearance of her "cheap shoes" - the cadences of Lecter's delivery are memorable:
You're so-o ambitious, aren't you? You know what you look like to me, with your good bag and your cheap shoes? You look like a rube. A well-scrubbed, hustling rube, with a little taste. Good nutrition's given you some length of bone, but you're not more than one generation from poor white trash, are you, Agent Starling? And that accent you've tried so desperately to shed - pure West Virginia. What does your father do? Is he a coal miner? Does he stink of the lamp? You know how quickly the boys found you. All those tedious, sticky fumblings in the back seats of cars, while you could only dream of getting out. Getting anywhere, getting all the way to the F...B...I.
The psychoanalytic words strike deep into Clarice's heart because she knows she hasn't lived up to her own expectations, and his words are right on target - her truest and most pleasurable thoughts were of leaving her home and moving ahead with her career. Her self-confidence is worn thin, and she is visibly shaken and ashamed. Yet she composes herself and manages to swing back with concentrated anger, retorting that he should fill out the questionnaire:
You see a lot, Doctor. But are you strong enough to point that high-powered perception at yourself? What about it? - why don't you, why don't you look at yourself and write down what you see? Or maybe you're afraid to...
He slams the sliding food tray back through with the questionnaire. Lecter graphically tells her about his ferocious oral impulses and how he eats parts of his victims:
A census taker once tried to test me. I ate his liver with some fava beans and a nice Chi-an-ti. (He approaches the glass and lets go with a slurping sound.) You fly back to school now, little Starling. (He turns his back on her and speaks in a whisper.) Fly, fly, fly. Fly, fly, fly.
Lecter steps back from the glass window and turns his back on her. Resigned and frustrated by his denial, Clarice leaves the questionnaire in the tray and slowly walks down the corridor. She passes Migg's cell - the demented inmate is naked and masturbating on his bench/bed, moaning: "I bit my wrists so I can diiiiie...," and gleefully yells: "See how it bleeds?" He then flings a handful of fresh semen at her, spattering her hair and face with it. Agitated, stirred, and shaking with rage, Lecter calls out to her and she runs back to him.
Lecter sets up the beginnings of an irresistible, exploitative relationship with Agent Starling, bargaining with her to let him have a "view" in return for her "advancement." She will earn his complicity, and clues-information about Buffalo Bill if she will look "deep within" and share some of her personal self [Clarice has already dismissed Crawford's primary warning to not let Lecter inside her head]:
Lecter: I would not have had that happen to you. Discourtesy is unspeakably ugly to me.
Clarice: Then do this test for me.
Lecter: No. But I will make you happy. I'll give you a chance for what you love most.
Clarice: And what is that, doc?
Lecter: Advancement of course, listen carefully. Look deep within your self, Clarice Starling. Go seek out Miss Mofet, an old patient of mine. M-O-F-E-T. Go now. I don't think Miggs could manage again so soon, even though he is crazy. GO NOW!
Outside the hospital after being sent away on a cryptic treasure hunt, she is visibly upset and disturbed by her encounter with Lecter. When she looks at her old Pinto in the parking lot, she experiences a short flashback which takes her back to when she was ten years old (Masha Skorobogatov), the daughter of a small-town West Virginia policeman/marshal. From the porch of the Starling house, she rushes into her biological father's (Jeffrie Lane) arms and embrace - and he twirls her around. The young agent slumps next to her car in the parking lot, sobbing.
The scene cuts to a rapid series of gunshots on the FBI practice firing range - in a determined, combat stance, Clarice pumps and fires rounds into a rotating target, the silhouette of the chest of a man. Other training experiences are quickly presented: (1) with another male trainee, she breaks into a room with guns drawn, but forgets to cover her "danger area" in the corner. Clarice is instructed that, in real-life, she would have been dead. (2) with a female trainee/friend Ardelia Mapp (Kasi Lemmons) while jogging, Clarice mentally rehearses some of her studies. (3) in the Academy library, Clarice intently looks at microfilm rolls of newspaper stories recounting the 'horrors' that renowned Baltimore psychiatrist Hannibal Lecter committed:
NEW HORRORS IN 'CANNIBAL TRIAL'
The Doctor of Death Cooked His Victims for Gourmet Meals Then Served Them to His Friends, Michael Ronboz of City Council Among Those at Dinner Table
On the phone, "guru" Crawford tell Starling that "Miggs is dead" - he swallowed his own tongue and Lecter is implicated: "Lecter did it to amuse himself." Following up on the "Mofet" lead, Clarice discovers that Lecter altered or destroyed most of his patients' histories prior to capture and there is no record of anyone named Mofet. However, Clarice intelligently figures out that the "Your Self" reference in his words meant a "Your-Self Storage" facility outside downtown Baltimore close to where Lecter had his practice.
At the storage area, the attendant Mr. Lang (Leib Lensky) informs Clarice that Lecter's storage unit was leased for ten years and the contract was pre-paid in full since 1980: "The contract is in the name of 'Miss Hester Mofet.'" Resourcefully, Clarice retrieves the bumper jack from her own car and pumps open the jammed, wedged-tight storage door only about 18 inches. She peers into the storage area with a flashlight, and then non-chalantly, but ominously hands Mr. Lang her business card:
If this door should fall down, or ha, ha, anything else, uh, this is the number for our Baltimore field office. Now they know that you're with me. You call them if anything should happen.
As she squirms her way in, she snags one thigh on the metal edge of the door and draws blood. In the light of her flashlight, she sees lots of piled up, dusty pieces of furniture, boxes, a wooden statue of an owl in flight, mannequin parts lying on shelves, an old upright piano, and a 1931 Packard beneath a huge American flag. After opening the door to the back passenger compartment, she finds a beheaded, dressmaker's mannequin seated there, garbed in a fancy satin evening gown and costume pearls, with elbow-length gloves. On the broad back seat next to the mannequin is an open album of lacy, old-fashioned Valentines. Clarice removes a red silky handkerchief, revealing a horrifying find - a grotesquely-bloated man's severed head preserved in a laboratory specimen jar. The face, whose identity is later revealed by Lecter, has been transformed into the face of a woman with the addition of heavy makeup (now smeared).
After a penetrating close-up of the deformed, decapitated head, she drives up to the Baltimore hospital and rushes up the steps in the rain. A discussion with Dr. Lecter has already commenced, their second suspenseful confrontation in his darkened cell. Wet-haired Clarice, sitting on the floor, has deciphered his cryptic words:
It's an anagram, isn't it, Doctor? Hester Mofet, 'The rest of me. Miss The-Rest-of-Me,' meaning that you rented that garage.
Suddenly, Lecter responds by sliding out his food carrier, making her jump. In the tray is a clean, folded white towel which she uses to dry off her hair [breaking another of the explicit rules of the institution]. From the floor in the shadows of his cell, he speaks intuitively: "Your bleeding has stopped." Behind Clarice is a television set tuned to a preacher on a gospel station. Although Lecter really wants to see the case file on Buffalo Bill, he tells her about "Miss Mofet" with moments of black humor:
Lecter: His real name is Benjamin Raspail. A former patient of mine, whose romantic attachments ran to, shall we say, the exotic. I did not kill him, I assure you. Merely tucked him away, very much as I found him. After he'd missed three appointments.
Clarice: If you didn't kill him, then who did, sir?
Lecter: Who can say? Best thing for him, really. His therapy was going nowhere.
Clarice: His dress, uh, makeup, Raspail was a transvestite?
Lecter: In life, oh no. Garden variety manic-depressive, tedious, very tedious. No, no. Just think of him as a kind of experiment. A fledgling killer's first effort at - transformation.
And then, the ex-psychiatrist Lecter psychologically penetrates and presses into Clarice with personal questions, exposing more of the mind-messing, exploitative game he has prepared for her. Powerfully desirous of knowing more about her, he circles around her in a dance of questions like a predator or in a courting ritual, asking if Crawford is using her or wants her sexually:
Lecter: How did you feel when you saw him, Clarice?
Clarice: Scared at first. Then - exhilarated.
Lecter: Jack Crawford is helping your career, isn't he? Apparently he likes you and you like him too.
Clarice: I never thought about it.
Lecter: Do you think Jack Crawford wants you sexually? Truly he is much older, but do you think he visualizes scenarios, exchanges, f--king you?
Clarice: That doesn't interest me doctor. Frankly, it's, it's the sort of thing that Miggs would say.
Lecter: Not any more.
When the lights come on in his cell, the cell walls have been stripped bare of his paintings: "Punishment, you see, for Miggs. Just like that gospel program. When you leave, they'll turn the volume way up. Dr. Chilton does enjoy his petty torments."
Clarice returns to the subject of the killer during their riveting interview. Lecter slowly stands and rises above her, speaking down to her submissive figure, and enticing her with more information about the killer's characteristics:
Clarice: What did you mean by transformation, doctor?
Lecter: I've been in this room for eight years now, Clarice. I know they will never, ever let me out while I'm alive. What I want is a view. I want a window where I can see a tree, or even water. I want to be in a federal institution, far away from Dr. Chilton.
Clarice: What did you mean by fledgling killer? Are you saying that he's killed again?
Lecter: I'm offering you a psychological profile of Buffalo Bill based on the case evidence. I'll help you catch him, Clarice.
Clarice: (She rises) You know who he is, don't you? Tell me who decapitated your patient, doctor.
Lecter: All good things to those who wait. I've waited, Clarice. But how long can you and old Jackie boy wait? Our little Billy must already be searching for that next special lady.