Background
---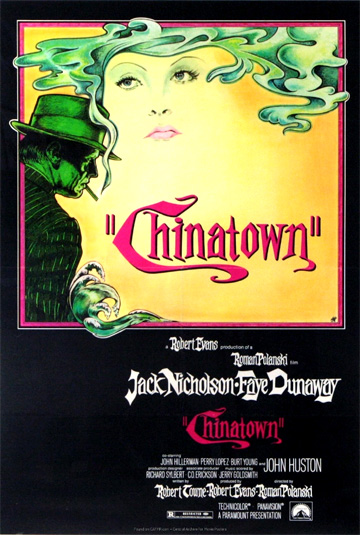 Chinatown (1974) is a superb, private eye mystery and modern-day film noir thriller. Its original, award-winning screenplay by Robert Towne is a throwback that pays homage to the best Hollywood film noirs from the pens of Dashiell Hammett and Raymond Chandler in the 30s and 40s. The film declined to provide a tagline, instead choosing imagery over words on its poster, which featured in 40's art deco, the detective - his back facing the viewer, smoking a cigarette, with the smoke emanating from it forming the visage of the heroine, signifying the setting, the mood, and symbolism of the film without uttering a single phrase.
The film is a skillful blend of mystery, romance, suspense, and hard boiled detective/film noir genre elements - especially embodied in The Maltese Falcon (1941) (by director John Huston who acts in this film) and The Big Sleep (1946). This revisionist noir film was the first production of legendary Paramount Studios head (and ex-actor) Robert Evans, a flamboyant Hollywood figure who later in 1994 published a juicy autobiography, The Kid Stays in the Picture that was made into a documentary film in 2002.
The film marked French-born Polish director Roman Polanski's return to Hollywood five years after the gruesome 1969 Manson murders that took the life of his actress wife Sharon Tate. Polanski opted to use a bleak ending rather than the more hopeful finale in the original screenplay, presumably because of his life's tragedies. Only a few years later, in 1978, he would be indicted and convicted with the 1977 statutory rape (and drugging) of a 13 year-old girl (later identified as Samantha Geimer) while at the home of star/actor Jack Nicholson (absent at the time), and had to flee to Europe as a fugitive. This was Polanski's last film made on location in the US.
Writer Robert Towne's screenplay was partially based on a true Los Angeles scandal in the early part of the 20th century (the story of the nefarious 1908 Owens Valley 'Rape' and scandalous San Fernando Valley land-grab by speculators). The film's character, Hollis Mulwray, was loosely derived from LA's real-life water engineer William Mulholland (the General Manager of LA's Bureau of Water Works and Supply), who orchestrated the purchase of water rights and the piping of water from the High Sierras into Los Angeles by an aqueduct that flowed through the now-valuable San Fernando Valley north of LA. The name of the character Hollis Mulwray was a clever anagram for "Mulholland". The evil character of Noah Cross was a reference to the Biblical Noah (and the torrential flood that devastated mankind).
The investigation of a routine story by a detective uncovers secrets under many layers, facades, red herrings, and networks of corruption, conspiracy and deception. The film contains numerous plot reversals and twists (many of which regard the private eye's client and her family), fistfights and some violence, and many changes of scene. As the hero unravels the complicated, elusive facts, he flippantly and self-confidently offers pat explanations for the deeply-flowing corruption he unearths, and then finds he must continually revise his inaccurate pronouncements after uncovering further evidence. His efforts to separate good from evil - to save the good and punish the evil - ultimately fail in the metaphoric (and then real) world of Chinatown by the film's climax. [The film's title, according to Towne, referred to a 'state of mind' rather than an actual geographic place.]
Similar to a case that he never fully perceived or understood years earlier when he was a cop in LA's Chinatown [symbolic of the city of Los Angeles], he is doomed to repeat history ("You may think you know what you're dealing with, but believe me, you don't", voiced by the film's villain played by legendary director John Huston) - as a powerless, hard-boiled detective, he again brings tragedy to a woman he wants to help. [The story continued in a complex, poorly-received sequel many years later - The Two Jakes (1990) - that required considerable knowledge of the earlier film in order to be comprehensible. It also starred Nicholson as the private detective in 1948 Los Angeles (and he also served as the film's director - one of the few films he directed). The sequel, when viewed with the original film, provides the viewer with a 267-minute film noir epic. A third film to complete a trilogy, named Cloverleaf (a reference to LA's freeway system and its massive interchanges - with its notorious air pollution), was shelved when The Two Jakes failed at the box-office. Its title was referenced in Who Framed Roger Rabbit (1988) as the evil Doom's giant corporation with a quasi-swastika as its logo.]
The film's claustrophobic, cyclical, bleak mood surrounding the heroic quest of the detective struck a responsive chord after the scandalous Watergate era of the early 1970s. The film's two puzzling mysteries and tragedies - family-related and water-related - are beautifully interwoven together. The water-rights scandal at the heart of the film expresses how ecological rape of the land has occurred in outrageous land-development schemes that redirect the water's flow. It reminds viewers that the days of abundant natural resources (and life-giving water that turns a forbidden wilderness into a plentiful garden) are past - the land has become barren due to the selfish manipulations of rich and powerful businessmen.
There were many accolades for this stunning film, including eleven Academy Award nominations, although only one took the Oscar home, Best Original Screenplay for Robert Towne's superb work (the losses were partly attributed to the intense competition from Coppola's The Godfather, Part II (1974)). An uncredited Nicholson wrote his own dialogue, and collaborated on the famous ending with Polanski a few days before the scene was shot. [Chinatown won four of its seven nominations at the 32nd Annual Golden Globes ceremony: it defeated Coppola's film for the Best Picture-Drama award; Polanski won the Best Director award; Jack Nicholson won the Best Actor in a Leading Role-Drama award; and Robert Towne won the Best Screenplay honor.]
The other ten Academy Awards nominations were: Best Picture, Best Actor (Jack Nicholson), Best Actress (Faye Dunaway), Best Director (Roman Polanski with his first Best Director nomination), Best Cinematography (John A. Alonzo), Best Art Direction/Set Decoration, Best Sound, Best Original Dramatic Score (Jerry Goldsmith), Best Film Editing, and Best Costume Design. Originally, Polanski had considered Anjelica Huston for the role ultimately assumed by Faye Dunaway - that would have made her real-life father, John Huston, her on-screen father (incestuous) also!
Plot Synopsis
---
The film's credits play under a sepia-colored art deco background in the old 1:33 screen format, suggesting the bygone era from the past - one of yellowed photographs, the early days of Hollywood's sound pictures, amber-preserved fossils, or images drained of their color. A haunting, melancholy trumpet solo provides the musical backdrop for the title sequence. Set in 1937, the first scene opens in the upscale office of a Los Angeles private detective-hero, an overdressed character named J. J. (Jake) Gittes (Jack Nicholson). He's a former cop who now specializes in investigations involving messy, 'dirty' divorce cases and extra-marital affairs.
One of his distraught clients named Curly (Burt Young) is in his office, groaning while looking at the incriminating evidence - black and white photographs of his wife (probably also groaning) and awkwardly having adulterous sex with another half-clothed man in the woods. [This is the first instance in the film of seeing 'evidence,' 'proof' or facts in a case that can easily be misunderstood or misread. He voyeuristically flips through the pictures - creating a peep-show effect.] Curly is so upset that he throws the pictures into the air and grabs the venetian blinds. The self-assured, unperturbed Jake understands his agonized pain and commiserates with him, but cooly and detachedly cautions him to stop gnawing on the newly-installed fixtures:
All right, Curly, enough's enough. You can't eat the venetian blinds. I just had 'em installed on Wednesday.
Jake, wearing a white-colored suit, offers him a stiff drink instead: "Down the hatch." Jake supports Curly's belief that his wife is unfaithful and no good: "What can I tell you, kid? You're right. When you're right, you're right, and you're right." Curly is ushered into the cream-colored outer room where Jake assures the lower-class fisherman that he won't take his "last dime." The client mumbles about begging off paying the fees until the next week - after his next fishing boat haul to catch more profitable albacore tuna. [This isn't the first mention of albacore.] Jake's door is labeled with bold letters: "J. J. Gittes & Associates, Discreet Investigations."
In another room are Jake's well-dressed partners, "operatives" Walsh (Joe Mantell) and Duffy (Bruce Glover), associates who assist Gittes in gathering evidence, taking photographs, and snooping on the extra-marital indiscretions of rich, wayward spouses. They introduce Jake to a second client, a woman named "Mrs. Mulwray" (Diane Ladd), who also complains about a suspected infidelity. Jake replies: "No, really?" in a completely unsurprised, deadpan way, stressing the fact that these are the sort of cases he deals with most. [She isn't who she appears to be, but actually is an imposter named Ida Sessions who has been hired to discredit Mr. Mulwray.]. Not permitted to speak to Gittes privately, she asks him - with his operatives present - to investigate her husband's alleged affair with another woman.
Although Jake attempts to dissuade the lady-like "Mrs. Mulwray" from pursuing the case with an ironic expression: "Let sleeping dogs lie, you're, you're better off not knowing," she insists on his investigation of the extra-marital affair: "A wife can tell... I have to know!" She identifies her husband as Hollis Mulwray (Darrell Zwerling), the well-known chief engineer of L.A. city's "Water and Power" Company. "Mrs. Mulwray" insists that his expensive services are no problem: "Money doesn't matter to me, Mr. Gittes."
Jake begins his investigation of the Mulwray case by listening to public hearings discussing the latest waterways project - a proposed Alto Vallejo Dam and Reservoir. Proponents and opponents of the dam present their cases at the city council meeting. Bored listening to the Mayor Bagby's (Roy Roberts) speech about how "Los Angeles is a desert community" needing irrigation projects that must be paid for by a public bond, Gittes reads the Racing Record with headlines: "Seabiscuit Idol of Racing Fans." When a bow-tied Mulwray is called to speak, the lanky, bespectacled man lambasts the politician's project that would give the desert area north of LA (the San Fernando Valley) irrigation water. He argues with an engineer's grasp of facts against its construction - using previous experience from the Van der Lip dam disaster that killed five hundred people. [Paralleling history, a Mulholland-designed structure, the St. Francis Dam, burst in 1928 and caused a massive loss of life and property]:
And now you propose yet another dirt-banked terminus dam, with slopes of two and one-half to one, 112 feet high and a 12,000 acre water surface. Well, it won't hold. I won't build it, it's that simple. I'm not going to make the same mistake twice.
Mulwray's opinion that effectively denies water to the area is unpopular - it is greeted with boos and protests. As Gittes grins at the sight, an irate farmer (Rance Howard) from the dry valley herds his sheep down the aisle of the public hearing. He demands to know why Mulwray is denying water to his livestock and crops, and then accuses the engineer of being paid off to divert water from the farms in the valley:
You steal water from the valley. Ruin their grazing. Starve the livestock. Who's paying you to do that, Mr. Mulwray? That's what I want to know.
Mulwray looks down and doesn't answer - he is still investigating the truth for himself.
Gittes trails Hollis Mulwray, who spends most of his time checking out the city's water supplies. Gittes spies on him with binoculars as a noisy fly buzzes around his head - but he doesn't understand Mulwray's paradoxical actions. He first walks in a dried-up riverbed and speaks to a Mexican boy on horseback, and then opens a large ledger book on the hood of his car. Next, Gittes tails him in his car, watching him from his rear-view mirror for more clues. He watches Mulwray as he gazes for many hours at the ocean from a coastal beach. At nightfall, water mysteriously runs out of a run-off pipe near the ocean and channels itself into the Pacific.
When Gittes returns to his car at 8:20 pm, he finds a notice on his windshield from the Citizens' Committee to Save Los Angeles, urging a 'YES' vote on the dam bond.
SAVE OUR CITY!!!
LOS ANGELES IS DYING OF THIRST!
VOTE YES!
November 6th.
He tosses away the flyer about the drought-stricken city's water supply. A cheap pocket watch placed by Gittes under one of the tires on Mulwray's car is later picked up and indicates that he was "there all night" - he left at 1:50 am. Gittes' off-screen assistant, Walsh, thinks that Mulwray is obsessed with water after visiting three reservoirs a day earlier: "The guy's got water on the brain."
Walsh shows other investigative evidence to Gittes - candid photographs of Mulwray in a heated argument with another unidentified man [Noah Cross]. He heard only the mention of the words "apple core" - an imperceptible detail that becomes much more significant later. [Again, evidence is wrongly mislabeled or misinterpreted. 'Apple core' is actually a mispronunciation of the name of a local country club - Albacore. And the argument between the men prefaces a murder that isn't revealed until much later.] Lacking foresightedness, Jake chastises his assistant for bungling ineptness in the taking of the photographs: "This business requires a certain amount of finesse." When Duffy phones that he has located Mulwray with a young woman ("a cute little twist") in a rowboat on a lake in Echo Park, Gittes exclaims: "Water again." Gittes rushes there to take secretive, incriminating still photos of Mulwray rowing the two of them, and then he uses his phallic-probing camera to shoot more pictures of the engineer hugging and kissing the unknown, un-named blonde girl [Katherine] on the back patio of the El Macondo Apartments. [Speaking in a foreign language, she is appreciative that she has been given a new virginal dress, but Gittes is ready to falsely assume that the couple are having a clandestine, adulterous affair.] Off-screen, Gittes turns over the pictures to "Mrs. Mulwray," but then finds that they are published for some reason a few days later for everyone to see.
The pictures of Mulwray with his alleged girlfriend precipitate a scandal - they hit the Los Angeles Post-Record tabloids. A heart-shaped picture and a headline take the front page:
DEPARTMENT OF WATER AND POWER BLOWS FUSE
Smaller columns are headed: "J. J. Gittes Hired by Suspicious Spouse," and "Chief's Use of Funds for El Macondo Love Nest Being Investigated." The newspaper is being read by Gittes seated in a barber's chair during a beautifying haircut. The barber Barney (George Justin) makes an off-hand reference to Jake's near-star status in the center of the film industry:
When you get so much publicity, you gotta get blasé about it. Let's face it, Jake! You're practically a movie star.
Through the barber's window, a car overheats (water in its pressurized radiator blows out as steam from under the hood) during LA's hot summer. [The image symbolizes what happens when water, the major focus of attention in the film, is subjected to extreme temperatures and pressures.] Jake also becomes hot-headed when he must defend his sleazy profession (of nosing into other people's personal affairs) to another shop customer (Doc Erickson) who is employed by the First National Bank Mortgage Department:
Listen, pal. I make an honest living. People only come to me when they're in a desperate situation. I help 'em out. I don't kick families out of their houses like you bums down at the bank do.
To cool things down and forestall a fistfight with the other customer, Jake's barber tells him a dirty story (a crude ethnic joke) about matrimonial "screwing" like a Chinaman (prolonged intercourse interspersed with interruptions).
Jake is anxious to tell the same off-color joke to his confreres when he returns to the office, but he first excuses his slightly-offended secretary Sophie (Nandu Hinds) from hearing the inappropriate joke ("Go to the little girl's room for a minute"). Chortling and guffawing to himself as he builds to the long, drawn-out, and orgasmic punchline, he doesn't realize his embarrassed operatives' discomfort that he has another female client behind him who appears when a door opens. Emotionless, she listens to the entire tasteless, and only mildly funny racist joke:
So there's this guy, Walsh, do you understand? He's tired of screwin' his wife...So his friend says to him, 'Hey, why don't you do it like the Chinese do?' So he says, 'How do the Chinese do it?' And the guy says, 'Well, the Chinese, first they screw a little bit, then they stop, then they go and read a little Confucius, come back, screw a little bit more, then they stop again, go back and they screw a little bit...then they go back and they screw a little bit more and then they go out and they contemplate the moon or something like that. Makes it more exciting.' So now, the guy goes home and he starts screwin' his own wife, see. So he screws her for a little bit and then he stops, and he goes out of the room and reads LIFE Magazine. Then he goes back in, he starts screwin' again. He says, 'Excuse me for a minute, honey.' He goes out and he smokes a cigarette. Now his wife is gettin' sore as hell. He comes back in the room, he starts screwin' again. He gets up to start to leave again to go look at the moon. She looks at him and says, 'Hey, whatsa matter with ya. You're screwin' just like a Chinaman.'
Although the film audience and Jake's operatives are aware of the woman (by the camera's angle), Jake is the last to learn of her presence. He turns and meets the client behind him - the real Mrs. Evelyn Mulwray (Faye Dunaway), a beautiful, cool socialite in a blue outfit [looking remarkably like Joan Crawford from an earlier era] who is not amused by his joke or by his smearing of her husband's reputation in the newspaper. (She is not the same woman who had hired him a few days earlier to spy on Mr. Mulwray.)
Woman: Mr. Gittes?
Jake: Yes.
Woman: Do you know me?
Jake: Well, uh, I think I would have remembered.
Woman: Have we ever met?
Jake: Well, no.
Woman: Never?
Jake: Never.
Woman: That's what I thought. You see, I'm Mrs. Evelyn Mulwray, you know, Mr. Mulwray's wife.
Jake: (stunned) NOT, uh, that Mulwray!
Woman: Yes, Mr. Gittes, that Mulwray.
The marriage investigator suddenly realizes he was duped and set up, and used for some other purposes in a deceitful web of double dealings. Remaining composed, she threatens a lawsuit to sue him for defaming her husband's character as she stalks out with her lawyer:
Mrs. Mulwray: ...I've never hired you to do anything, certainly not to spy on my husband. I see you like publicity, Mr. Gittes. Well, you're going to get it.
Gittes: Now wait a minute, Mrs. Mulwray. I think there's been some misunderstanding here. There's no point in gettin' tough with me.
Mrs. Mulwray: I don't get tough with anyone, Mr. Gittes. My lawyer does.
Befuddled, the cocky detective is determined to conduct further snooping and figure out the why's and how's of his own predicament. At lunchtime, he visits Mulwray's "Water and Power" office, but the engineer is not in. Lying to pretend that he has an appointment (he tells Mulwray's secretary (Fritzi Burr) that "it's a personal matter"), he snoops around the office (he sees a framed picture of Evelyn next to a stallion on the desk) and opens up Mulwray's desk drawers. He finds nothing of interest - bank checks, neatly organized records, a large magnifying glass (!), and a leather case holding personal grooming tools. Gittes then opens up a large ledger book on the table where he reads a scrawled, enigmatic note on one of the pages: "Tues night - Oak Pass Res. 7 channels used."
The entry of the engineer's chief deputy, Russ Yelburton (John Hillerman), who has been hurriedly summoned by Mulwray's secretary, is first seen in a flash of light through the glass of the door. Yelburton, with an icy but pleasant request, greets Gittes and ushers him out of Mulwray's office: "I wonder if you'd care to wait in my office?" In his own office with walls adorned by a large stuffed game fish, photographs, and a painted symbol of a fish [the flag of the Albacore Club], Yelburton is convinced that the scandalous stories about colleague Mulwray are totally groundless: "Either he's the kind who chases after women or he isn't...He (Mulwray) never even kids about it." Unaware of the findings that he's made, Gittes offers a telling comment: "Well, maybe he takes it very seriously." On the way out of Yelburton's office, Gittes requests a business card, but pockets a bunch of the deputy's cards with sleight-of-hand - to be opportunistically used at some future time.
In the hallway by the elevator, the arrogant Gittes has an opportunity to bait and speak insulting words to Claude Mulvihill (Roy Jenson), the city's water department enforcer, whose own personal water supply has been shut off:
How'd you find out about it? You don't drink it. You don't take a bath in it. They wrote you a letter. But then you'd have to be able to read.
According to Yelburton, Mulvihill's main duty, now that he is employed by the Water and Power Company, is to protect against numerous threats of protesting farmers in the Valley to blow up the city's reservoirs:
Well, it's this darn drought. We've had to ration water in the valley and the farmers are desperate. Well, what can we do? The rest of the city needs drinking water.
Hinting at political corruption in the department, Gittes refers to a past time when Mulvihill was a dishonest, former Sheriff in Ventura County during Prohibition:
When Mulvihill here was Sheriff of Ventura County, the rum-runners landed hundreds of tons of booze on the beach and never lost a drop. (To Yelburton) He ought to be able to hold onto your water for ya.
Gittes drives up the long, expansive driveway to the Mulwray mansion, tended by at least four Asian servants - all from Chinatown itself: an Oriental butler (James Hong) who shuts the front door on Gittes, a chauffeur polishing Evelyn's car in the driveway, an Asian housemaid (Beulah Quo), and an Asian gardener (Jerry Fujikawa). In the rear of the palatial house is a fish pond and fountain - a strange anomaly in the midst of a drought. The gardener mumbles as he removes a clump of dead vegetation: "Bad for glass." [Because he pronounces his r's like l's, he has really mumbled: "Bad for the grass," referring to the destructive effects of the salt water in the pool on garden plant growth.] Something shiny in the bottom of the goldfish pool attracts Gittes' eye, but he is not able to fish out the glinting object when Mrs. Mulwray approaches. [Although the object is a key piece of evidence, the film evolves through a deceptive maze as clues are slowly revealed - nothing is ever given away. The viewer shares Gittes' own blind perceptions and circuitous search for the truth.]
While sitting down to some iced tea, Gittes confronts Mrs. Mulwray (dressed in riding gear) who is sweaty and flushed after riding bareback. He is determined to convince her that he had nothing to do with the publication of the incriminating photos or stories ("I'm just trying to make a living"). The tables have been turned on the detective and Jake is embarrassed for having been caught and set up - literally, with his pants down, and he doesn't want to become "a local joke." She appears dangerous and threatening to him - but almost instantly and to his astonishment, she offers to drop the lawsuit:
Jake: I'm not in business to be loved, but I am in business. And believe me, Mrs. Mulwray, whoever set your husband up set me up. LA's a small town, people talk. I'm just trying to make a living. I don't want to become a local joke.
Mrs. Mulwray: Mr. Gittes. You talked me into it. I'll drop the lawsuit.
Jake: What?
Mrs. Mulwray: I said I'll drop the lawsuit. So let's just drop the whole thing.
Gittes senses something mysterious underlying the quick offer to drop the suit and is interested in delving deeper into the case to uncover the larger plot issue. He conjectures, slightly obsessively, about her husband's "little girlfriend" and their disappearance. [Gittes now asserts: "it's nothing personal" although earlier, he told Yelburton's secretary that "it's a personal matter.]:
Gittes: I don't want to drop it. I'd better talk to your husband about this.
Mrs. Mulwray: Why? What on earth for? Hollis seems to think you're an innocent man.
Gittes: Well, I've been accused of a lot of things before, Mrs. Mulwray, but never that. Look. Somebody's gone to a lot of trouble here and lawsuit or no lawsuit, I intend to find out. I'm not supposed to be the one who's caught with his pants down. So unless it's a problem, I'd like to talk to your husband.
Mrs. Mulwray: Why should it be a problem?
Gittes: May I speak frankly, Mrs. Mulwray?
Mrs. Mulwray: Only if you can, Mr. Gittes.
Gittes: Well, that little girlfriend. She was pretty in a cheap sort of a way, of course. She's disappeared. Maybe they disappeared together.
Mrs. Mulwray: Suppose they did. How does that affect you?
Gittes: It's nothing personal, Mrs. Mulwray.
Mrs. Mulwray: It's very personal. It couldn't be more personal. Is this a business or an obsession with you?
[Gittes is led on his quest, now by the second Mrs. Mulwray.] She sends Gittes to look for Hollis at Oak Pass or Stone Canyon Reservoirs, where he frequently wanders during his lunchtimes. If Gittes returns to the house to see her later, she requests: "Please call first." The camera dallies on Evelyn's mysterious face as he leaves.
Using as an entry pass one of the business cards he lifted from Yelburton's office, Gittes is easily allowed admission by police guards through the gates into the Oak Pass Reservoir when mistaken as Yelburton. [This is another of the film's running themes and examples of someone being mistaken for another: there's also the imposter Mrs. Mulwray, and Katherine mistaken as Hollis' lover.] There, he meets a former partner of his when they were Chinatown cops: Hispanic police detective Lieutenant Lou Escobar (Perry Lopez), who is accompanied by another cop named Loach (Richard Bakalyan). Escobar - recalling Gittes' past reputation - allows Gittes to light his cigarette, even though it is prohibited and it may harm him:
We can make an exception this time. I'll see that he's careful with the matches and doesn't burn himself.
Escobar enviously notices that they both have come a long way since their Chinatown days, especially Gittes with his flashy, expensive suits and his gold cigarette case. He also speculates that Jake may have 'found himself' in the interim:
Escobar: You look like you've done well by yourself.
Gittes: I get by.
Escobar: Well, sometimes it takes a while for a man to find himself. Maybe you have.
Loach: Yeah, goin' through other people's dirty linen.
Gittes: Yeah. Tell me. You still puttin' Chinamen in jail for spittin' in the laundry?
Escobar: You're a little behind the times, Jake. They use steam irons now. And I'm out of Chinatown.
Gittes: Since when?
Escobar: Since I made Lieutenant.
Gittes: Congratulations.
Escobar has been transferred "out of Chinatown" - but the locale from Gittes' past still haunts him.
Before Gittes can speak to Hollis Mulwray, he is sarcastically told that he is "welcome to try." The commissioner has unexpectedly and mysteriously drowned in the middle of LA's summer drought. His body is dragged up, in their view, from the remote, empty, fresh-water reservoir outside Los Angeles. The victim of an apparent accidental drowning according to Escobar, the fall knocked him unconscious and his body was washed down the entire length of the run-off channel. Mulwray is missing his glasses and one shoe, and his bow-tie is crooked. [Or was he the victim of profit-seeking, land-hungry opportunists whom he opposed, who are buying up thousands of acres of artificially-created drought land?]