Background
---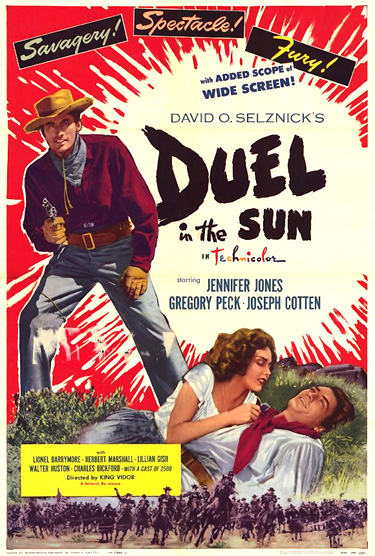 Duel in the Sun (1946) was branded "Lust in the Dust" at the time of its release. This classic epic western was produced by David O. Selznick (who failed in his desire to make it the Western equivalent of his earlier Civil War epic Gone with the Wind). Selznick's over-wrought script, based on the 1944 novel by Niven Busch (husband of actress Teresa Wright who was originally considered for the role of Pearl), was about a sexually-charged half-breed woman (Selznick miscast his own lover/future wife Jennifer Jones) who became the point of contention between two brothers who were Cain/Abel opposites - one brutish and one refined.
[Note: When this film project and its production went to David O. Selznick, Busch went on to produce Raoul Walsh's haunting film-noirish psychological western Pursued (1947) with Robert Mitchum.]
This pretentious, overwrought film was plagued with a stormy production history, mostly involving a conflict between the over-controlling Selznick and famed silent film director King Vidor. In fact, the jumbled film had multiple directors (Josef von Sternberg (uncredited), William Dieterle (uncredited), William Cameron Menzies (uncredited), Otto Brower (uncredited), Sidney Franklin (uncredited)) and three cinematographers (Lee Garmes, Hal Rosson, and Ray Rennahan). This potboiler, amour fou western was the most expensive film ever produced to that date (over $5 million to make and over $2 million to advertise), as well as being controversial for its over-sexed trashiness and melodramatic, amoral excess.
It received only two Academy Awards nominations (without Oscar wins), both in acting categories: Best Actress (Jennifer Jones with her fourth career nomination and third Best Actress nomination after winning for The Song of Bernadette (1943)), and Best Supporting Actress (Lillian Gish with her sole career Oscar nomination). The un-nominated, over-blown musical score was by Dmitri Tiomkin (who later wrote the Oscar-winning theme song and score for High Noon (1952)), and was heavily based on the Stephen Foster tune Beautiful Dreamer.
The film's title inspired Paul Bartel's camp classic and spaghetti western spoof Lust In the Dust (1984), with Tab Hunter and 300 lb. drag queen Divine (who were also both paired in John Waters' first 'mainstream' film Polyester (1981)).
Plot Synopsis
---
The film, set in Texas in the 1880s, opens with a prologue (spoken by the doom-laden voice of Orson Welles) and a fade-in on a mountain in the shape of a face - Squaw's Head Rock, that is bathed in the bloody-red color of the setting sun. His words set the stage for the legendary tale:
Deep among the lonely sun-baked hills of Texas, the great and weatherbeaten stone still stands. The Comanches called it Squaw's Head Rock. Time cannot change its impassive face, nor dim the legend of the wild young lovers who found Heaven and Hell in the shadows of the rock. For when the sun is low and the cold wind blows across the desert, there are those of Indian blood who still speak of Pearl Chavez, the half-breed girl from down along the border, and of the laughing outlaw with whom she here kept a final rendezvous, never to be seen again... And this is what the legend says: A flower, known nowhere else, grows from out of the desperate crags where Pearl vanished. Pearl, who was herself a wild flower, sprung from the hard clay - quick to blossom and early to die.
As the camera moves in on a close-up of a wildflower, the scene dissolves to a shot of 13-year-old Pearl Chavez (Jennifer Jones) dancing for some street children in front of a massive, bordertown cantina. The parents of the heroine, a dark-skinned, half-breed child of nature are introduced, characterizing the dual, stormy nature that has been bred into her. Pearl is a mixture of dignified respectability and sensual lasciviousness.
In a hot bordertown cantina filled with a crowd of shouting men, Pearl's Indian mother (Tilly Losch) is performing a fiery, sensual dance on top of the great square bar, to the accompaniment of beating Indian drums, interspersed with gunshots and screams. While her father looks on, a dignified Southern aristocrat gentleman named Scott Chavez (Herbert Marshall), her half-breed mother entices a new lover (Sidney Blackmer) and ends the seductive movements of her exotic dance directly in front of both her husband and her lover. Pearl's mother leaves with her lover, followed by Chavez. Passionately angered by her wanton, unfaithful actions, Scott murders both her and her gambler lover - the murder is seen in silhouette in a nearby building, while Pearl looks on in horror.
Chavez pleads guilty to the crimes, unremorsefully suggesting that the authorities hang him:
I plead no mitigating circumstances. They deserved to die, as I deserve to die, for I long since killed a person much superior to either of them: myself. I killed that person the day I gave my family's name to the woman who became my wife. And since I believe the punishment should fit the crime, I suggest that you hang me by the neck until I'm dead.
While awaiting his execution in jail, he comforts the child of this stormy union, his daughter Pearl, telling her that he has arranged for her to go to live in Texas with his second cousin and ex-fiancee, Laura Belle McCanles (Lillian Gish), now married to a senator and wealthy cattle baron. Years before, Chavez had been engaged to Laura Belle and loved her dearly. He is assured that she will love and care for the girl and provide a home for her. Tearfully, Pearl is consumed with grief and fright and begs for her condemned father's life. He recites Omar Khayyam before being hanged on a scaffold for his crime: "One thing is certain, and the rest is lies: The flower that once has bloomed, forever dies." The shadow of a noose that will hang him appears silhouetted in red on the jailhouse wall.
Pearl travels on the Guadalupe stagecoach to Paradise Flats, where she is met by Laura Belle's older McCanles son, Jesse McCanles (Joseph Cotten). She is driven to the vast McCanles empire and Spanish Bit Ranch, and taken in by Laura Belle. At the ranch, sultry but innocent Pearl is warmly welcomed by delicate and frail Laura Belle. Outspoken and cantankerous Senator McCanles (Lionel Barrymore), an invalid in a wheelchair who rules the ranch with an iron hand, abruptly makes references to Pearl as Scott Chavez' daughter. He remarks that she's no cousin of his. Laura Belle suggests that Pearl ignore his sneering remarks.
Immediately, the volatile, tempestuous Pearl becomes the center of an emotional struggle between McCanles' two sons, the older one - the spoiled, lecherous, vicious, undisciplined, swaggering no-good Lewt McCanles (Gregory Peck), and the quiet, educated, stable, genteel, good son Jesse. The two sons also symbolize the inherent, dual contradictions bred into Pearl, representing the two paths that she must choose between. Jesse's brother is immediately attracted to Pearl, and calls her a "pretty cute tamale."
Pearl promises Mrs. McCanles that she wants to be what she is - a lady:
Pearl: I'll be a good girl, ma'am. I promise I will. I want to be like you. That's what my father wanted.
Laura Belle: I'm afraid that neither your father nor I found happiness child. I hope you will.
Later that night, Senator McCanles spots Pearl and asks derisively:
Senator: How'd they come to name you Pearl?
Pearl: I don't know, sir.
Senator: They couldn't have had much eye for color, could they? (laughter) They might have better called you Pocahontas or Minnie-ha-ha. Ain't I right?
Pearl: I guess so.
Lewt barges into Pearl's room and kisses her amidst her protests. She beats at him, and then denounces him: "I hate you, I hate you." "Now don't you pretend nobody ever did that before," Lewt responds. Untamed Lewt is associated with wild horses and stallions, which he can control or tame.
At Spanish Bit Ranch, Pearl takes on certain jobs, such as helping high-voiced Vashti (Butterfly McQueen, in a role that's similar to her part in Gone With the Wind) take inventory. Pearl is quickly distracted from her work when Lewt arrives and lets her ride his horse bareback out onto the open range. Then, he presents his horse to her as a gift. Lewt also provides her with an animal magnetism and intense passion which is irresistible. Pearl, dark and earthy, with a white, scoop-necked, tight-fitting, off-the-shoulder gypsy blouse to outline her voluptuous breasts, is the object of Jesse's and Lewt's attention.
In a scene at "the sump" - a swimming hole, Pearl swims naked to cool off. Lewt discovers her there and lingers on the bank until late into the evening to catch a glimpse of her. (Cut by censors, the notorious "dance at the sump" scene, Pearl tries to arouse Lewt by performing an erotic, seductive dance on the banks of the sump. It is a variation on the dance that led to her mother's death at the beginning of the film.)
When Lewt and Pearl are both missing and then arrive late for dinner, Laura Belle suspects that Pearl's wet hair means that she has been swimming with Lewt at the sump. Lewt thoroughly teases and embarrasses Pearl in front of Laura Belle.
Later that night, Pearl is woken from a sound sleep by Vashti who has come to summon Pearl before Mr. Jubal Crabbe (Walter Huston), the territory's traveling minister - dubbed the "Sin Killer." Draping just a serape blanket around her, Pearl hurries to the sitting room where Laura Belle suggests Jubal give her some needed guidance. The hellfire preacher Sin Killer, a hypocritical, lecherous Bible-thumper sights Pearl under her blanket:
You call her a child, Laura Belle? Under that heathen blanket, there's a full-blossomed woman fit for the devil to drive men crazy...Guidance she needs and guidance she'll get or I ain't been the Sin Killer from here to El Paso for thirty years.
Having designs on her himself, he has her sit down, and asks for her to decide which way she will go. He lustfully delivers a brief but fiery blessing, telling the oversexed Pearl that her feminine curves ordain her to a life of sexual temptation:
Sin Killer: Pearl? You can be a woman of sin or a woman of God. Which is it to be?
Pearl: I want to be a good girl.
Sin Killer: And remember that the devil is always aimin' to hog-tie ya. Sometimes he comes ghostin' over the plains in the shape of a sneakin' rustler. And sometimes, beggin' your pardon Laura Belle, he stakes out the homes of the worthy and the god-fearin'. Pearl, you're curved in the flesh of temptation. Resistance is gonna be a darn sight harder for you than for females protected by the shape of sows. Yes siree, bob. You gotta sweeten yourself with prayer. Pray till you sweat, and you'll save yourself from eternal hell-fire. You understand me girl?
Pearl: Yes sir.
Jubal prays over his sultry convert as she gets on her knees:
Oh Lord, look upon this thy creature. She's a weak vessel and a pauper as thou knowest, but she wants to be thy handmaiden. Give her the horse sense not to go wanderin' off in the tulies with worthless cowpokes. Amen.
Jubal gives her a "hallowed medal" to wear (and taken off a "thievin' cardsharper") that he promises will keep her "sweet and clean as a first milkin'. It won't get ya into heaven, but it'll comfort ya on the way there - that is, if you use it right." He cups her chin in his hand. Then, he concludes with one final prayer, with Pearl on her knees again:
Oh, Lord, have mercy on all men - young and old alike - who gaze upon this, Thy regained servant. Amen.
The subplot of the film deals with the senior cattle baron's fight to stop the encroachment of the railroad. Trouble develops when Sid (Scott McKay) reports to the Senator that the railroad, the Iron Horse, threatens to cross over onto the McCanles ranch that afternoon. Lewt is away in El Paso, so the Senator decides that he and Jesse will have to handle the situation.
The Senator orders armed resistance to the railroad:
Sound every bell from here to Blue Hill Ranch. I want every wrangler, every cowhand, every man and boy on Spanish Bit down there at the East Fence. And I want them there fast...I want them armed.