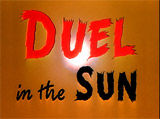 In King Vidor's over-the-top epic Technicolored western:
the arrival of orphaned half-breed Pearl Chavez (Jennifer Jones, producer David O. Selznick's wife) at Spanish Bit, the ranch of her deceased father's second cousin and old sweetheart Laura Belle (Lillian Gish) - she was met by one of Laura Belle's two sons Jesse McCanles (Joseph Cotten)
all of the scenes of the sexy and sultry Pearl with dangerous brother Lewt McCanles (Gregory Peck) - when he first met her, he barged into her room and grabbed her for a kiss; she protested: "I hate you, I hate you" to which he replied: "Now don't you pretend nobody ever did that before."
after riding bareback with the wild-living Lewt, he spied on her when she took a provocative nude swim at the sump
Pearl's prayer session with the hellfire preacher and traveling minister Mr. Jubal Crabbe (Walter Huston), known as the Sin Killer, who was provide guidance for Pearl to behave herself and be a 'good girl' - he advised: "Pearl, you're curved in the flesh of temptation. Resistance is gonna be a darn sight harder for you than for females protected by the shape of sows. Yes siree, bob. You gotta sweeten yourself with prayer. Pray till you sweat, and you'll save yourself from eternal hell-fire. You understand me girl?"
the spectacular scene of the gathering of ranchers and cowhands at the cattle baron's Spanish Bit ranch to resist the encroachment of the railroads (the Iron Horse), led by Sen. McCanles (Lionel Barrymore)
the notorious 'rape' scene: Lewt grabbed and kissed Pearl, and she acquiesced, as a flash of lightning and sound of thunder boomed; they slowly sank out of the camera's view to the bed below. (The highly-charged 'rape' scene, as it was called, was severely edited - instead of Pearl trying to get away from Lewt, she gave in to his advances, but not without some resistance. In the next scene, Lewt had three long scratch marks on his left cheek.)
after Lewt refused to marry Pearl, she had a short relationship with older rancher Sam Pierce (Charles Bickford), but he was gunned down in a saloon by Lewt; when he came back to her, he told her: "Of all the ornery females. One minute you're yammerin' 'cause I don't love ya enough. And when I go out and show ya how much I do, you're wantin' to plug me. You're my girl, honey...Anybody who was my girl is still my girl. That's the kind of guy I am, you know, loyal....There ain't nobody gonna take my girl. Nobody. Same little tigercat" - she couldn't resist him and collapsed in his arms
The 'Rape' Scene

Continued Passion Between Them as Lovers
then, in the so-called "degradation" scene, Lewt again rejected Pearl's love and rejected her request to join him in Mexico - he left her rejected and alone, writhing and whimpering on the floor
the memorable deathbed scene when dying wife Laura Belle was told of her husband Senator McCanles' past indiscretion - he jealously assumed she was involved in a passionate relationship with Scott Chavez, Pearl's father; he admitted that he crazily pursued her and was thrown off his horse, and thereby became a cripple, confined to a wheelchair for the rest of his life; a few moments later, she collapsed in front of him and fell onto the floor - dead
The Final Shootout Between Lewt and Pearl -
"Lust in the Dust"
the infamous, bloody "lust in the dust" and "duel in the sun" final shootout scene between Pearl and Lewt as they died in each other's arms ("little bob-cat!")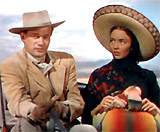 Jesse McCanles with Pearl Chavez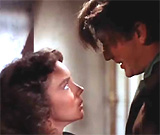 Lewt McCanles with Pearl - A Demanding Kiss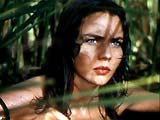 Pearl at the Sump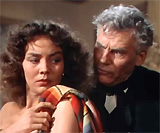 Pearl With Sin Killer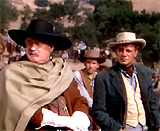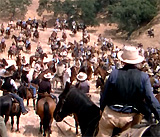 The Gathering to Resist the Railroads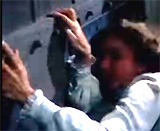 The "Degradation" Scene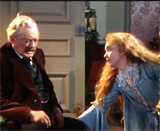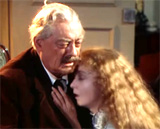 Sen. McCanles' Confession and Laura's Deathbed Scene