Terry Gilliam's Imaginative Fantasies: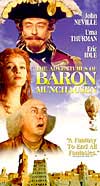 A so-called imaginative fantasy trilogy of the inimitable Terry Gilliam's films include: (1) the British, Monty-Pythonesque, profitable time-warp film Time Bandits (1981) about a time-traveling boy named Kevin (Craig Warnock) and six renegade dwarves passing through various historical time periods, (2) his nightmarish Brazil (1985) about a fantasizing civil servant in a future totalitarian and bureaucratic state, and (3) his expensive and elaborate effort - the unique, visually-rich and witty fantasy film The Adventures of Baron Munchausen (1988) - about a notorious, tall story-telling, baron and his adventures with a headless 'king of the moon' (Robin Williams), a naked Botticelli's Venus (Uma Thurman), the god of the volcanoes Vulcan (Oliver Reed), and other fantastic characters. Another Terry Gilliam fantasy focusing on imagination and reality, though not part of the trilogy, was the bittersweet and enigmatic The Fisher King (1991) about two lost souls -- a disillusioned shock-jock radio DJ (Jeff Bridges) and a half-insane homeless ex-stock broker (Robin Williams) -- who are both searching for spiritual redemption and questing for the Holy Grail.
Fantasy Adventures - Journeys in Time: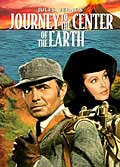 One of the most popular fantasy films of all time was director Henry Levin's adaptation of Jules Verne's Journey to the Center of the Earth (1959) - a journey into the earth's core to prehistoric, underground lost worlds through a volcano by a scientist (James Mason). Another Verne book was also adapted for Disney's 20,000 Leagues Under the Sea (1954) with seaman Kirk Douglas captured by Captain Nemo (James Mason) and his Nautilus submarine. Its most memorable scene was the battle against a giant squid.
Mention has already been made of two excellent examples of time-travel adventures: George Pal's version of H.G. Wells' The Time Machine (1960) and Terry Gilliam's Time Bandits (1981). There were two remakes of the Victorian novelist's 1895 book. In the TV movie The Time Machine (1978), John Beck starred as a progressive scientist traveling into the future where he encountered Three's Company Priscilla Barnes as Weena. And the adventure-fantasy The Time Machine (2002) about a time-traveling inventor (Guy Pearce) was directed by Simon Wells, the author's great grand-son. Fantastic Voyage (1966) told the adventure/sci-fi tale of a group of shrunken scientists journeying through a patient's body. Malcolm McDowell traveled forward in time as H.G. Wells himself - in pursuit of Jack the Ripper (David Warner) in 20th century San Francisco in the thriller Time After Time (1979). The romantically-sentimental fantasy Somewhere in Time (1980) showcased a brief romance crossing many decades (triggered by the key phrase "Come back to me") between Christopher Reeve and Jane Seymour.
Kris Kristofferson (as an aircraft crash investigator) and Cheryl Ladd (as a woman from the future intent on saving the human race) starred in director Michael Anderson's dramatic fantasy film Millenium (1989). In the futuristic thriller Timecop (1994) set in the year 2004, Jean Claude Van Damme starred as special law enforcement agent Max Walker overseeing time-travel in the Time Enforcement Commission - and on a mission to prevent the murder of his wife Melissa (Mia Sara) 10 years earlier. Writer/director Shane Carruth's low-budget cult film Primer (2004) was a complex depiction of time-travel in its story of two scientists/engineers (Shane Carruth and David Sullivan) whose friendship was ultimately ruined by their accidental discovery of backward time-travel. Writer/director Mike Judge's off-beat sci-fi comedy Idiocracy (2006) told about how an Army private (Luke Wilson) and a prostitute (Maya Rudolph) participated in a secret military experiment in which they awoke after a year of hibernation to find themselves 500 years later in a degenerated world of idiots.
George Roy Hill's Slaughterhouse Five (1972), an adaptation of Kurt Vonnegut's black anti-war comedy told about "unstuck in time" Billy Pilgrim (Billy Sacks) - an adventurous individual who inexplicably survived various out-of-sequence life experiences. The Back to the Future trilogy of films (1985, 1989, and 1990) saw Marty McFly (Michael J. Fox) on multiple time-travel journeys in Doc's (Christopher Lloyd) high-speed, plutonium-fueled DeLorean. Bill and Ted's Excellent Adventure (1989) portrayed two slacker teen dudes (Alex Winter as William S. Preston and Keanu Reeves as Theodore Logan) who traveled through time to pass their history class test by collecting historical personages. Their stupidity was demonstrated when they were offered the Iron Maiden by their medieval Evil Duke captor - they reacted with "Excellent!" without realizing that it was a torture execution machine and not a rock band. Another appealing time-travel story without special effects was Peggy Sue Got Married (1986) - 42 year-old lead character Peggy Sue (Kathleen Turner) time-traveled to her teenaged years after passing out at her 25th high school reunion. Marisa Tomei starred in Brad Anderson's romantic comedy Happy Accidents (2000) as an unlucky-in-love single female who met a guy (Vincent D'Onofrio) claiming he was from the future year of 2,470. Writer/director Richard Kelly's original cult film Donnie Darko (2001) told of the title character, a troubled teen (Jake Gyllenhaal), who had visions of a giant rabbit named Frank that foretold Doomsday premonitions - and thereby attempted to fix the space-time continuum.
Sci-Fi Fantasies of Lucas and Spielberg:
The highly successful Star Wars (1977) and its sequels in the trilogy were a tribute to 1940s swashbuckler serials, with additional special effects, exotic space creatures and spacecraft. Fantastic, but friendly aliens or extra-terrestrials were the subjects of Steven Spielberg's Close Encounters of the Third Kind (1977) and E.T. The Extra-Terrestrial (1982).
Sword and Sorcery Swashbucklers in the 80s and 90s:
Due to the fast popularity of Dungeons and Dragons games, many 80s fantasy films followed suit by combining adventure swashbucklers with typical fairy tales - as in the following:
Matthew Robbins' dragon epic fable Dragonslayer (1981) tells about the medieval Kingdom of Urland that is terrorized by a vicious, fire-breathing dragon that is only appeased by virginal sacrifices chosen by lottery. A wizard's young apprentice volunteer named Galen must attempt to save the lovely damsel Princess Elspeth - the King's daughter and confront the dreaded beast
the fanciful and magical King Arthur legendary medieval tale of Camelot retold in John Boorman's lavish Excalibur (1981)
Peter Yates' sci-fi fantasy adventure Krull (1983) about a prince on a mission to save his princess-bride from an evil Beast
director Wolfgang Petersen's first English-language film, the classic The NeverEnding Story (1984) about the saving of a far-off fairy tale land by a young boy (this popular film spawned two sequels in 1991 and 1994)
director Ridley Scott's costume fantasy Legend (1985) about the quest of a peasant boy (Tom Cruise) to save a princess (Mia Sara) and the last unicorn in a land threatened by the Lord of Darkness (Tim Curry)
director Richard Donner's Ladyhawke (1985) with Michelle Pfieffer as a cursed medieval French lady who changes into a hawk during the day
Rob Reiner's colorful fairy tale The Princess Bride (1987) with a damsel-in-distress named Buttercup, horrible monsters, and the wicked Prince Humperdinck
Rob Cohen's 10th century sword-and-sorcery epic Dragonheart (1996) featuring Sean Connery as the voice of an 18 x 43 ft. CGI-created Draco - the last surviving dragon
Antoine Fuqua's King Arthur (2004), another oft-told version of the tale with Clive Owen as the king, and Keira Knightley as warrioress Queen Guinevere
Angels, not surprisingly, have been featured in many fantasy or supernatural films over the years. Hollywood has responded to the interest in the existence of heavenly beings with a long list of 'angel' films. In the past and recently, the most popular ones have been:
W.S. Van Dyke's fantasy romance I Married an Angel (1942) - an adaptation of a Rodgers-Hart musical, featuring the final paired appearance of Nelson Eddy (as handsome playboy Count Willie Palaffi) and Jeanette MacDonald (as young Budapest bank secretary Anna Zador and angel Brigitta); at his birthday party, Willie fantasizes in a dream that he has married Anna - now transformed into an angel, causing her to abandon heaven and lose her wings on her wedding night
Frank Capra's most famous of all 'angel' films, the Christmas movie classic It's a Wonderful Life (1946), featuring Clarence (Henry Travers), a guardian angel 2nd class who hasn't yet earned his wings, who aids a suicidal, despondent family man (James Stewart) by showing him what life would be like in his town of Bedford Falls if he didn't exist
director Archie Mayo's Angel On My Shoulder (1946), about a deceased, recently-murdered gangster named Eddie Kagle (Paul Muni) who bargains for leniency with the devil (Head Man Nick, played by Claude Rains)
Stairway to Heaven (1946) (aka A Matter of Life and Death), from Michael Powell and Emeric Pressburger, with David Niven as a pilot who pleads for his life before a Heavenly court
the romantic supernatural, screenplay-winning comedy about divine error titled Here Comes Mr. Jordan (1941) with Robert Montgomery as Joe Pendleton - a boxer who dies before his time in a plane crash due to a bureaucratic mix-up in Heaven, but is returned to Earth in the body of a soon-to-be millionaire in order to rectify the situation; its sequel was Down to Earth (1947) that starred Rita Hayworth as Terpsichore, the heavenly goddess of song and dance; Here Comes Mr. Jordan was remade as Heaven Can Wait (1978) with Warren Beatty as a football player; co-scriptwriter and actor Chris Rock's Down to Earth (2001) served as a modern-day remake of all of the films
The popular Christmas classic, The Bishop's Wife (1947), told about an angel named Dudley (Cary Grant) sent to help an Episcopal Bishop named Henry Brougham (David Niven) who was building a cathedral with his wife Julia (Loretta Young); originally, the film was cast with the roles of Grant and Niven reversed
Heaven Only Knows (1947) (aka Montana Mike), a sentimental western fantasy-comedy starred Robert Cummings (as archangel Michael), Brian Donlevy (as western gambling den operator Adam 'Duke' Byron), Marjorie Reynolds (as schoolteacher Ginger), and Jorja Curtwright (as minister's daughter Drusilla Wainwright); guardian angel Michael comes to the aid of the soulless gambler in the West
The Heavenly Kid (1985), about a teenager (Lewis Smith) killed in a Rebel Without a Cause-like drag race in the 60s who returns to Earth 20 years later in the 80s as guardian angel for his own son, in order to earn his way into Heaven
Date With an Angel (1987), a romantic comedy about a gorgeous, other-worldly angel (Emmanuelle Beart) that crash lands in musician Jim Sanders' (Michael Knight) pool, thereby damaging her wing and wreaking full-scale havoc to his life and impending marriage plans to his shrewish fiancee Patty Winston (Phoebe Cates)

Wim Wenders' romantic and whimsical fantasy Wings of Desire (1988, W. Ger./Fr) - a tale of two angels (Damiel and Cassiel) dwelling in Berlin and watching over the lives of others (with a sequel titled Faraway, So Close! (1993))
Steven Spielberg's Always (1989) was essentially a remake of director Victor Fleming's A Guy Named Joe (1944), about an aviator named Ted Randall (Van Johnson) guided through battle by an angel (a deceased WWII pilot named Pete Sandidge played by Spencer Tracy)
director Jerry Zucker's Ghost (1990), the immensely popular and emotionally-manipulative film about a murdered young executive (Patrick Swayze) who is able to communicate with his lover (Demi Moore) through a fake psychic-medium (Oscar-winning Whoopi Goldberg)
John Cornell's Almost an Angel (1990) starred Paul Hogan ('Crocodile' Dundee) as a probationary angel after death
the heavenly fantasy Angels in the Outfield (1994), also 1951) starred Christopher Lloyd as angel Al who aided the California Angels in winning the pennant; the original version featured the Pittsburgh Pirates baseball team
writer/director Gregory Widen's debut film, an apocalyptic horror/fantasy thriller titled The Prophecy (1995) (aka God's Army) with Christopher Walken as rebellious, black-hearted angel Gabriel battling good angel Simon (Eric Stoltz); its gory sequel was The Prophecy II (1998) from director Greg Spence, with Walken reprising his role as a destructive angel
Nora Ephron's Michael (1996) starred John Travolta as Michael, an earthly angel 'on vacation' from Heaven sent to help a cynical reporter named Frank Quinlan (William Hurt), and living in a rooming house in Iowa
Penny Marshall's romantic supernatural fantasy The Preacher's Wife (1996) featured Denzel Washington as celestial angel Dudley in a remake of the classic The Bishop's Wife (1947); the original featured Cary Grant as an angel sent to aid obsessed bishop Henry Brougham during the Christmas season
Danny Boyle's A Life Less Ordinary (1997) starred Holly Hunter and Delroy Lindo as match-making angels for the unlikely pairing of Cameron Diaz and Ewan McGregor
Hollywood's inferior remake-version of Wenders' Wings of Desire was director Brad Silberling's City of Angels (1998) with Nicolas Cage and Meg Ryan
the visually beautiful What Dreams May Come (1998) was a tale about life after death with Robin Williams and Annabella Sciorra, and Cuba Gooding, Jr. as messenger Albert
writer/director M. Night Shyamalan's Wide Awake (1998) - explored questions of religion and the afterlife through the eyes of a fifth-grade boy at a Catholic school
writer/director Kevin Smith's controversial religious satire Dogma (1999) - with Ben Affleck as fallen angel Bartleby (an angel who did wrong and was exiled from paradise to Earth for punishment), Chris Rock as Rufus claiming to be the 13th apostle, and Matt Damon as Loki - another of God's fallen angels
Modern Fantasies:
Tom Hanks starred as a thirteen year-old boy who suddenly had the body of an adult in director Penny Marshall's comic fantasy Big (1988). Tim Burton's imaginative and poignant Edward Scissorshands (1990) was about a young man (Johnny Depp) with metal, scissor-like hands. And the fantasy comedy The Mask (1994) starred Jim Carrey as a hyperactive, green-skinned superhero whenever he donned a magical mask (produced by Industrial Light and Magic's CGI effects) - similar to the antics of cartoon characters created by Tex Avery in the golden age of animation. [A sequel-flop from Lawrence Guterman, who directed the acclaimed visual effects hit with taking animals, Cats & Dogs (2001), was titled Son of the Mask (2004), with comic star Jamie Kennedy in place of Carrey.]
The Franchise Films of Harry Potter, The Lord of the Rings, and The Chronicles of Narnia:
Peter Jackson's successful fantasy adventure-epic about witches and wizards - The Lord of the Rings: The Fellowship of the Ring (2001) - the first of three films - was derived from J.R.R. Tolkien's tale of Middle Earth with Hobbits, dwarves, and elves. A three part trilogy of Hobbit films, adapted from J.R.R. Tolkien's beloved 1937 fantasy novel, was created as a prequel - set decades before the events of The Lord of the Rings trilogy. Wizard Gandalf (Ian McKellen) and a set of 13 dwarfs (led by Thorin Oakenshield (Richard Armitage)) recruited the reluctant hobbit Bilbo Baggins (Martin Freeman) to take a dangerous quest to reclaim the Lonely Mountain from the dragon Smaug (Benedict Cumberbatch).
Harry Potter and the Sorcerer's Stone (2001) - also the first of a series of eight films - was taken from J.K. Rowling's imaginative world of wizards. Both blockbuster fantasy films appeared at the same time and competed each year against each other in new releases year after year.
Following close on their heels was Buena Vista's The Chronicles of Narnia: The Lion, the Witch and the Wardrobe (2005), derived from a series of seven fantasy novels for children written by C.S. Lewis in the early 1950s. It told about four Pevensie children, Peter, Susan, Edmund, and Lucy, who journeyed through a magical wardrobe into the land of Narnia where they met the great lion god/messiah Aslan and took part in breaking the evil White Witch Jadis' strangehold power.
| | | |
| --- | --- | --- |
| The Harry Potter Series | The Lord of the Rings Series | The Chronicles of Narnia Series |
| Harry Potter and the Sorcerer's Stone (2001) | The Lord of the Rings: The Fellowship of the Ring (2001) | The Chronicles of Narnia: The Lion, the Witch and the Wardrobe (2005) |
| Harry Potter and the Chamber of Secrets (2002) | The Lord of the Rings: The Two Towers (2002) | The Chronicles of Narnia: Prince Caspian (2008) |
| Harry Potter and the Prisoner of Azkaban (2004) | The Lord of the Rings: The Return of the King (2003) | The Chronicles of Narnia: The Voyage of the Dawn Treader (2010) |
| Harry Potter and the Goblet of Fire (2005) | The Hobbit: An Unexpected Journey (2012) | |
| Harry Potter and the Order of the Phoenix (2007) | The Hobbit: The Desolation of Smaug (2013) | |
| Harry Potter and the Half-Blood Prince (2009) | The Hobbit: The Battle of the Five Armies (2014) | |
| Harry Potter and the Deathly Hallows, Part 1 (2010) | | |
| Harry Potter and the Deathly Hallows, Part 2 (2011) | | |