Background
---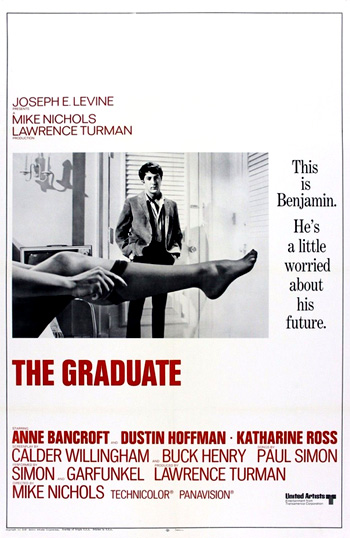 The Graduate (1967) is one of the key, ground-breaking films of the late 1960s, and helped to set in motion a new era of film-making. The influential film is a biting satire/comedy about a recent nebbish, East Coast college graduate who finds himself alienated and adrift in the shifting, social and sexual mores of the 1960s, and questioning the values of society (with its keyword "plastics"). The themes of the film also mirrored the changes occurring in Hollywood, as a new vanguard of younger directors were coming to the forefront. Avant-garde director Mike Nichols, following his debut success of Who's Afraid of Virginia Woolf? (1966) with this second film, instantly became a major new talent in American film after winning an Academy Award for his directorship.
The theme of an innocent and confused youth who is exploited, mis-directed, seduced (literally and figuratively) and betrayed by a corrupt, decadent, and discredited older generation (that finds its stability in "plastics") was well understood by film audiences and captured the spirit of the times. One of the film's posters proclaimed the difficult coming-of-age for the recent, aimless college graduate:
This is Benjamin. He's a little worried about his future.
The two different generations are also reflected in other dualities: the two rival women (young innocent doe-eyed daughter Elaine and the older seductress Mrs. Robinson), the two California settings (Los Angeles and Berkeley) and S. and N. California cultures (materialistic vs. intellectual), and the division in Benjamin's character (morally drifting and indecisive vs. committed).
There was already a growing dissatisfaction with the status quo and middle-class values, and the breakthrough film mirrored that anarchic mood perfectly for America's youth of the 60s during the escalation of the Vietnam War. However, in the final analysis, director Nichols actually subversively portrayed how aimless and unalive the disaffected young generation was (in the character of Benjamin) - and would become as they approached middle-age and worked in sterile corporate settings. [In the same year, it joined Bonnie and Clyde (1967) as one of the most popular films for the college-aged generation.] It was complemented by the music of the popular singing duo Simon and Garfunkel from their Grammy-winning The Sounds of Silence album (with songs composed earlier and previously-released except for "Mrs. Robinson"), with meaningful, haunting lyrics amidst koo-koo-kachoo sounds to enhance the film's moods and themes.
The film was adapted first for the stage (at London's Gielgud Theatre), and then premiered on Broadway in early April of 2002, with Kathleen Turner reprising her role as Mrs. Robinson, along with Jason Biggs and Alicia Silverstone in the other major roles. Many viewers of this mid-60's film were unaware that Harold Lloyd's race to the rescue to prevent the wedding of a girl he loves earlier appeared in the silent-era film comedian's influential film Girl Shy (1924).
The film was nominated for a total of seven Academy Award nominations, including Best Picture, Best Actor (Dustin Hoffman), Best Actress (Anne Bancroft), Best Supporting Actress (Katharine Ross), Best Adapted Screenplay, and Best Cinematography. The film won only one award - Best Director. The Oscar-nominated screen adaptation by Calder Willingham and Buck Henry (who appears as the hotel's desk clerk) was based on the novel of the same name by Charles Webb (a recent graduate of the East Coast's Williams College when he wrote his first novel).
Warren Beatty, Charles Grodin, Robert Redford, and Burt Ward (the 'Robin' character of the TV series Batman) were all considered for the role of Benjamin, and Patricia Neal and Doris Day were considered for the part of Mrs. Robinson. Short-statured (5'6") Jewish actor Dustin Hoffman had already been cast as Nazi playwright Franz Liebkind in The Producers (1968) when he bowed out and took the role of bumbling graduate Benjamin Braddock. His defection forced Mel Brooks to quickly recast the trademark role with Kenneth Mars.
Plot Synopsis
---
The film opens with a close-up, disembodied image of Benjamin Braddock's face (Dustin Hoffman) [a 29 year-old convincingly playing a 21 year-old - Hoffman's second feature film appearance, and his first major film role]. It appears that he is alone and isolated - he is - but as the camera pulls back, it reveals that he is on a plane filled with passengers of various ages. He is returning home to Los Angeles from college in the East. Appearing slightly shy and unprepossessing, his face has a blank, expressionless, enervated, zombie-like look. [The beginning and ending scenes of the film are symmetrically patterned after each other - the young couple are also surrounded by a busload of passengers, but remain isolated and impassive.]
While standing mute by himself on the automated, conveyor walkway moving to the left (with a monotonous recording saying the exact opposite: "Please hold the handrail, and stand to the right. If you wish to pass, please do so on the left") at the busy LAX airport, the credits play as The Sounds of Silence is heard on the soundtrack, reinforcing the theme of his emptiness and alienation from his surroundings:
...And in the naked light I saw, ten thousand people, maybe more.
People talking without speaking, people hearing without listening.
People writing songs that voices never shared, no one dared disturb the sound of silence...
The scene of the retrieval of his luggage from a mechanized conveyor belt, and his disappearance into the terminal's crowd and to the outer doors dissolves into the next scene. Benjamin is in his upstairs bedroom in his upper-middle-class parents' home during a graduation party held in his honor. He sits staring blankly ahead, positioned in his room in front of his aquarium tank (while observing its occupants) and wanting to be alone with his thoughts. At the bottom of the aquarium tank is a model of a diver - symbolizing Ben's "drowning" and foreshadowing the scene in which he shows off scuba gear and hides from everyone by sinking to the bottom of the swimming pool. [Notice that he is entrapped in his bedroom, with vertically-striped jail-bar wallpaper, and a dart-board - he is the target.]
Ben is the pride of his wealthy Southern California suburbanite parents who have prepared a welcome, home-coming cocktail party for their recent graduate and invited all of their friends, rather than his, to the party. His father (William Daniels) finds his son upstairs and wonders if anything is wrong. Inarticulately, Ben tells his father that he is rudderless - he has no plans or direction to his life and is worried about his future:
Ben: I'm just...
Mr. Braddock: ...worried?
Ben: Well...
Mr. Braddock: About what?
Ben: I guess about my future.
Mr. Braddock: What about it?
Ben: I don't know. I want it to be...
Mr. Braddock: ...to be what?
Ben: ...Different.
Ben is confused and frustrated, trying to make sense of adult life and game-playing, and attempting to find his own standards. He is struggling to search out an honest and sincere way to live his own life, without following his parents' California lifestyle.
His parents insist that he join the party and make an appearance to adoring friends and family - he's to be on display. As Ben is coaxed downstairs, the camera pauses on another display - a framed black and white picture of an unhappy or frowning clown hanging on the wall on the stairs landing - a reflection of Ben's own unhappy role as the featured attraction. His parents' many friends greet him at the party as he bounces between small groups of adults. They see the young graduate as a means of fulfilling their own ambitions - in classic 'small talk' encounters:
Hey, there's the award-winning scholar. We're all very proud of you, Ben.
As a graduation present, Ben has been given a shiny red Alfa Romeo. Another family friend congratulates him: "Hey, here's the track star. How are you track star?" More guests make a fuss over him and offer congratulatory kisses:
Guests: We're all so proud of you, proud, proud, proud, proud, proud, proud, proud. What are you going to do now?
Ben: I was going to go upstairs for a minute.
Guests: I meant with your future, your life.
Ben: Well, that's a little hard to say.
Ben is hesitant, embarrassed by all the attention, and lacking in social graces. By the family swimming pool, Ben receives words of advice from Mr. McGuire (Walter Brooke), a family friend, in one of the most memorable lines from film history:
Mr. McGuire: I just want to say one word to you - just one word.
Ben: Yes sir.
Mr. McGuire: Are you listening?
Ben: Yes I am.
Mr. McGuire: 'Plastics.'
Ben: Exactly how do you mean?
Mr. McGuire: There's a great future in plastics. Think about it. Will you think about it?
Ben: Yes I will.
Mr. McGuire: Shh! Enough said. That's a deal.
[In fact, history would prove Mr. McGuire's advice to be prescient and wise!] Sweating and unable to take any more badgering and unwanted advice, feeling generally repugnant of the upper middle-class values that surround him, Ben realizes that he is totally estranged from the financial measures of value that are being thrust upon him for his future. He retires to his bedroom to lie down while everyone listens to his accomplishments from his college yearbook: "Captain of the Crosscountry Team, Head of the Debating Club, Associate Editor of the college newspaper in his Junior year, Managing Editor in his Senior (He slams his bedroom door shut.)..."
Ben's alienation is symbolized by shots through glass - he looks out on the backyard swimming pool through the upstairs window. His face is viewed through his fish tank's glass as he stares into it and studies it - possibly envying the peaceful position of the plastic deep sea diver. When a black-clad Mrs. Robinson (36 year old Anne Bancroft, only 6 years older than Hoffman), the wife of his father's business partner, opens his bedroom door in the frame, they both appear behind the pane of glass. She has followed him there (first viewed in the living room eyeing him from the sofa in the background), explaining that she is looking for the bathroom, but her interest in him belies her excuse.
Looking upset, Ben admits he is "disturbed about things" in general and would rather be alone. She insists that he drive her home because her husband has already left with their car. When he offers his own car keys ("Do you know how to work a foreign shift") and she claims that she can't drive a stick shift, she throws the keys into the aquarium - right onto the top of the miniature scuba diver figure. He reluctantly agrees ("Let's go") after fishing out his keys.
In a classic scene after he drives her to her home in his Alfa Romeo convertible, she lures him into the house, cooly and firmly persuading him to accompany her into the house until she switches on the lights. She pours drinks, and then a bumbling, passive Ben is left helpless, flustered, and confused in the face of a sexual seduction by the neurotic, cynical and alcoholic Mrs. Robinson:
Mrs. Robinson: Would you mind walking ahead of me to the sun porch. I feel funny about coming into a dark house.
Ben: But it's light in there.
Mrs. Robinson: Please. (She shuts the front door, enclosing him in the house. They enter the sunroom.)
Mrs. Robinson: What do you drink? Bourbon?
Ben: Look, uh, Mrs. Robinson, I drove you home. I was glad to do it. But I have some things on my mind. Can you understand that?
Mrs. Robinson: Yes. (She nods)
Ben: All right.
Mrs. Robinson: (She prepares drinks for both of them.) What do you drink? Benjamin. I'm sorry to be this way, but I don't want to be left alone in this house.
Ben: Why not?
Mrs. Robinson: Please wait till my husband gets home.
Ben: When is he coming back?
Mrs. Robinson: I don't know. Drink?
Ben: No. (She hands him one anyway.) Are you always this much afraid of being alone?
Mrs. Robinson: Yes.
Ben: Well, why can't you just lock the doors and go to bed?
Mrs. Robinson: I'm very neurotic. (She turns on some music.) May I ask you a question? What do you think of me?
Ben: What do you mean?
Mrs. Robinson: You've known me nearly all your life. You must have formed some opinion of me.
Ben: Well, I always thought that you were a very...nice...person.
Mrs. Robinson: Did you know I was an alcoholic?
Ben: What?
Mrs. Robinson: Did you know that?
Ben: Look, I think I should be going.
Mrs. Robinson: Sit down, Benjamin.
Ben (in a panic, now standing): Mrs. Robinson, if you don't mind my saying so, this conversation is getting a little strange. Now, I'm sure that Mr. Robinson will be here any minute now and -
Mrs. Robinson: No.
Ben: What?
Mrs. Robinson: My husband will be back quite late. He should be gone for several hours.
Ben: Oh my god. (He retreats)
Mrs. Robinson: Pardon?
Ben: Oh no, Mrs. Robinson, oh no.
Mrs. Robinson: What's wrong?
Ben: Mrs. Robinson, you didn't - I mean, you didn't expect -
Mrs. Robinson: What?
Ben: I mean, you didn't really think that I would do something like that.
Mrs. Robinson: Like what?
Ben: What do you think?
Mrs. Robinson: Well, I don't know.
Ben: For God's sake, Mrs. Robinson, here we are, you've got me into your house. You give me a drink. You put on music, now you start opening up your personal life to me and tell me your husband won't be home for hours.
Mrs. Robinson: So?
Ben (naively): (The camera shoots under her upraised leg, framing Ben underneath) Mrs. Robinson - you are trying to seduce me .... Aren't you?
Mrs. Robinson: Well, no. I hadn't thought of it. I feel very flattered.
Ben: Mrs. Robinson. Will you forgive me for what I just said?
Apologetically confessing to being "mixed up" and confused, Benjamin gulps his drink. Knowing that he has not seen her daughter Elaine's (Katharine Ross) portrait done the previous Christmas, she lures him up the stairs to Elaine's bedroom. [The connection between mother and daughter and Ben's relationship to both of them is emphasized in her ploy.] As he looks up at the portrait, she begins to casually disrobe and asks for assistance:
Mrs. Robinson: Will you unzip my dress? I think I'll go to bed.
Ben (terrified): Oh well, goodnight. (He turns away.)
Mrs. Robinson: Won't you unzip my dress?
Ben: I'd rather not, Mrs. Robinson.
Mrs. Robinson (imperiously): If you still think I'm trying to seduce you...?
Ben: No, I don't, but I just feel a little funny.
Mrs. Robinson: Benjamin. You've known me all your life.
Ben: I know that but I'm...
Mrs. Robinson: Come on. It's hard for me to reach. (He complies and pulls the zipper down.) Thank you.
Ben: Right.
Mrs. Robinson: What are you so scared of?
Ben: I'm not scared, Mrs. Robinson.
Mrs. Robinson: Then why do you keep running away?
Ben: Because you're going to bed. I don't think I should be up here.
Mrs. Robinson: Haven't you ever seen anybody in a slip before?
Ben: Yes, I have, but I just...Look, what if Mr. Robinson walked in right now?
Mrs. Robinson: What if he did?
Ben: Well, it would look pretty funny, wouldn't it?
Mrs. Robinson: Don't you think he trusts us together?
Ben: Of course he does, but he might get the wrong idea. Anyone might.
Mrs. Robinson: I don't see why? I'm twice as old as you are. How could anyone think that...
Ben: But they would! Don't you see?
Mrs. Robinson: Benjamin. I am not trying to seduce you!
Ben: I know that, but please, Mrs. Robinson. This is difficult..
Mrs. Robinson: Would you like me to seduce you?
Ben: What?
Mrs. Robinson: Is that what you're trying to tell me?
Ben: (A long pause.) I'm going home now. I apologize for what I said. I hope you can forget it. But I'm going home right now.
Her forwardness and coming on to him terrifies him, and eventually scares him out the door and down the stairs. But before he goes, she insists that he personally deliver her purse from the table in the hall. He is fearful to come upstairs again but scurries to her commands when she orders him:
For God's sake, Benjamin, will you stop acting this way and bring me the purse!