Background
---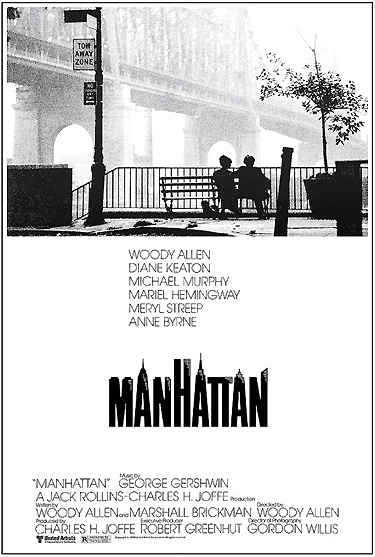 Manhattan (1979) was an acclaimed, mature, B/W masterpiece enhanced by a George Gershwin score (performed by the New York Philharmonic conducted by Zubin Mehta), telling about infidelity, entangling romances and situations, and the comings-and-goings of self-absorbed, mostly-dishonest, glib, intellectual Manhattanites. The film's main focus was a quadrangular love story between unequals: a conflicted 42 year-old divorced TV comedy writer, an optimistic 17 year-old prep-school sweetheart, a flighty, vascillating and intellectually-neurotic and cynical divorced female journalist, and a university literature teacher and cheating husband.
The evocative, much-loved film was formulated as a stylish rom-com drama (known as 'dramedy'), with liberal and verbose doses of neurotic ("nebbish"), self-defeating, and self-ironic humor. Allen described the film's plot as a combination of his previous two films, Interiors (1978) and Annie Hall (1977). The various haphazard romantic choices, "neurotic problems," and cynical statements made by the characters in the film were actually efforts to avoid their own emotional depths. It was a way to escape from the existential questions of human imperfection, frailty and insignificance in the cosmos (the "more unsolvable, terrifying problems about the universe"). With his unique sense of humor, Allen surveyed the downfall of society and the decay of culture, including the ubiquitous shallowness of television, wrecked relationships, difficulties with marriage, and the lack of control in people's lives. Trying to make sense of things, almost all of the principal characters were working on a book (or aspiring to do so).
The highly-respected film had a straight-forward romantic narrative (with no tricks or gimmicks such as the voice-overs or dream/fantasy sequences in Annie Hall (1977) or the fast-cutting in earlier slapstick genre parodies). In tribute to director Allen's favorite city, it was set in his beloved urban NYC, lovingly shot and portrayed by the black and white cinematography. The famous scene of the Queensboro Bridge (the 59th Street Bridge, spanning over the East River connecting the boroughs of Queens and Manhattan) captured the essence of the city's stunning beauty, and was the iconic centerpiece of the film's marketing and posters. However, one of the film's main points was that city life could be very fragmented, isolating and empty.
The non-diagetic use of New York composer Gershwin's music was deliberately placed throughout the film to metaphorically extend the character of the main protagonist, to serve as a counterpoint to the hero's life, and to provide more meaning to the scenes.
There were a number of notables for the 96-minute film:
It was Allen's first directed black and white film, and his ninth feature film (his previous films were, in chronological order: What's Up, Tiger Lily? (1966), Take the Money and Run (1969), Bananas (1971), Everything You Always Wanted to Know About Sex, But Were Afraid to Ask (1972), Sleeper (1973), Love and Death (1975), Annie Hall (1977), and Interiors (1978).
It was Allen's least-favorite directed film.
The film resulted in the first soundtrack for a Woody Allen film, featuring the music of George Gershwin.
It was the first Woody Allen film to be shown at the Cannes Film Festival (the 32nd annual event, in May 1979).
It was the 16th highest-grossing (domestic) film of its year, 1979 (the #1 film was Kramer vs. Kramer (1979)).
It was the third most-commercially successful film of Allen's entire career, grossing $39.9 million (domestic), just behind Midnight in Paris (2011) at $56.8 million (domestic), and Hannah and Her Sisters (1986) at $40 million (domestic). If adjusted for inflation, it was Allen's second-highest grossing film at $145.8 million, just behind Annie Hall (1977) at $157.1 million.
It was Allen's first 2.35:1 anamorphic widescreen (or Cinemascopic) release; it was specified that it would only be released in its original "letter-boxed" format (rather than pan-and-scan) for early TV broadcasts and video versions.
As a result of the film, Woody Allen appeared on the cover of TIME Magazine's April 30th, 1979 issue, titled: "A COMIC GENIUS: Woody Allen Comes of Age".
It featured gorgeous B/W cinematography from Gordon Willis.
The opening title sequence was one of the very few Woody Allen films that lacked traditional opening credits, except for the image of a bright, flashing "Manhattan" neon sign at the same time as the film's first narrated line of dialogue (see below).
The opening sequence was parodied at least twice: (1) Neil DeGrasse Tyson's Cosmos science series, that used Gershwin music and the Manhattan skyline, and (2) the UK's Channel 4, low-budget, cult sit-com Spaced (1999-2001) (in Season 2, Episode 1). As a point of reference, it rivaled the scene of the monolith's emergence to the strains of composer Richard Strauss' "Thus Spake Zarathustra" in Kubrick's 2001: A Space Odyssey (1968).
There were some eerie auto-biographical parallels in this R-rated film regarding Allen's May-December romances, and his own film's relationship between the 42 year-old main protagonist (Allen) and his young 17 year-old dating partner (Mariel Hemingway) - a 25 year gap. When Manhattan was released in the US, Allen was 43 and Hemingway was 17. [In real life, there were two other striking parallels:
(1) Allen experienced a two-year romantic relationship with actress Stacey Nelkin, whom he first met as a 16 year-old extra on the set of Annie Hall (1977). Their dating relationship allegedly began shortly later, starting when she was a 17 year-old high school student (Allen was 42), and continuing until she was 19.

(2) Allen's current wife, Soon-Yi Previn was roughly 35 years his younger. (At the age of 8 in the year 1978, Soon-Yi became the adopted Korean daughter of Mia Farrow and her then-husband Andre Previn, before they divorced in 1979. Then, Allen became the romantic partner of Mia Farrow for about 12 years, from 1980 until 1992. Denying any scandal, he asserted that he had inherited Soon-Yi from Farrow's previous marriage. Five years after Mia Farrow's breakup with Allen, Woody and Soon-Yi wed in 1997.)

Further allegations claimed that Allen sexually abused another of Farrow's adopted daughters, Dylan Farrow when she was 7 years old in 1992. She had been adopted in mid-1985.]
The film was one of eight collaborations between Woody Allen and Diane Keaton, and their only black and white film. Allen co-starred in six of them, and directed seven:
Play It Again, Sam (1972), director: Herbert Ross, star: Woody Allen
Sleeper (1973), director and star: Woody Allen
Love and Death (1975), director and star: Woody Allen
Annie Hall (1977), director and star: Woody Allen
Interiors (1978), director: Woody Allen
Manhattan (1979), director and star: Woody Allen
Radio Days (1987), director: Woody Allen
Manhattan Murder Mystery (1993), director and star: Woody Allen
There were two Academy Award Nominations (with no wins): Best Supporting Actress (Mariel Hemingway, in her sole Oscar-nominated performance), and Best Original Screenplay (Woody Allen and Marshall Brickman). Streep won the Best Supporting Actress award for her role in Kramer vs. Kramer (1979) (being shot at the same time), stealing it away from her Manhattan co-star Hemingway.
Plot Synopsis
---
42 year-old, neurotically-obsessed, Jewish Isaac "Ike" Davis (Woody Allen), a Manhattanite, narrated about his failed attempts at writing (he had turned from writing frivolous TV sit-coms to composing a serious novel). He struggled to find the properly-stated, appropriate viewpoint about Manhattan, and the perfect beginning for his new novel, to the tune of George Gershwin's glorious Rhapsody in Blue. The long opening note was played by a clarinet - director Allen's own instrument. [Note: It could be naturally assumed that Ike's new book became the film Manhattan!]
The voice-over dialogue, divided into five parts in the opening, began with exquisite distant postcard shots of the NYC skyline and then closer, more typical scenes of urban life (bulleted below). These were the starts of five different openings (in voice-over) for Isaac's unwritten book, as if he was reading aloud from his writings, or verbalizing his thoughts. However, it was probably the least well-articulated and worthwhile bit of "serious" writing that he could produce. All of the aspects about the city and its inhabitants in Isaac's five dictated descriptions were basically illustrated in the subsequent film ("the hustle-bustle," "lack of individual integrity," "the easy way out," "a society desensitized by drugs, loud music, television, crime, garbage" and more).
There were five different, increasingly over-heated prose styles for his first chapter that he characterized as Romantic, Corny, Profound, Angry, and Sexual. It appeared that the fifth opening was the one that he would choose ("Behind his black-rimmed glasses was the coiled sexual power of a jungle cat"), combining both main aspects of his persona (intellectual and sexual). In fact, Allen's character Isaac would go on to critique urban living as morally shallow, self-absorbed, and compromised although he clearly adored an idealistic view of the city.
a distant view of Manhattan's eastern skyline at dawn, showing the Chrysler Building and the Empire State Building [Note: The film ended with a book-ending view of Manhattan at sunset]
a view of Long Island City from Manhattan's East Side
high-rise buildings
the neon "PARKING" (static) and "MANHATTAN" (blinking) signs (positioned vertically on the side of buildings)
ROMANTIC
'Chapter One. He adored New York City. He idolized it all out of proportion.' Uh, no, make that: 'He-he romanticized it all out of proportion.' Better. 'To him, no matter what the season was, this was still a town that existed in black and white and pulsated to the great tunes of George Gershwin.' Uh, no, let me start this over...
an industrial area in Chelsea, with a footbridge over a busy city street (an unused railway line)
the Queensboro Bridge
the EMPIRE DINER (on Tenth Avenue in Chelsea)
the snow-covered and lamp-lit streets of Park Avenue
trucks on the West Side (with the World Trade Center in the background)
crowded streets and a streetside fruit market
people waiting to cross a street at an intersection (with a "DON'T WALK" sign)

CORNY
'Chapter One: He was too romantic about Manhattan, as he was about everything else. He thrived on the hustle bustle of the crowds and the traffic. To him, New York meant beautiful women and street smart guys who seemed to know all the angles.' Ah, corny, too corny for, you know, my taste. Let me, let me try and make it more profound...


a slum tenement with clothes hanging on a line
traffic lined up at the Queensboro Bridge next to the Roosevelt Island Tramway
a demonstration downtown (a gay pride march?) in front of Village Cigars shop on 7th Avenue
stylish females and well-dressed males outside upscale Henri Bendel's on 5th Avenue
construction site on the street, as workers oogled a busty female pedestrian
the Whitehall dock area with the Staten Island ferry arriving and moving into port

PROFOUND
'Chapter One: He adored New York City. To him it was a metaphor for the decay of contemporary culture. The same lack of individual integrity that caused so many people to take the easy way out was rapidly turning the town of his dreams in..' No, it's gonna be too preachy, I mean, you know, let's face it, I wanna sell some books here.


another snowy, wintry view of a NYC street, probably 5th Avenue
the Washington Square archway
a clothes and shoes market in the garment district
a reprise of the Staten Island ferry (Brooklyn in the background)
a fish market, presided over by men in white aprons
children exiting down steps of a private school at the close of the day
a playground court with basketball hoop viewed through a chain-link fence
a snowy park (Central Park possibly)

ANGRY
'Chapter One: He adored New York City. Although to him it was a metaphor for the decay of contemporary culture. How hard it was to exist in a society desensitized by drugs, loud music, television, crime, garbage...' Too angry. I don't wanna be angry.


two elderly women, bundled in winter coats near a sidewalk fruit stand
a billboard sign for Peter Pan Cleaners and a Schlitz beer advertisement (in Italian, translated, "If you have no Schlitz, You Have No Taste.")
a dark tunnel
a sidewalk scene on the Upper East Side, with steam blowing through the air
a city bus turning a corner on a heavily-trafficked intersection
three unkempt men loitering on a street corner
garbage piled up on the streets

SEXUALLY POWERFUL
'Chapter One. He was as tough and romantic as the city he loved. Behind his black-rimmed glasses was the coiled sexual power of a jungle cat.' Oh, I love this! 'New York was his town, and it always would be.'

the building front of the landmark Parke Bernet Galleries, a Sotheby's auction house on Madison Ave.
the interior of the circular Guggenheim Museum on 5th Avenue
the front of Gucci's on Fifth Avenue
a horse-drawn carriage awaiting riders to ride through Central Park, outside the ritzy Plaza Hotel on 5th Avenue
two contrasting buildings (a skyscraper and a smaller ornate structure)
a crane next to a construction site for new apartments, next to the GW commercial building
more blocky skyscrapers (Wall Street?)
a view across Central Park, with the sun setting behind the Manhattan skyline - silhouetting the buildings
more skyline views, and another view of the park
a man and a woman kissing on a balcony
a reprise of snowy view of Park Avenue
lights illuminating inside city buildings as darkness fell
neon signs advertising various theatres (Majestic, St. James) or hotels (Globe) on West 44th St.
Lincoln Center
more theatre signs advertising Broadway musicals or plays
a flashing "Broadway" sign
Radio City Musical Hall
Times Square with a gigantic Coca-Cola sign
a bank of public phone booths near a Gyro food stand (Souvla King) in Times Square
a car entering the city by crossing a bridge
rows and rows of lighted offices inside a building
two actors performing during "Shakespeare in the Park" in Central Park
the Metropolitan Museum of Art on Fifth Avenue (the current exhibit was of The Temple of Dendur)
a dramatic aerial view of Yankee Stadium at night, its lights illuminating the crowds
a crescendo of firecrackers flashing and bursting over Central Park before a darkened sky, with various buildings forming the skyline's backdrop