Background
---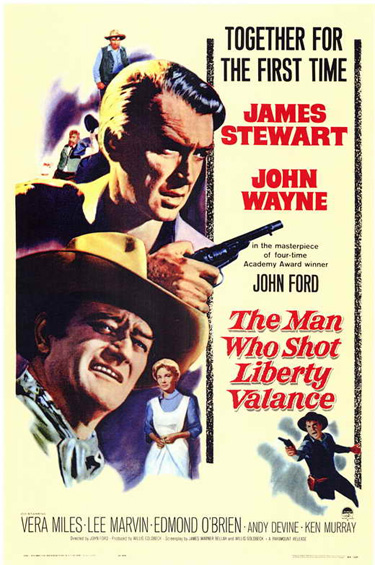 The Man Who Shot Liberty Valance (1962) was another nostalgic and memorable B/W John Ford-directed film about the passing of the Old West and the rise of civilization - it was his last great film. James Stewart and Wayne memorably starred together in this picture as contrasting characters - it was their first co-starring appearance in their careers. Wayne's repeated catch-word name for his co-star --- "Pilgrim" -- was capitalized upon by Wayne's imitators in later years.
Ford had already established himself as one of the greatest and most influential directors of Hollywood westerns of all time (sixteen major feature western films in total), beginning with his two silent era westerns The Iron Horse (1924) about the transcontinental railroad and 3 Bad Men (1926); then came Stagecoach (1939) - a milestone film that revitalized the entire Western genre (and provided a star-making role for John Wayne). Next was the Technicolored colonial frontier drama Drums Along the Mohawk (1939), the retelling of the Wyatt Earp legend in My Darling Clementine (1946), his so-called "Cavalry Trilogy" (Fort Apache (1948), She Wore a Yellow Ribbon (1949), and Rio Grande (1950)), the 3 Godfathers (1948), Wagon Master (1950), his western masterpiece The Searchers (1956), The Horse Soldiers (1959), Sergeant Rutledge (1960), and Two Rode Together (1961).
This two hour long, nostalgic modern-day western was one of the master's last westerns, and it had a cynical tone. It was followed by Ford's 22-minute Civil War segment in the middle of the three-screen Cinerama spectacle How the West Was Won (1962) (with John Wayne as General Sherman), and then Ford's last historical epic western Cheyenne Autumn (1964) about the awful late 1870s exodus of three hundred Cheyenne Indians from Oklahoma to their ancestral home in Wyoming.
Ford's revisionist or deconstructed 1962 film, a character-driven tale of good (two contrasting male heroes) versus evil incarnate (one major villain), involved a re-examination of Western myth told in a flash-backed story. The theme was about how a significant 'falsehood' and legend had helped to establish the blossoming and flourishing of a "new" western political order, and the closing of the frontier characterized by rugged individualism. The new state of things was marked by education and literacy instead of ignorance, the rule of formal, reasoned and written statute law and civil order instead of guns, rose gardens instead of arid deserts, the proliferation of lawyers and politicians, fewer gunslingers and the control of rampant violence.
Other revisionist western films would follow: Sam Peckinpah's Ride the High Country (1962) and The Wild Bunch (1969), Arthur Penn's Little Big Man (1970), Robert Altman's McCabe & Mrs. Miller (1971), and Clint Eastwood's Unforgiven (1992).
There were three important story-telling symbols that were interwoven through the film: a desert cactus rose, a wooden shingle, and a silver-knobbed bull-whip. And although the main locales of the genre-western were archetypal places: the carpentry/undertaker parlor, the newspaper printing office, the restaurant's main dining room, the rowdy saloon, the ranch, and a Convention hall, there were many other minor 'off-stage' areas on the perimeter that played important roles (i.e., the back room with the coffin, the restaurant's kitchen area with a garden and back-alley, the small school-room behind the newspaper office, the ranch's add-on, the side street during the shoot-out, and the back-room at the Convention).
In the 1960s, Gene Pitney had recorded a 1962 country-pop hit song, The Man Who Shot Liberty Valance (written by Burt Bacharach and Hal David) and it was supposed to be the theme song, but it wasn't even featured in the film due allegedly to John Ford's rejection of it, possibly because it sounded too modern. Strangely, the film's main musical theme was taken from Alfred Newman's soundtrack for Ford's Young Mr. Lincoln (1939), starring Henry Fonda.
There was only one Academy Award nomination, Edith Head's Best B/W Costume Design (won by Norma Koch for What Ever Happened to Baby Jane? (1962)).
The budget for the black and white film was severely limited, so director Ford didn't have the luxury of on-location filming to showcase the vistas in his favorite locale, Monument Valley. Most of the western was shot on a sound stage, and its set-bound constrictions and cheap look showed in the final print. The script was based on a 1949 short story by Dorothy M. Johnson, written by James Warner Bellah (on whose stories Ford's 'Cavalry Trilogy' were also based) and Willis Goldbeck. This was the second film the two wrote for Ford - the earlier one was Sergeant Rutledge (1960).
It starred Ford's frequently-used actor John Wayne (in a quintessential role) in the duo's eighth and last full-length feature film western together, stretching all the way from Stagecoach (1939) to this film 23 years later. In total, Ford directed twenty-one pictures with Wayne, beginning with Mother Machree (1927/1928) and ending with the comedy Donovan's Reef (1963).
John Wayne's 21 Feature Films with Director John Ford

Films

Film and Year
(chronological)

Type of Film

Wayne's Role

Western

1

Mother Machree (1927/28)

Irish drama

Extra (uncredited) or as Prop Man

2

Four Sons (1928)

Irish drama

Officer (uncredited) or as Prop man

3

Hangman's House (1928)

Irish drama

Horse Race Spectator (uncredited)

4

The Black Watch (1929)

Historical drama

42nd Highlander (uncredited)

5

Salute (1929)

Football (sports) drama

Midshipman Bill (uncredited)

6

Men Without Women (1930)

Submarine (war) drama

Radioman (uncredited)

7

Born Reckless (1930)

Crime melodrama

Extra (uncredited)

8

Stagecoach (1939)

Western

"The Ringo Kid"

1

9

The Long Voyage Home (1940)

Drama

Ole Olson

10

They Were Expendable (1945)

War

Lt. (J.G.) 'Rusty' Ryan

11

Fort Apache (1948)*

Western

Capt. Kirby York

2

12

3 Godfathers (1948)

Western

Robert Marmaduke Hightower

3

13

She Wore a Yellow Ribbon (1949)*

Western

Capt. Nathan Brittles

4

14

Rio Grande (1950)*

Western

Lt. Col. Kirby Yorke

5

15

The Quiet Man (1952)

Irish drama

Sean Thornton

16

The Searchers (1956)

Western

Ethan Edwards

6

17

The Wings of Eagles (1957)

Biographical Drama

Frank W. 'Spig' Wead

18

The Horse Soldiers (1959)

Western

Col. John Marlowe

7

19

The Man Who Shot Liberty Valance (1962)

Western

Tom Doniphon

8

20

How the West Was Won (1962)

Western Epic/Cinerama
(Civil War Sequence only)

Gen. William Tecumseh Sherman

9

21

Donovan's Reef (1963)

Action Comedy

Michael Patrick Donovan

* Ford's "Cavalry" Trilogy (1948-1950)
Plot Synopsis
---
The opening title credits had a wooden signpost design. This foreshadowed a significant and symbolic plot point that referred to the novice lawyer's professional shingle that advertised his profession on the frontier as "ATTORNEY AT LAW."
A steam-powered train (an "iron horse" with only one passenger car) chugged into the station in the small western town of Shinbone, Arizona, in the year 1910.
[Note: Some have also hypothesized that the state (or territory) wasn't Arizona but Colorado, where the oft-mentioned Picket Wire River was located.]
Respected, pompous, and elderly Senator Ransom "Ranse" Stoddard (James Stewart), a slightly-condescending patrician from the East (Washington DC) had journeyed westward by train with his wife of 25 years Hallie Stoddard (Vera Miles). They arrived unannounced at the depot and were mostly unrecognized, except were greeted and picked up by an old friend, retired Town Marshal Link Appleyard (Andy Devine), buffoonish, slightly obese, squeaky-voiced and jovial, who was commissioned to carry Hallie's huge hatbox. His name signified his "link" between the wistful past ("the old days") and present, although he had long since given up his star-badge and occupation: "They haven't elected me Town Marshal for a dog's age."
The local neophyte Shinbone Star newspaper reporter Charlie Hasbrouck (Joseph Hoover) quickly phoned his editor Maxwell Scott after learning their identity from the train's conductor, Jason Tully (Willis Bouchey). Senator Stoddard happily agreed to an "exclusive" interview with Charlie, but for only one reason: "Dutton Peabody, founder, publisher, editor in chief of the Shinbone Star once fired me." The current editor of the newspaper, Maxwell Scott (Carleton Young) arrived to shake hands, and encouraged Stoddard to be interviewed in the paper's comfortable indoor office. Stoddard claimed he had to again assume the role of politician and "mend a few political fences," and left Hallie in Appleyard's company. Hallie noted how the town had become much more civilized and advanced from the past: "The place has sure changed. Churches, high school, shops."
[Note: Already significantly viewed in the small western town setting was a telegraph office, a telephone, overhead electrical wires and a telephone pole on Main Street - signs of progress.]
Appleyard confirmed that the coming of the railroad had made a major difference: "Well, the railroad done that. The desert's still the same." She added: "The cactus rose is in blossom." He knew that she was asking to be taken out to the dusty desert, to look once more upon the burned ruins of a remembered but deserted brick ranch-home (with the charred frame of an addition), surrounded by a wild garden of blooming cactus blossoms ("There's blossoms all around it"). Hallie left her husband for a short ride with Link to a dilapidated ranch, where outside she reflected: "He never did finish that room he started to build on, did he?" She urged Link to cut one of the prettiest lovely blossoms for her - and it was (off-camera) placed in her hat box.
[Note: The cactus rose was the film's continuing symbol of the love between Hallie and Doniphon, and of the transformation of the wilderness desert into a lush garden. In the film's conclusion, the dug-up rose from the ranch would be planted atop the coffin of her deceased former lover whom she still revered.]
In contrast to Hallie, Senator Stoddard was inside Scott's well-furnished newspaper office with large picture windows separating them from nature. A conspicuous portrait of the paper's esteemed founder, Dutton Peabody, was being honored on the left of the frame. Stoddard held his small audience spellbound (Mayor Winder (Paul Birch) had joined the group), but explained the purpose of his trip was unofficial and "purely personal." When pressed, he said he was there simply to attend the funeral of old friend Tom Doniphon (John Wayne), although the deceased had largely been forgotten and no one knew of anyone significant passing away in town at the time (Maxwell: "Who's dead, sir?"). It was ironic that Doniphon had been essentially erased from the past and entered into obscurity, while Stoddard (and Peabody) were both memorialized and remembered.
Once Link and Hallie returned, the group ventured down a narrow street and alley into a stable, on their way to a backroom doorway. Inside an undertaker/carpentry shop managed by Clute Dumfries (Earle Hodgins), Stoddard learned there wouldn't be a "real bang-up funeral" for Doniphon. The group solemnly viewed the plain pine-box coffin holding Doniphon's body in a back-room - prepared for a simple pauper's burial to be paid for by the county. Sitting near the coffin was Doniphon's trusted black sidekick/farmhand Pompey (Woody Strode), grieving his loss. To comfort him, Hallie sat by the somber Pompey and took his hand. When the casket was opened, Stoddard angrily noted: "Where are his boots...and his gunbelt and his spurs?" and demanded that Clute return symbols of Tom's past. The Marshal noted that Doniphon hadn't carried a gun for years -- a sign of his impotence in the face of civilization arriving in Shinbone ("He didn't carry no handgun, Ranse. He didn't for years").
The trio of newspaper employees joined them in the quiet back room next to the coffin. The pushy Maxwell Scott pressed Stoddard, citing his responsibility to his readership to know Stoddard's full story, and strongly urged the Senator to reveal more about his reason for attending the funeral of an unknown man: "I have a right to have the story." Stoddard reluctantly agreed, and admitted Link, Hallie, and Pompey were all a "part of it."
The revered Senator Stoddard exited the room with the newspaper-men into the outer parlor of the undertaker/carpentry shop, leaving the others to gather around Doniphon's coffin in the back room to mourn. Hallie sat with the unopened hat box on her lap, holding the desert rose.
Stoddard admitted that the past was "a lot different then," as he walked over to an antique, run-down, inoperable, cob-webbed OVERLAND STAGECOACH. He rubbed age-old dust off its surface, and surmised that the same exact coach had brought him to the small town many years earlier ("I think it is the same one").
[Note: The remainder of the western was a lengthy flashback describing why he had returned to the town after 25 years had passed. He was mainly interested in setting the record straight by explaining why his legendary status as "The Man Who Shot Liberty Valance" had been unearned and was untrue, although he had maintained a public facade for so many years.]
START OF LENGTHY FLASHBACK
He began his reflective story by remembering his entry into the wild frontier town decades earlier. As an eastern law school graduate, he had traveled westward to set up a law practice and begin his life and career. He was a young, idealistic, green-horn pacifistic attorney at law from the East Coast:
I was just a youngster. Fresh out of law school. Bag full of law books and my father's gold watch, $14.80 in cash. I had taken Horace Greeley's advice literally: 'Go west, young man, go west, and seek fame, fortune, adventure.'
[Note: Structurally, during the flashback, there were essentially eight major sequences showing Stoddard's progression (artificially numbered below).]
(1) Valance's Stagecoach Hold-up
Outside of the town, the stagecoach holding the novice attorney-at-law Ransom was stopped by sudden rifle gun-blasts - it was surrounded by the gang of a tyrannical and ruthless masked outlaw, ironically named Liberty Valance (Lee Marvin). During the robbery, Valance demanded the cashbox with an archaic phrase ("Stand and deliver") directed toward Shotgun (Bryan 'Slim' Hightower) and the stage-driver. When the three hapless passengers were removed from the coach and instructed to relinquish their wallets, purse, and other valuables, the timid Ransom foolishly defended hysterical widow Mrs. Prescott (Anna Lee) ("What kind of men are you?"), and was viciously slapped across the face. He then stood up and further claimed the law would eventually apprehend the criminals:
I am an Attorney at Law. And I'm duly licensed for the Territory. And you may have us in your guns now, but I'll see you in jail for this!
Violent gunman Valance snickered back: "Jail?" - and struck him across the head with his signature weapon - a silver-knobbed, leather bullwhip. Ransom was left to die at the side of the trail when the coach was sent on its way. As the outlaws searched through the personal belongings of the passengers, Valance came across Ransom's law books: "Law?" and spitefully ripped one of the volumes to shreds. He then strode over to the half-conscious Ransom and beat him senseless with his whip: "Lawyer, huh? Well, I'll teach you law! Western law!" before being restrained by his partners.
(2) Introduction to Most of the Major Characters
The next early morning after the robbery, at 5:30 am, local Shinbone rancher Tom Doniphon (John Wayne), with his farmhand Pompey, rode in darkness through town to the upper-floor residence of young pig-tailed Hallie to awaken her. She brusquely complained about being wakened: "What's the matter with you?"
[Note: She lived above the town's restaurant known as Peter's Place (famous for Home Cooking), where she was employed as a waitress by the two proprietors: recent Swedish-accented immigrants: Nora (Jeanette Nolan) and Peter Ericson (John Qualen).]
Doniphon alerted her to news that Pompey's buckboard was carrying a seriously-injured, unconscious, bloodied and bruised ambush victim that they had found on the outskirts of town following the stagecoach hold-up. The prone Ransom was likely to die without immediate care - Doniphon spoke to Stoddard and for the first time used the famous moniker "Pilgrim" for him: "Think you can make it, Pilgrim?"
[Note: The label 'Pilgrim' signified that Stoddard was on a progressive journey, similar to John Bunyan's 1698 story in The Pilgrim's Progress, from East to West, moving as a newcomer from naivete and innocence, and adjusting to an understanding of the frontier's ways.]
As Stoddard was being cared for, the often-drunk Doc Willoughby (Ken Murray) was summoned to administer stitches on his left temple. Meanwhile, Nora poured a strong mixed concoction of "coffee and aquavit (Swedish brandy)" for him to drink, as Hallie prepared breakfast and playfully admonished Doniphon not to join him with a swig of alcohol. Doniphon pledged to help Stoddard, now broke, to get back on his feet by offering him his restaurant credit.
Stoddard was stubbornly determined to immediately go after Liberty Valance, but Doniphon cautioned him and the two began a crucial debate about the use of guns and gun ownership, and more broadly, personal justice vs. the legal system. Stoddard argued for justice through the local courts and law enforcement to apprehend and prosecute lawbreakers, while Doniphon urged western-styled, armed brute force and personal lawless justice to keep the peace ("...if that's what you gotta do, you better start packin' a handgun"). Stoddard vowed that he was adamantly non-violent, and would rely only on his law books and the rule of law to bring justice to the town and to Liberty Valance. He responded to the rugged, tough cowboy frontiersman and gunslinger, cut from the same cloth as Valance - although law-abiding:
Stoddard: A gun? I don't want a gun. I don't want a gun. I don't want to kill him. I want to put him in jail.
Doniphon: Oh. Well, I know those law books mean a lot to you, but not out here. Out here, a man settles his own problems. (He patted his gun)
Stoddard: No, but, do you know what you're saying to me? You know, you're saying just exactly what Liberty Valance said. What kind of a community have I come to here? You all seem to know about this fella Liberty Valance. He's a no-good, gun-packin', murdering thief, but the only advice you can give to me is to carry a gun. (He stood up.) Well, I'm a lawyer! Ransom Stoddard, Attorney at Law. And the law is the only - the on... (Doniphon grabbed Stoddard before he collapsed)
Hallie: (in agreement, and specifically directed to Doniphon) A little law and order around Shinbone wouldn't hurt anyone.
Doniphon: All right, Hallie.
When the town's aggravated Marshal Link Appleyard (providing comic relief) was dragged to the restaurant by Peter Ericson, Doniphon sarcastically gave him a nickname: "Mr. Law and Order himself." The Marshal wanted to avoid the dangerous repercussions of the hold-up by following up, when Doniphon simply stated what Stoddard's complaint was: "All he wants you to do is put Liberty Valance in jail." But the cowardly Marshal would have no part of it: "Liberty Valance! Do you think l'm crazy? Now Tom, let me out of here!" Doniphon snapped that Hallie seemed to have already taken sides with Stoddard - an impressively-educated lawyer! The powerless and incompetent Marshal pleaded that he had no authority, interest or gunslinging capability to confront the outlaw, who had committed the crime outside of the town in the outer Territory:
As long as he behaves himself in this town, I ain't got no, uh, (jurisdiction)...Now, you all know that I'm only the Town Marshal, and what Liberty does out on the road ain't no business of mine. Ain't that right, Mr. Lawyer?...Now, as how you folks all know that, well, the jail's only got one cell, and the lock's broke, and I sleep in it.
Hallie was unimpressed and called the worthless and ineffectual Marshal "a big old fat water buffalo." Doniphon was taken by Hallie's forceful indignation and complimented her spunk: "You know you look mighty pretty when you get mad." As Doniphon left, he offered one final comment to Stoddard about how it was futile for the 'tenderfoot' lawyer to think that he could confront Valance with a gun and fight using Valance's preferred approach: "You can forget what I said about buyin' the gun. You're a tenderfoot. Liberty Valance's the toughest man south of the Picket Wire - Next to me."
[Note: The reference to the Picket Wire River, a body of water named by French trappers/explorers, was actually a mispronunciation of the original French name "Purgatoire."]