The Story (continued)
---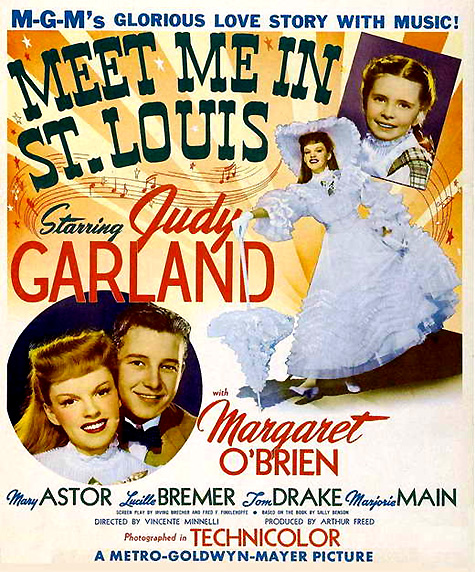 Winter, 1903
The Third Vignette opens with yet another greeting card picture of the Smith house, now fading into a winter scene of snow. It is a nostalgic, Currier-and-Ives image of a horse-drawn sleigh, the sound of sleigh bells, and youngsters sledding down the lawns of Kensington Avenue in the winter sunshine. Behind the Smith house, the children are building a family of snow people. The older children, Lon, Esther, and Rose discuss their preparations for the big Christmas Ball that evening (their "last Christmas dance in St. Louis"), and argue over their lack of dates. They insult an "Eastern snob," Lucille Ballard, caricatured as one of the uglier snow people, who is escorting Rose's beau Warren. Rose is left without a date and doesn't wish to be ignominiously escorted by her brother - that would make her "the laughing stock of St. Louis." But eventually, Lon is coerced into taking his sister to the dance.
Upstairs in their bedroom, Rose tightens Esther's corset strings and helps her struggle into the corset until she can barely breathe - she feels like "the ossified woman in the sideshow." Esther doesn't feel she can wear the asphyxiating corset, but Rose convinces her to steal herself for the night of conquest:
Rose: If there ever was a time we definitely needed every ounce of allure, it's tonight. If we're going to wreck Lucille Ballard's evening, we've simply got to be a sensation.
Esther: Rose, don't you think I could be a sensation without the corset?
Rose: You're competing with an Eastern girl. I'll wager Lucille Ballard doesn't make a move without a corset.
Esther: Well, I certainly don't relish wearing this thing. But pride has come to the rescue. For tonight, I'll do anything.
Rose: It'll be worth it. If we can create a breathtaking effect, it'll be simple to monopolize all the worthwhile men.
Esther: Exactly. There are only going to be about twenty boys worth looking at anyway. We can certainly handle twenty men. I should hope! Can you handle ten?
Rose: Seven or eight.
Esther: If you'll guarantee eight, I can h... (standing up, her words are cut short) ..I can handle the rest of them.
Rose: What about John Truett?
Esther (planning her strategy): Oh, I'll devote myself to John. But in between times, I'm going to make my presence felt amongst the others.
John arrives at the door with "some bad news" for Esther - he arrived too late at the tailor shop to pick up his tuxedo, and it was locked up. He is unable to escort her to the dance. Esther is heartbroken: "This is ghastly!" Esther is left dateless and breaks into tears, explaining that she will stay home to pack for their move from St. Louis. She runs to cry on her bed, sobbing to Rose: "I wish I were dead, that's all," until Grandpa gallantly offers to escort her, instead of having brother Lon take the two of them.
The elegant ball scene is introduced by a spectacular tracking-through-a-window shot. Everyone soon pairs off with his/her desired partner, Lon with Lucille Ballard (June Lockhart), and Rose with Warren Sheffield. When Esther's sabotage of Lucille Ballard's dance card is no longer necessary, Esther is left stranded with a dance-card list of motley losers. After many waltzes, Esther is finally rescued by her Grandpa: "You're the first human being I've danced with all evening." She is nostalgic, sad and painfully reminded by the musical selection of the dance band - "Home, Sweet Home" - of her family's impending departure. She buries her head in his shoulder:
It's our last dance in St. Louis. I feel like I'm going to cry.
As they waltz around and behind a massive, decorated Christmas tree, Esther emerges from the other side, not in her Grandpa's arms, but in the arms of John Truett - albeit late, but properly dressed.
The next scene finds the couple under an icy-blue moonlit, snowy scene in front of a leafless tree, where John proposes marriage - but the mood is melancholy because Esther's parting to New York seems inevitable:
John: I wouldn't have said it, Esther, if I'd thought it would make you cry.
Esther (crying): I've imagined you saying it thousands of times. And I always planned exactly how I'd act. I never planned to cry.
John: Well, at least you didn't laugh...I never asked a girl to marry me before...
Esther: John, nobody could have done it more beautifully. I'm very proud.
John: Esther, will you? Will you, Esther?
Esther: Of course I will, John.
But Esther is hesitant, sad and confused, and her feelings fluctuate madly:
Esther: I kept telling myself that even if I did go away, we'd find some way to be together. Well, I never really believed it.
John: When you go to New York, it will be with your husband. Your folks can show us the town, meet us at the station. Let's go in and tell them now.
Esther: Oh no, not tonight. I mean, I'd rather that just the two of us knew about it tonight.
Her family's imminent plans to move, their future college plans and their youth cast a long shadow over their love. Esther tells him tentatively that her family's move to New York may not disrupt them: "Even if I did go to New York, we could still work something out somehow, couldn't we?" As church bells sound, she wishes him a "Merry Christmas," hugs him, and then runs from him to leave him alone in the dark. Esther returns home and goes upstairs, finding 'Tootie' waiting up late Christmas Eve night and sitting by her wintry windowsill - her sister is worried and wondering about the prospect of moving from their beloved home:
Did he [Santa Claus] come yet? I've been waiting such a long time. And I haven't seen a thing....How will he know how to find us next year? He's so used to coming here.
Esther reassures her and places her warming wrap around her shivering sister: "Oh, you can't fool him. He can find anybody he wants to find." Obviously upset, 'Tootie' sadly declares: "I'm taking all my dolls, the dead ones too. I'm taking everything." When Esther reminds her that she must leave behind her snow people she has built in their yard, there is a haunting view of their backyard lawn full of Christmas snowmen, seen from her bedroom window.
In one of the most memorable scenes of the film, Esther consoles her distraught sister 'Tootie' - compassionately and sweetly singing the wistful song "Have Yourself a Merry Little Christmas" while at the window. Her solemn voice is accompanied by the tinkling of 'Tootie's' antique monkey music box. Lovingly and tenderly photographed, Esther touchingly sings of hope:
Have yourself a Merry Little Christmas
Let your heart be light.
Next year all our troubles will be out of sight
Have yourself a Merry Little Christmas
Make the Yuletide gay
Next year all our troubles will be miles away
Once again, as in olden days, happy golden days of yore
Faithful friends who were dear to us, will be near to us once more
Someday soon, we all will be together, if the fates allow
Until then, we'll have to muddle through somehow
So have yourself a Merry Little Christmas now
Sobbing, 'Tootie' is most affected and traumatized by the thought of moving and abandoning her snow people - a group that represents her once-happy family. To show her emotional upset and misery after the song is finished, she runs in her nightgown from the house - and hysterically and maniacally decapitates the Christmas snowmen. She bludgeons and destroys them because they cannot go to New York with the family: "Nobody's gonna have them. Not everybody's going to New York. I'd rather kill them if we can't take them with us." Esther vainly attempts to comfort her utterly despairing sister by kneeling and embracing her. 'Tootie' drowns out her words with her ceaseless crying:
New York is a wonderful town. Everybody dreams about going there. But we're luckier than lots of families because we're really going. Wait until you see the fine home we're going to have and the loads and loads of friends we'll make. Wonderful friends. But the main thing Tootie is that we're all going to be together just like we've always been. That's what really counts. We could be happy anywhere as long as we're together.
From an upstairs bedroom window where golden light shines down on the snow, Mr. Smith - all alone and unnoticed - witnesses the wreckage on the lawn - and within his distraught daughter. Agonizing and stunned by what he has seen, Mr. Smith moves downstairs, noticing the staircase's grandfather clock covered with protective newspapers for the move, and bare spots on the wall where colorful family pictures used to hang. Seeing the house in disarray, he realizes the travail of relocating to New York. He also views Esther leading 'Tootie' up to bed. In his accustomed way, he sits in his usual armchair in the parlor, puts a cigar in his mouth and lights it with a golden-glowing match. While the musical soundtrack plays the opening bars of the title song, he holds the match until it burns his fingers - and pricks his conscience. With a start, he extinguishes the match and calls out "Anna, Anna," and then summons the family together downstairs.
After reconsidering, his first words to his family - assembled in a group - are:
We're not moving to New York and I don't want to hear a word about it. We're going to stay right here. We're going to stay here till we rot.
Anna responds: "We haven't rotted yet, Lonnie." Mr. Smith has decided to compromise with his family and stay in St. Louis after all, refusing his company's promotion regardless of the work prospects and other consequences. The moment of revelation, shock, and jubilation peaks when Warren Sheffield rings the bell, enters, and quickly blurts out his marriage proposal to Rose:
Rose Smith. We can't go on like this any longer. I've positively decided we're going to get married at the earliest opportunity. And I don't want to hear any arguments. That's final. I love you.
Before a delighted Rose can say anything other than "Merry Christmas," Warren vanishes. Typically ignorant of his daughters' romances, Mr. Smith doesn't know who the young man is - he tells Rose: "I'd like to meet that boy sometime." Esther thanks her father for "the nicest Christmas present anybody could ask for." With the sounds of the familiar Christmas carol "Noel" playing on the soundtrack, Mr. Smith comforts and embraces his relieved wife in the foreground, while the children excitedly open presents in the background. (They will all be able to attend the opening of the World's Fair in the city, and the romances and love-lives of the older girls will flourish.)
Spring, 1904
The briefest of the vignettes, the Fourth Vignette opens with a view of the Smith house, now surrounded by signs of blossoming spring. The greeting card view fades in on 5135 Kensington Avenue, where all the Smith girls are sparklingly dressed in their best white finery outside the house. The older girls join their suitors in a horse-drawn carriage that will take them to the inaugural opening of the St. Louis "Louisiana Purchase" Exposition. The other members of the family board a second carriage.
At the fairgrounds, Esther, who is accompanied by fiancee John at her side, exclaims:
Esther: Oh, isn't it breathtaking, John! I never dreamed anything could be so beautiful.
The Smith family with their fiancees watch in awe as the famous electric lights of the Palace of Electricity illuminate (one by one) the concourse. Family members marvel at the fair:
Mrs. Smith: There's never been anything like it in the whole world.

Rose: We don't have to come here on a train or stay in a hotel. It's right in our own home town.

'Tootie': Grandpa? They'll never tear it down, will they?
Grandpa: Well, they'd better not.
For the final fadeout, Esther proudly delivers the last line of the film - St. Louis is the magical center of the world's attention:
I can't believe it. Right here where we live. Right here in St. Louis.