Background
---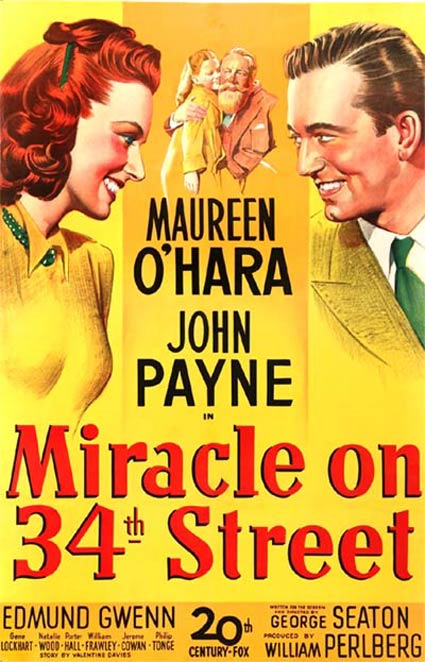 Miracle on 34th Street (1947) is director George Seaton's popular and perennial Thanksgiving and Christmas classic holiday film - a dramatic comedy-fantasy about the commercialization of Santa Claus (Kris Kringle) and Christmas itself.
The sentimental and appealing Frank Capra-esque morality fantasy tale (similar to Meet John Doe (1941)) was about the struggle between faith and doubting cynicism, as well as between the holiday spirit of generosity and materialistic commercialism. Its secondary theme was about the value of childhood wonder and belief in fantasy. It was clearly a hybrid genre film - with elements of drama, fantasy, comedy and courtroom, specifically designed to be a classic childrens'/family film.
The threatrically-released, Christmas-themed film (taking place during the holiday period from Thanksgiving to Christmas Day) captured the spirit of the times - and became a regular pasttime in addition to other traditions such as lighted trees, holly berries and mistletoe. It became one of the "must-see" films of the Thanksgiving holiday season (and often aired immediately following the Macy's parade), by touching upon uplifting themes and elements, such as redemption, charity or fellowship among people, and evoking the Christmas spirit of faith, generosity and hope rather than commercialism and competition.
It was adapted by scriptwriter George Seaton from Valentine Davies' original story that was later published by Harcourt Brace & Co. as a novel in 1947. The sentimental, Christmas-themed 20th Century Fox hit was released in May of 1947 and premiered in New York theaters in early June of 1947, obviously not during the holiday season. The studio heavily promoted the film, but kept it a tight secret that the film contained a Christmas-oriented setting. This wonderful holiday film has long been considered a cherished family tradition, with a strong faith-affirming religious theme. In fact, the theme of the film was captured in one of the film's quotes:
"Faith is believing in things when common sense tells you not to. Don't you see? It's not just Kris that's on trial, it's everything he stands for. It's kindness and joy and love and all the other intangibles."
The likeable film posed the question: Was the radical Santa Claus character (Kris Kringle) real or just plain delusional and crazy? The Macy's Santa was compelled to prove himself by enduring a psychological evaluation, corporate competition, and even a court case.
[Note: The film's plot about the identity of "Kris Kringle" paralleled and retold the last year of the life of Jesus when he was tried before Pontius Pilate. Actually, there was a brief mention in the script comparing the Judge in the case to Pilate: "You're a regular Pontius Pilate the minute you start."]
Originally thought to be too corny, Miracle was 20th Century Fox's first Christmas film - and it became an unpredictable box-office success at $2.7 million. It grossed over four times its production cost of $630,000. It was only Fox's 2nd film shot on location in NYC - its first was director Henry Hathaway's spy film/thriller The House on 92nd Street (1945) - the first major semi-documentary crime thriller.
Although it's now hard to believe, the film was declared "morally offensive" (in part) by a Catholic organization known as the Nation Legion of Decency because actress Maureen O'Hara's character was a divorcee. 20th Century Fox's other 1947 film, Best Picture-winning Gentleman's Agreement (1947) also featured a divorcee: Dorothy McGuire as a divorced schoolteacher who also served as close-minded, complacent socialite girlfriend Kathy Lacey of widowed, single father hero Gregory Peck.
It has generally been accepted as part of the Christmas movie tradition, along with A Christmas Carol (1938 and 1951), Holiday Inn (1942), The Bells of St. Mary's (1945), It's A Wonderful Life (1946), The Bishop's Wife (1947), and White Christmas (1954), and many others. See Filmsite's Christmas Movies. Oscar Trivia: In just two years time (1946-1947), the only three Christmas movies ever nominated for Best Picture were released: It's A Wonderful Life (1946), The Bishop's Wife (1947), and Miracle on 34th Street (1947).
Colorized ("computer-colored" or "color-imaged") films began to be broadcast on television for the first time in 1985. The classic Miracle on 34th Street (1947) was one of the first full-length black-and-white movies to be colorized. It was converted by Color Systems Technology (CST) for 20th Century Fox and aired in 1985, when it became the highest rated non-network movie in syndication.
The film was remade twice on television in 1955 and 1973 (with Thomas Mitchell and Sebastian Cabot respectively as Kringle) and memorably in a John Hughes-produced 1994 remake directed by Les Mayfield, with Richard Attenborough as Kringle, co-starring Elizabeth Perkins, Dylan McDermott and Mara Wilson. In 1963, it was also adapted as a Broadway musical titled Here's Love.
The charming and whimsical Christmas story, shot on location in New York City, received four Academy Awards nominations (including Best Picture) and three Oscar wins - Best Original Story (Valentine Davies), Best Screenplay (George Seaton), and Best Supporting Actor (Gwenn). Four of the five directors of the Best Film nominees in 1947 were nominated for Best Director, but not Miracle's director George Seaton. However, he did win the Best Screenplay award for the film. The Best Supporting Actor winner was Welsh-born actor Edmund Gwenn (with his first of two career nominations - and his sole Oscar win) as the believable, plump, department store Kris Kringle - a smiling, real "Santa Claus." Oscar-winning Edmund Gwenn was the only actor to win an Oscar for playing Santa Claus.
Plot Synopsis
---
Opening Title Credits:
During the opening credits, on the streets of New York City on Thanksgiving Day, the camera tracked and followed an unidentified gentleman as he walked along various sidewalks. The white-haired, bearded individual stopped at Lillian's storefront window where a clerk was adjusting a Christmas display of Santa's reindeers. He advised the astonished man: "You've got them mixed up....You're making a mistake with the reindeer....You've got Cupid where Blitzen should be. And Dasher, oh Dasher, should be on my right-hand side....And another thing, Donder's antlers have got four points instead of three."
The Macy's Thanksgiving Day Parade With a Substitute Santa:
The feisty and no-nonsense special-events parade organizer for the Macy's annual Thanksgiving Day parade up 5th Avenue was a hard-working, divorced, workaholic single mother named Doris Walker (Maureen O'Hara). In Manhattan as the parade participants were being assembled, the same older white-whiskered, kindly gentleman advised the previously-hired Santa Claus character (Percy Helton) who was on one of the floats and was improperly flicking his whip from Santa's sleigh. Then, the man smelled Santa's breath and realized he was drunk - and expressed his personal insult and indignation:
You ought to be ashamed of yourself. Don't you realize there are thousands of children lining the streets waiting to see you, children who have been dreaming of this moment for weeks? You're a disgrace to the tradition of Christmas and I refuse to have you malign me in this fashion. Disgusting.
He reported the intoxicated 'Santa' to Doris: "Your Santa Claus is intoxicated." When the 'Santa' Claus collapsed on the float and went unconscious, Doris immediately hired the 'Santa' look-alike as a last minute substitute and replacement: "Could you be Santa Claus? Have you had any experience?" He responded reluctantly ("I am not in the habit of substituting for spurious Santa Clauses"), but then gladly agreed to help out: ("The children mustn't be disappointed"). He was perfect for the job - not requiring either a fake beard or padding on the Macy's Thanksgiving Day float - and he proved to be a smash hit..
[Note: The film's footage of the actual Macy's parade that was filmed in 1946, was part of an annual event that began in 1924. As a result of increased publicity for the parade due to the film, national TV coverage began for the parade in 1948, and it became a major national American institution.]
The Three Main Characters - Doris, Susan, and Fred:
While the parade was still in progress, Doris returned to her apartment where she was told that her young 2nd grade daughter Susan Walker (8-9 year-old Natalie Wood) was watching the parade from the front apartment window of their handsome neighbor, lawyer-attorney Fred Gailey (John Payne). Doris' black housemaid Cleo (Theresa Harris) had given permission for Susan to view the parade from his "50 yard-line" vantage point. Due to Doris' disillusionment after a bad marriage and divorce from Susan's father, she had taught Susan to not be fooled by 'make-believe' myths, illusions or fairy tales.
During the parade of "giant" characters, Susan told Fred how she didn't believe in any fanciful stories regarding giants, such as the 'Giant' in Jack and the Beanstalk:
I don't know any fairy tales...My mother thinks they're silly.
Doris joined Susan and formally met Fred, and thanked him for his fondness and kindness shown to Susan. Over a cup of coffee, he admitted that it was part of his manipulative plan to get to know Doris better: "It's part of a deep-dyed plot. I'm fond of Suzie, very fond, but I also wanted to meet you. I read someplace that the surest way to meet the mother is to be kind to the child." When Susan was overheard praising this year's realistic-looking Santa Claus, Doris explained how he was a "last-minute substitute" for a drunken Santa she had previously hired - and then fired. Saddened that the progressive-schooled Susan seemed to be too young to be skeptical about life, Fred attempted to encourage the well-meaning Doris to promote imaginative beliefs, magic, and tall tales in her young daughter:
Fred: I see, she doesn't believe in Santa Claus, either. No Santa Claus, no fairy tales, no fantasies of any kind, is that it?
Doris: That's right. I think we should be realistic and completely truthful with our children, and not have them growing up believing in a lot of legends and myths like Santa Claus, for example.
When the parade concluded, Susan revealed that she was in cahoots with Fred, when she manipulatively encouraged Doris to invite him to join them for Thanksgiving dinner at 3 pm that afternoon.
'Santa' Hired to Be Macy's Department Store "Santa Claus":
After the parade ended, enthusiasm for the recently-hired 'Santa' led to Macy's toy department boss Mr. Julian Shellhammer (Philip Tonge) phoning Doris to recommend temporarily hiring him as Santa (or Saint Nick) at the flagship Macy's toy department (on the corner of W. 34th Street and 7th Avenue) for the Christmas season: ("Everybody's crazy about him...I just know that with that man on the throne, my department will sell more toys than it ever has. He's a born salesman").
The new, grandfatherly jolly fellow from the North Pole, Kris Kringle (Edmund Gwenn), was appointed and hired for the job in Macy's toy department on the 7th floor. On the day after Thanksgiving, while dressing up in his own authentic 'Santa Claus' costume in the Macy's employees locker room, Kris met another worker, impressionable 17 year-old Alfred (Alvin Greenman) from Brooklyn, who was a janitor at the store. The slightly-chubby Alfred explained how he had also been dressing up as Santa at his neighborhood YMCA for three years. He enjoyed "impersonating" Santa - especially when childrens' faces would light up when presented with gift packages: "It makes me feel kinda good and important."
They were interrupted by Mr. Shellhammer who urged Kris Kringle with "a few tips on how to be a good Santa Claus" - he was to memorize and push a list of certain overstocked toys on undecided children:
Before you go up on the floor, I just want to give you a few tips on how to be a good Santa Claus...Here's a list of toys that we have to push. You know, things that we're overstocked on. Now, you'll find that a great many children will be undecided as to what they want for Christmas. When that happens, you immediately suggest one of these items. You understand?
Kringle responded to Alfred with disgust at the blatant X-mas commercialization: "Imagine - making a child take something it doesn't want just because he bought too many of the wrong toys. That's what I've been fighting against for years, the way they commercialize Christmas." Alfred agreed with his assessment: "A lot of bad 'isms floating around this world, but one of the worst is commercialism. Make a buck. Make a buck."
Kringle Greeting Children as "Santa Claus" on Macy's 7th Floor in the Toy Department:
Sitting on Santa's lap, a young boy named Peter (Kevin Burke) requested a small-sized 'fire-truck' that squirted water for Christmas. His mother (Thelma Ritter in her film debut) leaned over and whispered: "Macy's ain't got any. Nobody's got any." It was Santa's first real test - would he follow Shellhammer's advice or not? He promised the boy that he would fulfill his wish: "You'll get your fire engine." His mother spoke privately to Santa to reprimand him for encouraging her son's dream gift: "I tell you nobody's got any. I've been all over. My feet are killing me. A fine thing, promising the kid."
Instead of following his boss' advice, Kris told Peter's frantic mother to shop elsewhere if they couldn't find what they wanted at Macy's: "You can get those fire engines at Schoenfeld's on Lexington Avenue. Only $8.50. A wonderful bargain." He reasoned why he would direct customers to other stores: "The only important thing is to make the children happy. Whether Macy's or somebody else sells the toy doesn't make any difference." Shellhammer was pleased with the long line of children and their parents eager to speak to Santa. Santa's next child requested a pair of ice-skates, and he recommended that she shop for better quality skates at Gimbel's for the item - Macy's rival department store. Shellhammer was aghast, dismayed and shocked when he overheard and discovered that Santa was recommending that shoppers go elsewhere if they couldn't find toy merchandise that they wanted at Macy's.
Shellhammer threatened to fire Kris for directing customers to other stores, until Peter's mother congratulated him and thanked him for promoting a Santa who was honest and restored the Christmas spirit. She also vowed to be a loyal Macy's customer: ("Imagine a big outfit like Macy's, puttin' the spirit of Christmas ahead of the commercial. It's wonderful. Well, I'll tell ya, I never done much shopping here before, but I'll tell ya one thing, from now on, I'm gonna be a regular Macy customer"). Shellhammer was flabbergasted by the tremendous pressure to retain the unorthodox 'Santa' from many more shoppers, and worried about what would happen if his boss Mr. R.H. Macy (Harry Antrim) found out: ("Personally, I think it's a wonderful idea, too....The point is, will Mr. Macy think so?").
[Note: The real American businessman and founder of Macy's, R.H. Macy, died in 1877, and then about 20 years later in 1895, the Macy family sold off the business.]
Meanwhile, Fred (who was tending to Susan) encouraged the delightfully-skeptical Susan to stand in line to speak to and visit with the new "Santa Claus" in the store and believe in him: ("When you talk to him, you might feel differently about him"). Doris' doubting and cynical 6 year-old daughter Susan was forthright to "Santa" about her disbelief in him: "My mother's Mrs. Walker, the lady who hired you." However, she did commend his authenticity: ("But I must say, you're the best looking one I've ever seen...Your beard doesn't have one of those things that goes over your ears"), but still didn't believe that the actual, warm-hearted, white-haired "Santa" was real, and even pulled his beard to test him.
When asked what she wanted for Christmas, Susan denied wanting anything from Santa: "Whatever I want, my mother will get for me, if it's sensible and doesn't cost too much, of course." Doris arrived to drag Susan away, who exclaimed to her mother that 'Santa' was "a nice old man, and those whiskers are real, too." Stepping aside with Fred, Doris lectured him about how she didn't want to encourage Susan's 'make-believe' trust in Santa's existence - since it might cause lasting developmental harm:
Doris: But I think there is harm. I tell her Santa Claus is a myth, and you bring her down here, and she sees hundreds of gullible children, meets a very convincing old man with real whiskers. This sets up a very harmful mental conflict within her. What is she going to think? Who is she going to believe? And by filling them full of fairy tales, they grow up considering life a fantasy instead of a reality. They keep waiting for Prince Charming to come along. And when he does, he turns out to be a ---
Fred: We were talking about Suzie, not about you.
Doris: Well, whether you agree or not, I must ask you to respect my wishes regarding Susan.
Santa's Encounter with a Non English-Speaking Dutch Girl:
While other children stood in line to see and speak to Santa, Susan watched from the side and was impressed as Kris spoke Dutch with a girl who didn't know English. The Dutch girl's adoptive mother (Mary Field) apologized: "I'm sorry, she doesn't speak English, she's Dutch. She just came over. She's been living in an orphan's home in Rotterdam ever since. We've adopted her. I told her you wouldn't be able to speak to her, but when she saw you in the parade yesterday, she said you were Sinter Klaas, as she calls you, and you could talk to her." In the film's most touching single moment, Kringle kind-heartedly and reassuringly spoke to the non-English-speaking, frightened WWII immigrant-refugee Dutch girl/orphan (Ida McGuire) in her own native language (and performed a duet of a traditional Dutch carole "Sinterklaas Kapoentje" with her).
[Note: In the conversation with Santa, the recently-adopted Dutch girl said she didn't need any gifts because she had already been given the best gift of all - a new mother to live with: "Nothing! I have all kind of things. I want only to stay with this lovely lady." One of the versions of the Dutch carole was translated: "Saint Nicolas Little Rascal/Put something in my little shoe/Put something in my little boot/Thank you little Saint Nicolas!"]