Background
---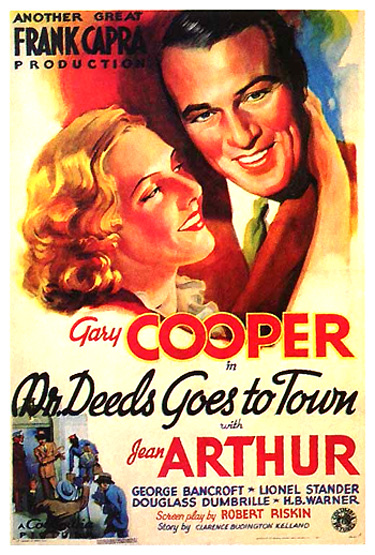 Mr. Deeds Goes to Town (1936) is another lighthearted classic Frank Capra screwball romantic-comedy regarding the broader philosophical themes of individual innocence and big-city corruption, and the power of a small-town hero/common man as a citizen in a democracy. The small-town yokel is determined to give his money away in a redistribution plan, to help other people (mostly poor farmers) achieve economic self-sufficiency. The "share-the-wealth" philosophy was certainly gratifying to Depression-Era audiences.
The simple plot is a comedy about an innocent, common-sense populist (and tuba player), Longfellow Deeds from Mandrake Falls, Vermont - a newly-made multimillionaire with $20 million, who immediately encounters conflict in the foreign, alien and heartless environment of the city and struggles to maintain his integrity against lunacy, the establishment, and those who try to prevent him from giving away his wealth. There are many opposing and conflicting forces being balanced: the individual vs. the power of big business, the populist little people in the peaceful country vs. the chaotic metropolitan city, good vs. evil, and innocent idealism vs. hardened cynicism.
A "Cinderella" romance subplot involves a deceitful, hard-edged, and sardonic female newspaper reporter who falls in love with the newly-rich, guileless fortune inheritor while getting an "inside story" and making fun of him in her newspaper.
The film received five major Academy Award nominations, including Best Picture, Best Actor (Gary Cooper with his first Oscar nomination), Best Screenplay (Robert Riskin), Best Sound Recording, and Best Director (Frank Capra). Producer/director Capra won his second Oscar as Director for this film, following his initial victory for It Happened One Night (1934) - ultimately he would win three Academy Awards for direction. The film helped make co-star Jean Arthur a prominent leading lady for the rest of the decade and into the 40s - it was the first of her three films for Capra. She was brought in to star in the film when first-choice actress Carole Lombard opted to make My Man Godfrey (1936) instead.
Robert Riskin's screenplay was based on The American Magazine's serial story Opera Hat [the initial title of the film] by Clarence Budington Kelland, appearing in the April to September 1935 issues. Both Gary Cooper and Jean Arthur would again work for Capra in more films:
An irreverent modern remake titled Mr. Deeds (2002) starred Adam Sandler in the Gary Cooper role as a New Hampshire pizza parlor owner who inherited $40 billion, and Winona Ryder in Jean Arthur's role as a newspaper reporter.
Plot Synopsis
---
In the film's opening, a car speeds into a dangerous curve and plunges headlong through a protective fence and down an embankment, killing its occupant Martin W. Semple, a New York financier. News headlines broadcast an inheritance of $20 million to be paid to the multimillionaire uncle's distant nephew.
MARTIN W. SEMPLE FINANCIER, DIES IN ITALY
European Tour Ends in Tragic Crash

CIVIC LEADER KILLED IN AUTO ACCIDENT!
Trustees of Semple Estate Declares Huge Fortune Close to Twenty Million

DISCLOSURE OF BANKER'S WILL AWAITED
Attorney Cedar, Representative of Semple Estate, to Disclose Contents of Will

SEMPLE HEIR AS YET UNKNOWN!
Investigators Searching for Heir to Semple Millions
Three of the main characters from the big city are introduced in the next scene. A cynical news editor MacWade (George Bancroft) wants the inside scoop for stories published each day in the New York Mail. He shouts into a telephone, demanding to know the identity of the Semple heir: "If the Semple attorneys don't know who the heir is, who does?...Who's getting the Semple dough?" On the other end of the phone is cigar-smoking, press agent/publicist Cornelius Cobb (Lionel Stander) who denies knowing anything. Slick New York lawyer John Cedar (Douglass Dumbrille) insists that they hang up, but Cobb knows that the story will be great press: "Somewhere in this country a guy is walking into twenty-million bucks." According to Cedar, Cobb's job is to keep the "newspapers away from him."
A couple of Cedar's operatives announce finding the lucky heir: "Longfellow Deeds, Single, twenty-eight, lives in Mandrake Falls, Vermont." The lawyer's entourage, including Cornelius Cobb and Anderson (Harry C. Bradley), arrives in the quiet, pastoral, sunny small-town of Mandrake Falls, Vermont to speak to Longfellow Deeds, the inheritor of the fortune - to convince him to agree to the handling of the estate. The poetic motto on the entrance sign to the town at the railroad station, read outloud by Cobb, was authored by the idealistic, platitudinous Deeds:
Welcome to Mandrake Falls
Where the scenery enthralls
Where no hardship e'er befalls
Welcome to Mandrake Falls.
Cobb notices the laconic, friendly stationmaster of the small town named Mal (Spencer Charters): "I spy a native." They are greeted with "Morning, neighbors, morning." The stationmaster goes about unloading freight and soon confounds them by abruptly answering each of their questions quite literally:
Cedar: Do you know a fellow by the name of Longfellow Deeds?
Stationmaster: Deeds?...Yes sir, yes, indeedy. Everyone knows Deeds...
Cedar: We'd like to get in touch with him. It's very important....
Stationmaster: Deeds. Fine fellow, very democratic. You won't have no trouble at all. Talks to anybody.
When he finally understands that their ultimate goal is to find out where Deeds lives, he mutters: "Why didn't you say so in the first place instead of beating around the bush?" He drives them to Deeds' house in his own car. Maternalistic, Irish housekeeper Mrs. Meredith (Emma Dunn) questions why the stationmaster has brought them there:
Mrs. Meredith: He's over to the park arranging a bazaar so as to make money for the fire engines. Mal, you should have known he was at the park.
Stationmaster: Knew it all the time, but these men said they wanted to see the house. Can't read their minds if they don't say what they want.
She offers small-town hospitality: "Sure I couldn't get you a glass of lemonade or something?" Expositionally, she explains background about Deeds: he co-owns and runs the small-town tallow works. The unassuming man makes most of his income by writing poetry and sentimental, homespun rhymes for birthday cards and other holiday cards: "Longfellow's famous. He writes all those things on post-cards, you know, for Easter and Christmas, and birthdays." [His name is meaningfully descriptive: the poet is named after another poet, Henry Wadsworth Longfellow, and his last name signifies his importance that is derived from his actions and deeds.] Deeds' pet English setter dog anticipates the arrival of his owner by jumping up on the inside of the front door with his paws.
The tall, tuba-playing, unworldly, eccentric bachelor, local tallow factory manager, and unassuming poet, local-yokel Longfellow Deeds (Gary Cooper) arrives wearing a leather jacket, hat and a bow-tie. During introductions, Cedar identifies himself as the senior partner in the law firm of Cedar, Cedar, Cedar, and Budington. [Note: The in-joke is that Budington is the middle-name of Kelland, the writer of the story upon which the film is based.] Deeds jokes:
Budington must feel like an awful stranger.
Deeds sits in a chair and excitedly plays his tuba with a new mouthpiece (just received after a wait of two weeks). [He is the son of a Joseph and Mary Deeds - an unusual Christ-like reference.] When told the "good news" about his inheritance by duplicitous, crooked lawyer John Cedar, he barely flinches, uninterested and unemotionally affected by the money. Even the housekeeper blurts out: "How about lunch? Are the gentlemen going to stay or not?" Deeds responds by inviting the group to stay and join him for lunch, specifically recommending the housekeeper's "fresh orange layer cake...with the thick stuff on the top." The representatives of the city are astounded by Deeds, who doesn't react according to their expectations. In fact, he ponders with surprise: "I wonder why he left me all that money. I don't need it!" [Note: The groans from a Depression-Era audience must have been audible.]
During lunch, Cedar expresses Cobb's function as a 'buffer' for Deeds: "Rich people need someone to keep the crowds away. The world is full of pests. And then there's the newspapers to handle. One must know when to seek publicity and when to avoid it." Deeds is only frustrated that he cannot find a rhyme for Budington, but he amuses himself with a limerick rhyme for Cobb:
There once was a man named Cobb
Kept Semple away from the mob
Came the turn of the tide
And Semple he died
And now poor Cobb is out of a job.
The housekeeper divulges Deeds' bachelorhood and that he is "too fussy" to get married, because of a particular weakness: "He's got a lot of foolish notions about saving a lady in distress." The seemingly-naive country boy is told he must accompany them back to the big city of New York to move into his enormous, inherited mansion on Fifth Avenue. Although he's never been away from Mandrake Falls, Deeds' main desire to travel there is to see the tomb of his farm boy folk hero, General/President Ulysses S. Grant. When they are finally left alone, his housekeeper, who has served everyone lunch, has little more to say about his inherited fortune, exclaiming more vehemently to Deeds:
Deeds: Do you know how much twenty million is?
Mrs. Meredith: I don't care how much it is. You sit right there and eat your lunch. You haven't touched a thing!
While the city people worry that Deeds ("The Pride of Mandrake Falls") won't appear at the train station, he is found in the midst of the mob-crowd and his community of folks as the sole tuba-player in the band for his farewell, playing "For He's a Jolly Good Fellow." A little boy who clings to Deeds' back as he approaches the train, still playing his tuba, must be removed. As the train pulls away and the band plays "Auld Lang Syne" for his send-off, he stands playing his tuba on the rear observation platform of the train, calls out two specific names ("Goodbye, Mrs. Meredith, Goodbye Jim"), and gulps: "Gosh, I got a lotta friends." [Mandrake Falls, his town, symbolizes fertility - a mandrake root is a sexual aphrodisiac. His transplantation to New York is in sharp contrast - a place of deadness and gray sunless days.] During the ride, Cedar is determined that his law firm manage Deeds' estate and is intent on offering management of the fortune: "Leave everything to me." As the train approaches the outskirts of New York City, it ominously descends into a dark tunnel.
Before Deeds is shown in his new New York home, there are three short scenes to identify additional plot circumstances and characters. In a long tracking shot, the camera follows behind slick lawyer Cedar's entrance into the offices of his law firm, where he assures his colleagues: "We have nothing to worry about. He's as naive as a child." Budington (Arthur Hoyt) worries that the firm hasn't officially been granted Deeds' power of attorney. Cedar announces Deeds' intentions with the money: "He guessed he'd give it away" - and is promptly labeled a "nit-wit." The lawyers must cover up their mis-use of Semple funds. The dead man's crooked lawyer wants to have jurisdiction over Deeds' money before the books are audited: "Those books will never leave this office." He is determined to handle the nephew's finances and cover up past skimming from the estate.
In another short scene, Deeds' cousin Mr. Semple (Jameson Thomas) and his annoying, grasping wife (Mayo Methot) are seen considering contesting the uncle's will and making themselves candidates for the inheritance: "Ten years we've been waiting for that old man to kick off and then we were gonna be on Easy Street." Semple complains back: "Can I help it if my uncle didn't like me?...Shut up! It's too late now and you're a nuisance."
In a third scene, within the New York Mail newspaper office, news editor MacWade has assembled reporters and photographers to criticize them (calling them "imbecilic stoops") for not having a front-page story and angle - after three days - on the newly-rich Semple heir in town (the "corn-fed bohunk"): "What does he think about? How does it feel to be a millionaire? Is he gonna get married? What does he think of New York?" They have all been hindered by Cobb, who has kept Deeds "under lock and key." In the background of the all-male group, MacWade's crack ace newspaperwoman-reporter, pretty blonde, Louise "Babe" Bennett (Jean Arthur) in a tailored gray suit, is bored but at ease while leaning on a table next to an office glass partition. She is engaged in a meaningless, whimsical, child's rope trick, and eventually succeeds in jerking and shaking it into a knot with one hand. She hasn't brought in the story either: "I thought I could depend on you, but you're getting as bad as the rest of 'em." Babe doesn't care about getting the story until MacWade promises her a month's paid vacation if she circumvents Cobb.
With pay? Leave four columns open on the front page tomorrow.
Immediately, Deeds is assailed in the bedroom of his newly-inherited, stony and colorless mansion by servants, butlers, creditors and others who are interested in his money. He is surrounded, actually entrapped by a tailor (Franklin Pangborn) and outfitters measuring, pinning, and refashioning him for new clothes. Cedar warns him of continual public scrutiny and unwanted notoriety by the press, and is present to again officially seek Deeds' power of attorney: "It'll save you a lot of petty annoyances." Deeds has already noticed the annoyances: "The strangest kind of people - salesmen, politicians, moochers, all want something. I haven't had a minute to myself. Haven't seen Grant's Tomb yet." But Deeds cannot understand why Cedar, and other lawyers, are willing to act as both investment analysts and legal advisors for no fee: "Puzzles me why these people all want to work for nothing. It isn't natural."
Hallor (Charles Lane), a representative for Mrs. Semple, the late uncle's alleged common-law wife, presents a "legal claim" for consideration, but Cedar cautions Deeds about conceding to him: "He's capable of causing you a lot of trouble." Deeds worries Cedar further when he asserts: "If she was his wife, she should have all the money. That's only fair. I don't want a penny of it."
However, Deeds is interrupted when summoned downstairs to the mansion's library to meet with the opera board, and to serve in the place of his uncle who was the chairman of the board. They always hold their meetings in the mansion because, as Cobb astutely points out: "Why do mice go where there's cheese?" The board's spokesman is Douglas (Edwin Maxwell) and to Deeds' surprise, he has been elected to preside as the director, or chairman of the opera house. During the treasurer's report, the financially-strapped members of the opera expect him to pay the opera's annual deficit of $180,000. According to Douglas, the opera is "not conducted for profit" but is an "artistic institution." But Deeds then assumes that they must be off-track and not operating as a business: "We must give the wrong kind of shows." He quickly confronts them with their snobbishness and refuses to 'naturally' help subsidize their annual deficit: "Excuse me, gentlemen, there's nothing natural about that." In the middle of the meeting, he runs to the window at the sound of fire engines' sirens, exclaiming: "Gee, that was a pip!" He demands that they make the opera pay or close it down: "If it's losing that much money, there must be something wrong. Maybe, maybe you charge too much. Maybe you're selling bad merchandise. Maybe a lot of things."
When he returns upstairs to his bedroom, Deeds is again confronted by Hallor. Distracted by the tailors, he refuses to wear their "monkey suit" (for a new but false identity): "Do you want people to laugh at me?" Deeds' valet Walter (Raymond Walburn) distresses Deeds by holding out the ends of his pants-legs as he dresses: "Don't ever get on your knees again." Hallor has decided to offer a compromise and not appear "greedy," downgrading his demands for Mrs. Semple from one-third of the estate (about $7 million) to $1 million, but Deeds becomes suspicious: "There's something fishy about a person who would settle for a million dollars when they can get seven million." Deeds grabs him by the lapel, and with the first hint of violence, threatens the man and then has him bodily ejected: "I think you're a crook so you'd better watch your step." Cobb offers his hand-shake, congratulating Deeds' "common-sense" and the scene just witnessed: "Lamb bites wolf." Cedar holds out his hand for another hand-shake, but Deeds suggests he first straighten out his books: "Suppose you get the books straightened out quick so I can have a look at 'em." Deeds suspects Cedar's slick conniving: "Even his hands are oily." [After turning down Cedar, Hallor, and the members of the opera board, Deeds will soon be deceived by a female reporter.]