The Story (continued)
---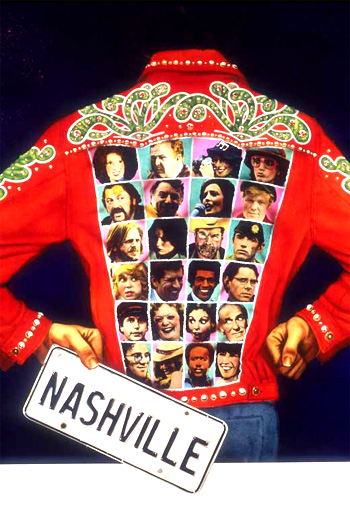 At the all-male political, fund-raising smoker, Sueleen Gay descends from the ceiling on a stage - she is wearing a provocative green dress and promises to sing "about a girl who never gets enough." Shamelessly, the amateur, tone-deaf singer begins her flat-tuned song. Both Triplette and Delbert reluctantly admit that she has no talent: "She's the worst singer I ever heard." "She cannot sing a lick, can she?"
Back at the other Nashville nightspot, as Mary leaves the stage, Tom flings her jacket at her: "Hey, you forgot your jacket." Wade mumbles to Linnea next to him: "Excuse me. I gotta go to the bathroom." Numbly staring ahead toward Tom, she barely acknowledges his departure as he slips away. Tom dedicates his character-defining ballad song "I'm Easy," to a crowd filled with women who are convinced that he is singing to them:
I'm gonna dedicate this to someone kinda special who just might be here tonight.
Four women who have either recently bedded (Mary, Opal, L.A. Joan?) or want to bed the soul-less star (Linnea) believe that the sexy song is dedicated to them. All apply his dedication to "someone kinda special" to themselves, except that Mary is still in a state of shock.
It's not my way to love ya just when no one's lookin'
It's not my way to take your hand if I'm not sure,
It's not my way to let ya see what's goin' on inside of me.
When it's love you won't be needing, you're not free.
Please stop pullin' at my sleeve if you're just playin',
If you won't take the things you make me want to give.
I never cared too much for games and this one's drivin' me insane.
You're not half as free to wander as you claim.

Chorus:
But I'm easy, yeah I'm easy
Give the word, I'll play your game
As though that's how it oughta be
Because I'm easy. Don't lead me on if there's nowhere for you to take me,
If lovin' you would have to be a sometime thing.
I can't put bars on my insides - my love is somethin' I can't hide.
It still hurts when I recall the times I've tried. Chorus:
But I'm easy, yeah I'm easy
Take my hand and pull me down
I won't put up any fight
Because I'm easy. Don't do me favors, let me watch you from a distance
'Cause when you're near I find it hard to keep my head.
And when your eyes throw light at mine, it's enough to change my mind,
Make me leave my cautious words and ways behind -

Chorus:
That's why I'm easy, yeah I'm easy
Say you want me, I'll come runnin' without takin' time to think
Because I'm easy, yeah I'm easy.
Take my hand and pull me down
I won't put up any fight
Because I'm easy, yeah I'm easy.
Give the word, I'll play your game
As though that's how it oughta be
Because I'm easy.
The camera slowly moves to the back of the room. From the perimeter of the room, as the audience applauds the performance, the emotionally-needy Linnea is star-struck and sits motionless with a stricken look on her face - without joining in the accolades. The soundtrack of the scene melts into the raucous, enthusiastic applause at the smoker.
Sueleen begins her second song "When I Love You" after removing her shoulder wrap - she is jeered and encouraged to "take it off" by the misogynistic crowd of men. Although Sueleen insists on her convictions: "I'm a singer," Triplette exploits her by assuring her that if she strips for the audience like she promised Trout, he will set her up to sing at the Parthenon with Barbara Jean. Sueleen optimistically maintains her fantasy about her success through an association with Barbara Jean, and denies looking at the truth about herself:
And I'm gonna be as big a star as Barbara Jean is one day...
Sueleen returns to center stage and completes her bump-and-grind striptease - it is a clumsy, inept, asexual un-dressing in front of the crowd. She removes the padding from her bra and tosses it into the hooting group of spectators. Thoroughly humiliated, she strips off her dress, bra, and panties to fulfill the bargain.
In Tom's hotel room, Linnea is Tom's third conquest - signalled by the tape deck playing his self-reverential song "I'm Easy." As the camera cuts to the bed where they lie together, the middle-aged Linnea is still wearing her slip. Tom reaches over and lights his cigarette with a bedside candle. After asking him if he wants to learn something in sign language, she teaches him both the shorthand and long-hand versions of "I Love You" - gently tapping her hand to her breast. Then, after some playful bed-talk and her waving away of his smelly cigarette smoke (his comment about cigarette smoking: "It's easy" neatly coincides with the tape player's voice singing "I'm easy"), she takes a drag from his smelly cigarette - he tells her "it doesn't look good."
She doesn't allow him to coerce her to stay another hour. She remains unruffled as she dresses before the mirror and listens to the uncaring singer turn his attention elsewhere as he calls another long-distance girlfriend in her presence and invites the woman to join him. Linnea unhooks her panties from his ankle beneath the blankets, kisses him (as he covers the telephone receiver with his hand), and then salutes him as she backs out and noisily shuts the door. The woman hears the door close:
Woman: What's that?
Tom: Oh, that's just room service. (He gestures) There's fifty cents on the desk there. Just pick it up.
Woman: Big tipper!
Tom: Yeah, well times are hard, you know.
Woman: Earning all that money, you can afford to bring me down there, I see.
Tom: Yeah, well never mind. I'll see you in a week.
Woman: I love you, Tom. (He abruptly hangs up, frustrated that he has been abandoned.)
When Delbert takes Sueleen home from the smoker, he makes a reticent yet desperate and urgent attempt to comfort her with affection on her front steps: "I know you don't do that all the time. I'm wanna tell you that I-I mean, me personally, you know, I'd just like to, I'd like to kiss you all over - I'd like to kiss you everyplace - you know what I'm telling you?" Wade appears and scares Delbert off. Blind to her own self and with her back against her lighted doorway, Sueleen tells Wade about the deal she made for her striptease. She foolishly ignores the truth of what he tells her about her lack of talent and how she is being used and demeaned:
Sueleen: (looking with her eyes down) Oh Wa-ade...I had to do me a striptease tonight in front of all those men in order to get to sing in the Parthenon with Barbara Jean.
Wade: S--t. Suelee- That's dreadful. That's terrible, girl. I mean, listen, I don't know how to tell you this, but I've been trying, I've been meanin' to tell you this for a long time. You, you can't sing! Sueleen, you may as well face the fact you cannot sing. You ain't never gonna be no star. I mean, I wish you'd give it up now. I mean, they're gonna kill ya. They're gonna tear your heart out if you keep on. They're gonna walk on your soul, girl.
Sueleen: (dismissing him and smiling) I don't know what you're talkin' about.
Wade: But you can't sing. Do you understand that?
Sueleen: Yeah. You wanna make a bet? You wanna just come to the Parthenon and watch me sing with Barbara Jean?...You just come and watch Wade...Bye, Wade. (She enters her building)
Wade: I don't know why I stick around. She just makes me so god-damned mad.
Day Five (Tuesday):
A TV broadcast by Howard K. Smith editorializes about the appeal of the attractively-packaged, fringe campaign of underdog Hal Phillip Walker, embodying empty promises and slogans - including the abolition of the Electoral College, the taxing of churches, and a change in the National Anthem:
A little more than a year ago, a man named Hal Phillip Walker excited a group of college students with some questions. Have you stood on a high and windy hill and heard the acorns drop and roll? Have you walked in the valley beside the brook? Have you walked alone and remembered? Does Christmas smell like oranges to you? Within a commencement speech, such questions were fitting, perhaps, but hardly the material with which to launch a presidential campaign. Even those who pay close attention to politics probably saw Hal Phillip Walker and his Replacement Party as a bit of frost on the hillsides. Summer, if not late spring, would surely do away with all that. Well, now that summer along with presidential primaries is heavy upon us and the frost is still there, perhaps we should take a closer look. Hal Phillip Walker is, in a way, a mystery man. Out of nowhere with a handful of students and scarcely any pros, he's managed to win three presidential primaries and is given a fighting chance to take a fourth - Tennessee. A win in that state would take on added significance, for only once in the last fifty years has Tennessee failed to vote for the winning presidential candidate. No doubt many Americans, especially party-liners, wish that Hal Phillip Walker would go away, disappear like the natural frost and come again at some more convenient season. But wherever he may be going, it seems sure that Hal Phillip Walker is not going away. For there is genuine appeal and it must be related to the raw courage of this man. Running for President, willing to battle vast oil companies, eliminate subsidies to farmers, tax churches, abolish the Electoral College, change the National Anthem, and remove lawyers from government - especially from Congress. Well at this point, it would be wise to say most of us don't know the answer to Hal Phillip Walker. But to answer one of his questions, as a matter of fact, Christmas has always smelled like oranges to me.
Preparations are made for the rally at the Parthenon grounds. Sound technicians, decorators, park security, crowds of people and political supporters gather. Walker arrives in a police-led motorcade of black limousines, but remains faceless in his car working on his speech. Delbert describes to Triplette the background related to the architecture and building of the pseudo-classical Parthenon for Nashville's 1897 Centennial Exposition - it was originally constructed of wood and plaster, and then rebuilt in 1922:
This building was originally here - it was made out of, uh, lumber and plaster of paris. This whole thing, this whole big building, they had to...well see, they built it for the Centennial celebration. And people liked this and they didn't want it torn down. Well, Nashville got to be called 'Athens of the South'...and they sort of took to that...And then they had to rebuild it. This one was originally just, uh, this one was built right after, right before I was born. I was thinkin' early 30s.
A full-blown argument erupts between Barnett and Triplette as they yell at each other about the ground-rules for Barbara Jean's performance. Mr. Green and Kenny attend Mrs. Green's funeral. In a row behind Kenny, a little old lady reaches out and taps Kenny to alert him that Mr. Green is leaving prematurely - he is frustrated that his niece Martha hasn't shown proper respect: "She owes some respect to Esther." The machinations of Triplette's planning have been fulfilled - a billowing American flag serves as the mammoth backdrop for the concert at the Parthenon, which opens with Haven Hamilton and Barbara Jean performing at center stage: "One, I Love You."
For the first time in the film, all the major characters are brought together for the film's climax. In the audience: Wade, Star, the Tricycle Man, Opal, L.A. Jean (with Bill), Pfc. Kelly, Mr. Green, and Kenny. On the stage or off-stage on the fringes are the entire spectrum of characters: Albuquerque and Sueleen, Tom and Mary, Norman, Bud, Lady Pearl, Barnett, Tommy Brown, Triplette, Delbert, and Linnea (with her black choir).
With a wistful choice of song, Barbara Jean sings solo for "My Idaho Home," a tune about her momma and daddy. It praises the virtues of having a loving family and home, and living in an abundant America where parents sacrifice for their children:
Momma and Daddy raised me with love and care
They sacrificed, so I could have a better share
They fed me and nursed me and sent me to school
Momma taught me how to sing, Daddy lived the Golden Rule
When I think of the children alone in play
Abandoned and wild like a fatherless child
I think of my Momma and how she could sing
Harmony with my Daddy, our laughter would ring.

CHORUS:
Down the highway, on the beaches
Just as far as it may reach-es
I still hear Daddy singin' his ol' Army songs
We laugh and count horses as we drove along.
We were young then, we were together
We could bear floods and fire and bad weather
And now that I'm older, grown up on my own
I still love Momma and Daddy best, my Idaho home.

Momma grew up on the prairies of Kansas
She was tender and sweet.
The dust and tornadoes surround her
But they left her straight up on her feet.
My Daddy grew up on his own, more or less
His Momma died when he was just eleven.
He had seven sisters to raise him.
But he dreamed of his Momma in heaven.
His Daddy drank whiskey and had a sharp eye.
He sold chicken medicine farmers would buy.
Together they hunted the fields and the farms
When his daddy died, my Daddy rested in my Momma's arms.
During one of the choruses, Kenny's hand instinctively reaches inside his shirt where he finds the fiddle-case key on a chain around his neck. It is the vulnerable and sacrificial Barbara Jean's final, triumphant performance. As Haven Hamilton circles around her with his arms in a Victory position (with one hand grasping a bouquet of white carnations) and nods toward the appreciative applause for her song, he presents the beloved, pure-spirited singer with the flowers.
Suddenly, three gunshots sound - Barbara Jean falls backward mortally wounded, and Haven, who has selflessly tried to shield her, sprawls on top of her with a bloody gunshot wound in his upper right arm. After the arbitrary killing and panic breaks out, Kenny - the demented assassin in the crowd - is subdued by shocked onlookers, wrestled to the ground, and soon hauled off by state police. Ignoring his own bloody arm, Haven grabs the microphone after the unexpected disaster and rallies the crowd to be calm by singing:
You all take it easy now. This isn't Dallas. It's Nashville. This is Nashville. You show 'em what we're made of. They can't do this here to us in Nashville. OK everybody, sing. Come on somebody, sing. You sing.
Hal Phillip Walker's entourage of black limousines scurries from the scene. After Haven begs for singing, he hands the microphone over to an unknown - Albuquerque. He encourages her: "Somebody sing. Sing. Sing." Nervously at first and then more confidently, the new star rises to the occasion and rallies the crowd with her stirring, healing anthem of passivity: "It Don't Worry Me."
Chorus:
It don't worry me. It don't worry me.
You may say that I ain't free,
But it don't worry me.
Their communal singing helps quell the panic - everyone mindlessly and quickly forgets the senseless, chaotic tragedy that was witnessed. Albuquerque kicks away and scatters the flowers into the crowd - the ones that were meant for Barbara Jean. Mr. Green locates Martha in the crowd. Bill grabs Mary and takes her away. Always missing the truth or impervious to real evidence about the nature of America for her documentary, Opal momentarily stepped away during the tragedy. The incapable reporter appears asking everyone: "Can you tell me what's happened?" Stunned by the results of his machinations that assembled the catastrophe, Triplette wanders away from the scene by himself. Sueleen stands stiffly in front of one of the Parthenon's pillars, still waiting patiently for her big break. Pfc. Kelly stands alone in the crowd, first wondering what happened, and then slowly he turns and winds his way out. Delbert pulls Linnea away from the choir to take her home. The camera tilts up slowly toward the cloudy skies of the country-western capital, leaving the remaining performers on stage.