Background
---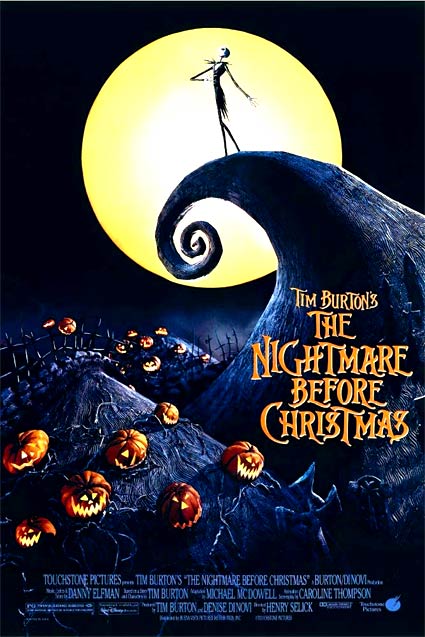 The Nightmare Before Christmas (1993) is producer Tim Burton's imaginatively dark, musical fantasy and original yet spooky stop-motion animated tale. Directed by Burton's colleague at Disney Animation Henry Selick, it was also known as "Tim Burton's The Nightmare Before Christmas" - and served as a celebratory look at two major holidays - Halloween and Christmas.
Selick's feature directorial debut was based on the 3-page, 1982 parodic poem of the same name by visionary producer Burton, written when he was a Disney animator. His ideas were shelved temporarily, and Burton went on to direct big budget films for Warner Bros.' including the odd-ball comedy Pee-wee's Big Adventure (1985), the fantasy-horror comedy Beetlejuice (1988), and the superhero film Batman (1989), plus 20th Century Fox's Edward Scissorhands (1990). Due to his heavy workload on Warners' Batman Returns (1992) and pre-production work on Ed Wood (1994), Burton was forced to turn over the directorial reins to Henry Selick, while scriptwriter Caroline Thompson (who had written Scissorhands) completed the final script that was earlier adapted by Michael McDowell.
The charming yet gothic, macabre and weird film, the first full-length stop-motion animated film, was an extraordinary achievement and ground-breaking in its use of computers to aid the complex, painstaking stop-motion animation process. Sophisticated computer-controlled cameras executed state-of-the-art camera movement for this feature film's stop-motion animation. It was the first fully-animated Disney film to not be traditionally animated. The stop-motion film was directly inspired by a number of animated Christmas TV specials, such as Rankin/Bass' productions of Rudolph, The Red-Nosed Reindeer (1964) and Santa Claus Is Comin' To Town (1970), and Dr. Seuss' How the Grinch Stole Christmas! (1966).
There were over 100 specially trained camera operators, puppet makers, set builders, and prop makers. There were 13 animators, 8 camera crews, and 4 sculptors. The amazing technical brilliance of over 120+ animators and other technicians were displayed with stop-motion animated puppets (227 in number), multiple heads (and facial expressions) for the two main characters (Jack and Sally). Puppets (built of a foam latex material covering intricate metal armatures to allow for flexible movement) were manipulated frame-by-frame on real miniature sets. There were a total of 19 sound stages, comprising 230 model sets. There are as many as 60 individual characters, with three or four duplicates each. To allow for different emotions of the main character Jack Skellington, he alone had 700 heads. The other main character Sally had a mask for every one of her expression changes. The painstaking film took nearly three years to complete (dozens of animators and crew members averaged only about 60-70 seconds of completed film per week), because each different pose or position equaled a 24th of a second. The animators had to create unique motions for a total of 110,000 frames.
It featured wonderfully-realized set designs -- such as the two holiday dream-worlds: the dark, German Expressionistic, Cabinet of Dr. Caligari-ish and The Night of the Hunter-ish Halloween Town, and the round, bright Christmas Town (based on Dr. Seuss' artwork, reminiscient of Whoville) -- set to the jazzily unorthodox, and often spooky lyrics in ten originally-composed songs by Danny Elfman: ("And since I am dead / I can take off my head / And recite Shakespearean quotations"). The 76-minute animation's tagline was: "A ghoulish tale with wicked humour & stunning animation." [Note: Elfman had became prominent in the early 1980s as the singer-songwriter for the new wave band Oingo Boingo.]
The original, fanciful yet twisted tale was about a bored, depressed and skeletal Jack Skellington (Chris Sarandon with Danny Elfman supplying his singing voice) with shy rag-doll Sally (Catherine O'Hara) as his understanding and loyal girlfriend from afar. Jack grew weary of his repetitive role as the Pumpkin King of Halloween Town overseeing the scary holiday of Halloween. When he discovered the enchanting, radically-different Christmas Town and its leader Santa Claus (Ed Ivory), he became obsessed with trying to capture the town's joy. His well-meaning but disastrous mission to steal the holiday put Santa Claus into jeopardy when he was kidnapped and tortured.
The PG-rated family film, released by Disney's more adult-oriented Touchstone Pictures, was largely ignored in its initial release (partially due to its scary and dark nature too difficult to handle for very young children), but gained a dedicated following on video release that grew quickly and made it a cult favorite. On a budget of $18-24 million, its box-office total (after many re-releases) was $77.4 million (domestic) and $91.2 million (worldwide). Although the animated film has been well-received, its popularity never exceeded the praise for Disney's other more traditional and safer film of the year, The Lion King (1993). Nightmare's ultimate moderate success enabled Tim Burton to produce another stop-motion animated film James and the Giant Peach (1996), based on the Roald Dahl book of the same name and also directed by Henry Selick.
The incredibly original and creative film received a milestone Academy Award Nomination for Best Visual Effects - a first for an animated film. It was an obvious oversight that Danny Elfman didn't receive a nomination for the inventive musical score. It was re-released by Disney in Digital 3-D in 2006, and became the first stop-motion animated feature to be entirely converted to 3D.
Plot Synopsis
---
The Film's Opening - Halloween Town and Jack The Pumpkin King:
The introductory lines of the story were delivered by narrator Santa (voice of Edward Ivory) inside a circle of trees - to explain the origin of major holidays. According to the narration, each holiday had its own town or world:
'Twas a long time ago, Longer now than it seems, In a place that perhaps you've seen in your dreams, For the story that you are about to be told, Took place in the holiday worlds of old. Now you've probably wondered where holidays come from. If you haven't, I'd say It's time you begun.
A hatch or portal opened on a tree with a Jack O'Lantern decoration, and the camera tracked into the darkness toward Halloween Town's sign-post - a glowing pumpkin-head on a scarecrow structure, with both arms outstretched and pointing in the direction of the town after the wind twisted it around. In particular, the town of Halloween (or Halloween Town) - was presented with a cold and shadowy color palette of dark greys, browns, and blacks, due to its specialization in frightening people.
In the film's amazing musical opening that began in a cemetery filled with tombstones, "This Is Halloween" was performed by the malicious denizens of Halloween Town (spooks, goblins, ghosts (one was two-headed), bats, vampires, ghouls, black cats, witches on broomsticks, skeletons, monsters, a rotund costumed clown with a grinning row of teeth, and various other creatures, etc.). [Note: One of the film's main characters, the town's outcast named Oogie-Boogie, made a brief appearance as a shadowy silhouette over the full moon.] During one verse, limbs on a talking Hanging Tree held five swaying skeletons who had been hung by the neck:
Boys and girls of every age / Wouldn't you like to see something strange? / Come with us and you will see / This our town of Halloween / This is Halloween This is Halloween / Pumpkins scream in the dead of night / This is Halloween Everybody make a scene / Trick-or-treat till the neighbor's gonna die of fright / It's our town Everybody scream / In this town of Halloween / I am the one hiding under your bed / Teeth ground sharp and eyes glowing red / I am the one hiding under your stairs / Fingers like snakes and spiders in my hair / This is Halloween This is Halloween / Halloween Halloween Halloween Halloween / In this town we call home / Everyone hail to the pumpkin song / In this town Don't we love it now? / Everybody's waiting for the next surprise.

Round that corner, man Hiding in the trash cans / Something's waiting now to pounce and how you'll scream / This is Halloween Red and black and slimy green / Aren't you scared? Well, that's just fine / Say it once, say it twice Take a chance and roll the dice / Ride with the moon in the dead of night / Everybody scream Everybody scream / In our town of Halloween / I am the clown with the tear-away face / Here in a flash and gone without a trace / I am the who when you call 'Who's there?' / I am the wind blowing through your hair / I am the shadow on the moon at night / Filling your dreams to the brim with fright / This is Halloween This is Halloween / Halloween, Halloween Halloween, Halloween.

Tender lumplings everywhere / Life's no fun without a good scare / That's our job But we're not mean / In our town of Halloween / In this town Don't we love it now? / Everyone's waiting for the next surprise / Skeleton Jack might catch you in the back / And scream like a banshee Make you jump out of your skin / This is Halloween Everybody scream / Would you please make way for a very special guy? / Our man Jack is king of the pumpkin patch / Everyone hail to the Pumpkin King now / This is Halloween This is Halloween / Halloween, Halloween Halloween, Halloween / In this town we call home / Everyone hail to the pumpkin song.
The song introduced their locale just after their prime celebration of the year - Halloween. As the song concluded, a parade of important figures in the town appeared. The main character - a bored, depressed, spindly, gaunt and spider-like, skeletal Jack Skellington (Chris Sarandon with Elfman supplying his singing voice), was known as the ruling 'Pumpkin King' of Halloween Town. The tall and skinny Jack - with a baseball-shaped, round skeleton-head and a stitched mouth - rose up in front of the town and was praised by everyone (with cackling and applause) for another successful celebration of the holiday of Halloween, including the literally two-faced Mayor (Glenn Shadix) (his cone-shaped spinning head alternated between 'happy' and 'sad' faces) with his entourage. [Note: The Mayor's tie was a black-widow spider.] He lauded Jack for his "brilliant leadership," and Jack agreed with everyone's assessment:
I believe it was our most horrible yet.
Jack appeared as a debonair and graceful figure very much like the skinny famed dancer Fred Astaire, wearing a black pin-striped suit complete with a bat bow-tie and black dress shoes. He had delivered another successful annual Halloween holiday to the town - with tremendous adulation: ("You're a witch's fondest dream....Ooh, Jack, you make wounds ooze and flesh crawl!").
Meanwhile, shy humanoid rag-doll Sally (Catherine O'Hara), Jack's future understanding and loyal girlfriend, was watching from afar, and was completely enamoured by Jack. She had been created ("fathered") and stitched together (like Frankenstein or The Bride) by Halloween Town's evil, duck-headed mad scientist Dr. Finkelstein (William Hickey), who had a hinged skull that could open up and expose his brain, and rode in a motor-driven wheelchair. With her knowledge of toxicology, she was able to briefly evade being locked up as a captive by again putting deadly nightshade into Finkelstein's soup to render him unconscious. However, he revived, grabbed her by the arm and dragged her away. She pulled one of the stitches holding her arm to her body, and its release sent Finkelstein crashing to the ground, and then she quickly fled.
Prizes were handed out by the Mayor:
Our first award goes to the vampires for "most blood drained in a single evening."
Our second and honorable mention goes to the "fabulous Dark Lagoon leeches."
Jack's Lament in the Cemetery:
Although Jack was aware of his prodigious talent in scaring people, he snuck away from the award-proceedings. At the outskirts of town, one of the town's three beggars congratulated Jack: "Nice work, Bone Daddy," but he had grown weary and tired of his repetitive, annual role as the Pumpkin King of Halloween Town's pagan holiday. Sally also escaped to the town's nearby graveyard with creaking gates to eavesdrop on Jack as he entered.
Jack proceeded through the cemetery with his ghostly, spectral dog Zero floating along behind him. [Note: Zero's nose was actually in the shape of a very tiny, glowing jack-o'-lantern.] As he climbed to the top of a curlicue hill known as Spiral Hill and was silhouetted by the full moon, he sang of his dissatisfaction with his life, even though he conceitedly admitted: "I have swept the very bravest off their feet." Feeling a big "emptiness" that he was missing joy in his life, Jack (with his talk-singing voice) performed an existential torch song: "Jack's Lament":
There are few who deny at what I do I am the best / For my talents are renowned far and wide / When it comes to surprises in the moonlit night / I excel without ever even trying / With the slightest little effort of my ghost-like charms / I have seen grown men give out a shriek / With a wave of my hand and a well-placed moan / I have swept the very bravest off their feet / Yet, year after year It's the same routine / And I grow so weary of the sound of screams / And I, Jack, the Pumpkin King / Have grown so tired of the same old thing

Oh, somewhere deep / Inside of these bones / An emptiness / Began to grow / There's something out there / Far from my home / A longing that / I've never known.

I'm the master of fright and a demon of light / And I'll scare you right out of your pants / (ghosts moaned) / To a guy in Kentucky I'm Mr. Unlucky / And I'm known throughout England and France / And since I am dead I can take off my head / To recite Shakespearean quotations / No animal nor man can scream like I can / With the fury of my recitations
Sally followed and hid as she watched Jack crying out for help, when he implied that he was dead and he removed his own head "to recite Shakespearean quotations." [Note: Jack was referencing and alluding to Shakespeare's play Hamlet, when the title character looked upon the skull of Yorick, his deceased court jester.] She also heard him boast: "No animal nor man can scream like I can."
But who here / Would ever understand / That the Pumpkin King with the skeleton grin / Would tire of his crown? / If they only understood / He'd give it all up / If he only could / Oh, there's an empty place / in my bones / That calls out for / Something unknown / The fame and praise / Come year after year / Does nothing for / These empty tears
When his song came to an end, the concerned Sally tenderly expressed her empathy for Jack: "I know how you feel." In the graveyard, she gathered more 'Deadly Nightshade' and returned to Dr. Finkelstein's laboratory (with a circular satellite top for conducting electricity) to retrieve her separated right arm. The mad scientist was angry at her for continuing to slip nightshade into his tea and for disobediently running away, and reprimanded her: "I made you with my own hands." He reattached her right arm with a large needle and thread.
As Jack walked into the woods with Zero barking behind him, Jack reached into his jacket, reluctantly broke off one of his rib bones, and threw it for Zero to go fetch.
Jack's Discovery in the Woods (The Hinterlands) of Tree Portals to Other Holiday Towns:
The next morning, the Mayor arrived at Jack's spooky home. He entered through Jack's iron front gate with a pumpkin-shaped entry. The two stone pillars on the sides of the gate were shaped like screeching cats. The Mayor rang the dead spider-on-a-pulley doorbell to the front door's left (to produce the sound of a woman's scream), and observed the eyeball-peephole. He was enthusiastic with plans for the next annual Halloween celebration, but discovered that Jack had not returned home all night. When the Mayor became agitated, he was frustrated: "I'm only an elected official here. I can't make decisions by myself" - a scathing comment about his own political ineptness.
Meanwhile, in the woods at dawn, Jack had discovered an unfamiliar clearing of seven trees set in a circle with different symbols on portal-doors representing various holidays, ordered clockwide, with objects on the ground in front of each one:
| | | |
| --- | --- | --- |
| Symbol | Holiday | Object |
| Pinkish-Red Heart | Valentine's Day | Round Pink and White Gift Package with Red Ribbon Bow |
| Green Four-Leaf Clover | St. Patrick's Day | 3 mushrooms |
| Colored Egg | Easter | 3 colored eggs |
| Turkey | Thanksgiving | Black Puritan Hat with Buckle |
| Decorated Christmas Tree | Christmas | 3 stacked red gift boxes tied with white ribbon |
| Jack O'Lantern | Halloween | |
| Firecracker with White Stars on Red Background | Independence Day, July 4th | 3 red firecrackers with fuses |
[Note: During Jack's observation of the seven holidays on the trees, the Turkey and Easter trees switched positions.] Through one of many holiday portals-doors, the curious Jack was attracted to the "Christmas" tree and chose to enter into the enchanting, radically-different world of snowy, gleeful, fun-filled and sparkling Christmas Town. He reached for and turned a gleaming, shiny, reflective golden bulb decoration on the Christmas tree, and the portal opened. A wind blew him into the opening and the swirling whirlwind of snowflakes took him downward and he landed on a pile of snow.