Background
---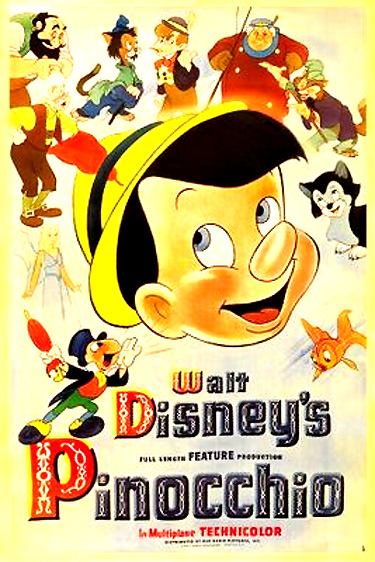 Pinocchio (1940), Disney's second feature-length animated film followed after the success of Snow White and the Seven Dwarfs (1937), and was produced during Disney's heyday from 1937-1942 of animated classics, along with Fantasia (1940), Dumbo (1941) and Bambi (1942). It became one of Disney's most enduring, mature and beautifully-imagined perfect works, in its coming-of-age story about a boy who overcame temptation and learned courage in the face of fear and danger.
The thrilling morality tale was adapted from the episodic 1883 serialized story Pinocchio: Tales of a Puppet (aka The Adventures of Pinocchio) by 19th century Italian author Carlo Collodi. It was the simple, yet sophisticated story of a kindly woodcarver/toymaker named Geppetto who carved a wooden puppet named Pinocchio. The name Pinocchio came from the Italian word "nocchio" which meant "a gnarl or knot in wood." After being brought to life as a lively puppet by a magical and angelic Blue Fairy, Pinocchio was challenged to become a real boy if he proved himself "brave, truthful, and unselfish." His conscience and wise friend for his journey of self-discovery was an impish cricket named Jiminy. [Note: "Jiminy Cricket(s)!" was originally an exclamation, and also an euphemistic expletive for "Jesus Christ!"]
His father/creator Geppetto's wishes eventually came true, after a series of sometimes terrifying and frightening adventures - he was assailed by grifters, caged, threatened with slave labor, transformed into a jackass (literally), swallowed by a giant whale, and almost drowned to death. The simple-minded wooden boy with an impetuous curiosity made some bad choices and faced the dire consequences when he was tempted with theatrical fame (as an actor for a puppeteer) and then unbridled hedonism. Pinocchio was locked in the puppet master's cage, and then sold to a child abductor on the debauched and nightmarish Pleasure Island who turned boys into donkeys to sell them. The amazing climax came when he was swallowed by a satanic black whale. He finally triumphed over fear and saved himself and his father.
The brilliantly-beautiful Technicolor film, regarded as the most technically-proficient of Disney's films, had remarkably detailed images for its serious, action-packed story. At times, comic relief was provided by the wisecracking character of Jiminy Cricket, who required 27 different color shades.
The RKO Radio Productions release was well-received by critics, although only moderately successful at the box-office, but then during its many subsequent theatrical re-releases (in 1945, 1954, 1962, 1971, 1978, 1984, and 1992), it performed very well. It was also released on VHS (and Beta) video in 1985, 1993, and 1999. And it first appeared on cable TV's The Disney Channel in Sept-Oct. 1986. This was the first Disney feature available on DVD - in 1999, and it was also released on Blu-Ray in 2009.
It became the first animated film to win an Academy Award in a competitive category - it actually won two awards in 1941 for its two nominations: Best Original Music Score, and Best Original Song ("When You Wish Upon a Star," music by Leigh Harline, and lyrics by Ned Washington). Snow White and the Seven Dwarfs had won an honorary Oscar presented two years earlier in 1939.
A few iconic moments have lived well beyond the film - desiring to grow up and become a real boy through one's own moral effort, 'wishing upon a star,' 'it makes no difference who you are,' letting one's conscience be one's guide, resisting temptation, following the straight and narrow path, and not telling lies (that causes one's nose to grow and grow). Other lessons learned are: judiciously choosing between right and wrong, not listening to strangers, avoiding bad company, peer pressure and worldly influences, not smoking (cigars) or drinking (beer), and not skipping one's education (the consequences are being imprisoned in a dead end job or suffering a life of manual labor).
The allegorical and richly-layered story was considered scarier for kids and more meaningful for mature audiences, especially in a few of its well-executed scenes (the entire Pleasure Island sequence and the terrifying conversion of red-headed Lampwick into a jackass, and the Monstro whale swallowing). The dark and frightening tone of Pinocchio has often been studied. Playboy Magazine (August 1993 edition), in a boxed section titled "Raw Data" on page 16, reported on the film in a brief blurb titled: "PINOCCH, WE NEVER KNEW YE." The magazine claimed: According to the Entertainment Research Report - a "family guide for movies":
number of instances of battery in Disney's Pinocchio: 23
of property damage: 9
of slang use of "jackass": 3
of violence involving animals: 3
of male nudity: 2
of implied death: 1
(The book "Reeling With Laughter: American Film Comedies," From Anarchy to Mockumentary, 2012, by Michael Tueth, p. 196, also cited similar information from this source.)
The entire film featured five major villains - none of whom suffered Hays Code consequences for their evil ways: the two anthropomorphic stereotypical, wily con-men: persuasive and foxy Honest John and raggle-taggle Gideon, the sadistic Italian-gypsy puppet showman Stromboli, the evil pedophile slave-dealer Coachman, and the frightening Monstro. The sixth possible villain, who was turned into a jackass, was a juvenile delinquent and tough boy named Lampwick who was influential in leading Pinocchio astray.
The incredible film detail was made possible by the Disney-developed multiplane camera. The technology was first used Disney's short The Old Mill (1937), and also in Disney's first feature Snow White and the Seven Dwarfs (1937). It allowed for realistic camera movements, separate foregrounding planes, and dolly shots, in two scenes in particular:
the expensively-made, zooming-in shot into the village the morning after Pinocchio came to life, as doors opened to homes and children ran, birds flew, and people emerged
Jiminy's POV of the landscape as he was leaping
Impressive animation work (in the days long before computer animation) was also evident in many sequences:
the radiant flames of the fireplace in the workshop
the band figures atop a wooden musical box
Cleo the fish's view of Pinocchio through the glass of her fishbowl
Jiminy's chase after the two villains who have convinced Pinocchio to join them for a life of theatrical show-business
Pinocchio's stage debut, singing and dancing with other marionettes
Pinocchio trapped inside a hanging bird cage on Stromboli's jostling wagon during a thunderstorm, with flashes of lightning briefly illuminating the lifeless marionettes that hung corpse-like all around him
a forlorn Geppetto, searching desperately for his lost son, watching as the carriage that imprisoned Pinocchio passed him by in the rain
the shimmering underwater view of various tropical fish, sea anemones, seahorses, clams and shoals of fish before Monstro the whale appeared
the whale's capture of a school of tuna, the sneeze that sends a torrent of water (and the raft) from its mouth, and the whale's pursuit of them on a raft
The lively soundtrack, with five songs, perfectly complemented the story: the film's theme song "When You Wish Upon a Star" (sung twice), "Little Woodenhead," "Give a Little Whistle," "Hi Diddle Dee Dee (An Actor's Life for Me)," and "I've Got No Strings." The movie's signature theme, When You Wish Upon A Star, became part of the score for Close Encounters Of The Third Kind (1977). Young 12 year-old actor Dickie Jones provided the voice for the wooden puppet, while popular 1920s singer Cliff Edwards voiced the role of wise-cracking, humorous, vagabond Jiminy Cricket, and Evelyn Venable portrayed the Blue Fairy. This marked the first time that well-known actors were used for voices in an animated film.
[Note: The homespun, Will Rogers-like Jiminy Cricket appeared in one other feature film, Fun & Fancy Free (1947), plus The Mickey Mouse Club TV show in the mid-to-late 1950s. He was also in numerous shorts: in the role of the Ghost of Christmas Past in Mickey's Christmas Carol (1983), a brief cameo in Who Framed Roger Rabbit? (1988), and in three episodes of House of Mouse from 2001-2002.]
The cost of the film was estimated to be $2.5 million, and it was only translated into two foreign languages, Spanish and Portuguese, whereas Snow White had been translated into many more. Since it was wartime, one of the major revenue sources for the film - Europe - was cut off, and the film only recouped about half of its budget. The film was not shown in Germany or Japan until the 1950s.
Many other films have paid homage to this original animated film, including such varied works as the NBC-TV movie Pinocchio (1957) with Mickey Rooney, the adult-rated The Erotic Adventures of Pinocchio (1971), another TV version CBS' Pinocchio (1976) with Sandy Duncan, Shelley Duvall's and Faerie Tale Theatre's TV version The Adventures of Pinocchio (1984) with Paul Reubens (Pee Wee Herman), Warner Bros' anime The Adventures of Pinocchio (1984), a Filmation Studios animated sequel entitled Pinocchio and the Emperor of the Night (1987) with Scott Grimes voicing Pinocchio, a live-action American remake with a CGI title character The Adventures of Pinocchio (1996) and its sequel The New Adventures of Pinocchio (1999), a horror film with a killer puppet Pinocchio's Revenge (1996), a musical TV-movie remake Geppetto (2000) with Drew Carey, and Italian director/star Roberto Benigni's Pinocchio (2002). Pinocchio's story was also the thematic metaphor in Steven Spielberg's A.I. (2001), and the character appeared in various episodes of House of Mouse (in 2001-2002), and in two Shrek films: Shrek 2 (2005), and Shrek the Third (2007).
Plot Synopsis
---
Opening Credits
Under the end of the opening title credits, witty insect Jiminy Cricket sings the film's theme song: "When You Wish Upon a Star"
When you wish upon a star
Makes no difference who you are
Anything your heart desires
Will come to you
If your heart is in your dream
No request is too extreme
When you wish upon a star
As dreamers do...
The film opens and immediately identifies itself as a fairy tale. There is a spotlighted red-leather covered Pinocchio storybook sitting upright on a desk or table, amidst a wax candle in a holder, a jar, an inkwell with feather pen, a pair of spectacles, a pipe, a second candle holder (without a candle), and two other books (for two future Disney animated projects - Alice in Wonderland and Peter Pan). The spotlight moves from the book to the impish, effervescent Jiminy Cricket, who finishes the song, perched on a shelf above the book. He then speaks directly to the audience, breaking the fourth wall with the first of many wry asides or observations. He admits he didn't used to believe in fairy tales, miracles, or wishes, until his adventures with Pinocchio:
Pretty, huh? I'll bet a lot of you folks don't believe that, about a wish coming true, do you? Well, I didn't either...Let me tell you what made me change my mind.
One Night a Long Time Ago...
He slides down the face of the book, and lifts open the heavy cover to the first page. As in all fairy tales, he begins (after adjusting the page to stay open) to narrate the mind-changing tale: "One night a long time ago..." He continues to recount the story: "my travels took me to a quaint little village. It was a beautiful night. The stars were shining like diamonds, high above the roofs of that sleepy old town. Pretty as a picture. As I wandered along the streets, there wasn't a soul to be seen."
The camera pans over to the storybook and literally moves into the picture on the first page. It quickly travels over a few rooftops down to the cobbled street level of a European village (with angled buildings) where a sole-lighted window, the only sign of life in the village, is identified as the home of a woodcarver named Geppetto: "So, I hopped over - and looked in." A close-up of Jiminy Cricket as he peeks in reveals that he is a homeless hobo or carpetbagger - a raggedy insect with an ill-fitting hat, shoes with open seams, rags for clothes, satchel, and a coat, and an umbrella, and a voice like Benjamin Franklin might have had. The place looks cozy and warm with a "cheerful fire" going to waste, so Jiminy crawls in through a space in the front door.
He carefully and warily tiptoes over to the fireplace when he sees that no one is about: "I made myself at home." Warming himself, he looks around at Geppetto's home and workshop to admire his carved creations (almost all time-pieces of some sort) - lavishly detailed:
dozens of ticking clocks (carved wood) hanging on the wall
cute little wooden music boxes ("each one a work of art")
shelves of toys
a lifeless, black-haired, blue-eyed wooden boy puppet ("one of those marionette things, all strings and joints") on a table! ("Cute little fellow!") - with a white shirt and short red pants (with yellow buttons), white gloves, a blue bowtie, a yellow hat with a red feather, and wooden shoes
Jiminy hears Geppetto coming down the stairs with his fun-loving, self-serving, playful black and white tuxedo cat Figaro. The woodcarver mentions that the puppet he has been working on is almost finished - "Just a little more paint and he's all finished." The white-haired, mustached, bespectacled, chuckling-to-himself carver, a bachelor, moves over to his workbench covered with tools, scraps of wood, and paintbrushes, and woodshavings on the floor. He looks kindly as he paints black eyebrows and a mouth on the puppet. Next to his workbench is his cute, sweet, frivolous and flirty goldfish Cleo. From his perch, Jiminy accidentally places his hand on a female doll's clothed backside and then apologizes: "Beg pardon." Geppetto declares that the "little woodenhead" puppet should be named Pinocchio.
Little Wooden Head
Next, he infuses artificial life into the puppet by picking up its strings and manipulating its actions, after turning on one of his music boxes. The woodcarver hums and sings "Little Woodenhead" as he dances around the workshop with his puppet boy, and Figaro prances behind him:
Little wooden head go play your part
Bring a little joy to every heart
Little do you know and yet it's true
That I'm mighty proud of you.
Little wooden feet and best of all
Little wooden seat in case you fall
My little wooden head.
Cleo's view of Pinocchio through her glass fishbowl is distorted like a mirror in a funhouse. When she is introduced to Pinocchio, she smiles and flutters her long eyebrows, and twirls and swirls around the bowl - creating a pretty trail of bubbles. The dance ends when the music box slows and winds down, and Figaro is jealous of Geppetto's attention toward his new creation. Suddenly at the 9 o'clock hour, a variety of cuckoo clocks begin sounding off the number of hours in a marvelously-detailed sequence. However, some of the eerie clocks, with simulated human animation, foreshadow the violence and bad behavior to come - an axeman chopping off a turkey's neck, a hunter with a gun, a drunk, and a mother spanking her misbehaving child:
a church tower bell "ding"-ing at the hour
a honeybee "buzz"-ing clock
ducks alternating their "quack"-ing
a mother bird "cuckoo"-ing with her three chicks in egg shells
a woodsman chopping a "gobble"-ing turkey's neck
a hunter with a pop-gun shooting at a "peep"-ing yellow bird in a tree
a drunk "hiccupp"-ing from a window
a mother spanking the bare bottom of her "waa"-ing boy for spilling paint
Geppetto's stopwatch, with two beer drinkers "clink"-ing their glass steins together
Geppetto's Wish
Now that it's time for bed, Geppetto bids his puppet good night: "Little funny face." He strokes fluttery Cleo (his "little water baby...my little mermaid") on her back and belly. Jiminy stretches out comfortably on the curled end of a fiddle. A delighted Geppetto mentions how his puppet "almost looks alive," and then mutters: "Wouldn't it be nice if he was a real boy?" As he tucks himself in to retire for the night, with his actions mirrored by a sleepy Figaro in her own smaller bed nearby, he reminds his furry companion to open the window above the foot of his bed. [Note: During this segment, Figaro becomes, strangely, totally transparent.] Geppetto excitedly points out "the wishing star"! Kneeling on his bed with his hands clasped together, he then recites a wishful prayer for the divine spark of life to enter his puppet:
Star light, star bright, first star I see tonight. I wish I may, I wish I might, have the wish I make tonight. Figaro, you know what I wished for? I wished that my little Pinocchio might be a real boy! Wouldn't that be nice? Just think - a real boy.
From afar, Jiminy skeptically adds as he yawns: "A very lovely thought, but not at all practical." Geppetto's snoring, the rhythmic tickety-tock of all the clocks (his eyes swing back and forth like a clock's pendulum), and grains of sand dropping in a timer, make it difficult for the cricket to get any sleep, and he yells out: "QUIET! After all, enough's enough."