Background
---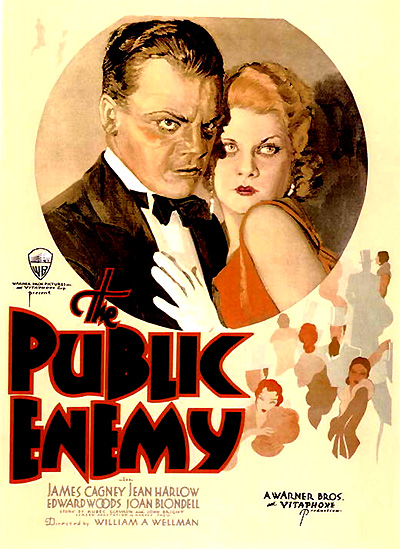 The Public Enemy (1931) is one of the earliest and best of the gangster films from Warner Bros. in the thirties. The film's screenplay (by John Bright and Kubec Glasmon), which received the film's only Academy Award nomination, was based upon their novel Beer and Blood. Unfortunately, the film wasn't even given a Best Picture nomination, nor was Cagney rewarded with a nomination for his dynamic and kinetic performance. Jean Harlow's small role as a sexy call-girl was her only screen appearance with Cagney and her only lead role with Warners.
Director William Wellman's pre-code, box-office smash, shot in less than a month at a cost of approximately $151,000, was released at approximately the same time as another classical gangster film - Little Caesar (1930/31) that starred Edward G. Robinson as a petty thief whose criminal ambitions led to his inevitable downfall. The Public Enemy was even tougher, more violent and realistic (released before the censorship codes were strictly enforced), although most of the violence is again off-screen.
The lead character is portrayed as a sexually magnetic, cocky, completely amoral, emotionally brutal, ruthless, and terribly lethal individual. However, the protagonist (a cold-blooded, tough-as-nails racketeer and "public enemy") begins his life, not as a hardened criminal, but as a young mischievous boy in pre-Prohibition city streets, whose early environment clearly contributes to the evolving development of his life of adult crime and his inevitable gruesome death. Unlike other films, this one examined the social forces and roots of crime in a serious way.
Cagney's character was based on real-life Chicago gangster Earl "Hymie" Weiss (who also survived a machine-gun ambush) and bootlegging mobster Charles Dion "Deanie" O'Banion (an arch-rival to Al Capone). Reportedly, an exasperated Weiss slammed an omelette (not a grapefruit) into the face of his girlfriend. Similarities also exist between the demise of Nails Nathan and the 1923 death of real-life Samuel J. "Nails" Morton of the O'Banion mob. The retaliatory horse killing in the film was a replay of a similar incident when organized crime figure Louis "Two-Gun" Alterie (and other North Side gang members) executed the offending horse in Chicago after the death of their friend.
James Cagney's dynamic, charismatic and magnetic characterization of the murderous thug was his fifth film performance. He had previously performed tough-guy roles in two other Warner Bros. features: Sinner's Holiday (1930) (his film debut with co-star Joan Blondell) and director Archie Mayo's The Doorway to Hell (1930). This volatile role made him famous and instantly launched his celebrated film star career, but it also typecast him for many years. [Note: Originally, the roles were reversed, with Edward Woods playing the lead role, and Cagney in a secondary role, but a switch occurred when the contract screenwriters suggested that a mistake had been made. Therefore, the end credits bill Edward Woods above Cagney.] Cagney went on to play other criminal roles, including such films as Smart Money (1931) with Edward G. Robinson (their only teaming together), and Lady Killer (1933).
Unfortunately, the film also appeared to glamorize criminal activities such as bootlegging (although that was not its intent), and emphasized their high style of life with various floozies (portrayed by Joan Blondell, Mae Clarke, and Jean Harlow). Hence, the film hastened efforts of Hollywood's self-imposed Production Code in the early thirties to strictly censor films (with criminal and sexual subject matter) that depicted undesirable social figures or sexual subjects in a sympathetic or realistic manner.
Plot Synopsis
---
After the credits that feature each of the stars against a black background, an opening title card provides a disclaimer from Warner Bros. Pictures, Inc.:
It is the ambition of the authors of 'The Public Enemy' to honestly depict an environment that exists today in a certain strata of American life, rather than glorify the hoodlum or the criminal. While the story of 'The Public Enemy' is essentially a true story, all names and characters appearing herein, are purely fictional.
The opening scene pans and dissolves across views of 1909 (pre-Prohibition) Chicago. After images of a congested downtown area, there are views of the stockyard, the blast of a factory whistle, a brewery, crowded and dirty streets, saloons, and a Salvation Army marching band. In the brewery which plays a central role in the neighborhood, beer flows freely into large beer mugs, and buckets. Wooden barrels of beer are hauled by a horse-drawn wagon, and beer is hand-carried (in pails hanging from a long plank) from a saloon across the busy street.
Exposed to this sordid scene of life on the South Side of Chicago are two poor Irish boys: Tom Powers (Frank Coghlan as boy, James Cagney as adult) with his neighborhood friend Matt Doyle (Frankie Darro as boy, Edward Woods as adult). Both boys act mischievously in a department store, and mean Tommy enjoys playing sadistic tricks on roller-skating Molly Doyle (Rita Flynn), Matt's sister and one of the neighborhood girls. She explicity states his well-known reputation: "You're the meanest boy in town...(Jail) That's where you'll be some day, Tom Powers!"
Tom is the son of a policeman, Officer Powers (Purnell Pratt) - a harsh, abusive father who often uses a wide leather razor strop to discipline his near-delinquent offspring. As Tom is belted across his behind by his half-uniform attired father, he resists crying and shedding tears, while maintaining a tough guy, hard attitude. At an early age, both boys turn to petty thievery and shoplifting to escape the drudgery of lower class life - and as a result of their upbringing and environment. They fence stolen items (watches) at a so-called boys' club, the Red Oaks Club (a glorified pool hall) through sinister, Fagin-like, piano-playing "Putty-Nose" (Murray Kinnell) - their mentor in the ways of crime. Other boys aimlessly loaf and lounge around at the club, or listen to Putty Nose playing dirty songs.
As they grow up, by 1915, they cross the same paths, but now they are graduating to more advanced, young-adult pursuits. [Cagney's entrance into the club is memorable - he spits, struts in, and tips his hat forward.] In contrast, Tom's straight, uptight brother Mike (Donald Cook) works as a street car conductor during the day and goes to school at night, "learnin' how to be poor," according to Tom. Putty Nose offers Tom and Matt a "sweet" opportunity - a larger, more profitable heist and crime. His offer is the gun-wielding armed robbery of a fur warehouse. As the camera pans backward, a group of young thugs sit on Putty Nose's bed (with Tom's feet not even touching the floor) listening to the plan. Putty Nose presents both Tom and Matt with guns: "A Christmas present from Santa Claus, with best wishes for a prosperous New Year."
During the robbery of the Northwestern Fur Trading Company, an inexperienced and shaky Tom is startled by the sight of a huge stuffed bear's head. He panics and impulsively fires several shots into it. A policeman, who has been alerted by the gunfire, shoots and kills one of the thieves on the street by the getaway vehicle. The robbers see their buddy's corpse lying on the dark street. To escape, they open a window and slide down a rain pipe to the street where Tom retaliates and shoots (off-screen) the police officer. After running back to the club, they find that two-timing Putty Nose has treacherously deserted them and "beat it." They are advised: "You'd better lay low for a while. The heat's on." [The closest Tom ever comes to saying "You dirty rat" (one of Cagney's fictional famous lines) is "Why, that dirty, no-good, yellow-bellied stool!"] He resolves to seek revenge: "I'm gonna give it to that Putty Nose right in the head the first time I see him."