Background
---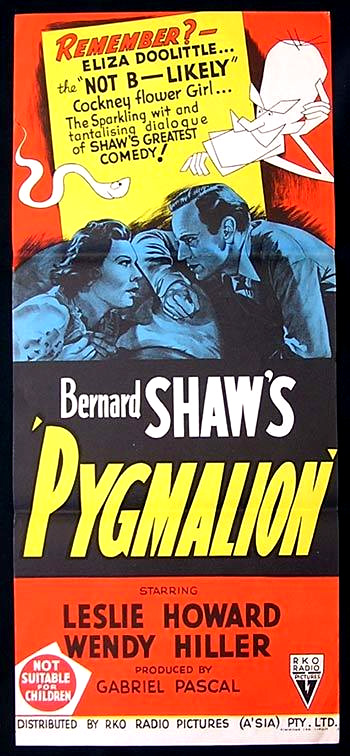 Pygmalion (1938, UK) is the British, non-musical film version of George Bernard Shaw's 1912 stage play, a socio-economic drama based on the Cinderella story, but actually taken from Ovid's Greek myth of Pygmalion - about a sculptor who fell in love with Galatea, a marble-ivory statue of his own making. It was co-directed by Anthony Asquith and one of its stars, Leslie Howard. The next Shaw play to be adapted for the big screen was director Gabriel Pasqual's Major Barbara (1941, UK).
The Broadway musical remake that was inspired from this film, Lerner and Loewe's 1956 stage production, also led to the famous film musical My Fair Lady (1964), which would walk away with eight Oscars (out of twelve), including Best Picture.
This film garnered four Academy Award nominations (with one win), including Best Picture, Best Actor (Leslie Howard), and Best Actress (Wendy Hiller). Its sole award was for Best Screenplay.
The Story
---
A bullying and smug bachelor, Professor Henry Higgins (Leslie Howard) of phonetics and linguistics made a bet with Colonel George Pickering (Scott Sunderland) that he could turn an impetuous Cockney 'guttersnipe' flower girl from Convent Garden, Eliza Doolittle (Wendy Hiller in her second screen appearance) into a lady (duchess) within six months.
To do so, he must transform her thick-accented voice, by coaching her to speak proper English with elocution lessons, teaching her manners, and drilling her so that she will be educated.
"We were above that in Convent Garden...I sold flowers. I didn't sell myself. Now you've made a lady of me; I'm not fit to sell anything else."
"I'm a good girl, I am."
At a tea party, in her first public testing, she blurted out, "Not bloody likely." However, she made a spectacular debut at the Ambassador's reception, proving him right.
In the process of teaching her, he fell in love with her, although she was attracted by an upper class gentleman named Freddy Eynsford-Hill (David Tree), and found that she could not return home to Higgins.
In the final line of the film, however, Henry asked Eliza, who had returned (to his surprise) to his home:
"Where the devil are my slippers, Eliza?"