Browse through a sampling of highly-recommended reference books on films, many of which were read and/or referenced by the author during his research. Unfortunately, some of the best film reference books are out-of-print (or have since gone out of print) and are unavailable.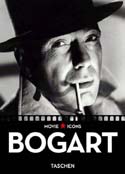 The TASCHEN Movie Icon series: is a series of photo books from TASCHEN that feature the most famous personalities in the history of cinema. These 192-page books are visual biographies of the stars.
For each title, series editor Paul Duncan has painstaking selected approximately 150 high quality enigmatic and sumptuous portraits, colorful posters and lobby cards, rare film stills, and previously unpublished candid photos showing the stars as they really were. These images are accompanied by concise introductory essays by leading film writers. Each book also includes a chronology, a filmography, and a bibliography, and is peppered with appropriate quotes from the movies and from life.
Audrey Hepburn by Paul Duncan, Ingrid Bergman by Paul Duncan, Cary Grant by FX Feeney, Charlie Chaplin by David Robinson, Clint Eastwood by Douglas Keesey, James Dean by Paul Duncan, Marlene Dietrich by James Ursini, Elizabeth Taylor by Paul Duncan, Elvis Presley by FX Feeney, Frank Sinatra by Paul Duncan, Greta Garbo by David Robinson, Grace Kelly by Paul Duncan, Katharine Hepburn by Alain Silver, Humphrey Bogart by James Ursini, Mae West by Paul Duncan, Marilyn Monroe by Paul Duncan, Marlon Brando by Paul Duncan, Marx. Brothers by Paul Duncan, Orson Welles by FX Feeney, Steve McQueen by Alain Silver

Horror Cinema, by Jonathan Penner and Steven Jay Schneider, 2008, TASCHEN
Horror is both the most perennially popular and geographically diverse of all film genres; arguably, every country that makes movies makes horror movies of one kind or another. Depicting deep-rooted, even archetypal fears, while at the same time exploiting socially and culturally specific anxieties, cinematic horror is at once timeless and utterly of its time and place. This exciting new visual history, which includes unique images from the David Del Valle archive, examines the genre in thematic, historical, and aesthetic terms, breaking it down into the following fundamental categories: Slashers & Serial Killers; Cannibals, Freaks & Hillbillys; Revenge of Nature & Environmental Horror; Sci-fi Horror; The Living Dead; Ghosts & Haunted Houses; Possession, Demons & Evil Tricksters; Voodoo, Cults & Satanists; Vampires & Werewolves; and The Monstrous-Feminine. Among the many films featured are classics such as Psycho, Texas Chainsaw Massacre, Alien, The Exorcist, Dracula, and The Wicker Man.

100 All-Time Favorite Movies, by Jurgen Muller, 2008, TASCHEN
From horror to romance, noir to slapstick, adventure to tragedy, epic to musical, western to new wave, all genres are represented in this wide-ranging and devilishly fun compendium. Metropolis? Check. Modern Times? Yep. Citizen Kane, The Seven Samurai? Of course. La Dolce Vita, Psycho, A Clockwork Orange? You bet. Plus The Godfather, Annie Hall, Blue Velvet, Pulp Fiction... and so many more cinematic gems including lesser-known masterpieces like Buñuel's The Young and the Damned. Think of this collection as a celebration of contrasts, an homage to the seventh art, a gathering of greats, and a nostalgic romp through celluloid history.

The Complete Idiot's Guide to Classic Movies, by Lee Pfeiffer, Alpha, 2006.
This reference book provides comprehensive information on the best classic films from the silent era up through 1969, cross-referenced several different ways for easy access. The Greatest Films is cited in the book's web bibliography as: "A well-researched site that provides analysis of classic movies including breakdowns by genre and insightful reviews."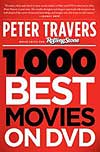 1000 Best Movies on DVD, by Peter Travers, Wenner Books, 2005.
Peter Travers, film critic and senior editor at Rolling Stone, has written reviews of the 1000 best film DVDs available. It details features of each DVD, including actor, director, commentaries, deleted scenes, new endings, and best scene.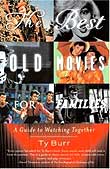 The Best Old Movies for Families: A Guide to Watching Together, by Ty Burr, Anchor, 2007.
An impassioned and eminently readable guide that introduces the delights of the golden age of movies, including Charlie Chaplin and the Marx Brothers, screwball comedies (His Girl Friday), women's weepies (Imitation of Life), westerns (The Searchers), and other classics such as Singin' in the Rain, Bringing Up Baby, The African Queen and Some Like It Hot.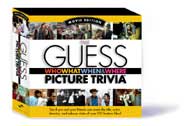 The Guess - Who What When & Where Picture Trivia Book: Movie Edition, conceived and created by David Cutler, GreyCore Press, 2004.
The first in a series of unique, picture-based trivia books: the Movie Edition uses over 150 classic stills to challenge a reader's knowledge of all-time favorite films. Besides the basic who - what - when - and where - each still also includes in-depth trivia questions along with fascinating anecdotes about each film. Beautifully designed and reasonably priced.

The A List: The National Society of Film Critics' 100 Essential Films, by Jay Carr (editor), Da Capo Press, 2002.
There are 100 insightful and provocative essays on what the National Society of Film Critics have concluded are 100 "essential" films for viewing. According to the book's blurb, "the Society has made its selections based on a film's intrinsic merits, its role in the development of the motion-picture art, and its impact on culture and society." See if you agree with the choices.

American Film Institute Desk Reference: The Complete Guide to Everything You Need to Know About the Movies, by Melinda Corey (editor), DK Publishing, 2002.
A very comprehensive reference book, providing detailed information on the world of film, its history and its personalities, facts and trivia on filmmakers, costume designers, financiers, genres, and actors. Packed with more than 500 photographs and illustrations, a year by year chronology of film, and many special annotated lists, including the AFI's celebrated list of the 100 Best Films of the Past 100 Years.
Note: Greatest Films is mentioned as a reference source in this volume.

Cinema Today, by Edward Buscombe, Phaidon Press, Inc., 2005.
An essential guide to the last thirty years of world cinema. Cinema Today is packed with information about the key films, directors, technology and movements which have developed since 1970, and is fully illustrated with over 600 images, including film stills, posters and behind-the scenes shots. The book includes a seven page directors' filmography, bibliography, chronology and index, making Cinema Today an invaluable reference tool for academics, students and anyone with an interest in the film industry.

Videohound's DVD Guide, Book 3, by Mike Mayo, Jim Olenski, Gale Group, 2002.
Mayo (author of VideoHound's excellent horror, war, and video premiere guides) and his team have reviewed over 3000 films, significant television shows, and cartoon collections available in U.S.-compatible DVD format. Following the style of other VideoHound volumes, the DVD guide lists movies alphabetically by title. Each entry features a brief plot synopsis, cast/credit and production information, often biting commentary, the "bone" rating system (four bones through "woof!"), and remarks on the technical details of the film's transfer to DVD.

100 Years of Hollywood (Our American Century), Time-Life Books, 1999.
Includes great pictures throughout Hollywood history, and a general overview of film history.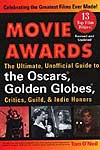 Movie Awards: The Ultimate, Unofficial Guide to the Oscars, Golden Globes, Critics, Guild and Indie Honors, by Tom O'Neil, Peter Bart, Revised-updated 2003 Edition, Perigee Press.
• Comprehensive listings for 13 major film awards including, The Oscar Awards, The Golden Globe Awards, The New York Film Critics Circle, The Los Angeles Film Critics, The Screen Actors Guild, The Sundance Film Festival and more
• A complete list of more than 6,000 winners in all categories
• The big award victories-including all-time records
• The most-awarded films of all time
• The great stars ignored by Oscar-and why
• The films and performances that divided the critics
• Eight decades of fascinating inside facts and trivia
• Dramatic successes, shocking snubs and scandals, memorable surprises and controversies, and more

101 Greatest Films of Mystery & Suspense, by Otto Penzler, Simon and Schuster, paperback.
Informative guide is packed with plot twists, cast lists, delectable bits of fun, and often scandalous trivia. The finest Hitchcockian suspense movies, the toughest gangster flicks, the wittiest Thin Man titles, the bleakest noir films, and the best of the '80s and '90s.

Great Hollywood Movies, by Ted Sennett, Harry N. Abrams. 1986.
The stories that made us laugh, cry and gasp, with wonder and delight, the films that made us think and even affected our lives. Combining a lively, informative text with almost 400 illustrations, Great Hollywood Movies pays a tribute to these memorable achievements.

50 Classic Motion Pictures : The Stuff That Dreams Are Made of, by David Zinman, 1992, reprint edition, Limelight Editions.
Readers will find a wide variety of selections. They range from such favorites as Gone With The Wind, Citizen Kane, and City Lights to pictures that are seldom listed--such as Nightmare Alley (Tyrone Power's favorite of all his films), Death Takes A Holiday, and She. There is even one serial: Flash Gordon.

The 100 Best Films to Rent You've Never Heard of: Neglected Classics, Hits from By-Gone Eras, and Hidden Treasures, by David N. Meyer, St. Martin's Press, 1997.
This book features information on classic films from bygone eras, underappreciated gems, critics' favorites, and cult hits--with rewarding rental suggestions for every kind of film: Western, Comedy, Romance, Horror, Sci-Fi, Drama, Classics, Noir, Art, Documentary, and Foreign Language. Inclues resource guide for hard-to-locate films & 47 photos.

Halliwell's Who's Who in the Movies, by Leslie Halliwell, Harper Collins, 2006.
Now in its 15th edition, this classic encyclopedia of the people in the movies, formerly known as the Filmgoer's Companion, has informed and delighted movie fans for over 30 years. Full of opinion and wit, Halliwell's Who's Who In The Movies is not only the most comprehensive book of its kind, with over 11,000 entries, but it's also a lively and addictive read that will provide endless hours of browsing pleasure.

Cult Movies, The Classics, the Sleepers, the Weird, and the Wonderful, by Danny Peary, 1998, Grammercy, also:
Cult Movies 2: Fifty More of the Classics, the Sleepers, the Weird and the Wonderful
Cult Movies 3: 50 More of the Classics, the Sleepers, the Weird and the Wonderful
The range of films reviewed in these three books is quite large, from the 1927 silent movie Napoleon to Plan 9 From Outer Space; from Children of Paradise to Phantom of the Paradise.

The Book of Movie Lists : An Offbeat, Provocative Collection of the Best and Worst of Everything in Movies, by Joseph McBride, 1998, Contemporary Books.
A superb tool for video shopping by someone with diverse tastes, bottomless knowledge, and fun. Check out these lists: The 10 Unlikeliest Movie Couples; The 10 Sexiest Movie Nuns; 17 Great Close-Ups; 17 Great Female-Female Buddy Movies; The 17 Most Memorable Movie Kisses; The 30 Greatest Overlooked Performances; 23 Credit-Card Movies and What They Cost; The 25 Best Unexpected Musical Numbers in Movies; John Ford's Favorite Movies, and much more.

The Blockbuster Entertainment Guide to Movies and Videos, 1999.
From Blockbuster Video, America's #1 video source, comes the ultimate film guide. Each entry provides a clear, unbiased plot summary, MPAA rating, extensive indices, and quality rating on a one-to-five-star system. This one-stop reference is the handiest and most complete video authority on new releases, classics, made-for-TV, children's and foreign films.

The Dark Side of the Screen: Film Noir, (A Da Capo Paperback), by Foster Hirsch, 1988.
The classic study of the most menacing and original genre of American cinema. A backlist best seller and the definitive take on one of today's reigning screen influences, film noir, this is an essential guide to the extraordinary genre that launched the careers of such luminaries as Burt Lancaster, Billy Wilder, Joan Crawford, Orson Welles, and Stanley Kubrick.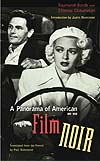 A Panorama of American Film Noir: 1941-1953, by Raymond Borde, Etienne Chaumeton, Paul Hammond (Translator), James Naremore (Introduction), City Lights Books, December 2002.
A classic book, the first ever on the genre, that first appeared in France in 1955 - now available in English translation. A clairvoyant study of Hollywood film noir.

The Art of Alfred Hitchcock, Fifty Years of His Motion Pictures, by Donald Spoto, 1976, republished 1992, A Dolphin Book, Doubleday & Company, Inc., New York, NY.
The monumental scope of Hitchcock's work remains unsurpassed by any other movie director, past or present. Psycho, Rear Window, The Birds and Vertigo are only a few of his classics. Includes Spoto's superb analysis--still the definitive Hitchcockian commentary after 15 years in print. Photographs throughout.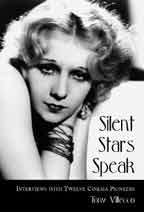 Silent Stars Speak, Interviews with Twelve Cinema Pioneers, by Tony Villecco, 2001, McFarland Publishing Co., Jefferson, North Carolina, includes 200 pages, 73 photographs, filmographies.
The twelve men and women featured in this collection of interviews share their memories of the early days of filmmaking, from the technicalities of lighting and production, to celebrities they encountered. The interviewees include Douglas Fairbanks, Jr., Virginia Cherrill, child star "Baby Peggy," director Andrew Stone, and original "Our Gang" member Jean Darling. Each interview is accompanied by a comprehensive filmography, and dozens of photographs of these celebrities and their associates are also included.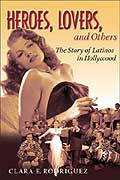 Heroes, Lovers, and Others: The Story of Latinos in Hollywood, by Clara E. Rodriguez, Smithsonian Books, 2004.
Herein is a survey of stars, a social history of Latinos in Hollywood, from the birth of the movies to the present, through a series of stories about Hollywood's most famous and enduring stars. Included are Ramon Navarro in the silent era up to Desi Arnaz in the 50s. Also in the 40s: Cesar Romero, Rita Hayworth, and Carmen Miranda; the 50s and 60s: Anthony Quinn and Raquel Welch. The presentation of stars covers the emergence of Charo and comedian Cheech Marin, as well as Dolores Del Rio, Jose Ferrer, Jennifer Lopez, Antonio Banderas, Selma Hayek, and Benecio Del Toro. With b/w photographs. Many of these stars managed their own screen identities. The book should inspire you to watch old and new movies with a sharpened sense of the personal, artistic and social dynamics underlying their history.

Shot on This Site: A Traveler's Guide to the Places and Locations Used to Film Famous Movies and Television Shows, by William A. Gordon, Kensington Publishing Corporation, 1995.
Where was Jurassic Park filmed? How about Beetlejuice? What town was terrorized in The Birds? Where did Meg Ryan "fake it" in When Harry Met Sally? These are all included in the book. The author of this authoritative book writes about the famous filming spots and sites of interest in Hollywood and across the US. It covers nearly 900 film or television show locations in 48 states.

365 Four-Star Videos You (Probably) Haven't Seen, by Leslie Hamilton, NTC Contemporary Publishing, 1996.
Tired of going to the video store only to walk out, frustrated and empty handed, because everything good has already been snatched up? 365 Four Star Videos You (Probably) Haven't Seen is your guide to hundreds of truly great, entertaining, worthwhile videos. Some are real classics, and some just didn't find the audience they deserve at the local cineplex. Every one of them is a four-star winner, and unlike the new releases that are never available when you want them, every one of these first-rate films is probably on your video store's shelf, right now, waiting for you to rent it.

Peter Bogdanovich's Movie of the Week: 52 Classic Films for One Full Year, by Peter Bogdanovich, 1999, Ballantine Books.
Peter Bogdanovich's Movie of the Week is a gem of a movie guide: a whole year of guaranteed good rentals. Bogdanovich takes the reader all the way through the calendar, recommending and commenting on a worthy film every week. Each movie is followed helpfully by additional titles to rent, organized by genre and director-star combinations, and occasionally cross-referenced with other titles in the book.

Roger Ebert's Movie Yearbook (2001), by Roger Ebert, 2000, Andrews McMeel Publishing Co.
Roger Ebert's Movie Yearbook 2001 presents all of Ebert's reviews from January 1999 to mid-June 2001. This annual volume - required reading for film fans - also contains all of his interviews and essays for the year, the biweekly "Questions for the Movie Answer Man," his daily notebooks from major film festivals.

Roger Ebert's Movie Yearbook (2002), by Roger Ebert, 2001, Andrews McMeel Publishing Co.
Roger Ebert's Movie Yearbook 2002 presents more of Ebert's reviews. This annual volume - required reading for film fans - also contains all of his interviews and essays for the year, the biweekly "Questions for the Movie Answer Man," his daily notebooks from major film festivals, plus a list of all movies and star ratings ever appearing in an edition of this annual collection.
NOTE: Greatest Films is mentioned in one of Ebert's Answer Man columns.

Roger Ebert's Movie Yearbook (2003), by Roger Ebert, 2002, Andrews McMeel Publishing Co.
In Roger Ebert's Movie Yearbook 2003, the critic offers his reviews from January 2000 through mid-June 2002. Within nearly 900 pages, the Yearbook contains Ebert's analyses of more than 600 movies that range from Bridget Jones's Diary to A Beautiful Mind, from Gosford Park to Black Hawk Down.
Roger Ebert's Movie Yearbook (2004), by Roger Ebert, 2003, Andrews McMeel Publishing Co.
Roger Ebert's Movie Yearbook (2005), by Roger Ebert, 2004, Andrews McMeel Publishing Co.
Roger Ebert's Movie Yearbook (2007), by Roger Ebert, 2006, Andrews McMeel Publishing Co.
Other years also available.