Background
---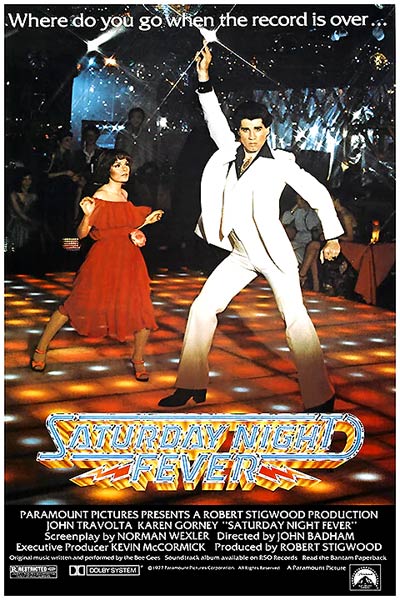 Saturday Night Fever (1977) was director John Badham's melodramatic, out-dated, coming-of-age, Bee Gee's-saturated disco dance classic. It was a defining 70s dance film that was the biggest musical sensation and blockbuster of the late 1970's (from co-producer Robert Stigwood). It was adapted by screenwriter Norman Wexler from Nik Cohn's fictional New York Magazine story "Tribal Rites of the New Saturday Night" published on June 7th, 1976. The film was entirely shot on location in New York City.
The exploitational film was initially released in mid-December of 1977 with an R-rating, but then to make the film available to younger audiences and also for television, the dark film was re-edited (mostly by editing out six minutes of footage) and released with a PG rating in March of 1979, without the coarse language and explicit sex scenes (such as Stephanie's attempted rape and the topless dancer). There were reportedly a total of 121 different edits (47 cuts, 43 audio changes, and 31 scenes with alternative footage). It was the first mainstream Hollywood movie in which the term "blow job" was used. The nihilistic film was chock full of backseat date rapes, mostly subservient females treated misogynistically by predatory sexual behavior, homophobic and racist name-calling, slurs, dirty sex-talk, and swear words.
The escapist, musical drama-dance film featured one of the most famous and successful song soundtracks in film history. The soundtrack album sold over 16 million copies and was one of the top-selling albums in US history. It was responsible for a resurgence of the Disco Craze phenomenon for a few years, launching hot disco clubs (like Studio 54) and the film super-stardom of then 23-year old John Travolta. The male star was previously best known as one of the Sweathogs (Vinnie Barbarino) of the mid-1970s ABC-television sitcom Welcome Back, Kotter, and had also appeared in his first major film role in DePalma's horror thriller Carrie (1976).
The extremely popular songs by the Bee Gees encouraged the future popularity of movie soundtracks. The film's soundtrack had become one of the most recognizable, with a slew of high-pitched, falsetto-voiced Bee Gees songs from the Gibbs brothers: "Night Fever," "How Deep is Your Love," "More Than a Woman," and "You Should Be Dancin'." Additional popular songs on the soundtrack included Yvonne Elliman's "If I Can't Have You" and the Trammps' "Disco Inferno."
Its two taglines were: "Where do you go when the record is over..." and "Catch It!" The film's title was very similar to NBC-TV's sketch variety show, Saturday Night Live (SNL) (which was in its prime from 1975-1980).
Dance champion Deney Terrio and choreographer Lester Wilson trained teen idol Travolta to swivel his hips on the dance floor. The disco-dance blockbuster film, costing about $3 million, made almost $237 million for Paramount Studios. [Note: The film's lesser and inferior sequel was writer/director Sylvester Stallone's Staying Alive (1983) that also starred Travolta reprising his Tony Manero role.]
The film's sole Academy Award nomination went to Travolta (it was his first lead actor Oscar nomination) portraying inarticulate, disco-crazed, Brooklyn paint store clerk Tony Manero. Unbelievably, the soundtrack was completely ignored by the Academy, causing a critical outcry and leading to the extremely unlikely Oscar win by the next year's inferior disco film Thank God It's Friday (1978)'s for "Last Dance" (sung by Donna Summer).
Other copy-cat disco films surfaced for a short period of popularity before over-exposure, such as American Fever (1978), Disco Fever (1979), Disco Godfather (1979), Roller Boogie (1979), and even the Muppets' 1978 disco-themed album Sesame Street Fever. A parody of the disco scene appeared in Airplane! (1980), and also in a character on The Simpsons named "Disco Stu" - the owner of Stu's Discotheque. The film had a resurgence in popularity during a 1990s disco-culture renaissance, and was referenced in Boogie Nights (1997) and The Last Days of Disco (1998).
The next year, Travolta co-starred with Australian singer Olivia Newton-John in Randal Kleiser's popular, spirited, nostalgic 50s film Grease (1978) with smutty dialogue - it was a former 1972 hit Broadway musical that brought two big hit songs: "Summer Nights" and "You're The One That I Want", to the charts. (The film's only Oscar nomination was Best Song for "Hopelessly Devoted to You.") It was about two lovers, Australian transfer student Sandy (Newton-John) and American greaser Danny Zucko (Travolta), who enjoyed a summertime romance but had to adapt to new roles back in their high school cliques, the T-Birds and the Pink Ladies. Its popularity made it one of the highest grossing movie musicals ever. Travolta also starred in James Bridges' Urban Cowboy (1980), co-starring with Debra Winger - it featured Houston honky-tonks, mechanical bull-riding in bars, blue-collar cowboys, and country music dancing. Travolta's promising career was then uneven for almost a decade, but was rejuvenated by Look Who's Talking (1989) and Quentin Tarantino's Pulp Fiction (1994) for which he received his second Best Actor nomination.
Plot Synopsis
---
The Opening Credits Sequence:
The first image after the Paramount Studios logo was an aerial view of the film's most important metaphoric and symbolic structure - the Verrazzano-Narrows Bridge, one of the longest suspension bridges in the world - that connected Staten Island with Brooklyn, while Manhattan was visible in the far distance. It served as a connector between the past and the present (the Italian-American immigrants who had settled in New York), the old and the new generations, and the working-class suburbs and the upwardly-striving higher classes within the city.
Under the credits, a conflicted, 19 year-old, vulgar-mouthed, teenaged, self-centered, working-class Italian-American anti-hero from the neighborhood of Bay Ridge in Brooklyn, swaggering Anthony "Tony" Manero (a star-making role for John Travolta), strutted eastward down the sidewalk on Brooklyn's 86th Street. [Note: Bay Ridge was a neighborhood in the southwest corner of the New York City borough of Brooklyn.]. At first, he was seen as a narcissistic, unknown figure (carrying and swinging a can of semi-gloss paint in his right hand from another store). In extreme close-up, he stopped at a store-front window and compared his brownish-red shoe to a black one for sale in the display. In the memorable opening scene, the title screen was represented with a red neon sign, with the word "FEVER" blinking.
Only a close-up of his strutting feet could be seen as he cockily, cooly and confidently cruised down the sidewalk. As the camera panned up his figure, he was revealed as a young stud dressed for the evening with a leather jacket, wide collared bright red shirt and gold chain around his neck. Now revealed and seen from mid-range, the words of the Bee Gee's "Staying Alive" rhythmic song helped to describe his character:
Well, you can tell by the way I use my walk
I'm a woman's man, no time to talk.
Music loud and women warm
I've been kicked around since I was born

And now it's all right It's okay
And you may look the other way
And we can try To understand
The New York Times' effect on man

Whether you're a brother Or whether you're a mother
You're stayin' alive Stayin' alive
Feel the city breaking And everybody shaking
And we're stayin' alive Stayin' alive...
For a quick moment, he did a double-take and back-tracked toward an attractive female, and then at Lenny's Pizza curb-side joint, he ordered two slices of cheese pizza stacked on top of each other bought from a clerk (Ann Travolta, the star's sister). As he messily fed his mouth, he continued on his way, still swinging a paint can. Tony was concentrated on his very immediate future - the down-payment purchase of a flashy blue shirt in the window of a nearby Shirtown store - a discount clothing store.
As he again entered the flow of pedestrians on the sidewalk, he again noticed a shapely brunette, chased after her, and from his POV confrontationally stood directly in front of her, as she glared at him and dismissed him with a wave of her hand.
He was presumably running an errand during his Friday work-day, and returned after a half-hour to his lowly, dead-end job as a clerk in the paint department of a local hardware store on 5th Avenue in Brooklyn. Tony had been sent to fill a customer's gallon of paint order from a rival shop. When he arrived back late, Tony's boss Dan Fusco (Sam Coppola) was at first aggravated, but then complimented his hard-working employee on his personable customer service for an irritated lady (Helen Travolta, the star's mother), and also for another satisfied customer.
As the stored closed up, Tony requested an advance on his Monday salary pay-day, but was refused, and told that being paid on Monday meant he would have money all week instead of blowing his entire paycheck like so many young people did during the weekend on "Boozin', whoring...Pissin' away their money all weekend." Tony was promised a solid future if he worked there and saved for the rest of his life: ("You can save a little, build a future"), but Tony was disdainful of his future: "Oh, f--k the future!" His boss disagreed:
No, Tony, you can't f--k the future. The future f--ks you. It catches up with you and it f--ks you if you ain't planned for it.
Always living for the present, Tony reminded himself that he couldn't even afford to buy a new shirt to wear that evening at his favorite disco club: "Look, tonight is the future, and I am planning for it."
Tony Manero's Home Life:
After leaving work at 6:00 pm, the not-very-bright, but cocky and narcissistic Tony ran home but arrived late as usual at his family's modest house on 79th Street for dinner (pork chops and spaghetti), where he lived with his oppressive, suffocating, and verbally-abusive blue-collar family, including:
Frank, Sr. (Val Bisoglio) - his alcoholic, abusive and out-of-work father, an ex-construction worker
Flo (Julie Bovasso) - his overbearing, highly-religious, and uneducated mother, a home-maker
(Nina Hansen) - his foreign-language speaking Grandmother
Frank, Jr. (Martin Shakar) - his older brother, a Roman Catholic priest
Linda (Lisa Peluso) - his younger sister
To the tune of "Night Fever," the bare-chested Tony vainly primped and preened (feminine behaviors) with a hair-brush and hair-dryer in front of his bedroom mirror. His wall was adorned with a crucifix and a poster for Serpico (1973) starring his idol Al Pacino, and other posters for his pop culture idols Rocky (1976) and Bruce Lee (famous for Enter the Dragon (1973)), Lynda Carter (as TV's Wonder Woman in 1975) and the iconic Farrah Fawcett swimsuit photo (when she starred in TV's Charlie's Angels). Wearing black underwear briefs and sporting chest hair, he carefully placed two gold chains around his neck. He selected an open-collared, patterned shirt and tight polyester bell-bottom pants for his planned evening out at the dance club. A low-level crotch shot revealed his groin area to emphasize his manhood, and the camera focused on his hands zipping up his pants.
Tony was often downgraded as the 'black sheep' of the family in comparison to his goody-two-shoes older brother. He was also sensitive about members of his family touching his hair-do, and he rebuked his father during the dinner scene for hitting him on the back of the head: "Will ya just watch the hair. Ya know, I work on my hair a long time and you hit it. He hits my hair."
Weekends at the 2001 Odyssey Dance Club - Tony and His Gang of Friends:
After dark (and especially on Friday and Saturday nights), Manero sought escape every weekend from his desperate plight of a boring and staid home life and low-life friends by finding recognition on the dance floor. On the weekend, he ritualistically joined his gang of loutish, uneducated, trash-talking, unredemptive, pill-popping and unambitious friends and regulars. He was picked up on a street-corner by his rowdy, drinking friends and was driven to his favorite discotheque in Bobby C.'s 1964 Chevy Impala hardtop. Tony was implicitly regarded as the leader of the gang, composed of:
Joey (Joseph Call), dark and handsome
Double J. (Paul Pape), tough and aggressive
Gus (Bruce Ornstein)
Bobby C. (Barry Miller) - small statured, a devout Catholic, and the only gang-member with a car, the youngest and most cowardly
At the local nightclub, the 2001 Odyssey - located on 64th Street, Tony was recognized as the dynamic, undisputed disco-dancing king and legend. [Note: The dance club was named after Stanley Kubrick's science-fiction movie, 2001: A Space Odyssey (1968).] Once the group of white Italian youths arrived outside the disco dance hall, Joey spoke to Tony about their borrowed but distinctive style: "Hey, hey, lookin' sharp, huh?" Double J. quipped that they were distinguished-looking without reverting to being minorities: "Sharp as you can look without turnin' into a nigger." Bobby C. appended: "Or a spic." Then, Tony made an off-color joke: "Would you put your dick in a spic? Does it get bigger in a nigger?" Tony's pals were reminded to keep to a 10 minute limit in the back seat of Bobby's car if anyone happened to 'score': ("Hey, anybody scores, you get in the car for 10 minutes, and you're out for the next guy, all right?"). As they approached the Odyssey's entrance, Tony encouraged everyone to behave: "Now, shape up, you assholes. We're the faces."
As he entered the Odyssey - shot with a medium-height POV backwards tracking shot - to the disco-fied version of Walter Murphy's "A Fifth of Beethoven," Tony's way was cleared as he was escorted to a reserved table. He shook hands, was slapped on the back, and created small-talk. He entered the Odyssey personifying royalty, and oozing macho sexual virility, horniness and arrogance. After ordering drinks, one of the regulars at the 2001 Odyssey club, a slightly chubby, desperate, Tony-worshipping groupie named Annette (Donna Pescow) approached toward Tony. She was one of his on again/off-again, admiring girlfriends with whom Tony kept a platonic relationship. He displayed obvious distaste for Annette when she asked him to dance, and he told her that she wasn't his "dream girl." She failed to insult him by asking a question and answering it by herself: "Do you want a dream girl? Well, then go to sleep and have a nightmare." However, Tony reluctantly allowed Annette to join him on the dance floor.
He was transformed into the dynamic, white polyester-clad stud (with platform shoes, flared pants, and a wide-collared shirt) who strutted across a pulsating dance floor of rainbow-colored squares, and glittering disco-balls above. The DJ at the club began to spin "Disco Inferno" sung by the Trammps -
(Burn, baby, burn, Burn, baby, burn,
Burn, baby, burn, Burn, baby, burn...)
Disco inferno (Burn, baby, burn)
Burn the mother down

To my surprise - listen - one hundred stories high
People gettin' loose y'all, gettin' down on the roof, do ya hear?
The funk was flamin', out of control
It was so entertainin', when the boogie started to explode

I heard somebody say (Burn, baby, burn)
Disco inferno (Burn, baby, burn)
Burn the mother down

Satisfaction (Ooh-ooh-ooh)
Came in the chain reaction (Burning)
I couldn't get enough, 'till I had to self-destruct (Ooh-ooh-ooh)
The heat was on, rising to the top, mmh
Everybody's goin' strong (Ooh-ooh-ooh)
And that is when my spark got hot...