Background
---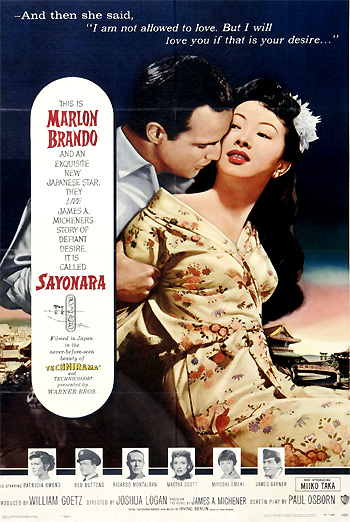 Sayonara (1957) is an adaptation from a James Michener novel, a story about American soldiers serving in Japan during the Korean War.
The Story
---
Air Force Major Lloyd Gruver (Marlon Brando) is reassigned to a Japanese air base, and is confronted with US racial prejudice against the Japanese people. The issue is compounded because a number of the soldiers become romantically involved with Japanese women, in defiance of US military policy.
Ordinarily an officer who is by-the-book, Gruver must take a position when a buddy of his, an enlisted man Joe Kelly (Red Buttons) falls in love with a Japanese woman Katsumi (Miyoshi Umeki) and marries her. Gruver risks his position by serving as best man at the wedding ceremony.
The major also falls in love with a beautiful Japanese Matsubayashi dancer named Hana-ogi (Miiko Taka), a member of a celebrated, but all-female dance troupe. She offers herself to him:
I am not allowed to love. But I will love you if that is your wish.
He is asked by a reporter to comment on his proposed marriage to the Japanese woman: "Major, the big brass are going to yell their heads off about this, and the Japanese aren't going to like it much either. Have you got anything to say to them, sir?"
Gruver replies with the final line of the film:
Tell 'em we said, 'Sayonara.'