Background
---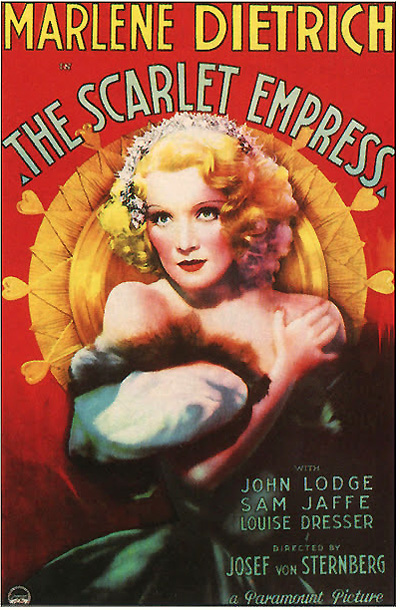 The Scarlet Empress (1934) is director Josef von Sternberg's startling, dark, visually opulent, hauntingly expressionistic, semi-erotic and mostly fictional biopic of one of 18th century Russia's most illustrious historical figures - Catherine II (the Great), during the years 1744 to 1762. The unorthodox film was one of the most daring, suggestive and sexually-frank films of the Hays Production Code era, featuring, among other things, immorality, nudity, debauchery and open sexual decadence and depravity. The mature biopic wasn't censored due to the fact that it was released just before the Hays Code fully went into effect: The film also featured extravagant sets and von Sternberg's trademark stylization, as well as great performances.
The visually-expressionistic film's script was loosely based upon Catherine's own diary, and scripted by Manuel Komroff and an uncredited Eleanor McGeary. A few taglines were:
Her Whisper Was a Command to Love
She Shared Her Heart But - Never Her Throne
A Multi-Ring Circus of Barbaric Beauty and Wild Pageantry
The Reigning Beauty of the Screen
In the plot of the Paramount Pictures' stylistic historical drama about court intrigue and deceit, young, naive, tremulous bride-to-be, the Prussian-born Princess Sophia Frederica (Maria Riva as child), was brought to Moscow, Russia during a seven-week journey. She was escorted by Count Alexei (John Lodge) and brought for an arranged loveless marriage to Grand Duke Peter III (Sam Jaffe), the imbecilic nephew of Empress Elizabeth Petrovna (Louise Dresser), and the crown-prince heir to the decadent throne. The domineering and rapacious Empress, who renamed her Catherine, hoped to improve the royal blood line, but the young girl was revulsed by her bumbling, unstable, idiotic, and childlike husband-to-be.
Eventually after a period of disillusionment and vying for political power, the innocent young girl was transformed into a cunning, sexually-liberated Princess who became romantically involved with various men in her military entourage, including opportunistic, studly womanizer Count Alexei, head of the night guards Lt. Dmitri (Gerald Fielding), and Captain Orloff (Gavin Gordon). She even produced a son - of questionable fatherhood. After the death of the Empress, Catherine ultimately engineered a coup d'etat with the aid of the military, had her husband Peter III assassinated, and became Catherine the Great, Tsarina of Russia.
Despite the sumptuous, ornate and opulent set design, sharp dialogue and great acting, the dark subject matter during the Depression Era led to a box-office failure (froms its $900K production budget) and lack of critical acclaim (it received no Academy Awards nominations). The big winner of the year was Frank Capra's screwball romantic comedy It Happened One Night (1934) starring Clark Gable and Claudette Colbert. Other comedies in 1934 that were juxtaposed and unusually successful included The Thin Man (1934), W.C. Fields' It's A Gift (1934), and Howard Hawks' Twentieth Century (1934).
For a six-year period, Dietrich was Svengali director von Sternberg's favorite leading lady - this was their sixth film together (and last great collaboration). They also worked together on:
The Blue Angel (1930, Germ.)
Morocco (1930)
Dishonored (1931)
Blonde Venus (1932)
The Devil Is a Woman (1935)
Another film on the life of Catherine was made in the same year - director Paul Czinner's and producer Alexander Korda's historical drama Catherine the Great (1934) with Elisabeth Bergner, Douglas Fairbanks, Jr., and Flora Robson. A third film was Great Catherine (1968, UK), a slapstick comedy (based on George Bernard Shaw's play) directed by Gordon Flemyng and starring Peter O'Toole, Zero Mostel and Jeanne Moreau.
Plot Synopsis
---
In the opening titles (in lower-case text), the historic film made the epic boast that it featured a supporting cast of 1000 players. It then opened with a preface intertitle:
About two centuries ago, in a corner of the kingdom of Prussia, lived a little princess - - chosen by destiny to become the greatest Monarch - - Tsarina of all the Russias - - the ill-famed Messalina of the North.
Introduction to The Young Empress:
In her Prussian bedroom, 7 year-old aristocratic Princess Sophia Augusta Frederica (played by Marlene Dietrich's own daughter, Maria Sieber/Riva), who was being groomed to be a ruling Tsarina in Russia. While the young girl was being examined by a doctor, her ambitious-minded mother Princess Johanna Elizabeth (Olive Tell) barged in and insisted: "How often do I have to tell you that Sophia Frederica is no longer to play with toys. She's almost seven now....How am I to make it clear to you that Sophia might one day become a queen?" The young girl objected to her mother's future plans for her: "I don't want to be a queen, Mother. I want to be a toe dancer." Sophia's mother scolded her: "Be quiet, Sophia. You're going to marry a king if I have anything to do with it."
It was revealed that the doctor (a "horse doctor"), after basically pronouncing that the young girl was healthy (although she may have had scarlet fever and/or a spinal ailment and would be required to wear a "harness" for a year), was also the locality's "public hangman" or executioner (who performed "operations with an axe"). He quickly exited to attend to his other duties: "Now I must be off on one of my operations." The Princess was curious and prophetically asked: "Hangman. What's a hangman? Can I become a hangman someday?" Young Sophia's Uncle, Herr Wagner (Edward Van Sloan) explained that a hangman "takes heads off skillfully." And then as follow-up, he proposed reading a graphic bedtime story to her about the history of Russian executions as she cuddled with one of her forbidden dolls hidden under her blanket.
The story was composed of a montage of sado-masochistic, depraved tortures and brutalities in Tsarist Russia (of "Peter the Great and Ivan the Terrible and other Russian tsars and tsarinas who were hangmen"), including erotic images and morbid motifs. Blurred wipes between shots represented the turning of pages.
a near-naked deceased female was extracted from an iron maiden (a torture device consisting of an iron cabinet with a hinged front and spike-covered interior)
whippings of individuals who were bound in stocks or other restraining devices
a rotating wheel with a nude woman tied to it
the pre-rape stripping of the blouse of a female
multiple axe-executions and beheadings
a group of four bound, topless females burned at a stake
an upside-down, swinging male torture victim used as a cathedral's giant bell-clapper
Proposal of Marriage:
The last image culminated in a dissolve from the human bell-clapper into the hoop skirt of the young 15 year-old Empress-to-be (Marlene Dietrich) being pushed on a flower-decorated swing in her garden. The young, naive, tremulous, Prussian-born bride-to-be Princess, with blonde ringlets, was summoned into the presence of her royal family members. When she entered the room, she ritualistically curtsied and kissed the hands of seven people before she was able to sit down. Prince Christian August (C. Aubrey Smith), her father, read from a letter sent by the Prussian King Frederick - Sophia had been selected and then commanded to become a Russian bride:
We, by Divine Grace Frederick, king of Prussia, have, after a series of negotiations, decided to honor your family by selecting your daughter, Sophia Frederica to forthwith set out for Russia and there to become the bride of His Serene Highness, Peter Feodorovich, grandson of Peter the Great, nephew of Her Imperial Majesty, and heir presumptive to the throne. Within the week, an emissary will arrive to escort your daughter and her mother, Princess Johanna Elizabeth, to the court at Moscow. Please inform her that she is to follow dutifully the advice of Her Majesty's ambassador and extend to her, as well as to your entire family, my fond greetings and affections. Fredericus Rex.
Sophia Frederica, Prince August's daughter, was ordered to marry the royal crown prince of Russia, Peter III by the Prussian King. Sophia's first reaction was: "I wonder what he looks like," although her power-obsessed mother quipped that it was an "unimportant detail." She was obsessed with the success of her maternal grooming: "Come, August, we shall reply to the king at once. One must strike while the iron's hot."
Arrival of the Russian Ambassador - Count Alexei - March 1744:
Suddenly like a swift storm appeared the messenger of Russia - - a vast empire that had built its foundations on ignorance, violence, fear and oppression.
An entourage of Russians arrived on horseback at the residence of Sophia Frederica. In the main living room, the handsome lead Russian emissary from Moscow, Count Alexei (John Lodge), was being introduced to some of Prince August's family members:
Countess Cecilia, a cousin on my mother's side
Cecilia's sister Maria
Miss Cardell (Jane Darwell), Sophia's nurse, unlocked Sophia's upstairs bedroom door and allowed her to proceed downstairs. She bounded down two flights of stairs into the presence of her elderly relatives where she curtsied and then oddly kissed the hands of seven females before meeting the handsome Count. He was heralded as a very prominent emissary: "Field marshal of the Russian Army, grand master of the hunt, lord of the chamber and ambassador extraordinary from Her Divine Majesty, Elizabeth of Russia." When he was introduced to Sophia, he praised her beauty:
Although for a long time we've heard a great deal about your beauty, Your Highness, I must confess, I was not quite prepared to see such a vision of loveliness.
He brought luxurious gifts for family members:
Prince August - a pipe, and a medallion with a portrait of the Russian Empress
Sophia - sable furs ("to keep your shoulders warm"), gloves ("to keep your hands warm"), and a robe ("to keep your feet warm")
Sophia's mother - a hot water bottle ("to keep Mother warm")
The journey to Moscow in the wintry, ice-bound Russia was expected to take seven weeks, and would begin in two days ("the day after tomorrow"). Her "anxious bridegroom" and Her Majesty were impatiently awaiting their arrival. The eager Sophia was curious about the appearance of the Grand Duke (hoping he would be as good-looking as the Count himself), and Count Alexei asked her:
Would you like him to be handsome?
Would you like him to be better looking than all men, tall and gracious?
He then reassured Sophia:
Count Alexei: Well, he is all that and more. He's the handsomest man in the Russian court, tall and formed like a Greek god, a model in fashion and deportment which all of us strive to follow....His eyes are like the blue sky, his hair the color of ebony. He is stronger than a team of oxen, and sleepless because of his desire to receive you in his arms. And he can also read and write.
Sophia's Mother: So can my daughter. She can cook and sew and make her own bed if she has to. Can't you, Sophia?
Sophia: But I don't like to make my own bed, Mother.
Sophia's Mother: Don't speak unless you're questioned.
Sophia: You did question me, Mother.
Sophia was dismissed and again completed her ritualistic curtsying before leaving the room, although the wide-eyed, flirtatious young girl (with gaping mouth) paused to momentarily stare with fascination to glance back at the impressively regal Count who was eyeing her. After she had departed and closed the door, the Count expressed his avowed appreciation for Sophia's beauty:
Count Alexei: This is unexpected. Your daughter is extremely charming and will be by far the most beautiful woman at Her Majesty's court.
Sophia's Mother: I'd be grateful if you were not to turn her head. She's been brought up carefully, is unspoilt, and I've also taught her not to flirt.
The Departure and Long Journey to Russia:
On March the fifteenth, 1744, Princess Sophia Frederica, departed for Russia, full of innocent dreams for the future, and completely unaware of the fate which was to transform her into the most famous woman of her day.
An elaborate send-off was prepared for her departure. White-coated military Cossack troops with tall fur hats and guns strapped over their shoulders surrounded the horse-drawn carriage to take the young Princess to Moscow. Her father Prince August delivered wise advice to his daughter before the journey began:
You're going on a far journey, Sophia, and I may never see you again. And I want you to remember what I've taught you. Always to be honest and truthful; to be a faithful wife and a loyal subject of your new country. Be kind to those who are in your service, and obedient to your husband and your superiors, and strive at all times to be worthy of your glorious destiny.
An inter-title described the treacherous trip over barren, snow-covered lands:
From the very start, the journey proceeded at a rapid pace set by the envoy, who had orders to kill all his horses, if necessary, to catapult his charge into the impatient arms of Russia.
At a roadside waystation where they planned to spend the night, Sophia's mother complained about the disrepair of the roads:
Sophia's Mother: Another day like this, and I'll fall apart. When I return, I'll complain to the king about the state of his roads.
Count: The roads are bad, aren't they? When we reach the border, there will be snow and we shall change to sleds.
When Sophia's mother was shown to her room, young Sophia was left alone with the Count, and he asked: "Is the journey proving too much for you too?" Unlike her mother, Sophia was enjoying the strenuous and exotic journey to a strange land: "Oh, no. It could go on forever if Mother didn't mind." In the kitchen, the Count complimented Sophia's beauty ("Your hand is beautiful, isn't it?") and he affectionately and boldly stole a kiss from her. He claimed that he had fallen in love with her, although he could be charged with treason and punished. He handed her his whip to provide instant punishment for his reward of a kiss:
Sophia: (after the kiss) Why did you do that?
Count: Because I've fallen in love with you. And now you may punish me for my effrontery. (He handed her his whip!)
Sophia: I deserve punishment far more than you do. We must never do this again. It's disloyal to my future husband.
Count: Disloyal? It's treason, and I must be careful in the future, but you must help me by not exciting me with your beautiful eyes. I told you not to look at me. (He kissed her a second time!)
Sophia's mother appeared at the top of the stairs, and suspected that the two were flirting and kissing each other ("What are you two doing? Don't answer me. I don't want to know. Sophia, you ought to be ashamed of yourself"). She ordered Sophia upstairs as she grumbled about the inferior accommodations: "The stables are probably better than the quarters assigned to us." The Count responded: "If you prefer the stables, I'm certain that I can arrange to have the horses quartered in your bedroom." She called him a "Barbarian," and insisted that Sophia sleep in her bedroom, to keep a watchful eye on her.
After weeks of hard riding the Russian border was reached, where the populace hid behind closed shutters - - out of the way of the feared Cossacks, who with reckless fury protected their nobles from even a glance of the enslaved people.
Once they arrived at the Russian border, Sophia's mother continued to grouse about the physical discomforts of the cold environment: "It is cold. At least you have something to warm you when you get to Moscow; That is, if your husband isn't completely made of ice." Sophia was presented with a special gift of a basket of fruit from the Empress, and flowers that had been rapidly dispatched by the Grand Duke:
A basket of fruit with Her Majesty's compliments, and these flowers from His Imperial Highness the Grand Duke, who instructed me to ride day and night for a week to be here in time.
The carriages were replaced with horse-drawn sleds, and bells chimed to trace the progress of the Princess to the Kremlin.
Across a huge soft carpet of snow the journey continued, while age-old bells relayed the message along anxiously waiting villages that new blood was being carried to the Kremlin to temper the madness of the holy Russian dynasty.
A crescendo of bells, trumpets, waving flags and galloping horses marked the arrival of the important entourage in Moscow, with its architectural, onion-shaped domes. Gigantic wooden doors were thrown open to welcome the riders and their history-changing cargo into the palace.
The Arrival in Moscow - With the Empress:
The domineering Empress Elizabeth Petrovna (Louise Dresser) was enthroned on a gaudy imperial platform before a giant backdrop of a twisted, ghoulish, two-headed, avenging winged double-eagle statue. Other gothic-styled stone statues of individuals (with gnarled hands and twisted faces) each holding a candle were also visible. Behind the throne was a wall mural of religious icons (martyrs or saints), each with halos, and placed above and next to the throne were clusters of candelabras. The Empress was led down a long staircase with her robe's train flowing behind her.
She greeted Count Alexei with a warm kiss. She then turned her attention to the awed and overwhelmed Sophia who appeared shocked and amazed by all the new sights. The Empress immediately pronounced a new name for Sophia:
So, this is Little Sophie, Sophia Frederica. Hardly a name for a future Empress....You will be called Catherine Alexina, a good Russian name. We've arranged a special ceremony next week to receive you into our church.
The Empress also welcomed Sophia's mother: "So, this is the mother. You've raised a pretty child." Uncharacteristically, Sophia's mother expressed her gratitude for the Empress' good will and benefactions:
Your Imperial Majesty, I've come to lay at your feet feelings of the deepest gratitude for the benefactions which your bounty has heaped upon my house, and of which many instances are given me at every step I take into your Majesty's realms.
Both Sophia and her mother were presented with a medallion to wear - representing the order of St. Catherine ("May you both wear it in good health and be careful it doesn't scratch you"). The Empress looked for support and congratulations from her subordinates on her judgment and selection of the Princess, as the future healthy child-bearing 'Empress' who was to "breed sons for Russia." Sophia's unpleasant, domineering mother-in-law hoped to improve the royal blood line by having Sophia marry her no-good simpleton nephew.
Chancellor Alexei Bestuchef (Erville Alderson) responded: "I can only admire your judgment, Your Majesty," while a white-wigged Doctor put his ear to Sophia's chest (under her outer garments) to listen to her heartbeat before pronouncing that she was healthy. While being examined, Sophia responded dutifully with "Yes, your Majesty" to four questions put to her:
How was the journey? Comfortable?
Are you happy to be here?
Are you going to love your new country?
Do you promise to be a loyal subject?
The Empress warned: "And don't make too many new friends, and no intrigue and gossip. I have my hands full now." When asked if she had any wishes, Sophia responded simply: "I would like to see the Grand Duke."