Rocky (1976)
d. John G. Avildsen, 119 minutes

Film Plot Summary

The film opened on November 25, 1975 with a low-paying boxing match in Philadelphia between bull-necked Rocky Balboa (Sylvester Stallone) and his opponent Spider Rico. During the bout, Rocky, "The Italian Stallion," was told by his cornerman: "(You're) fightin' like a bum." After Rocky won the match, the fight's promoter distributed slim profits between Rocky and his opponent. Rocky Balboa was portrayed in a series of vignettes as a simple-minded, hang-dog-eyed, inarticulate bum - a 30-year-old Philadelphia fighter who resorted to small, two-bit club bouts to make a meager living. Afterwards, he returned to his lonely but simple life in a dingy, cramped, one-room, second-floor apartment (at the end of a row of similar brick apartments) in South Philly - in a deteriorating, bleak area of the city. To keep him company, he had two pet turtles Cuff and Link, a tiny goldfish named Moby Dick, and a curling wall poster of heavyweight boxing idol Rocky Marciano.

The next morning, he visited a nearby pet shop and politely spoke to the painfully-shy, 30 year old, dark-haired, gawky, and spectacled Adrian (Talia Shire) - the timid wall-flower clerk behind the counter. His main job was strong-arm collections for a local numbers racket run by his employer - loan shark Tom Gazzo (Joe Spinell). The local gym where he had been boxing for six years was named Mighty Mick's Boxing establishment - it was filled with amateur boxers punching bags, skipping rope, sparring with partners, and exercising. The weathered, tough-talking, aging, white-haired, crusty old Mickey (Burgess Meredith) was disgusted with Rocky's poor training habits and lack of ambition to be a great fighter. He recognized that Rocky's main ability was to take a lot of punches and punishment, without any boxing finesse: "You got heart, but you fight like a god-damn ape. The only thing special about you is ya never got your nose busted - well, leave it that way, nice and pretty, and what's left of your mind...Hey kid, did ya ever think about retirin'?...You think about it."

At the Lucky Seven Tavern in his neighborhood, Rocky asked one of his buddies, meatpacker Paulie (Burt Young), why his sister Adrian wouldn't go on a date with him: "Your sister's givin' me the shoulder." Paulie degraded his sister and pummeled her self-image - he regarded Adrian as a loser that Rocky shouldn't even waste his time on. At the bar, Rocky watched the evening sportscast on television - an interview with the reigning World Heavyweight boxing champ - a flamboyant, arrogant black fighter (Muhammed Ali-inspired) named Apollo Creed (football star Carl Weathers), about an upcoming, much-publicized 'Bicentennial Fight' between Creed and Mac Lee Green at the Spectrum.

On Thursday, Thanksgiving Day, successful fight promoter Miles Jergens (Thayer David) was dismayed that Apollo Creed's opponent was injured and couldn't fight in the Bicentennial bout. Apollo came up with a brand new "novelty" or scheme - to find an underdog, local Philadelphia fighter who would be given a once-in-a-lifetime opportunity to fight in the hyped championship in "the land of opportunity." He chose an obscure candidate for the fight - southpaw Rocky Balboa. When other boxing contenders refused to take the challenge with such short notice, Creed selected the unknown, no-hope Rocky to be his opponent for the public-relations January 1st event. He liked the great marquee potential of Rocky's dramatic nickname for their match-up: APOLLO CREED MEETS THE ITALIAN STALLION.

On Thanksgiving evening at Paulie's house, Adrian retreated to her bedroom and locked the door from her bullying, insensitive brother, while Rocky was awkwardly left in the living room. Rocky was able to coax Adrian out of her room, to join him for a "date" - rather than dinner - to a closed ice skating rink, deserted after 6 pm on the holiday except for an attendant/cleaning man. He bribed the attendant by appealing to his emotions and paying him an exorbitant $10, to provide skates for Adrian and ten minutes of skate time. As they circled the rink, Rocky explained to Adrian why he started fighting. She lost some of her shyness and barriers between them began to break down. She laughed for the first time. Both of them realized how their misfit, opposite characters awkwardly filled each other's deficiencies. He told her why he chose a life of boxing: "'Cause I can't sing or dance."

After skating, she joined him as he returned to his bleak and dingy, cramped apartment, where she tentatively climbed the stairs. She was scared to be in a man's apartment by herself for the first time. Their misfit romance began to blossom after a first kiss in one of the tenderest, most authentic and affecting scenes ever filmed - at his front door as she left, he complimented her on how pretty she was: "I always knew you was pretty." Self-deprecating, Adrian replied: "Don't tease me," but Rocky was respectfully sincere about her budding beauty: "I'm not teasin' ya. I ain't teasin' ya." He leaned forward, asking to kiss her: "I wanna kiss ya. You don't have to kiss me back if ya don't want. I wanna kiss you." After one soft kiss, she responded and lightly returned the kiss.

At the gym the next day, Rocky was approached and stunned when asked if he was "interested in fighting Apollo Creed for the World Heavyweight Championship." Jergens assured him that Creed was giving "an unknown a shot at the title. And that unknown is you. He picked you, Rocky. It's a chance of a lifetime. You can't pass it by." After he accepted the offer, Adrian supported Rocky's unlikely bid to win. At Rocky's place, Mickey tried to convince a disinterested Rocky to let him be his manager, because of his experience extending back to 1923: "I wanna take care of ya, I wanna make sure that all this shit that happened to me doesn't happen to you...Ya can't buy what I'm gonna give ya." But Rocky rejected Mickey's offer of experience, because he was ignored over the past ten years. However, Rocky had a change of heart after venting his frustrations and anger. He ran down the street toward Mick, who had reached the end of the block. In a long camera shot, he placed his arm around the trainer - they shook hands and were reconciled when Rocky accepted him as his manager.

Rocky's training program from Thanksgiving weekend to New Years, a five week period, began in earnest under Mickey's fight training and management. With great difficulty, he awakened at 4 am on a sub-freezing morning in the city, prepared a drink of five raw eggs that he consumed in one gulp, and jogged in gray sweats through the deserted city streets. Out of shape, he ascended the steep set of steps to the Philadelphia Art Museum as the dawn light broke, but a side ache and exhaustion slowed him down. He hobbled bent over down the steps and looked out on the Philadelphia skyline. He also pounded a hanging slab of raw meat at Paulie's place of work to take out his frustration - and was filmed by a TV crew to show off his boxing ability and his "unique training method" in the meat icebox.

Mickey boisterously claimed that he was readying the champ to win: "You'll be able to spit nails, kid. Like the guy says, you're gonna eat lightning and you're gonna crap thunder. You're gonna become a very dangerous person." In the most memorable sequence of the film, a montage accompanied by the rousing song "Gonna Fly" (by Bill Conti), Rocky underwent further grueling training and workouts. At dawn, he sprinted beneath an overhead train, made another run through the City of Brotherly Love's streets and marketplaces, punched a bag, did one-armed pushups, took punches to his mid-section, executed endless situps, pounded more slabs of beef, and sprinted along the city's waterway. He dashed (and flew) up the endless steps of the Philadelphia Museum of Art, taking many steps with each leap. He turned and faced the panorama of the city, with his hands triumphantly raised in the air.

The night before the fight, Rocky visited the deserted Philadelphia Spectrum, the setting for the Bicentennial bout. Afterwards with Adrian in his apartment, he confessed to her that he couldn't win and beat Apollo, but then explained his ultimate goals for the fight - to go the distance to prove that he wasn't just a "bum from the neighborhood."

The announcer described Rocky's dismal chances as he approached closer to the ring: "A fifty-to-one underdog living a Cinderella story, but he's captured people's imaginations all over the world...And his record 44 victories - he's had 38 by knock-out, and he's lost 20 bouts." The world heavyweight, show-boating champion Creed entered the Bicentennially-decorated ring with tremendous fanfare, dressed up in a George Washington wig and period costume and riding in a boat - supposedly impersonating the famous President who crossed the Delaware. He predicted finishing the bout in three rounds. After introductions, the much-anticipated bout began. Determined, Rocky proved his worth in the ring for the title fight, in the fast-paced, highly-choreographed, exciting boxing match.

In the first round, the Champion smiled and "toyed" with his "outclassed" opponent until he was knocked flat to the canvas by a tremendous, upswinging, crushing left hook to Creed's jaw - his legendary southpaw punch. For the remainder of the round, the Champion fought more effectively by delivering multiple punches, but so did Rocky as he pounded combinations into Creed's mid-section and electrified the crowd. Just before the bell rang, Creed broke Rocky's nose. In later rounds, the battered Creed was stunned that the challenger refused to fall or acknowledge being beaten. In the 14th round, Rocky was sent to the canvas, but he crawled to his corner and managed to pull himself up with the ropes. Ignoring Mickey's pleading "Down! Down! Stay down!", he managed to pull himself up with the ropes. And with a new burst of tenacious energy, he pounded Creed's ribs and sides with body punches as the bell rang. For the first time, Adrian crept into the arena and watched in painful dismay.

In the final 15th round, the two combatants circled around each other before unleashing more blows. Creed protected his right side and injured ribs until Rocky found an opening and assaulted his opponent's mid-section. As the bell rang, Creed appeared unconscious on the ropes, but he survived the flurry of blows when time ran out. As they hung exhausted on each other, they barely had enough energy to speak. Creed blurted out: "Ain't gonna be no rematch," and Rocky replied: "Don't want one." Although he originally meant to go the distance, the self-respecting Rocky proved that he was more than a born loser and "another bum." Unable to see, he was surrounded by hordes of questioning reporters and interviewers, but he showed little concern about the fight's outcome. All he could do was shout for Adrian. His calls for her were drowned out by the eruptions from the crowd. Adrian called back to Rocky as she struggled to reach ringside. She plunged headlong into the sea of people, as Jergens put words to the monumental fight: "the greatest exhibition of guts and stamina in the history of the ring."

Rocky narrowly lost a split decision (the decision was difficult to hear, but it appeared that two judges voted for the champ and one for Rocky) and the champ barely retained his title. In the confusion following the fight, Adrian finally reached Rocky - the real and true champion - in the ring, and she exclaimed: "I love you." He lovingly hugged and embraced her and declared his own love for her: "I love you!"

Film Notables (Awards, Facts, etc.)

With a production budget of $1.1 million, and box-office gross receipts of $117 million (domestic) and $225 million (worldwide). This "sleeper" film was filmed in a record twenty-eight days.

This original Rocky film was the most accessible, popular and identifiable of the lot of Rocky films, and it packed movie houses.

The entire Rocky series was the most successful sports movie franchise of all-time.

With ten Academy Awards Oscar nominations and three wins: Best Picture (win), Best Director (John Avildsen) (win), and Best Film Editing (win), also Best Actor (Sylvester Stallone), Best Actress (Talia Shire), Best Supporting Actor (Burgess Meredith), Best Supporting Actor (Burt Young), Best Original Screenplay (Stallone), Best Song ("Gonna Fly Now"), and Best Sound.

Stallone became the third person to be nominated for both acting and writing in the same year, following Charles Chaplin for The Great Dictator (1940) and Orson Welles for Citizen Kane (1941).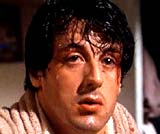 Rocky Balboa
(Sylvester Stallone)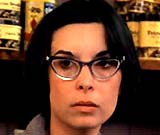 Adrian Pennino
(Talia Shire)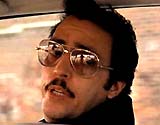 Tom Gazzo
(Joe Spinell)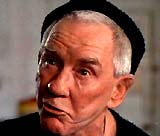 Mickey Goldmill
(Burgess Meredith)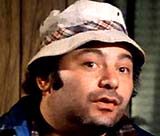 Paulie Pennino
(Burt Young)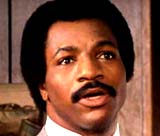 Apollo Creed
(Carl Weathers)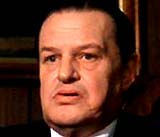 Miles Jergens
(Thayer David)