Buck Rogers - was the main character (named Anthony "Buck" Rogers) of Philip Francis Nowlan's short novel, Armageddon 2419 A.D. The novel was published in an issue of a popular fiction magazine titled Amazing Stories (August 1928 issue), the first all-science fiction pulp. A second Buck Rogers story, a sequel titled The Airlords of Han, followed in August 1929.
The stories were converted into newspaper comic strips, with Nowlan the scripter working with artist Dick Calkins. The first Buck Rogers newspaper comic strip appeared on January 7, 1929. Nowlan scripted the stories and laid the groundwork for the strip with a simplified version of the same story line from Armageddon 2419 A.D. - except that his hero, Anthony Rogers was renamed Buck Rogers. It was titled: Buck Rogers, 2429 A.D. It was the first-ever science fiction newspaper strip.
In the origin stories titled "The Sleeper" and "The Awakening," Buck Rogers (a 1920s US Air Force lieutenant) awoke in the 25th century, almost 500 years into his future. He had inhaled pungent fumes in an abandoned mine cave-in (near Pittsburgh) and was put into a "state of suspended animation." When he was told that he was now in the year 2429 A.D., he was astonished. He was joined by citizens of this future time - Wilma Deering and Dr. Huer, Lieutenant of the Space Corps. Buck fought off various invaders or enemies including the Mongols, the Tiger Men of Mars, pirates from outer space, and his major nemesis, Killer Kane with his vampish femme fatale Ardala Valmar.

Amazing Stories
pulp magazine
August 1928


First Buck Rogers Comic Strip (Daily)
January 7, 1929

The Sunday page with full-color first appeared on March 30, 1930. The newspaper comic strip would later change to Buck Rogers in the 25th Century, and finally shortened to Buck Rogers. Initially, the main characters in the Sunday strip included Bud Deering (Wilma's younger brother) and Princess Allura from Mars. The Sunday comic strip series ran in syndication until the mid 1960s.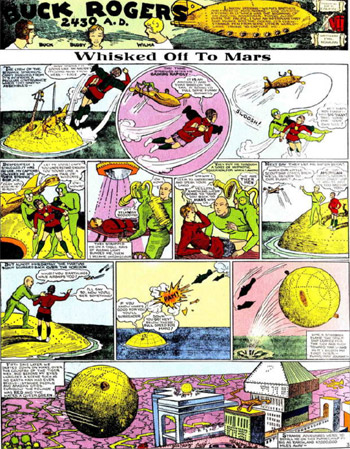 Buck Rogers Sunday Strip, March 30, 1930
The character of Buck Rogers also began to appear on the radio in serial form, beginning on November 7, 1932. Buck Rogers aired as a radio serial on CBS under the title The World in 2432. It was the first science fiction program on radio. The popular comic strip and radio program triggered a marketing flood of Buck Rogers toys, ray guns, rockets, and costumes. The program ran from 1932 through 1940, and then was revived following World War II for a short stint from 1946-1947.
Debuting in June of 1934, Famous Funnies # 1 was the first monthly comic book. Famous Funnies' first issues (which mostly reprinted Sunday pages) offered dozens of characters, all from newspaper funny pages, including Joe Palooka, Belinda, Dixie Dugan, Relentless Randolph, Hairbreadth Harry, Connie, Napoleon, Toddy, and Mutt & Jeff. Buck Rogers made his first comic book appearance (script-credited to Nowlan) in Famous Funnies # 3 (October 1934), a four-page story titled Just as Buddy and Allura Gave Up All Hope. The synopsis of the story described it thusly: "Buddy and Allura's space yacht has been intercepted on its way to Venus by Tiger Emperor. His crew is cutting its way inside with disintegrators." Buck remained with the comic book until the last issue # 218 (July 1955).
The first comic book dedicated fully to Buck Rogers as a complete cover-to-cover story was an issue of Buck Rogers in the 25th Century dated 1940. It was primarily a compilation of previously-published comic strips, basically strung together.

Famous Funnies # 3
October 1934


Famous Funnies # 218
July 1955



Buck Rogers in the 25th Century
1940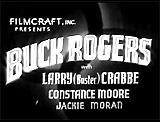 Buck Rogers (1939) - Theatrical Serial
The first filmic iteration of Buck Rogers was Universal's 12-installment serial (of 241 minutes), with expected cliff-hangers for the end of each episode. It came after the successful set of popular serials featuring super hero Flash Gordon in the late 1930s, with the same lead actor.
Tomorrow's World
Tragedy on Saturn
The Enemy's Stronghold
The Sky Patrol
The Phantom Plane
The Unknown Command
Primitive Urge
Revolt of the Zuggs
Bodies Without Minds
Broken Barriers
A Prince in Bondage
War of the Planets
This serial again starred Larry "Buster" Crabbe as adventurous space explorer USAF officer "Buck" Rogers, who placed himself in a state of suspended animation with "Nirvano" gas after an experimental dirigible crash over the North Pole in 1938. After a period of 500 years (buried and forgotten under rock and snow) in the year 2440 (in the 25th century), the wreckage was unearthed by a spaceship and "Buck" awoke, with his friend and sidekick Buddy Wade (Jackie Moran). Rescuers were rebel-resistance soldiers from the "Hidden City," in conflict with the serial's super-villain, criminal racketeer-dictator "Killer" Kane (Anthony Warde) and his henchman Captain Laska (Henry Brandon).
For the remainder of the serial, Rogers supported leaders of the exiled rebels: military Air Marshal Kragg (William Gould) and benevolent Scientist-General Dr. Huer (C. Montague Shaw), to battle Kane's tyrannical rule. They sought the support of Saturn's ruler Prince Tallen (Philson Ahn), and Rogers was also assisted by young Buddy and Dr. Huer's trusted aide Lieutenant Wilma Deering (Constance Moore, the only female performer).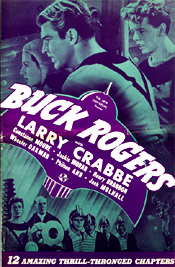 Lost Footage
Buck Rogers (1950-1951) - TV series
This almost-forgotten show (composed of 30-minute episodes) was the first Buck Rogers TV series, about the famous hero of comic strips, the radio, and movie serials. It attempted to compete with Captain Video and His Video Rangers (1949-1955), a long-running hit (on the DuMont Television network) that was also shown on Saturdays.
The Buck Rogers series was produced entirely within the confines of a small TV studio, with only a handful of sets, and it was broadcast live. None of the original kinescope footage remains.
It aired for one year's season on the ABC-TV network beginning on April 15, 1950, and concluding on January 30, 1951. There were numerous casting changes in the short season:
Buck Rogers:
(Kem Dibbs for a few months, then Robert Pastene)
Col. Wilma Deering:
(Lou Prentis and Eva Marie Saint)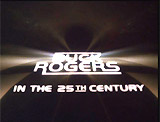 TV Pilot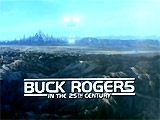 TV series

Buck Rogers in the 25th Century (1979) (aka Buck Rogers) - TV pilot
Buck Rogers in the 25th Century (1979-1981) - TV series
Interest in space-related films was enhanced by the appearance of Star Wars (1977) and Close Encounters of the Third Kind (1977). In its wake came a prime-time Buck Rogers weekly TV series that debuted on the NBC-TV network in 1979. It had been almost 30 years since ABC-TV had launched the first Buck Rogers TV series.
The escapist, tongue-in-cheek TV series aired for two seasons (with a total of 37 hour-long episodes). It began on September 20, 1979 and concluded on April 16, 1981.
Season 1 (1979-1980): 24 episodes (Sept. 20, 1979 to March 27, 1980)
Season 2 (1981): 13 episodes (January 15, 1981 to April 16, 1981)
Six months before the series officially began, a feature-length made-for-TV pilot episode for the series was released as a two-hour theatrical film, titled Buck Rogers in the 25th Century (1979) (aka Buck Rogers) on March 30, 1979, directed by Daniel Haller. The theatrical film (89 minutes in length) also served as a revised, two-part first episode for the series, entitled "Awakening."
In the plotline, 20th century astronaut, Capt. William 'Buck' Rogers (Gil Gerard), was launched on a space shuttle mission in 1987, when a passing comet caused him to enter a state of suspended animation. He awoke or emerged 500 years later (in the year 2491) when revived by a passing flagship of the Draconian Empire (led by pretty but evil Princess Ardala (Pamela Hensley) that was on its way to a futuristic, post-holocaust Earth to sign a treaty. Rogers was joined by intergalactic crime fighter and Starfighter squadron leader Colonel Wilma Deering (Erin Gray), to prevent the alien Draconians from overtaking Earth.
It was universally acknowledged that Season 2 was a major disaster (at a time of a major actors' strike) - it was a failed attempt to overhaul the series to make it more like Star Trek and competing Battlestar Galactica with the emphasis shifted away from Earth to a deep space exploration-quest onboard the interstellar Searcher vessel. NBC pulled the plug toward the end of the season in 1981.
A little-known piece of trivia: Buster Crabbe made a guest appearance as Brigadier Gordon in Season One's Episode 2, titled Planet of the Slave Girls, which aired on September 27, 1979. The last name of his film role, Gordon, was a reference to Crabbe's other famous role as Flash Gordon.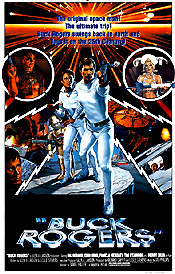 TV Pilot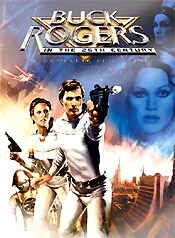 TV series