Espionage/Spy Film Thrillers:
A sub-genre of the thriller/suspense film is the espionage/spy film which can be in the form of a drama, melodrama, comedy, or a good-humored action thriller, set either during wartime or in the Cold War Era. The spy film was most popular during the 1960s when the Cold War was in evidence, and audiences demanded more action/thriller-suspense pictures. [Spies and espionage plots have also been the basis for many TV shows, such as The Man from U.N.C.L.E, I Spy, Alias, and the UK's The Avengers.]
Espionage films could either be serious, fact-based stories (i.e., The Spy Who Came In From the Cold (1965) or films based upon novelists' fictional or fact-based works), or fanciful-escapist films (such as the James Bond series). Spies in real-world situations are often murky, unknown characters who don't want to be revealed, but are truly unknown, non-flashy undercover agents. In any case, most spy films usually depicted spies and/or secret agents seeking to uncover or maintain secrets (often for military use) from each other (or from each other's countries). Spies were usually portrayed as masquerading, amoral, and deceitful characters ready to betray others.
Hitchcock's Spy-Related Films:
As already noted, many of Alfred Hitchcock's suspense/thriller films, especially during his early years, were espionage/spy subgenre films, and he was responsible for the popularity of this kind of film. Most notable were:
The Man Who Knew Too Much (1934)
Secret Agent (1936)
Sabotage (1936)
The Lady Vanishes (1938)
Saboteur (1942)
Notorious (1946), with playgirl Ingrid Bergman who 'prostituted' herself by marrying Rio de Janeiro neo-Nazi Claude Rains in order to obtain secrets about uranium (the MacGuffin) in his wine cellar, while engaged in a love triangle with icy Cary Grant as American secret agent Devlin
North By Northwest (1959), a 'wrong man' story in which Cary Grant was mistaken for non-existent secret agent George Kaplan, and faced villainous James Mason
'Pre-James Bond' Spy Films with Memorable Spy Agents:
Fritz Lang's Spies (1928), the director's first independent production, with an anarchist international conspirator and criminal spy character named Haghi (Rudolf Klein-Rogge), who was pursued by good-guy Agent No. 326 (Willy Fritsch) (aka Det. Donald Tremaine, English version) - this film anticipated the James Bond films of the future
Greta Garbo's portrayal of the real-life, notorious, seductive German double-agent code-named Mata Hari (Gertrud Zelle) in WWI in Mata Hari (1932), who performed a pearl-draped dance to entice French officers to divulge their secrets, but in real-life was shot by a French firing squad in 1917 for espionage; other actresses who starred as the WWI undercover agent include Asta Nielsen in Mata Hari (1920), Magda Sonja in Mata Hari (1927, Ger.), Marlene Dietrich as Agent X-27 in Dishonored (1931), Jeanne Moreau in Mata Hari Agent H 21 (1965, Fr.), Zsa Zsa Gabor in the comedy Up the Front (1972), Sylvia Kristel in the R-rated Mata Hari (1985), and Maruschka Detmers in Mata Hari, la vraie histoire (2003, TV)
Confessions of a Nazi Spy (1939)
The House on 92nd Street (1945)
Fritz Lang's atmospheric post-war spy melodrama Cloak and Dagger (1946), with Gary Cooper starring as atomic scientist and physics professor Alvah Jasper (a character based upon A-bomb co-developer J. Robert Oppenheimer), on a mission to discover Germany's secret plans to build an A bomb
Henry Hathaway's 13 Rue Madeleine (1947), a documentary-style wartime espionage tale with James Cagney (as Bob Sharkey), an O.S.S. (Office of Strategic Services) agent sent into occupied France to uncover the site of a German missile silo before the Allied landing at Normandy on D-Day
Henry Hathaway's Diplomatic Courier (1952), with Tyrone Power as an undercover secret agent in search of documents with details of the Russian invasion of Yugoslavia
James Mason as undercover agent Ulysses Diello (code-named Cicero), working in the British embassy in Turkey during WWII, and selling secrets to the Nazis, in Joseph Mankiewicz's Five Fingers (1952), based upon the novel Operation Cicero by real-life "Cicero" L.C. Moyzisch (based on a true story)
James Bond Espionage-Secret Agent Thrillers:
(See Greatest Series Franchises of All-Time: James Bond films for more details on all of the Bond films.)
The modern day action-hero - the James Bond '007' character that was employed for Her Majesty's Secret Service - was loosely based on the agent/spy character in Britisher Ian Fleming's twelve James Bond novels. A number of Fleming's short stories were developed by other writers. Before the movies, Bond made his first appearance on TV, debuting on CBS in 1954, with Barry Nelson as the American 007 agent named Jimmy Bond in an adaptation of Fleming's first Bond novel, Casino Royale.

The first in a successful series of suspenseful, special agent 007 James Bond films, begun in the Cold-War 1960s and serving as a metaphor for the threat of Communism, was Dr. No (1962) followed soon after by the definitive Bond film, From Russia With Love (1963), and the polished Goldfinger (1964). The intriguing superhero lead role has been played by six actors: Sean Connery, George Lazenby, Roger Moore, Timothy Dalton, Pierce Brosnan, and Daniel Craig.
Beginning in the Cold War 60s (after restrictions on violence and sex were lifted somewhat), the slick, escapist Bond action/adventure spy films were appealing to large audiences with their exotic, travelogue locales, tongue-in-cheek humor and dialogue, nifty gadgets and ingenious toys to combat evildoers, fast-action suspense and audacious stunts, and gorgeous, scantily-clad sexy women, including the requisite Bond Girls. The action-oriented, sophisticated, and skillful agent, with a taste for dry martinis ('shaken, not stirred'), fancy clothes (often tuxedos) and cars (notably the Aston Martin DB5, the Lotus Esprit, and various BMWs), battled various types of eccentric, deadly and infamous criminals who planned to assault the world. The flashy agent bore little resemblance to the real shadowy world of espionage.
James Bond's Imitators:
Bond's imitators and knock-offs included the following serious (and spoofing) characters and films:
a secret agent named Hubert Bonnisseur de la Bath - alias O.S.S. 117, was created by French thriller novelist Jean de Bruce; the character was a wealthy Louisiana gentleman who spied for the American OSS, and was found in a number of films (pre- and post-Bond) popular with European audiences: OSS 117 Is Not Dead (1956, Fr) (aka OSS 117 N'Est Pas Mort), O.S.S. 117: Double Agent (1967) and No Roses For OSS 117 (1968, Fr) (aka Pas De Roses Pour OSS 117) - both with John Gavin as the agent
another similar agent in France was named Francis Coplan, in Coplan Secret Agent FX 18 (1964, Fr)
Norman Taurog's spy spoof Dr. Goldfoot and the Bikini Machine (1965), a predecessor of the Austin Powers films, starred Vincent Price in a campy role as the title character who invented exploding bikini-clad women and threatened the world, and Frankie Avalon as secret agent Craig Gamble; the sequel was Mario Bava's Dr. Goldfoot and the Girl Bombs (1966) (aka The Amazing Dr. G, and The Spy Who Came In From the Fairly Cold), again with Vincent Price as a megalomaniac with more exploding fembots (with the detonation device in their belly buttons)
Joseph Losey's light-hearted, James Bond spy comedy-spoof Modesty Blaise (1966), was based upon a British newspaper comic strip series, with Italian star Monica Vitti (in her first English-language film) in the title role opposite Dirk Bogarde as the villain
Robert Vaughn was master spy Napoleon Solo (code-named The Man From U.N.C.L.E., a government enforcement agency meaning the United Network Command for Law and Enforcement) who frequently battled the evil T.H.R.U.S.H. (Technological Hierarchy for the Repression of Undesirables and the Subjugation of Humanity), in To Trap A Spy (1966), the original pilot for the popular TV series in the 60s released as a theatrical film; Vaughn was partnered with David McCallum as blonde-haired Russian secret agent Illya Kuryakin
James Coburn starred as Derek Flint, a playboy hero in the spy films: Our Man Flint (1966), and In Like Flint (1967); Flint was an agent of Z.O.W.I.E. (Zonal Organization World Intelligence Espionage); Ray Danton also played Flint in a 1976 TV pilot
Columbia contract star Dean Martin portrayed Matt Helm (based on the spy in Donald Hamilton's novels) in four tongue-in-cheek films between 1966 and 1968: The Silencers (1966), Murderer's Row (1966), The Ambushers (1967), and The Wrecking Crew (1968); none of the films' titles had anything to do with their plots; Helm was a cheesecake model photographer-turned-American agent for ICE (Organization for Intelligence and Counter-Espionage)
Richard Johnson was featured in the resurrected role of British agent Bulldog Drummond (a suave, gentleman-spy hero in many films mostly made between the silents through to the late 40s) in Deadlier Than the Male (1967) and Some Girls Do (1969)
Neil Connery (Sean Connery's/James Bond's brother) appeared in an action-spy film titled Operation Kid Brother (1967) (aka O.K. Connery), also featuring perennial Bond characters Bernard Lee and Lois Maxwell (although not identified as M or Miss Moneypenny)
Frankie Avalon (and B-movie hunk George Nader) starred as US espionage agents teamed with British intelligence to combat Goldfinger's Shirley Eaton as the beautiful but deadly Su-Muru (a character based on a series of Sax Rohmer novels) intent on world domination with a vast band of man-hating women, in The Million Eyes of Sumuru (1967) (aka The 1000 Eyes of Su-Muru)
David Niven headlined Casino Royale (1967) - a direct spoof of the James Bond character
sexy Raquel Welch sizzled as Fathom Harvill, a champion sky diver recruited by a Western spy organization for a top secret mission in Fathom (1967), co-starring Tony Franciosa as millionaire Peter Merriwether, who was believed to possess an H-bomb detonator known as the Fire Dragon
When Eight Bells Toll (1971) was adapted from Alistair MacLean's bestselling book, and set in the Scottish Highlands, with Anthony Hopkins in a Bond-like role as Philip Calvert in a search for missing/stolen government gold bullion
The Tall Blonde Man with One Red Shoe (1972, Fr.) was a wacky French spy comedy with Pierre Richard, followed by a sequel two years later: The Return of the Tall Blonde Man with One Black Shoe (1974)
Le Magnifique (1973, Fr.) (aka How to Destroy the Reputation of the Greatest Secret Agent in the World), was a spy-comedy parody of the James Bond films, starring Jean Paul Belmondo
John Landis' 'Road' spy comedy Spies Like Us (1985) featured Chevy Chase and Dan Aykroyd as two aspiring but misfit CIA agents
the spy-comedy spoof, Leonard, Part 6 (1987), a big flop, starred Bill Cosby as ex-agent Leonard Parker engaged in a mission to stop the evil Medusa (Gloria Foster)
If Looks Could Kill (1991) - the feature film debut of Richard Grieco, a teen-oriented spoof of the James Bond films
The Double O Kid (1992) was another juvenile-oriented spoof/parody about a youthful rookie spy (Corey Haim)
Spy Hard (1996), a low-brow spy comedy, with Leslie Nielsen as Dick Steele (Agent WD-40), with aid from Russian agent Veronique Ukrinsky (Nicolette Sheridan), against armless mad-man villain Andy Griffith - who has plans to conquer the world
Mike Myers appeared as the International Man of Mystery in the satirizing spy spoofs Austin Powers: International Man of Mystery (1997), Austin Powers: The Spy Who Shagged Me (1999), and Austin Powers in Goldmember (2002), all by director Jay Roach
Johnny English (2003), a comedy of errors spy film with Rowan Atkinson (known for roles as Mr. Bean) as the bumbling superspy title character, another funny parody of the James Bond films
Malcolm in the Middle star Frankie Muniz was teenaged CIA super-agent Banks in Agent Cody Banks (2003), and in the sequel Agent Cody Banks 2: Destination London (2004)
Spy and Thriller Films After James Bond: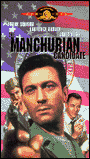 On the flip side of the James Bond series were other tense, Cold War political tales of espionage and intrigue including the ultimate political thriller about brainwashing and political assassination - The Manchurian Candidate (1962), Fail Safe (1964) about a doomsday scenario (released less than a year after Kubrick's black comedy with the same plot - Dr. Strangelove, Or: (1964)), Edward Dmytryk's Mirage (1966) with Gregory Peck and Diane Baker, and Seven Days in May (1964).
More modern, complex, high-intensity political thrillers with paranoic political atmosphere, double- and triple-crosses, threats to entire countries, spies, assassins, conspiracies, and electronic surveillance include:
the 'Harry Palmer' spy mystery trilogy featured a reluctant, bespectacled, unglamorous British secret serviceman (Michael Caine) (from the best-selling novel by Len Deighton) in The Ipcress File (1965), Funeral in Berlin (1967) and Billion Dollar Brain (1967); also two other obscure follow-up action/spy thriller films with Michael Caine reprising his role were: Bullet to Beijing (1995) and Midnight in St. Petersburg (1997)
Richard Burton was British undercover agent Alec Leamas (code-named Expendable) behind the Iron Curtain in Martin Ritt's unglamorized and bleak The Spy Who Came in From the Cold (1965), adapted from John Le Carre's novel; the spy character George Smiley was played by Rupert Davies in the film (and made famous by Alec Guinness on TV)
an American version of 'Harry Palmer' with a Harold Pinter screenplay from the first of Adam Hall's many Quiller novels - was Quller, an agent (George Segal) called upon by Alec Guinness to infiltrate the neo-Nazis (led by Max von Sydow) in post-war Berlin, in The Quiller Memorandum (1966)
Sidney Lumet's The Deadly Affair (1967), based John LeCarre's Call for the Dead with James Mason as a British secret agent
Terence Young's The Triple Cross (1967), based on a true story, starred Christopher Plummer as Eddie Chapman, a safe-cracker who joined with the Germans during the war, and then became a British double-agent
director Fred Zinnemann's political thriller The Day of the Jackal (1973) was about an attempt on the life of French President Charles DeGaulle
Don Siegel's The Black Windmill (1974), derived from the Clive Egleton novel Seven Days to a Killing, with Michael Caine as MI-5 operative John Tarrant, an espionage agent whose son has been kidnapped
Francis Ford Coppola's The Conversation (1974), filmed during the Watergate era, was about a wire-tap, sound surveillance expert named Harry Caul (Gene Hackman) who discovered more than he bargained for
director Alan Pakula's The Parallax View (1974) told of a conspiracy, led by the Parallax Corporation, surrounding the assassination of a US Senator running for President that was witnessed by investigative reporter Joseph Frady (Warren Beatty)
The Odessa File (1974) was loosely based upon the Frederick Forsyth novel, a tense political thriller with Jon Voight as a German reporter searching for missing Nazi war criminals in 1963 Hamburg, Germany, and taking on the Israeli Secret Service (a group called Odessa), and Maximilian Schell as the evil villain
Sydney Pollack's box-office hit Three Days of the Condor (1975) starred Robert Redford as a targeted US CIA-intelligence researcher on the run from professional assassin Max Von Sydow; based on James Grady's novel Six Days of the Condor
Peter Hyam's science-fiction thriller Capricorn One (1977) proposed the government conspiracy-theory idea that the first mission to Mars landing was a complete fake
Sam Peckinpah's final film, the plot twisting spy film The Osterman Weekend (1983), was based on Robert Ludlum's best-selling novel and starred John Hurt as creepy CIA agent-spy Lawrence Fassett
UK's political conspiracy thriller Defence of the Realm (1985), featured Gabriel Byrne as a reporter investigating a covert operation
John MacKenzie's action-spy thriller The Fourth Protocol (1987), derived from a script by the original novelist Frederick Forsyth, featured Michael Caine as British intelligence agent John Preston and Pierce Brosnan as bad-guy Russian agent Maj. Valeri Petrofsky
in the 1990s, Tom Clancy's techno-thriller novels provided the plots for numerous films with an all-American hero and CIA agent Jack Ryan: in The Hunt for Red October (1990) with Alec Baldwin, Patriot Games (1992) and Clear and Present Danger (1994) with Harrison Ford, and The Sum of All Fears (2002) with Ben Affleck
Phil Alden Robinson's techno-action thriller Sneakers (1992) told of a mission by leader Robert Redford (and a group of renegade hackers) to obtain a code-breaking machine that could penetrate any computer system on Earth, with the ponytailed mastermind villain played by Ben Kingsley
James Cameron's recent action-filled True Lies (1994) starred Arnold Schwarzenegger as Omega Sector secret agent Harry Tasker
Brian De Palma's glossy and complex blockbuster Mission: Impossible (1996) (and the other sequels) featured high-powered star Tom Cruise, clever gadgets, exotic locales, great action sequences, double-crosses, etc., and was based upon the 60's TV show of the same name (also noted for techno-gadgetry, face-mask impersonations, and fast action)
writer/director Luc Besson's action thriller La Femme Nikita (1990) (aka Nikita), was a significant spy film about a young female political assassin (played by Besson's wife Anne Parillaud); it was remade in Hong Kong as Black Cat (1991) and in the US by director John Badham as Point of No Return (1993) with Bridget Fonda
Gillian Armstrong's Charlotte Gray (2001), a wartime romance and spy film, based on the best-selling novel by Sebastian Faulks, starring Cate Blanchett as the title character, a Scottish woman serving as a spy for the French resistance forces while being a nanny and searching for her lover - a downed RAF pilot
Michael Apted's WWII spy film Enigma (2001), had some authentic depictions of code-breaking and intelligence technology developed during WWII to decode secret German messages
John Boorman's The Tailor of Panama (2001) based on John Le Carre's 1996 novel by the same name, starred Bond actor Pierce Brosnan as non-Bondish British spy Andrew Osnard, and was set in the Panama Canal area in late 1999
Robert Rodriguez' stunt-filled Spy Kids (2001), starred young agents Alexa Vega (as Carmen) and Daryl Sabara (as Juni), children of a pair of secret agents, who must save their parents; sequels included Spy Kids 2: The Island of Lost Dreams (2002), and Spy Kids 3-D: Game Over (2003)
Rob Cohen's spy-thriller XXX (2002) tried to re-make James Bond for the next generation of viewers in the persona of Vin Diesel as Xander Cage, a nihilist extreme sports enthusiast nicknamed "Triple X", who was recruited by a covert government agency to infiltrate a Russian crime ring called Anarchy 99
director Doug Liman's The Bourne Identity (2002), from Robert Ludlum's best-selling novel was about code-named Jason Bourne (portrayed by Matt Damon) as an amnesiac agent with martial-arts skills; Richard Chamberlain starred as Bourne, opposite Jaclyn Smith, in the 1988 TV-movie/mini-series version of the same novel; also the sequels The Bourne Supremacy (2004) and The Bourne Ultimatum (2006)
Roger Donaldson's The Recruit (2003), with Colin Farrell as a recent MIT graduate recruited by Al Pacino to be trained as a CIA agent
director/screenwriter Stephen Gaghan's political thriller Syriana (2005) was based upon Robert Baer's real-life experiences as an American intelligence agent in the Middle East, written up in his book See No Evil: The True Story of a Ground Soldier in the CIA's War on Terrorism; starred George Clooney as Baer and Matt Damon as an oil executive
director/star Robert DeNiro's The Good Shepherd (2005) was a film about the CIA's inner workings