Background
---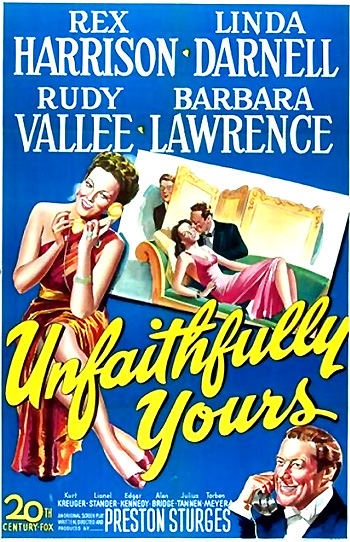 Unfaithfully Yours (1948) is a wonderfully stylish and witty fantasy-screwball comedy, with a non-linear story line, from director-producer-writer Preston Sturges - it was the last of his Hollywood films.
The black comedy was unsuccessful at the time of its release, possibly due to the scandalous circumstances surrounding the suicide of star Rex Harrison's lover - troubled actress Carole Landis, when he refused to get a divorce and marry her.
The funny comedy was remade in 1984, also unsuccessfully, with Dudley Moore in the lead role.
Plot Synopsis
---
The splendid, fine farce was the tale of British, middle-aged, reknowned symphony orchestra conductor Sir Alfred de Carter (Rex Harrison) who suspected his lovely younger wife Daphne (Linda Darnell) of infidelity. During a visit to England, his wealthy brother-in-law August Henshler (Rudy Vallee), due to a misunderstanding ("Keep an eye on my wife for me"), had interpreted him literally and had hired private investigator Detective Sweeney (Edgar Kennedy) to "sleuth after" Sir Alfred's wife in his absence.
After reading the report upon his return, the jealous and self-assured Sir Alfred suspected that Daphne was having an affair with his own young private secretary, Anthony "Tony" Windborn (Kurt Kreuger). Then, while leading his orchestra in three different pieces, Sir Alfred elaborately daydreamed three very different versions or scenarios of how he would solve the problem of his wife's alleged infidelity - each one accompanied by a classical music piece that matched the mood.
during the conducting of Rossini's overture to the opera Semiramide, Sir Alfred imagined himself, in a complex and ingenious revenge fantasy, murdering femme fatale Daphne by razor-slashing and plotting to frame and convict Windborn for the crime


while performing the second number, Richard Wagner's reconciliation theme from Tannhauser, Sir Alfred fantasized about nobly accepting the alleged infidelity by writing Daphne a large check, forgiving the young couple, and allowing his wife to run off with her young lover


and while conducting the third piece in the finale, Tchaikovsky's tone poem Francesca da Rimini overture, he saw himself challenging Daphne and Tony to a fatal game of Russian roulette
While the plans worked perfectly in his mind, he stumbled and bumbled his way through the preparations in real life to murder Daphne (the first scenario) with a complicated recording device. At last, realizing how deliriously silly and irrational he had been, he cheerfully embraced and kissed his loving wife, who had never been unfaithful, and was unaware of his plotting.
[Note: She reluctantly revealed that her sister Barbara Henshler (Barbara Lawrence) was suspected of having an affair with Tony.]
In the film's ending, Sir Alfred told Daphne as he hugged her and expressed his extreme love for her: "I want to be seen in your exquisite company. I want the whole world to know that I'm the most fortunate of men in the possession of the most magnificent of wives. I want to swim in champagne and paint the whole town not only red, but red, white and blue. I want everybody to see how much I adore you, always have adored you, revere you and - and trust you. Also how much I hope you have of warmth for me...." His words concluded the film:
A thousand poets dreamed a thousand years. Then you were born, my love.