Background
---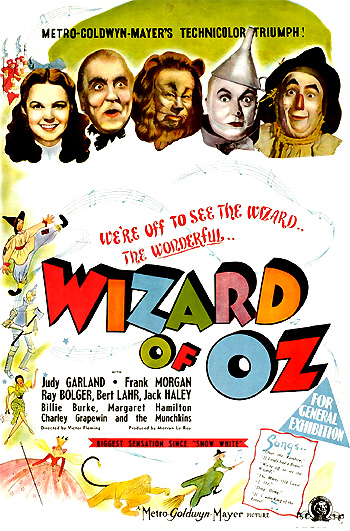 The Wizard of Oz (1939) is everybody's cherished favorite, perennial fantasy film musical from MGM during its golden years. It was first re-released in 1949, and then in 1955, and then for many seasons, it was featured regularly on network TV as a prime time event (its first two showings were on CBS television on November 3, 1956 and in December, 1959). The movie soon became a classic institution with annual showings for Thanksgiving, Christmas, and/or Easter time, and was a rite of passage for everyone, and probably has been seen by more people than any other motion picture over multiple decades. According to the Library of Congress, the musical fantasy is the most watched movie in history. Initially, however, the film was not commercially successful (at $3 million) with production and promotion costs set at $3 million, but it was critically acclaimed.
All of its images (the Yellow Brick Road, the Kansas twister), characters (e.g., Auntie Em, Toto, Dorothy, the Wicked Witch), dialogue (e.g., "Lions and tigers and bears, oh my!", "We're not in Kansas anymore," "Follow the Yellow Brick Road," or the film's final line: "There's no place like home"), and music ("Over the Rainbow") have become indelibly remembered, and the classic film has been honored with dozens of books, TV shows (such as HBO's dramatic prison series Oz), references in other films, and even by pop groups (singer Elton John with his Goodbye, Yellow Brick Road album, or Pink Floyd's 1973 album Dark Side of the Moon).
The film's plot is easily condensed: lonely and sad Kansas farmgirl Dorothy dreams of a better place, without torment against her dog Toto from a hateful neighbor spinster, so she plans to run away. During a fierce tornado, she is struck on the head and transported to a land 'beyond the rainbow' where she meets magical characters from her Kansas life transformed within her unconscious dream state. After travels down a Yellow Brick Road to the Land of Oz, and the defeat of the Wicked Witch of the West, Dorothy and her friends are rewarded by the Wizard of Oz with their hearts' desires - and Dorothy is enabled to return home to Kansas.
All of the featured actors and actresses - Judy Garland, Jack Haley, Bert Lahr, Ray Bolger, Margaret Hamilton, Frank Morgan, Billie Burke, Charley Grapewin and Clara Blandick - had successful, long film careers before and after the film, but this film is the one all of them have become best known for, and in some cases, the only film they are remembered for. Garland's career was overshadowed by the film, despite appearing in many classic films and musicals, including those for which she received Oscar nominations (A Star is Born (1954) and Judgment in Nuremberg (1961).) This was the sole film for which she received an Oscar, albeit an honorary special award for her "outstanding performance as a screen juvenile." (Garland had just completed the successful hit films Love Finds Andy Hardy (1938) and Babes in Arms (1939) with Mickey Rooney.)
The popular film was brilliantly adapted from L. Frank Baum's venerated children's book The Wonderful Wizard of Oz (written in 1899 and published in 1900) by three credited writers Noel Langley, Florence Ryerson, and E.A. Woolf, and a team of many uncredited scriptwriters (including Arthur Freed, Herman Mankiewicz, Sid Silvers, and Ogden Nash). Langley insisted that the fantastical characters have real-life counterparts to make them more believable, as they had also existed in the 1925 silent film version.
Dual Roles
Many of the film's characters play two roles - one in Kansas and their counterparts in the Land of Oz,
the locale of the young heroine's troubled dreams.

Kansas Role

Oz Role(s)

Actor/Actress

Hunk
Scarecrow
Ray Bolger
Hickory
Tin Man
Jack Haley
Zeke
Cowardly Lion
Bert Lahr
Miss Almira Gulch
Wicked Witch of the West
Margaret Hamilton
Professor Marvel
Emerald City Doorman/Cabbie/The Wizard's Guard/The Wizard of Oz
Frank Morgan
The first line of the book follows: "Dorothy lived in the midst of the great Kansas prairies, with Uncle Henry, who was a farmer, and Aunt Em, who was the farmer's wife." The Wizard of Oz was first performed as an on-stage musical in 1902-03 in Chicago and New York. It premiered at the Grand Opera House in Chicago on June 16, 1902, and made stars of vaudeville team members David Montgomery (the Tin Woodman) and Fred Stone (the Scarecrow). On January 21, 1903, the show opened on Broadway at the Majestic Theatre in New York. The show was so popular (the production tallied over 290 performances and was the longest running show of the decade) that it toured the country in road shows lasting until 1911. [Much more recently, New York City's Radio City Music Hall presented an annual, limited-run, live stage version of the 1939 MGM musical.]
The book was made into films (and other creative works) on many different occasions during the silent era, and many times afterwards stretching to the present day. [Note: Archivist Mark Evan Swartz' book Oz Before the Rainbow (2000) compiled an in-depth history of the evolution of Baum's work with all its stage and screen permutations up through the 1939 MGM musical version, and its significant cultural influences]:
More Than A Century of Oz, Based on Baum's Oz
(chronological order)

Type

Title

Description

Book
The Wonderful Wizard of Oz - 1900
The first of 14 Oz-set fantasy books, by L. Frank Baum.
Stage Musical
The Wizard of Oz - 1902
The first stage-musical version, debuting in Chicago. It ran on Broadway for almost 300 consecutive nights in 1903.
Multi-Media Production
The Wizard of Oz (1908)
Fairylogue and Radio-Plays, produced by The Radio Play Company of America. It was the first film adaptation of The Wonderful Wizard of Oz and several of its sequels. Composed of a combination of live-action, slides, and film. Shown only in roadshow engagements for a few months as part of a live theater presentation. Afterwards, the print decomposed, and was discarded. A lost film.
Film short
The Wonderful Wizard of Oz (1910)
Silent short film (one reel) from Selig Polyscope Company, with 9 year old Bebe Daniels as Dorothy. Based upon the 1902 stage musical. It is the earliest surviving film version of L. Frank Baum's 1900 novel.
Film short
Dorothy and the Scarecrow in Oz (1910)
From Selig Polyscope Company. A sequel to the earlier Selig short film.
Film short
The Land of Oz (1910)

From Selig Polyscope Company.

Film

The Patchwork Girl of Oz (1914)
The Magic Cloak (1914)
His Majesty, the Scarecrow of Oz (1914) (aka The New Wizard of Oz)



All three 1914 silent films, each five reels in length, were produced by Baum's own short-lived Oz Film Manufacturing Company. The last one was the closest to Baum's original book and the only one directed by him.
Film
The Wizard of Oz (1921)
Directed by Ray C. Smallwood. Never completed.
Film
The Wizard of Oz (1925)
The first full-length film version, seven reels in length. A silent slapstick comedy film from Chadwick Pictures and producer-director-star-writer Larry Semon, with comedian Oliver Hardy of Laurel and Hardy fame portraying the Tin Woodsman. Dorothy Dwan was Dorothy and Charles Murray was the Wizard.
Fantasy short
The Scarecrow of Oz (1931)
(aka The Land of Oz)
Virtually unknown. Featured a troupe of child stars known as Meglin Kiddies. The fantasy short was based on the Scarecrow from Baum's The Wonderful Wizard of Oz.
Film short
The Wizard of Oz (1932)
A Canadian black and white feature with no dialogue, and with some Technicolor animations. Directed by Ted Eshbaugh. About 9 minutes in length
Film
The Wizard of Oz (1939)
Judy Garland starred in MGM's Technicolor classic.
TV episode
"The Land of Oz"
This was the first hour-long episode of The Shirley Temple Show on NBC-TV. It was based on Baum's second Oz book The Marvelous Land of Oz published in 1904. Characters included: Shirley Temple (Tip/Ozma), Jonathan Winters (Nikidik), Ben Blue (Scarecrow), Sterling Holloway (Jack Pumpkinhead), Gil Lamb (Tin Woodman), and Agnes Moorehead (Mombi).
TV series
Off to See the Wizard (1967)
An animated version for a weekly ABC-TV broadcast. Ran for about a year from the fall of 1967 to the fall of 1968. Produced by Chuck Jones.
Film
The Wonderful Land of Oz (1968)
Low-budget children's color version, based on Baum's The Marvelous Land of Oz. Directed by Barry Mahon.
Animated Film
Journey Back to Oz (1974)
Official sequel to the 1939 feature film. Filmed in the 1960s, but finally released in the US in 1974. Liza Minnelli was the singing voice of Dorothy. An ABC-TV version shown in 1976 featured live-action segments starring Bill Cosby as the Wizard. 88 minutes.
Film
The Wiz (1978)
Director Sidney Lumet's and Universal's Afro-American urban updated film of the Broadway musical, with New York City substituting for Oz, and singer Diana Ross in the lead role as Dorothy; also with Michael Jackson as the Scarecrow, Richard Pryor as the Wizard, and Lena Horne as Glinda the Good.
Film Homage
The Muppet Movie (1979)
Resemblances included the voyage by Kermit to Hollywood (Oz), his meeting with Lew Lord (the Wizard), the avoidance of the temptations of Doc Hopper (the Witch), and the song The Rainbow Connection - a variation of Somewhere Over the Rainbow.
Film
Under the Rainbow (1981)
A tasteless comedy, directed by Steve Rash, set in 1938 during the filming of Oz that starred Chevy Chase, Carrie Fisher, and Eve Arden. The back-story behind the chaos and confusion created by the many Munchkin extras was strangely and improbably documented.
Animated Film
The Wizard of Oz (1982, Jp.)
(aka Ozu no Mahotsukai)
By director Takayama Fumihiko. With Bonanza's Lorne Greene as the voice of the Wizard.
Film
Return to Oz (1985)
Disney's and director Walter Murch's live-action, non-musical, unofficial sequel of the fantasy, with Fairuza Balk as Dorothy.
Stage
The Wizard of Oz - 1987
The Royal Shakespeare Company's stage production.
TV series - Animated
The Wonderful Wizard of Oz (1987)
Short-lived for one season, with 52 half-hour episodes.
TV series - Animated
The Wizard of Oz (1990)
With 13 half-hour cartoon episodes, premiered on ABC-TV in the fall of 1990.
Film Homage
Wild at Heart (1990)
David Lynch's cult film was filled with Oz references.
Film Homage
Twister (1996)
Jan de Bont's blockbuster made numerous Wizard of Oz references (i.e., Dorothy is the name of the tornado device that measures the wind speeds in a tornado, and a tornado-blown cow was similar to the one in Dorothy's concussion-dream).
Film Homage
Contact (1997)
Robert Zemecki's sci-fi film contained multiple Oz references, including the radio signal of "Over the Rainbow" and a hot air balloon with "THIS WAY TO OZ" imprinted on it.
Film Homage
Face/Off (1997)
Action master John Woo's film played "Over the Rainbow" during a climactic, slow motion, bloodbath sequence.
Broadway stage musical
Wicked - 2003
Stephen Schwartz' musical, opening in late 2003, was based on Gregory Maguire's 1995 unauthorized prequel novel Wicked: The Life and Times of the Wicked Witch of the West. The series continued with Son of a Witch (2005), A Lion Among Men (2008) and Out of Oz (2011). The Tony-winning Broadway musical told the back story of Glinda the Good Witch and the Wicked Witch of the West (Elphaba: derived from the name of the author L. F(rank) B(aum), L-F-B = Elphaba). The initial cast starred Kristin Chenoweth and Idina Menzel.
TV movie
The Muppets' Wizard of Oz (2005)
Dorothy was portrayed by Ashanti, while Miss Piggy starred as all four witches. Gonzo played the Tin Man, Fozzie Bear was the Cowardly Lion, and Kermit the Frog was a green Scarecrow.
TV Mini-Series
Tin Man (2007)
A Sci-Fi channel three-part miniseries, with Alan Cumming, co-starring with Zooey Deschanel (as Kansas waitress DG).
Film
L. Frank Baum's The Wonderful Wizard of Oz (2013)
A new adaptation of Baum's original book. Directed by Clayton Spinney with a script by Sean Gates. With a mixture of live-action, puppetry, and CGI. Starring Mariellen Kemp as Dorothy Gale and Marie Rizza as the Wicked Witch of the West.
Film
Oz the Great and Powerful (2013)
Disney's blockbuster prequel, with a budget of $200 million, starring James Franco as the Oz Wizard, and three witches: Theodora (Mila Kunis), Evanora (Rachel Weisz), and Glinda (Michelle Williams). Directed by Sam Raimi.
Computer-Animated Musical
Legends of Oz: Dorothy's Return (2014)
The voice of Dorothy (by Lea Michele). A box-office flop.
Film
Wicked (2014)
A movie adaptation of the popular 2003 Broadway musical Wicked. A reimagined film directed by Stephen Daldry.
There was a near-fatal burning accident on the set involving Margaret Hamilton. Two scenes, the Scarecrow's (Ray Bolger) dance, and the jitterbug dance were edited out of the final film - as was Ebsen's singing of "If I Only Had A Heart." [Note: The magic world of OZ was named after the alphabetical letters O - Z on the bottom drawer of Baum's file cabinet.]
There were a total of four directors who collaborated in the making of the film: first, Richard Thorpe (for almost two weeks) and then George Cukor (for two or three days). Victor Fleming (the credited director) was involved for four months, but was hired away by David O. Selznick to direct Gone With the Wind (1939). An uncredited King Vidor finished the production in ten more days, which consisted mostly of completing the film's opening and closing sepia sequences in the Kansas scenes.
The film perfectly integrated the musical numbers (songs by Harold Arlen and E.Y. ('Yip') Harburg) with the action of the plot - enhancing and advancing the suspenseful narrative. The scenes in bleak Kansas were shot in drab sepia tone, with brilliant, vibrant, 3-strip Technicolor used for the fantasy scenes in the journey to Oz. The special effects, by Arnold Gillespie, included the cyclone sequence, the flying winged monkeys, the Emerald City views, the poppyfield, and the message written by the witch in the sky: "Surrender Dorothy."
An interesting sidenote: the plot of The Wizard of Oz has often been used, rightly or wrongly, as a Parable on Populism in the Gilded Age, to explain the political situation at the time of its writing, including the 1896 Presidential election, and the turn-of-the-century Populist movement. Here are a few of the allegorical connections, most of which were originally recognized by Henry M. Littlefield, and published in the American Quarterly in 1967:
the land of Oz - oz. is the standard abbreviation for ounce, in accordance with the other symbolism
Four land areas in Oz, plus a major city

the Eastern area (Munchkin Country, blue in color, representing 'blue collar' workers)
the Western area (Winkies Country, yellow in color, land of desert and gold)
the Northern area (Gillikin Country, purple in color)
the Southern area (Quadling Country, red in color, representing 'red-necks')
Emerald City - representative of Washington, D.C., with a greenish color associated with greenbacks (in the center of the land of Oz, bordering all four areas);

Two Good Witches (the movie only portrayed one good witch, from the North)

the Good Witch of the North - New England, a stronghold of Populists
the Good Witch of the South - the South, another Populist area

Two Bad, Evil or Wicked Witches

the Wicked Witch of the East - the Eastern industrialists and bankers (money interests) who controlled the people; when the Wicked Witch of the East was killed off (immediately), the Munchkins (little people or workers) were freed, and Dorothy acquired the Witch's shoes
the Wicked Witch of the West - she assembled forces (flying monkeys, the Winkies, etc.) to attack Dorothy (and her companions) and acquire her magical shoes

Kansas - rural home of main character; a gray area or b/w
the main characters:

Dorothy Gale - she was representative of the good-natured American people, kind-hearted, from Kansas; she rode a tornado (or gale) to the land of Oz; possibly a young Mary Lease
Dorothy's silver shoes ('ruby' in the film to take advantage of Technicolor) - representative of the 'silver standard' (acc. to the Populists, "the free and unlimited coinage of silver"); the "Free Silver Movement" was known as the "storm out of Kansas"; Dorothy acquired the shoes (with a powerful charm) of the Wicked Witch of the East, and then began her quest to Oz on the 'yellow brick' road
Toto - representative of the Prohibitionists (or Temperance Party) who were known as 'Teetotalers' ("Toto followed soberly behind"); they were an important part of the 'silverite' coalition

the Scarecrow - wise and smart (although he thought he needed a brain); representative of the naive (and exploited) western farmers

the Tin Woodman - efficient (although he thought he needed a heart); representative of the dehumanized Eastern factory workers; he was freed when Dorothy oiled his joints
the Cowardly Lion - brave (although he thought he needed courage); representative of Democratic-Populist Presidential candidate William Jennings Bryan, a proponent of free silver, a great orator who delivered "The Cross of Gold" speech promoting bimetallism or free silver at the 1896 Democratic Convention

the Wizard - at first appearing as a giant head - a politician; representative of President Grover Cleveland, or Republican Presidential candidate William McKinley
the Kalidads (tigers/bears) - scared off by the Cowardly Lion, representative of journalists

the Yellow Brick road - the 'gold standard' - paved with gold, but leads nowhere
the Poppy field - representative of the opium war with China, and the threat of anti-imperialism
Because Buddy Ebsen (later noted for being cast as Jed Clampett in TV's The Beverly Hillbillies) was removed from the production as the original Tin Man because of an adverse allergic reaction to silver dust make-up, Jack Haley replaced him. [Haley was the father of producer Jack Haley, Jr., who was once married to Judy Garland's daughter Liza Minnelli for five years from 1974-78.] Established 20th Century Fox's star Shirley Temple was considered for the Garland Kansas farmgirl role (but the studio refused to loan her out to MGM), as was W.C. Fields for the role of the Wizard, and Gale Sondergaard as the Wicked Witch. Universal's Deanna Durbin was also considered to play the lead role of Dorothy. Ray Bolger was originally cast as the Tin Woodsman, but changed his mind to play the Scarecrow - in recognition of his childhood idol Fred Stone (who had originated the stage role in the early 1900s), and because he claimed a pre-existing verbal agreement.
The beloved film in Hollywood's most classic year was nominated for six Academy Awards, including Best Picture (producer Mervyn LeRoy), Best Color Cinematography (Hal Rosson), Best Interior Decoration (Cedric Gibbons, William A. Horning), Best Special Effects, Best Song ("Over the Rainbow" by Harold Arlen and lyrics by E.Y. Harburg) and Best Original Score (Herbert Stothart), and won only two Oscars - for its dual musical nominations. [It was competing against the domineering multiple Oscar winner, Gone With the Wind (1939).]
Plot Synopsis
---
The opening title of the film introduces the fantasy tale:
For nearly forty years this story has given faithful service to the Young in Heart; and Time has been powerless to put its kindly philosophy out of fashion. To those of you who have been faithful to it in return...and to the Young in Heart...we dedicate this picture.
In an expressionistic, sepia-toned (beige) opening, young adopted orphan Dorothy Gale (16 year old star Judy Garland, whose real name was Frances Gumm) hurries down a flat, dusty Kansas country road with fences on either side, accompanied by her small black terrier dog Toto. [Teenaged Judy Garland was far too old for the part of young 9 year-old Dorothy in Baum's storybook - so her breasts had to be bound to flatten them and make her appear younger. She wears a blue-and-white gingham pinafore, and sports pigtails.] Obviously being chased or pursued, Dorothy is breathlessly concerned about the welfare of her pet:
She isn't coming yet. Toto - did she hurt you? She tried to, didn't she? Come on, we'll go tell Uncle Henry and Auntie Em!
Apprehensively, Dorothy rushes into the bustling family farm and flings open the gate where her guardians - matriarchal Auntie Em (Emily) (Clara Blandick) and kindly Uncle Henry (Charles Grapewin) are counting eggs/chicks - their source of income - and worrying about their broken down chicken incubator. [They bluntly ignore their real 'chick' - Dorothy herself.] She attempts to tell them about their nasty neighbor, the dreaded Miss Almira Gulch (Margaret Hamilton):
Dorothy: Just listen to what Miss Gulch did to Toto. She --
Auntie Em: Dorothy, please. We're trying to count.
Dorothy: Oh, but Aunt Em, she...
Uncle Henry: (gently admonishing) Don't bother us now, honey. This old incubator's goin' bad and we're likely to lose some of our chicks.
The upset young girl isn't taken seriously by her aunt and uncle - the adults are too busy with saving some newly-hatched chicks to be bothered and listen to her foolish concerns. Dorothy tries to convince them that Miss Gulch hit Toto on the back with a rake because he got into her garden and chased her "nasty old cat." "He doesn't do it every day - just once or twice a week and he can't catch her old cat anyway," she explains. The cranky neighbor is threatening to have her little dog taken by the sheriff and put to sleep.
Dorothy takes her problem over to the farm's hired helpers who are fixing a wagon in the farmyard - maybe they will listen. Tall and slender hired man Hunk (Ray Bolger), quickly characterized as lacking brains and intelligence (foreshadowing his other role as the brains-lacking Scarecrow), off-handedly counsels Dorothy, prophetically, to use her brain - and not walk home near Mrs. Gulch's house to avoid trouble:
Hunk: Now look it, Dorothy. You ain't usin' your head about Miss Gulch. Think you didn't have any brains at all!
Dorothy: I have so got brains.
Hunk: Well, why don't you use 'em? When you come home, don't go by Miss Gulch's place. Then Toto won't get in her garden, and you won't get in no trouble, see?
Dorothy: Oh, Hunk. You just won't listen, that's all.
Hunk: Well, your head ain't made of straw, you know.
Farm worker Zeke (Bert Lahr) is herding the hogs into a fenced enclosure. As Zeke feeds the pigs and Dorothy tight-rope walks precariously across a pig-pen fence top, he prophetically advises the distraught girl to have courage (foreshadowing future scenes of his own bravery and cowardice as the Cowardly Lion):
Zeke (to the pigs): Say, get in there before I make a dime bank outta ya! (To Dorothy) Are you gonna let that ol' Gulch heifer try and buffalo ya? She ain't nothin' to be afraid of. Have a little courage, that's all.
Dorothy: I'm not afraid of her.
Zeke: Well, the next time she squawks, walk right up to her and spit in her eye. That's what I'd do.
Dorothy topples off the fence railing into the pig sty, causing Zeke to frantically haul her out from the squealing pigs and rescue her from being trampled - and then faint with fright at his own bravery . After being rescued, Dorothy realizes: "Why Zeke, you're just as scared as I am!" Hunk teases Zeke: "What's the matter? Gonna let a little ol' pig make a coward out of ya?" The third hired hand, Hickory (Jack Haley), who has been preoccupied with "tinkering" on a metal contraption joins the commotion. [He is building a tornado-stopping device in an attempt to become famous - something that was cut from the script.] Auntie Em is disturbed by the "three shiftless farmhands" and their "jabber-wapping when there's work to be done," but Hickory, who desires social status and respect boasts (foreshadowing a future scene in which, as the Tin Man, he is frozen with rust like a statue): "But someday, they're gonna erect a statue to me in this town." She jokes with him: "Well, don't start posing for it now."
After giving everyone some freshly baked crullers [fat-fried sweet cakes], Dorothy's harried Aunt rebuffs her and sternly chides her for causing trouble - suggesting that she find a place where she won't get into anyone's way:
Now Dorothy, will you stop imagining things. You always get yourself into a fret over nothing. Now you just help us out today and find yourself a place where you won't get into any trouble.
This cues up a forlorn and crestfallen Dorothy for the singing of her beloved, haunting and plaintive, but immortal song "Over the Rainbow." Dreaming, yearning and wistfully longing for a trouble-free, fascinating, far-away world beyond her home-land where happiness can be found - where bluebirds fly and there are colorful rainbows. [In Baum's book, Kansas was "gray" and drab - appropriately accentuated by the sepia-toned opening that is faithful to the source material.] In the barnyard, she strolls from a bale of hay (on which she leans back), to an old wheel (that she pulls), to a discarded piece of farm machinery (on which she and Toto sit), while singing about leaving her home:
(Speaking) Some place where there isn't any trouble
(To Toto) Do you suppose there is such a place, Toto? There must be.
It's not a place you can get to by a boat or a train,
It's far, far away, behind the moon, beyond the rain.

(Singing) Somewhere over the rainbow, way up high
There's a land that I've heard of, once in a lullaby
Somewhere over the rainbow, skies are blue
And the dreams that you dare to dream
Really do come true
Some day I'll wish upon a star
And wake up where the clouds are far behind me
Where troubles melt like lemon drops
Away above the chimney tops
That's where you'll find me

Somewhere over the rainbow, blue birds fly
Birds fly over the rainbow
Why then, oh why, can't I?
Songbirds sing as shafts of sunlight pierce through the clouds.
If happy little bluebirds fly beyond the rainbow
Why, oh why, can't I?
Just then, in a memorable image accompanied with ominous music, Dorothy's fantasies are shattered by the appearance of a stern-faced, ugly Miss Gulch riding her creaky bicycle down the country road toward the farm. After leaning her bicycle against the fence, she speaks to Henry to complain about Dorothy (actually about Dorothy's dog):
Miss Gulch: I want to see you and your wife right away about Dorothy.
Henry: Dorothy? Well, what has Dorothy done?
Miss Gulch: What's she done? I'm all but lame from the bite on my leg.
Henry: You mean she bit ya?
Miss Gulch: No, her dog.
Henry: Oh, she bit her dog, eh?
In the living room, the exasperated, unpleasant and sour Miss Gulch presents Dorothy's guardians with an ultimatum. She has a court order to take Toto away as Dorothy clutches her dog protectively in her arms: "That dog's a menace to the community. I'm taking him to the sheriff and make sure he's destroyed." Dorothy begs for reconsideration: "Destroyed? Toto? Oh you can't. You mustn't. Auntie Em, Uncle Henry, you won't let her, will ya?...Please, Aunt Em. Toto didn't mean to. He didn't know he was doing anything wrong. I'm the one that ought to be punished. I let him go in her garden. You can send me to bed without supper." Dorothy identifies with her dog - and volunteers to take Toto's place for punishment. The hated, nasty woman threatens further action (to take the whole farm if she doesn't get the dog), although Auntie Em insinuates that Toto is harmless to almost everyone:
Miss Gulch: If you don't hand over that dog, I'll bring a damage suit that will take your whole farm. There's a law protectin' folks against dogs that bite.
Auntie Em: How would it be if she keeps him tied up? He's really gentle, with gentle people, that is.
Miss Gulch: Well, that's for the sheriff to decide.
Miss Gulch presents a sheriff's order allowing her to take Toto, and Dorothy's helpless guardians, after protesting with only token resistance, are forced to comply with the law and give up the dog: "Well, we can't go against the law, Dorothy. I'm afraid poor Toto will have to go." As Uncle Henry stuffs Toto into the wicker basket to be put on the back of the woman's bicycle, Dorothy prophetically screams: "No, no, I won't let you take him. You go away, well I'll bite you myself...You wicked old witch! " After Dorothy turns away to her room, sobbing, Auntie Em criticizes Miss Gulch for her misguided influence and strength in the community - but then withholds her anger due to her "Christian" charity:
Almira Gulch! Just because you own half the county doesn't mean you have the power to run the rest of us. For twenty-three years, I've been dying to tell you what I thought of you. And now, well, being a Christian woman, I can't say it.
A little way down the country road as Miss Gulch pedals away, the redoubtable Toto pokes his head out of her wicker basket and escapes from her clutches - he jumps out as she rides off unaware. He scurries back to the farm and jumps into the window of Dorothy's bedroom [with poppy-flower wallpaper] to be embraced and hugged tightly (where Dorothy lies crying next to her bed). Fearing that Miss Gulch will return to claim Toto, and realizing how inadequate and weak the adult figures (parent substitutes) are in her life, Dorothy immediately decides to take control of her own destiny. She determines that she will run away from home with Toto:
They'll be coming back for you any minute. We've got to get away. We've got to run away.
Without hesitation, she swiftly packs her suitcase and they trudge down the lonely country dirt road together to find a better world away from the farm. On their way after crossing a wooden bridge, the runaways encounter a horse-drawn carnival wagon broken down in an embankment, inscribed on the side with big letters: "Professor MARVEL, Acclaimed by The Crowned Heads of Europe, Let Him Read Your Past, Present & Future in His Crystal, Also Juggling and Sleight of Hand."
Prophetically also, white-haired Professor Marvel (Frank Morgan), dressed in formal clothes and wearing a black neckerchief around his collar is a genial, but fraudulent, down-and-out fortune teller and carnival showman. Playing his accustomed role as a kindly fortune teller, he makes several guesses about what she is doing by analyzing her appearance, while roasting a hot dog/sausage on a long stick over an open fire at his campsite. He miraculously divines/'guesses' her plight and objectives by noting her little suitcase:
The Professor: You're traveling in disguise, no, that's not right, I...you're going on a visit? No, I'm wrong, that's, uh, you're, uh, you're running away.
Dorothy: How did you guess?
The Professor: Professor Marvel never guesses, he knows. Now why are you running away? No, no, no, don't tell me. Uh, they don't understand you at home, they don't appreciate you. You want to see other lands, big cities, big mountains, big oceans!
Dorothy: Why, it's just like you could read what was inside of me.
While Professor Marvel is not looking, Toto impolitely eats his hot dog, but is quickly forgiven by the medicine man.
Dorothy wishes to join him on his adventures: "Why can't we go with you and see all the Crowned Heads of Europe?" To find an answer to her request, he consults his crystal ball inside the wagon: "I never do anything without consulting my crystal first." He leads Dorothy inside the wagon where a crystal ball rests on a low table. To promote his magic, he removes his broad-brimmed black hat and places a silken turban on his head:
This is the same, genuine magic authentic crystal used by the priests of Isis and Osiris in the days of the Pharaohs of Egypt, in which Cleopatra first saw the approach of Julius Caesar and Marc Antony. And so on and so on.
After she is instructed to close her eyes so she can be "better in tune with the infinite," he rummages through her basket and finds a photo of her with her kindly Aunt next to the farm's white picket fence. Cleverly, he reports a painful vision of a house, a picket fence, a barn, a weathervane of a running horse, and a care-worn farm woman wearing a polka-dot dress. He reports that the woman is crying:
The Professor: Her name is Emily.
Dorothy: That's right. What's she doing?
The Professor: Well I, uh, I can't quite see. Why she's crying. Someone has hurt her. Someone has just about broken her heart.
Dorothy: Me?
The Professor: Well, it's uh, someone she loves very much. Someone she's been very kind to. Someone she's taken care of in sickness.
Dorothy: I had the measles once and she stayed right by me every minute. What's she doing now?
The Professor: ...What's this? Well, she's, she's putting her hand on her heart. Oh, she's, she's dropping down on the bed.
In a very subtle manner, Professor Marvel forces Dorothy to fear both losing and hurting her Auntie Em. He persuades Dorothy to return home, playing on her sense of loyalty and concern toward her family. Understandably, Dorothy is worried about her absence from the farm and its effect upon her sick Aunt. She jumps up and is willing to return home immediately, as a fierce storm brews and looms on the horizon: "I have to get to her right away." She turns back to thank the Professor before hurrying up to the road to get home: "Goodbye, Professor Marvel, and thanks a lot." Marvel is concerned about the safety of his horse and the young girl: "Better get under cover, Sylvester, there's a storm blowin' up, a whopper! Just speakin' the vernacular of the peasantry. Poor little kid. I hope she get's home all right."