Fred Astaire and Ginger Rogers: The Dance Duo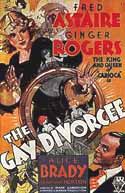 Ginger Rogers and Fred Astaire's first teaming was in RKO's Flying Down to Rio (1933), famous for its image of a plane wing holding dancing girls. From then on, their films combined light sophistication, misunderstandings and mistaken identity, stylish backdrops, witty wisecracks, and - of course, incomparable, expressive dance numbers. They danced the 17 minute 'The Continental' in RKO's The Gay Divorcee (1934). [The film might have been called The Gay Divorce, but the Hays Production Code disapproved with the argument that divorces couldn't be 'gay'.]
The best dance/musicals of RKO's famed dance team for RKO in the 1930s (of their 9 films for RKO) included:
Top Hat (1935) (featuring the music of Irving Berlin)
George Stevens' Swing Time (1936) (featuring the music of Jerome Kern, "Never Gonna Dance," "The Way You Look Tonight," "A Fine Romance," "Pick Yourself Up," and Astaire's only film/dance number performed in blackface as a tribute to black dancer Bill Robinson: "Bojangles of Harlem")
Follow the Fleet (1936), with their serious dance number, "Let's Face the Music and Dance"
Shall We Dance? (1937) (featuring the music of George Gershwin)
Astaire and Rogers collaborated together in ten films during their immortal dance era.
Katharine Hepburn and Bette Davis: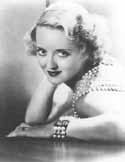 Young Katharine Hepburn appeared in her Hollywood film debut, co-starring with John Barrymore in a serious drama entitled A Bill of Divorcement (1932). In the mid 1930s, Hepburn starred in Alice Adams (1935), famous for its painful-to-watch dinner scene. Later in the decade, she would star with Ginger Rogers in Stage Door (1937), a backstage look at prospective New York theatrical actresses living together in a boarding house.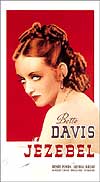 Bette Davis emerged as a star at Warner Bros. only after being loaned out to RKO and starring as a sluttish, wicked Cockney waitress in the studio's Of Human Bondage (1934). Snubbed for an Academy Award for her performance, she was given a consolation Oscar for Best Actress in Warners' Dangerous (1935), a lesser role.
In 1938, Bette Davis again demonstrated her star status with her portrayal of a selfish Southern belle in William Wyler's Jezebel (1938), a role she was given (again as consolation) after failing to win the coveted role of Scarlett O'Hara in the following year's epic, Gone With The Wind. For Davis' performance, she won her second Best Actress Award. In the following year, she starred in two of her best-known roles: in Dark Victory (1939), and The Private Lives of Elizabeth & Essex (1939). One of the most famous weepers of all time, King Vidor's Stella Dallas (1937) starred Barbara Stanwyck as the sacrificial-mother figure.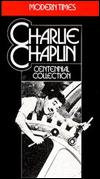 Charlie Chaplin:
Comedian-director Charlie Chaplin survived the arrival of sound by deliberately remaining silent in his two comedy films in the 30s. [He did not perform in a film with a speaking role until the 1940s.] One of his finest films as The Tramp, City Lights (1931) featured a soundtrack and sound effects, but its dialogue was provided by title cards. Chaplin, again as the pantomiming Little Tramp with co-star Paulette Goddard, satirized the dehumanizing industrial society in his still-silent production of Modern Times (1936) - considered the last great silent film. It had synchronized sounds (various noises) and included a nonsense song that Chaplin actually sang with gibberish. The masterful film symbolized how technology, mass production, and machinery could literally suck victims into its gears. Other silent film comedians, such as Buster Keaton and Harold Lloyd did not survive into the 30s.
Other 30s Comedians:
Mae West

The 30s also saw the bawdy suggestiveness of the innuendo-rich dialogue and body language of busty actress/comedienne Mae West, who was brought westward from Broadway by Paramount and made her first major appearance in She Done Him Wrong (1933) and then in I'm No Angel (1933), both with co-star Cary Grant. Her performances, displaying a classic combination of sex, verbal lust, comedy, and suggestiveness, spurred the movement for greater movie censorship by the mid 1930s through the Hays Office. Her suggestive double-entendres, such as in these classic lines: "When I'm good, I'm very good, but when I'm bad, I'm better," and "Well, it's not the men in your life that counts, it's the life in your men," offended the conservative Production Code.
W. C. Fields
Silent film star and vaudeville comedian W. C. Fields often portrayed an iconoclastic, hen-pecked, put-upon, middle-aged husband, who would imbibe to escape from his troubles. His opponents includes wives, girlfriends, children, bankers, and various minority groups. He starred in two of his greatest films in this decade, both low-budget films:
The Marx Brothers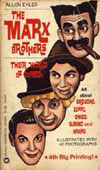 The mad-cap, anarchic comedians, the Marx Brothers dominated the 1930s. Their first films were made by Paramount Studios (first on the East Coast and then in Hollywood) - the Marxs' second film comedy in the sound era was Animal Crackers (1930). They also starred in Norman McLeod's Horse Feathers (1932), a take-off on college education and football. Their last film for Paramount was Leo McCarey's critically-acclaimed, surrealistic, anti-establishment, anti-war classic Duck Soup (1933) - a flop in the year of its release. Their biggest hit, their first film for MGM, was Sam Wood's classical music/comedy A Night at the Opera (1935), teaming them with the legendary Margaret Dumont. At the peak of their success, the Marx Bros. repeated their comedic formula in Sam Wood's A Day At The Races (1937), an enjoyable film - but the last of their great comedies.
Laurel and Hardy
The popular comedic pair Stan Laurel and Oliver Hardy first appeared together in the two-reel comedy short A Lucky Dog (1922), filmed in 1917, although they were not the typical Laurel and Hardy pair - yet. Under contract to Hal Roach, they made their feature film debut as prisoners in the 56 minute comedy Pardon Us (1931). They also starred in the Oscar-winning short subject The Music Box (1932). Their best film is often considered to be Sons of the Desert (1933) in which they starred as loyal lodge members and hen-pecked husbands who fail to deceive their wives. Among their many films, they also portrayed two sets of twins in the comedy of errors Our Relations (1936), and starred in a delightful slapstick western Way Out West (1937).
The Popular Thin Man Series: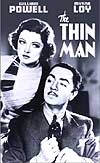 The first of six popular comedy/mysteries from 1934 to 1947 in The Thin Man series, based on the Dashiell Hammett novels, opened in 1934 - The Thin Man (1934). It starred the married, sophisticated detective duo William Powell and Myrna Loy (as Nick and Nora Charles, a happy and fun-loving couple), famous for their witty quips, clever bantering, wisecracks, sophisticated humor, and romance. [The two were first paired in director W.S. Van Dyke's previous Manhattan Melodrama (1934), and he convinced MGM to put them together again. Ultimately, Powell and Loy appeared in 14 feature films together (from 1934 to 1947), one of Hollywood's most prolific on-screen pairings.] Their six-film Thin Man series included the following (the first four films were directed by W.S. Van Dyke):
The Thin Man (1934), d. W.S. Van Dyke - with four Academy Award nominations (no wins)
After the Thin Man (1936), d. W.S. Van Dyke - a Best Picture nominee (the first sequel nominated for Best Picture)
Another Thin Man (1939), d. W.S. Van Dyke
Shadow of the Thin Man (1941), d. W.S. Van Dyke
The Thin Man Goes Home (1945), d. Richard Thorpe
The Song of the Thin Man (1947), d. Edward Buzzel
The Sherlock Holmes Series: Beginning Late in the Decade
Fox Studios was responsible for launching the classic Basil Rathbone/Nigel Bruce Sherlock Holmes mystery series, popularized in the 1940s by Universal Studios with almost a dozen further installments. The first of fourteen appearances, pairing Basil Rathbone as Sherlock Holmes and Nigel Bruce as Dr. Watson, was in Fox's The Hound of the Baskervilles (1939) and soon after in Fox's follow-up The Adventures of Sherlock Holmes (1939).
Screwball Comedy: (See the comedy film genre)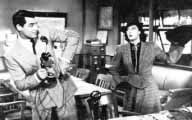 Sophisticated comedy also reached its peak during the 1930s, due in part to the burgeoning restrictions of the Hays Production Code. The battle of the sexes could be humorous, teasing, imaginative, and affectionate without depictions of passionate sex, kissing, and couples in bed together. In fact, some of the cleverest lines of dialogue (with verbal wit and camouflaged double-entendre) could be found in screwball comedies.
The best screwball comedies (madcap farces), with their typical frenetic pace, physical slapstick humor, and quick one-liners, included four films from Howard Hawks:
Twentieth Century (1934), adapted by Ben Hecht and Charles MacArthur from their Broadway play hit, with stars John Barrymore and Carole Lombard
the very funny battle-of-the-sexes Bringing Up Baby (1938)
His Girl Friday (1940), with Cary Grant and Rosalind Russell, another comedic remake of The Front Page (1931)
I Was a Male War Bride (1949), with Cary Grant in hapless pursuit of an Army Lieutenant (Ann Sheridan)
The best performers in the screwball comedy genre were: Katharine Hepburn, Carole Lombard, Irene Dunne, Melvyn Douglas, and Cary Grant.
Other examples of great screwball films include Ernst Lubitsch's Design for Living (1933), Gregory La Cava's My Man Godfrey (1936), Richard Boleslawski's Theodora Goes Wild (1936) (Irene Dunne's first starring comedy), William Wellman's Nothing Sacred (1937), Leo McCarey's The Awful Truth (1937) with Cary Grant and Irene Dunne, and George Cukor's Holiday (1938).

Film History of the 1930s
Part 1, Part 2, Part 3, Part 4, Part 5, Part 6
---



---