Young Stars: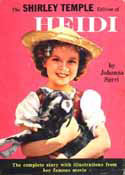 In 1933, Twentieth Century Fox signed 5 year-old Shirley Temple. Much to their financial delight, the studio provided audiences with their pint-sized star radiating optimism and singing and dancing in hits like Stand Up and Cheer (1934), Bright Eyes (1934), Heidi (1937), Rebecca of Sunnybrook Farm (1938) and The Little Princess (1939). From 1935 to 1938, Shirley was the number one box-office attraction in the world, out-doing even Gable, Tracy, Robert Taylor, Myrna Loy, Will Rogers, and the dancing team of Astaire/Rogers. She was overtaken in 1939 by another young star, MGM's rascally Mickey Rooney (see more below).
Universal's young teen singer-star 15 year old Deanna Durbin made her feature film debut in the musical comedy Three Smart Girls (1936) that gathered up three Oscar nominations (including Best Picture) and helped save the studio from bankruptcy. The studio followed with the family 'comedy of errors' sequel - Three Smart Girls Grow Up (1939), and a second sequel a few years later, Hers to Hold (1943).
Young star Mickey Rooney appeared only in the supporting cast as a character in the first film featuring the 'Hardy Family' of Carvel (a small, idealized American town) - A Family Affair (1937). The Hardy Family household was led by Judge Hardy played by Lionel Barrymore. After two more films, You're Only Young Once (1937) and Judge Hardy's Children (1937), Rooney's character was spring-boarded to leading man status in the first of the long-running Andy Hardy film series for MGM, beginning with Love Finds Andy Hardy (1938). It was the first of the Hardy films to have Andy's name in the title, and it was the fourth of sixteen films stretching over more than two decades (until 1958) that now starred Mickey Rooney (as a well-to-do teen who would often get into trouble). As the major star of the series, Rooney had various young teenage co-stars including Lana Turner and Judy Garland.
The same year, Rooney (as a reformed juvenile delinquent) co-starred with Spencer Tracy (as a kindly priest) in the classic MGM drama, Boys' Town (1938). In 1938, Rooney won one of two Oscars given that year to young stars, the other going to Deanna Durbin.
The Dead End Kids:
In contrast to the cheerful and effervescent antics of well-to-do teen Andy Hardy (Mickey Rooney) and co-star Judy Garland, the street punks (or juvenile delinquents) named the Dead End Kids (Gabriel Dell, Leo Gorcey, Billy Halop, Bobby Jordan, Huntz Hall, Bernard Punsley) were from the other side of the tracks - in NYC's urban tenements and waterfront slums, although they were actually professional actors. The scampish teens were known for their unruly wisecracking, and their toughness (with a soft heart). After their introduction in Dead End (1937), they also appeared in six full-length features for Warner Bros. from 1938-1939:
William Wyler's and Goldwyn's Dead End (1937) - their first film, with Humphrey Bogart (who appeared in three of the Kids' films through 1938); Sidney Kingsley's caustic drama about young hoodlums was translated from the Broadway stage to the screen (with a screenplay by Lillian Hellman), with the stage cast of "Dead End" kids reprising their roles; nominated for four Academy Awards
Warner Bros.' Angels With Dirty Faces (1938)- with James Cagney and Pat O'Brien as two slum boys who grew up and took very different directions in their lives
Crime School (1938) - with the kids in a reform school run by a mean and sadistic superintendent
The Angels Wash Their Faces (1939), with Ronald Reagan as a crusading DA
They Made Me a Criminal (1939) - well-known choreographer/director Busby Berkeley's second film for MGM
Hell's Kitchen (1939)
On Dress Parade (1939) - the final entry in the long-running series
The Kids also made numerous movies for other studios, evolving into Monogram Pictures' The East Side Kids (in 21 pictures), Universal's Little Tough Guys (in 12 movies), and of course, their most famous role as The Bowery Boys (in 48 films).
Adventure Films, Epics, and Westerns: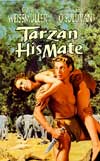 1920s Olympic swimming champion Johnny Weissmuller portrayed a vine-swinging, jungle-calling ape man called Tarzan (the 10th incarnation) in the first of his twelve films as "Lord of the Jungle" in Tarzan the Ape Man (1932), which was then quickly followed with Tarzan and His Mate (1934). [In the first six of these films, his co-star was the lovely Maureen O'Sullivan.]
Adventure films stirred audiences like Best Picture Award winner Mutiny on the Bounty (1935) (the first (and best) of three film versions), a commercially-successful film shot on location, brought a merciless Captain Bligh (Charles Laughton) into conflict with Fletcher Christian (Clark Gable), producing the popular catch-phrase: 'Mr. Christian - Come here!' The most expensive serial to date, Universal's Flash Gordon (1936), starring Buster Crabbe, premiered its first chapter in 1936.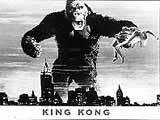 One film had everything, and was perhaps cinema's most original creation - RKO's spectacular, campy adventure/fantasy film by producer-directors Merian C. Cooper and Ernest G. Schoedsack King Kong (1933), a phenomenal film that raised the bar for special effects for many decades - due to the genius of special effects man Willis H. O'Brien. It utilized stop-motion animation and one of the earliest uses of back-projection, and it was accompanied by Max Steiner's emphatic score.
The film, the first to be heavily promoted on the radio, starred Fay Wray as the love interest - an attractive object of the giant ape's desire, held in his clutching hands just before he met his spectacular death in a last stand on top of New York's Empire State Building. The classic, futuristic sci-fi film from British producer Alexander Korda's London Films - Things to Come (1936), envisioned the future from the perspective of the 1930s.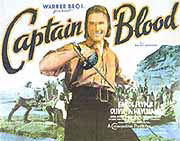 One of the greatest swashbucklers of all-time came in the late 1930s Technicolor adventure film - Warner Bros.' The Adventures of Robin Hood (1938), with Errol Flynn and Olivia de Havilland playing Robin Hood and Maid Marian respectively - it was the costliest film ever made by the studio up to that time. Flynn was also featured in many classic costumed adventure films in the decade, including his star-making role in Captain Blood (1935), The Charge of the Light Brigade (1938), and The Sea Hawk (1940).
The western film genre was honored when the panoramic pioneering film Cimarron (1931) won the Best Picture Academy Award - the first and only Oscar RKO Studios ever received. By the late 1930s, Gene Autry became the cinema's most popular cowboy, after appearing and starring in his first B-western feature film, Republic Pictures' Tumbling Tumbleweeds (1935).

Claudette Colbert starred as the famed Egyptian queen in Cecil B. DeMille's opulent production of Cleopatra (1934). Norwegian Olympic skating star Sonja Henie had her film debut in Fox's musical One in a Million (1936). After her discovery at the age of 15 at Schwab's Drugstore in Hollywood and her recommendation to director Mervyn LeRoy, young teenaged Lana Turner launched her career with her memorable "tight sweater" debut - a 75-foot tracking shot in Warners' They Won't Forget (1937). Ronald Reagan first appeared in a feature film in 1937, in Warner Bros.' Love Is On the Air (1937). Hedy Lamarr made her American film debut in the late 1930s, co-starring with Charles Boyer in Algiers (1938), following her scandalous nude appearance in the Czech film Ecstasy (1933).
The Hays Production Code: The Hays Office
Backed by the Catholic church and their Catholic Legion of Decency (founded in 1934 by a council of Catholic American Bishops), and the Wall Street financiers who supported the studios, former Postmaster General Will Hays headed up Hollywood's self-regulatory Motion Picture Producers and Distributors Association (MPPDA) that was founded in 1922. It created the Studio Relations Committee (SRC) in 1927 (under the command of stringent Catholic Joseph Breen), issued a definitive Motion Picture Production Code in March, 1930, and created the Production Code Administration (PCA) (also headed by Breen) in 1934. The "Pre-Code" years refers to the five years before the Code took effect, between 1930 and mid 1934. When the code became official, Hollywood would operate under the constraint of a rigid set of mandates.
Regulations of the code included censorship of language, references to sex, violence, and morality. The conservative and repressive code required, among other things, no promiscuity, no venereal disease, no excessive violence or brutality, twin beds for married couples, no ridicule of ministers of religion, the prohibition of various words ("sex", "hell", and "damn"), and no clear depictions of rape, seduction, adultery or passionate, illicit sex. There was to be no "excessive and lustful kissing, lustful embracing, suggestive postures and gestures." Sinful activity (such as criminality or sex outside marriage) could often exist in a film IF it was punished or if it ended in misery.
All films would be submitted for a "seal of approval" - and if a film was unacceptable and denied a seal, it was not to be exhibited in theaters, and the studio would be fined $25,000. Many films were either suppressed, or severely mutilated or censored to fit the seal's requirements, but until 1934, restrictions on content were mostly evaded and ignored. In the early days of the Depression in the early 1930s, the desperate Hollywood studios used the open sexuality of platinum blonde Jean Harlow and the outrageous bawdiness of Mae West to increase their profits. The Hays Office and church leaders would soon interpret their screen behaviors as obscene and lacking in morals.

The steamy Red Dust (1932) caused controversy for its heated-up love triangle between adulterous Mary Astor, Clark Gable, and prostitute Jean Harlow (and for her nude bathing scene in a rain-barrel). Beginning in mid-year 1934 (until challenges in the mid-1950s and the abolition of the code in 1968), films felt the cold effects of strict enforcement, vigilance and censorship of the (Hays) Production Code of the MPPDA.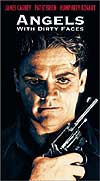 Film studios submitted their films for review before release in order to be awarded an MPPDA seal of approval - if they met strict standards of decency. Without a seal, films were threatened with negative publicity and potential box-office failure. The era of separate beds and squeaky-clean morality was just beginning with the enforcement of the Code after mid-1934, and would remain for over 30 years.
The Code Challenges Gangster Films:
Especially after Warners' early cycle of gritty crime and gangster films, including Little Caesar (1930), Public Enemy (1931), and Scarface (1932), this distinctive genre of films was required to be cleaned up, to display social consciousness, to combat the depiction of the criminal as a folk hero, and to include platitudes that crime-does-not-pay. They were also supposed to show no details of how crimes were committed, and criminals were not allowed to be seen killing lawmen (including bank guards or detectives). The "classical" gangster film was forced to evolve into other genre variations including: "gangster-as-cop" films (typified by G-Men (1935)), and "Cain-and-Abel" sagas (such as Manhattan Melodrama (1934) and Angels With Dirty Faces (1938) in which swaggering gangster Rocky Sullivan (James Cagney), who was the 'bad guy' product of his environment, was executed in the final chilling scene for his crimes).

Film History of the 1930s
Part 1, Part 2, Part 3, Part 4, Part 5, Part 6
---



---