2008
The winner is listed first, in CAPITAL letters.
Best Picture


SLUMDOG MILLIONAIRE (2008)


The Curious Case of Benjamin Button (2008)


Frost/Nixon (2008)


Milk (2008)


The Reader (2008)
Best Animated Feature Film


WALL-E (2008)


Bolt (2008)


Kung Fu Panda (2008)
Actor:
SEAN PENN in "Milk," Richard Jenkins in "The Visitor," Frank Langella in "Frost/Nixon," Brad Pitt in "The Curious Case of Benjamin Button," Mickey Rourke in "The Wrestler"
Actress:
KATE WINSLET in "The Reader," Anne Hathaway in "Rachel Getting Married," Angelina Jolie in "Changeling," Melissa Leo in "Frozen River," Meryl Streep in "Doubt"
Supporting Actor:
HEATH LEDGER in "The Dark Knight," Josh Brolin in "Milk," Robert Downey, Jr. in "Tropic Thunder," Philip Seymour Hoffman in "Doubt," Michael Shannon in "Revolutionary Road"
Supporting Actress:
PENELOPE CRUZ in "Vicky Cristina Barcelona," Amy Adams in "Doubt," Viola Davis in "Doubt," Taraji P. Henson in "The Curious Case of Benjamin Button," Marisa Tomei in "The Wrestler"
Director:
DANNY BOYLE for "Slumdog Millionaire," Stephen Daldry for "The Reader," David Fincher for "The Curious Case of Benjamin Button," Ron Howard for "Frost/Nixon," Gus Van Sant for "Milk"
---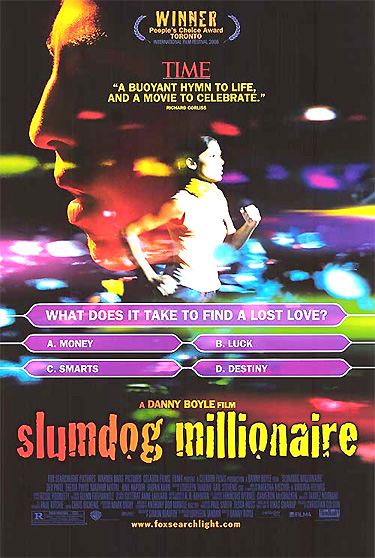 2008 represented the continued rise of smaller studios and development companies, proven by the dominance of the Best Picture-winning independent film Slumdog Millionaire. The low-budget film was made for only $15 million, had no American superstars, lots of foreign-language dialogue, and it struggled to find a distributor. It also had a 'feel-good' theme and romantic sub-plot, a song/dance finale, an Oscar-winning song "Jai Ho," while at the same time exhibiting the extreme poverty of India.
Its major competitor, the big-budget The Curious Case of Benjamin Button, was produced by a major studio (a co-production between Warner Bros. and Paramount), featured major stars, an extensive marketing campaign, a well-respected director, and expensive CGI-effects. And it suffered a record loss among films with 13 nominations -- it had the fewest wins for any film with that many nods.
The Curious Case of Benjamin Button, a Warner Bros./Paramount Film co-production
Frost/Nixon, from Universal
Milk, from Focus Features
The Reader, from The Weinstein Company
Slumdog Millionaire, from Fox Searchlight
All five titles of the Best Picture-nominated films referred to the film's characters (this also occurred in 1964), and were mostly tales from the past. The Best Picture winner became more strongly favored as the Oscar season progressed:
director Danny Boyle's dark horse crowd-pleasing Slumdog Millionaire (with 10 nominations and 8 wins), based on the novel Q and A by Vikas Swarup, about an impoverished, 18 year-old orphaned slum thief Jamal Malik (Dev Patel) who is arrested for cheating (presumably due to his unsavory, lower-class background), when only one question away from winning the top prize of 20 million rupees in the Indian version of "Who Wants to Be a Millionaire." The film's other wins included Best Director, Best Cinematography, Best Sound Mixing, Best Adapted Screenplay, Best Film Editing, Best Original Score, and Best Original Song ("Jai Ho");
[Note: Slumdog Millionaire was only the fifth film in the past 50 years to win without any acting nominations, repeating the feat of The Lord of the Rings: The Return of the King (2003), Braveheart (1995), The Last Emperor (1987), and Gigi (1958). It was one of only eleven films in all of Academy history that have won Best Picture without receiving a single acting nomination.]
The other Best Picture nominees were:
director David Fincher's sweeping 2 3/4ths hour, big-budget fantasy epic The Curious Case of Benjamin Button (with 13 nominations and only 3 wins, including Best Visual Effects, Best Makeup, and Best Art Direction), based on F. Scott Fitzgerald's 1922 jazz age short story (from Eric Roth's screenplay from a screen story by Roth and Robin Swicord) that followed the life of 'curious' everyman Benjamin Button (Brad Pitt) and was set in New Orleans - the title character was born in his 80s and aging in reverse, growing younger rather than older; the film was one of the most nominated films in Academy history, and had the largest box-office revenue of the five nominees, just over $100 million, although it lost in most of its categories -
[Note: Out of eight films from the past with thirteen nominations, five films have won Best Picture, including: Gone With the Wind (1939), From Here to Eternity (1953), Forrest Gump (1994), Shakespeare in Love (1998) and Chicago (2002). Those that lost were: Mary Poppins (1964), Who's Afraid of Virginia Woolf? (1966) and The Lord of the Rings: The Fellowship of the Ring (2001).]
director Gus Van Sant's Milk (with 8 nominations and 2 wins, including Best Actor and Best Original Screenplay), a historical biography about California's first openly-gay, openly-elected public official, mayoral aide Harvey Milk (Sean Penn) who was assassinated alongside San Francisco's mayor George Moscone (Victor Garber)
director Stephen Daldry's The Reader (with 5 nominations and 1 win), the story of a young German teen Michael Berg's (David Kross and Ralph Fiennes) complex relationship with an illiterate train conductor/ex-Nazi concentration camp guard Hanna Schmitz (Best Actress-winning Kate Winslet) in the 1950's, and his dealing with her past decades later, based on Bernhard Schlink's best-selling and controversial 1995 novel
director Ron Howard's Frost/Nixon (with 5 nominations and no wins), an adaptation of the successful Tony-winning Broadway drama about the famous series of interviews of Richard Nixon (Frank Langella) conducted by British talk show host David Frost (Michael Sheen) that aired on May 19, 1977, during which Frost memorably had Nixon admitting complicity in the Watergate scandal ("When the President does it, it's not illegal")
For the first time in three years, all five Best Picture directors were nominated for Best Director – a rare occurrence! This happened only four other times in Oscar history: 1957, 1964, 1981, and 2005. The nominated directors included two first-time nominated directors, one of whom won the Best Director Oscar:
52 year-old British director Danny Boyle (with his first nomination and win) for Slumdog Millionaire, who had previously directed such films as Trainspotting (1996), A Life Less Ordinary (1997), and 28 Days Later (2002)
The four other Best Director nominees included:
46 year-old former music video director David Fincher (with his first nomination) for The Curious Case of Benjamin Button, after directing such films as Se7en (1995), Fight Club (1999), Panic Room (2002), and Zodiac (2007)
54 year-old Ron Howard (with his second directorial nomination) for Frost/Nixon, previously winning two Oscars: Best Picture (as producer) and Best Director for A Beautiful Mind (2001)
47 year-old Stephen Daldry (with his third nomination) for The Reader, previously nominated for Billy Elliott (2000) and The Hours (2002) - he became the first director ever to receive Best Director nominations for his first three films
56 year-old Gus Van Sant (with his second nomination) for Milk, previously nominated for Good Will Hunting (1997)
All of the nominated Animated Feature Films were CGI creations. The winner was the overwhelming favorite:
Wall-E (Disney Pictures/Pixar Animation) (with six nominations and this sole Oscar win), Pixar's 9th film and their 4th Best Animated Feature Film Oscar win -- a science fiction tale about a lonely garbage-compacting robot Wall-E stranded on post-apocalyptic, trash-laden Earth who encounters a sleek metallic female robot Eve who seeks plant life to signal a colony ship's return after 700 years of exile
[Note: It tied with Beauty and the Beast (1991) as the most nominated animated film.]
The other two nominees in the category were:
Bolt (Walt Disney Pictures), about dog actor Bolt (voice of John Travolta) who believes the science fiction/action television show he stars in is real, and learns he has no superpowers when lost from the set
Kung Fu Panda (Dreamworks Animation), a martial arts comedic fantasy about a slovenly, fat kung fu-obsessed giant panda named Po (voice of Jack Black) who is thrust unwittingly into the role of Dragon Warrior to save the countryside from a dangerous villain snow leopard Tai Lung (voice of Ian McShane)
A bit of an upset occurred in the category of Best Foreign Language Film. The overwhelming favorite was the animated documentary Waltz With Bashir (Israel) (the Golden Globe winner for Best Foreign Language Film), the first animated film ever to be nominated for Best Foreign Language Film. But the category was won by Departures (Japan) (aka Okuribito), a film about an unemployed cello player who became a mortician preparing bodies (and "assisting departures") for funerals and burials. It was the first Japanese film to ever win a competitive Oscar for Best Foreign Language Film. [Note: Three Japanese films were previously given honorary Oscars before the official category of Best Foreign Language Film was created in 1956 - Rashomon (1950, Jp.), Gate of Hell (1953, Jp.) (aka Jigokumon), and Samurai I: Musashi Miyamoto (1954, Jp.).]
There were nine first-time nominees in the 20 acting performance slots. Five of the acting nominees were previous winners: Sean Penn, Philip Seymour Hoffman, Angelina Jolie, Meryl Streep and Marisa Tomei. Sean Penn became the ninth actor in Academy history to win a second Best Actor Oscar. All four Oscar-winning performers this year: Penn, Winslet, Ledger, and Cruz, had been nominated at least once before, something that hadn't happened since 1994.
The Best Actor winner was:
48 year-old Sean Penn (with his fifth nomination – all for Best Actor -- winning for Mystic River (2003) and now for his role as openly pioneering San Francisco gay camera store owner Harvey Milk who successfully was serving in public office as mayoral aide, and was killed in 1978 at the same time as the assassination of San Francisco Mayor George Moscone (Victor Garber), in Milk; Penn was also previously nominated for Dead Man Walking (1995), Sweet and Lowdown (1999), and I Am Sam (2001)
The other Best Actor nominees were:
61 year-old Richard Jenkins (with his first nomination and his first leading role) as lonely widower college professor Professor Walter Vale, who finds two squatters (Haaz Sleiman, Danai Jekesai Gurira) living in his little-used Manhattan apartment, in writer/director Tom McCarthy's The Visitor (2007) (the film's sole nomination - the film debuted in Canada in 2007, but was Oscar eligible only after its 2008 US release)
71 year-old Frank Langella (with his first nomination) for his reprised Tony-award winning role (in 2007) as shamed ex-President Richard Nixon who was a talk show guest on Frost on America, where he battled wits with host David Frost (Michael Sheen, reprising his stage role as well), in Frost/Nixon [Note: Langella is the second actor to be nominated for Best Actor for playing Nixon (Anthony Hopkins was also nominated for Nixon (1995) but lost to Nicolas Cage for Leaving Las Vegas (1995))
45 year-old Brad Pitt (with his second nomination, previously nominated for his supporting role in 12 Monkeys (1995)) for his role as Benjamin Button, who is born an elderly man and grows younger through the years, in The Curious Case of Benjamin Button
56 year-old Mickey Rourke (with his first nomination) as Randy "The Ram" Robinson, a broken-down, formerly famous 80s headliner pro wrestler who now fights in the small circuit 20 years later; the role is best known for his inspiring closing speech ("I'm still standing here and I'm The Ram"), in Darren Aronofsky's The Wrestler (with 2 nominations including Best Supporting Actress, and no wins); [Rourke had been a longtime Oscar snub, being overlooked for such roles as Diner (1982), Rumble Fish (1983), The Pope of Greenwich Village (1984), 9 1/2 Weeks (1986), Angel Heart (1987), and Barfly (1987).]
The Best Actress nominees included two oft-nominated Oscar favorites - Meryl Streep and Kate Winslet, with the latter winning her first Oscar:
33 year-old British actress Kate Winslet (with her 6th nomination, her 4th Best Actress nomination and her first win!) for her role as Hanna Schmitz, an illiterate train conductor/ex-Nazi concentration camp guard who had an affair with a fifteen year old boy, in The Reader; Winslet was previously nominated in a leading role for Titanic (1997), Eternal Sunshine of the Spotless Mind (2004) and Little Children (2006), and in a supporting role for Sense and Sensibility (1995) and Iris (2001)
[Note: With her sixth nomination, Winslet became the youngest individual (at age 33) to have six Oscar nominations. She was one year younger than Bette Davis who (at age 34) received her sixth for Now, Voyager (1942)]
The other Best Actress nominees included:
26 year-old actress Anne Hathaway (with her first nomination) as Kym, a recovering drug addict who is given a day pass from her rehabilitation clinic to attend her sister Rachel's (Rosemarie DeWitt) wedding, in Rachel Getting Married (its sole nomination); Hathaway had memorably been snubbed for her supporting role in Brokeback Mountain (2005)
33 year-old actress Angelina Jolie (with her second nomination, having won for her supporting role in Girl, Interrupted (1999)) for her role as real-life Christine Collins, a desperate Los Angeles single mother during the Great Depression whose son vanishes, and is given another boy who is claimed to be the missing son by the corrupt police department, in director Clint Eastwood's Changeling (with three nominations and no wins)
48 year-old Melissa Leo (with her first nomination), the former NBC-TV star of Homicide: Life on the Street, in her role as Ray Eddy, a struggling, cash-needy lower-class single mother of two in upstate New York who becomes involved in a people-smuggling ring across the US/Canadian border in an attempt to avoid losing her home, in the independent drama Frozen River (with two nominations and no wins)
59 year-old Meryl Streep (with her astonishing 15th nomination - an all-time record, and her 12th Best Actress nomination (tying her with Katharine Hepburn), and a winner in 1979 and 1982) for her role as Sister Aloysius Beauvier, the suspicious, domineering strict head of a Bronx Catholic school in New York City in the 1960s who believes that progressive new priest Father Brendan Flynn (Philip Seymour Hoffman) is a pedophile, in writer/director John Patrick Shanley's adaptation of the Broadway play Doubt (with five nominations and no wins, including Best Screenplay Adaptation, Best Supporting Actor, and two Best Supporting Actress nominations)
The Best Supporting Actor winner was the heavily-favored 28 year-old deceased Australian actor Heath Ledger (with his second nomination, following a Best Actor nomination for Brokeback Mountain (2005)) as the wildly psychotic villain, The Joker, in Christopher Nolan's moody cape-and-cowl superhero sequel The Dark Knight (with 8 nominations and only 2 wins, including Best Sound Editing); this was the seventh posthumous nomination in Academy history (won only once previously by Peter Finch).
The other Best Supporting Actor nominees were:
40 year-old Josh Brolin (with his first nomination after being snubbed for lead roles in No Country for Old Men (2007) and this year's President Bush biopic W.) as conservative former fireman Dan White, an alcoholic who is married with children (and possibly closeted gay), elected to the San Francisco Board of Supervisors along-side openly-gay Harvey Milk; he later murders Milk along with Mayor George Moscone (Victor Garber) in 1978 during a drunken tirade, in Milk
43 year-old Robert Downey, Jr. (wth his second nomination, following his Best Actor nomination for Chaplin (1992)), in the over-the-top comedic role as obsessive, faux-black white Australian Method actor Kirk Lazarus who has medical surgery to transform himself into a black man to completely immerse himself in a dark-horse role in a Vietnam war movie, in Ben Stiller's comedy Tropic Thunder (its sole nomination)
41 year-old Philip Seymour Hoffman (with his third nomination, following a win for his lead role in Capote (2005) and nominated supporting role in Charlie Wilson's War (2007), this year's only back-to-back nominee) as Father Brendan Flynn, a progressive priest in 1960s New York City whose keen interest in his Bronx Catholic school's first black student inspires suspicion from its head nun (Meryl Streep), in Doubt
34 year-old Michael Shannon (with his first nomination) as John Givings, an unstable mathematician and wrongfully-interred mental institution patient who makes brutally honest, incisive observations about his unhappily-married neighbors and hosts Frank and April Wheeler (Leonardo DiCaprio and Kate Winslet reunited in their first pairing since Titanic (1997)) and his parents during a dinner party in 1950s Connecticut, in Sam Mendes' Revolutionary Road (with 3 nominations)
The Best Supporting Actress winner was:
34 year-old Spanish-born actress Penélope Cruz (with her second nomination and first win) as Maria Elena, a newly-divorced, crazy Spanish artist/temptress, who experienced a menage a trois with her ex-husband painter/lothario Juan Antonio (Javier Bardem) and inquisitive, traveling American photographer Cristina (Scarlett Johansson), in Woody Allen's Vicky Cristina Barcelona (its sole nomination and win)

[Note: Cruz previously had a lead nomination for Volver (2006, Sp.) when she became the first Spanish woman to be nominated for a Best Actress Academy Award for a non-English speaking role; with her win, she became the first Spanish-born actress to win an Oscar]

[Note: Cruz' win joined her with two other Woody Allen actresses who have won Best Supporting Actress Oscars: Dianne Wiest (twice) for Hannah and Her Sisters (1986) and Bullets Over Broadway (1994), and Mira Sorvino for Mighty Aphrodite (1995); she was, in fact, the 4th 'Woody Allen' actress to receive an Oscar, if Diane Keaton's Annie Hall (1977) Best Actress Oscar win was also counted; other 'Woody Allen' actresses with Supporting Actress nominations (nine in total) include: Maureen Stapleton for Interiors (1978), Mariel Hemingway for Manhattan (1979), Judy Davis for Husbands and Wives (1992), Jennifer Tilly for Bullets Over Broadway (1994), and Samantha Morton for Sweet and Lowdown (1999).]

[Note: Cruz became one of many actors/actresses to receive a nomination for a role performed in two different languages, following after, for example, Ingrid Bergman's Swedish language-role in Autumn Sonata (1978), Robert DeNiro's Sicilian in The Godfather Part II (1974), Meryl Streep's Polish/German in Sophie's Choice (1982), and Benicio Del Toro's Spanish in Traffic (2000). Sophia Loren's Italian in Two Women (1960) (aka La Ciociara), Roberto Benigni's Italian in La Vita è bella (1997) (aka Life is Beautiful), and Marion Cotillard's French in La Vie En Rose (2007) were fully in one language.]

[Note: If Woody Allen had been nominated for Best Original Screenplay, it would have been his 15th Best Original Screenplay nomination.]
The remaining Best Supporting Actress nominees included two nominees for Doubt:
34 year-old Amy Adams (with her second nomination, following her supporting nod for Junebug (2005)) as sensitive and innocent novitiate Sister James, in Doubt
43 year-old Viola Davis (with her first nomination) in a 12-minute scene as African-American Mrs. Miller, the conflicted mother of a student who is suspected of being sexually-abused by a new Catholic priest (nominee Philip Seymour Hoffman) at his 1960s New York City school, in Doubt
38 year-old Taraji P. Henson (with her first nomination) as African-American Queenie, a New Orleans nursing-home employee who rescues abandoned old man-child Benjamin Button and adopts him ("You are as ugly as an old post but you're still a child of God"), in The Curious Case of Benjamin Button
44 year-old Marisa Tomei (with her third nomination, following her semi-controversial win for her supporting role in My Cousin Vinny (1992), and her supporting role nomination for In the Bedroom (2001)) as Cassidy, a middle-aged, tattooed exotic stripper and single mother who forms a bond with has-been wrestler Randy Robinson (fellow nominee Mickey Rourke), in The Wrestler
Doubt became the 4th film in Academy history to receive 4 acting nominations WITHOUT a Best Picture nomination. The other three were: My Man Godfrey (1936), I Remember Mama (1948), and Othello (1965).
Jerry Lewis, who was never nominated for an Academy Award, was presented with the Jean Hersholt Humanitarian Award.
Oscar Snubs and Omissions:
Although Doubt had tied the record for four acting nominations, it did not receive either a Best Director or Best Picture nomination and came away empty-handed. Christopher Nolan's box-office blockbuster and popular summer hit - the despairing comic book Batman tale The Dark Knight scored eight nominations (mostly technical areas, and scored two wins for Best Supporting Actor and Best Sound Editing), but was devoid of a Best Picture or Best Director nomination. It became the most nominated superhero film in Academy Award history. [Note: Dreamgirls (2006) also had eight nominations without a nomination for Best Picture or Best Director.]
Although Jonathan Demme's innovative and critically-hailed Rachel Getting Married had a single acting nomination (and lost), it had no other nominations (specifically Best Director or Best Picture, and Rosemarie DeWitt's supporting role). And most glaringly, there were no nominations for actor/director Clint Eastwood, either for his dramatic role in Gran Torino or for his directing of Changeling.
Remarkably, Slumdog Millionaire was lacking in any acting nominations (for Dev Patel and Freida Pinto), fairly rare for a Best Picture-winning film.
Director Darren Aronofsky was denied an Oscar nomination for The Wrestler, and the film's nominations were unsuccessful. And Oliver Stone's biopic W. starring Josh Brolin as President George W. Bush was devoid of any Oscars' recognition - and it was a surprise that Brolin was nominated for his supporting role in Milk instead. Unfortunately, there were no acting nominations for Saul Dibb's splendid 18th century costume drama The Duchess (with two nominations and one win (Best Costume Design) and Best Art Direction), although they were deserved for Keira Knightley as the title character - a witty and attractive 17 year-old naive aristocrat Georgiana Spencer, who was set up and then trapped in an emotionally-distant, arranged marriage with callous, loathsome, but regal and powerful Duke of Devonshire William Cavendish (Ralph Fiennes).
Best Animated Feature Film winner Wall-E was not nominated for Best Picture (although it had six nominations total and only one win), thereby preserving Beauty and the Beast (1991) as the only animated feature to be nominated for the top Oscar. Wall-E's six nominations tied it with Beauty and the Beast (1991) as the most-nominated animated film.
It was a surprise to have Kate Winslet nominated for her lesser role in The Reader (which then became a momentous first Oscar win for her), rather than as a Best Actress candidate for her husband/director Sam Mendes' Revolutionary Road, and that her co-star Leonardo DiCaprio for the latter was un-nominated for his portrayal of Winslet's husband.
Two glaring acting omissions included Sally Hawkins for her role as North London schoolteacher Poppy in Mike Leigh's Happy-Go-Lucky, and Kristin Scott Thomas as released and ravaged murder convict Juliette Fontaine in writer/director Philippe Claudel's debut French film I've Loved You So Long, as well as nominations for Jeffrey Wright (as Muddy Waters) and Beyonce Knowles (as Etta James) for their performances in writer/director Darnell Martin's fictionalized musical biopic of the 1950s-60s Chicago-based Chess Records saga, Cadillac Records. In addition, Michelle Williams was left out for her role as struggling, downtrodden and broke drifter Wendy with her dog Lucy, in director Kelly Reichardt's Wendy and Lucy.
Three other performances were overlooked: Benicio del Toro as the revolutionary Ernesto 'Che' Guevara in Steven Soderbergh's two-part epic biopic Che, Philip Seymour Hoffman as regional theater director Caden Cotard staging his magnum opus in New York City in first-time director Charlie Kaufman's black comedy Synechdoche, New York, and James Franco as Harvey Milk's (Sean Penn) pre-election gay lover Scott Smith in Milk.
There was some question about Brad Pitt's nomination for his CGI-assisted role as the title character in The Curious Case of Benjamin Button, when his role as unscrupulous gym trainer Chad Feldheimer in the Coen Brothers' Burn After Reading was more memorable, while Pitt's co-star Cate Blanchett was ignored for her role as Benjamin Button's romantic soulmate Daisy. Many critics were surprised by the blatant snub-omission of Bruce Springsteen in the Best Original Song category (he won the Golden Globe Award) for the theme song (in the closing credits) for The Wrestler.