2009
The winner is listed first, in CAPITAL letters.
Best Picture


THE HURT LOCKER (2009)


Avatar (2009)


The Blind Side (2009)


District 9 (2009, US/NZ/Can./S.Afr.)


An Education (2009)


Inglourious Basterds (2009)


Precious: Based on the Novel 'Push' by Sapphire (2009)


A Serious Man (2009, US/UK/Fr.)


Up (2009)


Up in the Air (2009)
Best Animated Feature Film


UP (2009)


Coraline (2009)


Fantastic Mr. Fox (2009)


The Princess and the Frog (2009)


The Secret of Kells (2009)
Actor:
JEFF BRIDGES in "Crazy Heart," George Clooney in "Up in the Air," Colin Firth in "A Single Man," Morgan Freeman in "Invictus," Jeremy Renner in "The Hurt Locker"
Actress:
SANDRA BULLOCK in "The Blind Side," Helen Mirren in "The Last Station," Carey Mulligan in "An Education," Gabourey Sidibe in "Precious," Meryl Streep in "Julie & Julia"
Supporting Actor:
CHRISTOPH WALTZ in "Inglourious Basterds," Matt Damon in "Invictus," Woody Harrelson in "The Messenger," Christopher Plummer in "The Last Station," Stanley Tucci in "The Lovely Bones"
Supporting Actress:
MO'NIQUE in "Precious," Penelope Cruz in "Nine," Vera Farmiga in "Up in the Air," Maggie Gyllenhaal in "Crazy Heart," Anna Kendrick in "Up in the Air"
Director:
KATHRYN BIGELOW for "The Hurt Locker," James Cameron for "Avatar," Lee Daniels for "Precious," Jason Reitman for "Up in the Air," Quentin Tarantino for "Inglourious Basterds"
---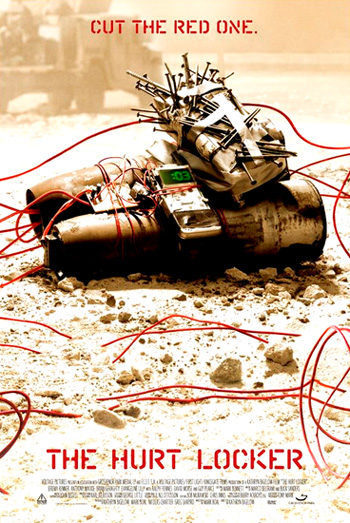 In 2009, the Academy decided to return to featuring an expanded field of nominees for Best Picture. From now on, there would be ten films nominated for Best Picture instead of five - the last time this happened was 1943 (66 years ago). [Note: From 1931 to 1943, the Oscars had between eight and 12 Best Picture nominees.] This change was expected to result in:
a box-office (or DVD sales) boost for more pictures, with some smaller movies getting more exposure
a possible increase in TV ratings for the awards ceremony (held two weeks later than last year), and
enhanced interest in a broader and varied range of types of films that were more populist or mainstream in nature (e.g., the sports weepie The Blind Side, Tarantino's Inglourious Basterds, the animated Up and the gritty sci-fi alien drama District 9), mixed in with independent fare and specialty films
Unexpectedly, there were no foreign-language, traditional comedies, musicals or documentary choices in the expanded Best Picture category. This year featured one of the most even distributions of top nominees, with five films receiving at least six nominations, and no film receiving more than nine. Six of the top 10 contenders were released in the fourth quarter of the year -- only Up, The Hurt Locker, District 9, and Inglourious Basterds were released earlier. In addition to Avatar, four Best Picture-nominated films had grossed over $100 million domestically. [In the previous year, only one of the five Best Picture nominees had done so, The Curious Case of Benjamin Button (2008).]
The Best Picture winner The Hurt Locker, a low-budget film from Summit Entertainment with a production budget of $15 million, turned out to be the lowest-grossing winner of all-time, at $14.7 million at the time of its win. It was also the fifth consecutive R-rated Best Picture winner, and the second of only two Best Picture winners to be a film festival acquisition (the first was in 2005).
Two films shared the most Oscar nominations (nine) and competed in a dead heat in the period between the nominations and awards: the science-fiction/fantasy visual effects masterpiece Avatar and the tense, nail-biting Iraq war-related drama The Hurt Locker from female director Kathryn Bigelow. Bigelow's film went on to earn six wins (Best Original Screenplay (Mark Boal), Best Sound Editing, Best Sound Mixing, Best Film Editing, Best Director and Best Picture) and upended Cameron's (and Fox's) blockbuster film of all-time (at $720 million when the Oscars were presented). It marked a milestone win for a female director (and American director), the first ever. The suspenseful tale was about bomb defuser SFC Willliam James (nominated Jeremy Renner) whose recklessness and addiction to risk endangered his bomb squad support team. Its tagline was: "CUT THE RED ONE."
In addition, Disney's/Pixar's animated film Up, the second animated film ever nominated for Best Picture (and the first computer-animated film ever nominated for Best Picture), won two Oscar awards: Best Animated Feature Film and Best Original Score, and was one of the top moneymakers of the year (at $293 million to date).
Five other Best Picture nominees scored at least one win, including (in descending order):
James Cameron's Avatar (nine nominations, with three technical wins for Best Art Direction, Best Cinematography, and Best Visual Effects), a 20th Century Fox blockbuster spectacle, reportedly budgeted at over $300M that was ballyhooed by its incredible visual effects and 3D IMAX presentation. It was the first Best Picture nominee to be entirely filmed using 3-D technology. It was a futuristic, sci-fi adventure-action story about humans invading a fantastic planet inhabited by blue-skinned aliens for its rare radioactive natural resource - unobtanium. Avatar lacked a Best Screenplay nomination -- coincidentally, the last film to win Best Picture without a screenplay nomination was Cameron's own mega-blockbuster film, Titanic (1997).
[Note: Remarkably, this was Cameron's first narrative film since Titanic (1997), which had a record 14 nominations and 11 wins. No director has ever attained a total of 23 total nominations in consecutive non-documentary feature films. Cameron only directed two documentaries during that 12-year span of time: the hour-long digital-3D IMAX documentary Ghosts of the Abyss (2003) and the 47-minute 3-D IMAX nature documentary Aliens of the Deep (2005).]
Lee Daniels' strong independent contender Precious (subtitled Based on the Novel 'Push' by Sapphire) (six nominations, with two wins for Best Adapted Screenplay (Geoffrey Fletcher) and Best Supporting Actress), a downbeat morality tale from Lionsgate about Precious Jones (Gabourey Sidibe) a pregnant, overweight, nearly-illiterate 16 year-old high school student who has suffered severe sexual, physical and physical abuse from her parents (Mo'Nique); this was the first-ever Best Picture nominee to be directed by an African-American filmmaker. [Note: Quincy Jones was the first black to be nominated as producer for a Best Picture, The Color Purple (1985). This was the second instance -- producers for the film included Lee Daniels, Tyler Perry and Oprah Winfrey. Geoffrey Fletcher was the first African-American to win an Oscar for screenwriting.]
Disney/Pixar's Up (five nominations, with two wins for Best Animated Feature Film and Best Original Score), the second animated film to be nominated for Best Picture, following Beauty and the Beast (1991), the first CG-animated Best Picture nominee, and the first to receive a Best Picture nomination since animated films received their own category in 2001 (see below).
Quentin Tarantino's and the Weinstein Company's Inglourious Basterds (eight nominations, with one win for Best Supporting Actor), a World War II fantasy/comedy about flamboyant American Lt. Aldo Raine and his troupe of Jewish soldiers who sabotage Nazi installations behind enemy lines. The film was nominated for Best Original Screenplay despite sharing the same English title as Quel maledetto treno blindato (1978), another film about American GIs wreaking havoc behind enemy lines
The Blind Side (two nominations and a sole win for Best Actress), Warner Bros.' formulaic "feel good" tearjerker sports drama about real-life African-American football player Michael Oher's high school years when the young homeless teen was boarded by the Tuohys, a suburban Southern (Memphis, Tenn.) family headed by strong-willed housewife Leigh Anne (Sandra Bullock) [Note: the film was co-produced by African-American Broderick Johnson, and became the highest-grossing football film of all time.]
There were four Best Picture nominees that were complete shut-outs!
Jason Reitman's Up in the Air (six nominations, three for acting!, with no wins), a bleak comedy set in the recession revolving around freelancing corporate downsizer Ryan Bingham (nominated George Clooney) who spends his entire life travelling without human connection until he meets two women: Alex Goran (nominated Vera Farmiga), a mature businesswoman traveller, and Natalie Keener (nominated Anna Kendrick), Ryan's newly-assigned protege
Neill Blomkamp's District 9 (four nominations, with no wins) gritty science-fiction film was part-apartheid allegory, mock documentary and tense action thriller about prawn-like alien creatures (bi-pedal and taller than humans, with facial tendrils) who were segregated in a Johannesburg, South African slum-internment camp (called District 9), and the harrowing tale of a bumbling, incompetent bureaucrat - a MNU field operative named Wikus van de Merwe (Sharlto Copley) to peaceably evict the 1.8 million oppressed aliens to a new camp (District 10) over 200 kilometers away, when he slowly mutated from a virus infection into one of the prawns, became a beleaguered fugitive from the nefarious MNU, and befriended intelligent alien Christopher Johnson (Jason Cope) - helping him to escape in a downed command module and return to the mother ship to leave Earth. It was a rare nomination for a science-fiction film.
An Education (three nominations, with no wins), a Sony Pictures' coming-of-age melodrama about a 16 year-old English schoolgirl named Jenny (nominated Carey Mulligan), who is courted by an older man and introduced to British high society
The Coen Brothers' A Serious Man (two nominations, including Best Screenplay, with no wins), a quirky black comedy set in 1967 that retold the Book of Job, revolving around the trials suffered by physics professor Larry Gopnik (Michael Stuhlbarg)
The nominees for Best Director represented a very diverse group (including ex-spouses). All five Best Director nominees were attached to Best Picture nominees, though unsurprising due to the presence of ten Best Picture nominations rather than the usual five. The films of the five Best Director-nominees had the highest number of nominations for Best Picture. It is fairly safe to assume that if there had only been 5 Best Picture nominees, the picks would have paralleled the five nominated directors. There were two first-time nominees, and three second-time nominees.
The Best Director winner was 58 year-old Kathryn Bigelow (her first nomination) for The Hurt Locker. It was an historic win - she became the first woman ever to win in the category. [Note: Bigelow was the second American woman nominated as Best Director (following Sofia Coppola in 2003), and only the fourth woman nominated in the category. Bigelow won the Directors Guild Award, the first woman ever to win the top award from the DGA, a solid predictor of her eventual win since the DGA feature film award winner went on to win the Academy Award for Best Director all but six times since 1948. Ironically, Bigelow was James Cameron's ex-wife. Action film director Bigelow had been a collaborator with fellow nominee James Cameron, who executive-produced Point Break (1991) and was also writer-producer for her film Strange Days (1995). The longtime Oscar snub Bigelow also directed such overlooked films as Near Dark (1987) and Blue Steel (1990).]
The other Best Director nominees were:
55 year-old James Cameron (his second nomination) for Avatar. [Note: Cameron previously won three Oscars, all for Titanic (1997) (Best Picture (producer), Best Director, and Best Film Editing). He was personally up for the same three Oscars in 2009.]
32 year-old Jason Reitman (his second nomination), with only his third feature film, for Up in the Air. [Note: Reitman was previously nominated for Juno (2007). With this nomination, he became the youngest filmmaker to have received two Oscar nominations for Best Director. It was also his second Best Director nod in 3 years.]
46 year-old Quentin Tarantino (his second nomination, but first directorial nomination) for Inglourious Basterds. [Note: Tarantino was previously nominated for Pulp Fiction (1994), for which he won his sole Oscar for Best Original Screenplay along with Roger Avary]
50 year-old African-American producer/director Lee Daniels (his first nomination, for his second-directed film ever) for Precious, the first-ever Best Picture nominee to be directed by an African-American filmmaker. [Note: Daniels was only the second African-American ever nominated for Best Director - the first was John Singleton for Boyz N the Hood (1991).]
For the first time since 2002, there were enough eligible animated films released (17) to warrant five nominations instead of three. Strangely, the nominees included two classically cel-animated films, two stop-motion animated films, and only one CGI-animated film! Did this signal a trend back to traditional animation techniques? Three animated films received at least two nominations, an unprecedented feat in Oscar history.
The Animated Feature Film winner was the heavily-favored, Best Picture-nominated Disney/Pixar film Up (with five nominations and two wins including Best Original Score), a CGI-animated film about cantankerous, bitter 70 year-old widower Carl Fredricksen (voice of Edward Asner) who launched his house into the air using hundreds of helium balloons to travel to South America, while slowly befriending an accidental 8 year-old stowaway Boy Scout named Russell. It was the third consecutive Oscar in this category for Disney/Pixar, following Ratatouille (2007) and Wall-E (2008), that has now won 5/9 awards since the new category was established in 2001.
The other four nominees were:
The Princess and the Frog (three nominations and no wins), Disney's cel-animated film set in 1920's Jazz era New Orleans about a frog prince (voice of Bruno Campos) who is kissed by Tiana (voice of Anika Noni Rose), who is transformed herself into a frog because she is not a real princess; it was Disney Studios' first traditional 2-D animated film in 5 years, since Home on the Range (2004). It also featured the studio's first-ever black female protagonist, an African-American princess named Tiana (voice of Anika Noni Rose)
Fantastic Mr. Fox (two nominations and no wins), Wes Anderson's and 20th Century Fox's stop-motion animated fanciful, slightly updated retelling of Roald Dahl's classic 1970 tale about Mr. Fox (voice of George Clooney), whose animalistic urges cause him to reject his safe job as a newspaper reporter and attempt to steal chickens from demonic farmers Boggis, Bunce and Bean
Coraline, Harry Selick's surrealistic stop-motion animated film (from Focus Features) based on comic book legend Neil Gaiman's graphic novel titled Coraline, in which a young girl finds a mysterious portal in her home to a disturbing funhouse mirror version of her nomal life
The Secret of Kells, an English language, watercolor cel-animated (mostly ornately hand-drawn) film, independently co-produced by French, Belgium and Irish producers, about a young 12 year-old boy Brendan (voice by Evan McGuire) who is sent to live among monks at a medieval Celtic abbey, where one monk, Brother Aidan, and his unusual cat discover Brendan's artistic talents, which leads the boy on a dangerous quest to gather berries needed to make ink in order to complete the unfinished mysterious manuscript for the Book of Kells
Among the 20 nominees for acting nominations, there were 12 first-time nominees, 5 previous Oscar winners, and 3 previous Oscar contenders (with Meryl Streep as the only two-time winner in contention again). Three of the four acting awards went to first-time nominees. All four winners were favorites that were almost universally predicted to win: previous nominee Jeff Bridges and first-timer Sandra Bullock (both with long careers without wins), and first-timers with formidable performances: Christoph Waltz and Mo'Nique.
The Best Actor winner was front-runner, 60 year-old Jeff Bridges (his fifth nomination and first win) for his performance as broken-down, aging, boozy country-music singer Bad Blake, in first-time director Scott Cooper's Crazy Heart (three nominations, not including Best Picture, with two wins, Best Actor and Best Original Song "The Weary Kind"). (Bridges previously had an unsuccessful lead nomination for Starman (1984), and three unsuccessful supporting nominations for The Last Picture Show (1971), Thunderbolt and Lightfoot (1974) and The Contender (2000)) [Note: Real-life country singer Waylon Jennings was sought for the role, a combination of Jennings himself, Kris Kristofferson and Merle Haggard, but passed away before he could be cast. Bridges did his own singing and guitar playing in the film, including Jennings' own "Are You Sure Hank Done It This Way."]
The other Best Actor nominees included:
72 year-old Morgan Freeman (his fifth nomination) for his role as real-life South African leader Nelson Mandela, in director Clint Eastwood's Invictus (two nominations and no wins). (Freeman previously had two unsuccessful lead nominations for The Shawshank Redemption (1994) and Driving Miss Daisy (1989), and two supporting nominations, including a win for Million Dollar Baby (2004) and for Street Smart (1987))
48 year-old George Clooney (his third acting nomination) for his appealing role as Ryan Bingham, a cynical professional corporate hatchman who prided himself on his emotional isolation, detachment and his constant travel, in Up in the Air. (Clooney won his sole Oscar for his supporting role in Syriana (2005). He also received an unsuccessful lead nomination for Michael Clayton (2007) and writing and directing nominations for Good Night, and Good Luck (2005))
49 year-old British actor Colin Firth (his first nomination) for George Falconer, a gay Brit expat in the early 1960s who taught at an LA college, who must hide his suicidal grief over the death of his long-time lover Jim (Matthew Goode), in director Tom Ford's debut feature film A Single Man (the film's sole nomination), a period drama
39 year-old Jeremy Renner (his first nomination) as Sergeant (SFC) William James, a risk-taking, unflappable bomb defuser in Iraq who thrived on the danger of his job, in The Hurt Locker
The Best Actress nominations included Meryl Streep's astounding 16th acting nomination, but the award went to the actress with the most momentum, 45 year-old Sandra Bullock (her first nomination) as Leigh Anne Tuohy, a saintly, strong-willed, wealthy Southern suburban mother who took in a homeless African-American teen - football player Michael Oher (now a star player for the Baltimore Ravens), in The Blind Side.
[Bullock was previously a longtime Oscar snub, despite her performances in Speed (1994), While You Were Sleeping (1995), Practical Magic (1998), Miss Congeniality (2000), Crash (2004), and Infamous (2006). Already the winner of the Critics Choice Award, the Golden Globe, and the Screen Actors Guild Award for her lead role in The Blind Side, Bullock received her first, long-overdue Oscar. However, she also marked a career low-point as the Razzie winner for Worst Actress and Worst Screen Couple (shared with co-star Bradley Cooper) for her role in Worst Picture-nominated flop All About Steve - a film she produced! Bullock became the first person ever to win a Razzie and an Oscar in the same year.]
The other Best Actress nominees were:
60 year-old Meryl Streep (her 16th nomination, and her record 13th lead nomination, surpassing Katharine Hepburn's twelve nods) as real-life, bubbly, cheerful famed chef Julia Child, focusing on her early life in Paris where she discovers her talent and her efforts to write a definitive book on authentic French cuisine, in director Nora Ephron's Julie & Julia (the film's sole nomination) (Streep had two Oscar wins: for her supporting role in Kramer vs. Kramer (1979) and her lead role in Sophie's Choice (1982))
64 year-old British actress Helen Mirren (her fourth nomination) for her role as Countess Sofya Tolstoy, the supportive wife of dying, famed Russian author Leo Tolstoy (Christopher Plummer), in director Michael Hoffman's The Last Station (two nominations and no wins). (Mirren previously had a leading role win for The Queen (2006), and two unsuccessful supporting nominations for The Madness of King George (1994) and Gosford Park (2001))
24 year-old British actress Carey Mulligan (her first nomination) for her performance (her first-ever leading film role) as Jenny, a sixteen year-old virginal English schoolgirl in 1961 who was introduced to British high society during an affair with older suitor David (Peter Sarsgaard) twice her age, in Danish director Lone Sherfig's coming-of-age romance An Education
26 year-old Gabourey Sidibe (her first nomination) in her film debut as Precious Jones, a quiet, pregnant (her second child by her own father), overweight, and illiterate high school girl who suffered severe abuse by her parents, in Precious
The Best Supporting Actor nominations included nods for two actors, Christopher Plummer and Stanley Tucci, whose work had been long overlooked by the Academy. However, the winner was the expected victor: 53 year-old Austrian Christoph Waltz (with his first nomination) as diabolical, over-the-top, seductively-charming villainous "Jew hunter" and quadri-lingual Nazi Colonel Hans Landa (whose performance has been compared to Javier Bardem's in No Country For Old Men (2007)), in Inglourious Basterds.
The other Best Supporting Actor nominees were:
39 year-old Matt Damon (his second acting nomination) in the lead role of real-life South African rugby player Francois Pienaar, the captain of the 1995 world-champion team, in Invictus.
[Note: The 5'10" Damon was criticized for his miscast role as the hulking 6'3" Pienaar.] (Damon had an unsuccessful lead nod for Good Will Hunting (1997), the film for which Damon received his sole Oscar alongside Ben Affleck for Best Original Screenplay)
48 year-old Woody Harrelson (his second nomination), for his performance as Captain Tony Stone, an alcoholic military officer struggling with his job to bring casualty "messages" (from the Casualty Notification Office) to the families of slain soldiers, in director Oren Moverman's debut feature film The Messenger (two nominations and no wins) (Harrelson was previously nominated for his lead role in The People vs. Larry Flynt (1996))
80 year-old Christopher Plummer (his first nomination in a 56 year acting career!) as famed Russian author Leo Tolstoy, who struggles with his ideals of a life of austerity with his fame and wealth, in The Last Station
49 year-old Stanley Tucci (his first nomination) as George Harvey, a serial killer who murders his neighbors' 14-year-old daughter Susie Salmon (Saoirse Ronan), in Peter Jackson's visually stunning and moody adaptation of The Lovely Bones (the film's sole nomination)
The Best Supporting Actress nominations included two nominations for Up in the Air, and four first-time nominees. The winner was the heavily-favored nominee, 42 year-old Mo'Nique (with her first nomination) for her role as the reprehensible Mary - the cruel abusive, inner-city welfare mother of a pregnant 16 year-old high school student who turns a blind eye to her husband's incestuous rape of her daughter, in Precious.
The other Best Supporting Actress nominees were:
35 year-old Penelope Cruz (her third nomination) for her performance as Carla Albanese, the passionate obsessive mistress of married Italian film director Guido Contini (Daniel Day-Lewis), in Rob Marshall's big budget musical flop Nine (four nominations and no wins). (Cruz won for her supporting role in the previous year's Vicky Cristina Barcelona (2008) and also had an unsuccessful lead nod for Volver (2007, Sp.)) [Note: it was thought she might have been better served with a Best Actress nomination for Broken Embraces]
36 year-old Vera Farmiga (her first nomination) for her role as Alex Goran, an intelligent and sexy travelling businesswoman who begins a no-strings-attached affair with a freelancing corporate downsizer (Clooney), in Up in the Air
32 year-old Maggie Gyllenhaal (her first nomination) for her role as Jean Craddock, an aspiring journalist (and divorced single mother) who falls in love with 57 year-old, broken-down country-western singer (Bridges), in Crazy Heart
24 year-old Anna Kendrick (her first nomination) as Natalie Keener, a ruthless, Type-A college grad - and a young protege assigned to an older corporate downsizer, in Up in the Air
Oscar Snubs and Omissions:
Although the popular rebooted franchise film Star Trek received four technical nominations (including Best Sound Editing, Best Sound Mixing, and Best Visual Effects and an expected win for Best Makeup), it was denied a spot in the enlarged Best Picture category. With its single Best Makeup win, it became the first Academy Award-winner in the entire history of the Star Trek series. It was unlikely that the top-grossing R-rated comedy The Hangover would also be one of the top nominees, but its omission was noticed. Clint Eastwood's Invictus, about Nelson Mandela's interaction with a white rugby team, came up with two acting nominations (Best Actor for Morgan Freeman as Mandela, and Best Supporting Actor for Matt Damon, although their categories seemed inexplicably switched), but there was no Best Picture or Best Director nod (for a director who won two of his three Oscars for directing Best Picture champs: Unforgiven (1992) and Million Dollar Baby (2004)).
Past Oscar-winning Peter Jackson's The Lovely Bones, an adaptation of Alice Sebold's novel, received only one nomination, for Best Supporting Actor (Stanley Tucci) - although Tucci should have more appropriately received a nod for his portrayal of Julia Child's supportive husband Paul in Julie & Julia. And Rob Marshall's musical Nine came up with only four nominations (Best Art Direction, Best Costume Design, Best Original Song, and Best Supporting Actress - Penelope Cruz) and no wins, although it had many prominent stars in the ensemble cast including Daniel Day-Lewis, Nicole Kidman and Marion Cotillard. An Education's three nominations with no wins (Best Actress, Best Picture, and Best Adapted Screenplay) neglected Alfred Molina's supporting role as Jenny's overprotective, bigoted suburban London father Jack.
Many of 2009's films admired by some film critics, such as Michael Jackson's This is It, the post-apocalyptic tale The Road starring Viggo Mortensen and Charlize Theron, Steven Soderbergh's The Informant! with Matt Damon, Michael Mann's gangster-crime drama Public Enemies starring Johnny Depp (as John Dillinger), and Spike Jonze's Where the Wild Things Are, were unaccounted for, as were director Mira Nair's highly tauted Amelia with two time Oscar winner Hilary Swank as the legendary flyer, and British director Joe Wright's biographical drama The Soloist featuring Robert Downey, Jr. and Jamie Foxx (as real-life homeless street musician Nathaniel Ayers). Although nominated for three Oscars (including Best Art Direction, and Best Makeup) with a sole win for Best Costume Design, the romantic love story The Young Victoria was devoid of an acting nomination for Emily Blunt as the lead character. Director Marc Webb's offbeat breakup dramedy (500) Days of Summer was conspicuously absent from the list of Best Screenplay nominees.
Some of the populist, mainstream hits with tremendous box-office success (all of the following films topped $100 million, and are listed in descending order of box-office clout) were virtually non-existent in terms of Oscar:
the sequel Transformers: Revenge of the Fallen (with a sole nomination for Best Sound Mixing)
the sixth Harry Potter and the Half-Blood Prince (with a sole nomination for Best Cinematography)
the vampire-related, teen romance fantasy sequel The Twilight Saga: New Moon
the raunchy comedy The Hangover
director Guy Ritchie's Sherlock Holmes (with only two nominations: Best Art Direction, and Best Original Score) starring Robert Downey, Jr. as the legendary detective
the third film in the animated series Ice Age: Dawn of the Dinosaurs
Ben Stiller's sequel Night at the Museum: Battle of the Smithsonian
Anne Fletcher's romantic comedy The Proposal featuring Sandra Bullock
the comedy farce Paul Blart: Mall Cop with Kevin James
the excellent French action thriller Taken starring Liam Neeson
director Ron Howard's follow-up film adapted from Dan Brown's best-seller Angels & Demons
the fourth Terminator film, McG's Terminator Salvation, with unnominated Sam Worthington and Christian Bale
the low-budget breakout horror hit Paranormal Activity
However, big box-office wasn't a deterrent for a number of films, such as the British political satire In the Loop (with one nomination, Best Adapted Screenplay) - the first instance that a film that premiered on VOD (video-on-demand) concurrent with its theatrical release was nominated for a major Oscar. Or for Oren Moverman's The Messenger (with two nominations, Best Supporting Actor - Woody Harrelson and Best Original Screenplay - the only non-Best Picture-nominee to get a screenplay nod) - an Iraq-themed Sundance movie distributed by upstart Oscilloscope. The latter film could have had other cast members additionally nominated, including Ben Foster as reluctant, injured war hero SSgt. Will Montgomery assigned to the US Army Casualty Notification Office to assist Harrelson in delivering death news, and Samantha Morton as Army wife Olivia Pitterson - a newly-widowed mother. In The Hurt Locker, Jeremy Renner's co-stars Anthony Mackie and Brian Geraghty were conspicuously ignored, as was the central character in Best Picture-nominated District 9: the bumbling, incompetent, and beleaguered MNU field operative Wikus van de Merwe (portrayed by Sharlto Copley in an astounding debut performance).
The little-seen exhilarating crime thriller Julia, due possibly to a token US film release, was little seen and completely neglected, including the Best Actress caliber performance of Tilda Swinton as desperate, troublesome, promiscuous, out-of-control alcoholic title character Julia who botched a get-rich-quick, crackpot kidnapping scheme. Also, outrageous Danish director Lars von Trier's controversial, nihilistic horror film Antichrist was shut out, although Charlotte Gainsbourg's portrayal of a grieving, pained, devastated mother (named She) was phenomenal (she was the Best Actress prize-winner at Cannes) - although it was tremendously shocking (with graphic scenes of genital mutilation).
Two actresses appeared to be denied recognition in supporting roles: Julianne Moore (who has never won an Oscar!) for her scene-stealing performance as British divorcee party girl Charley (opposite Best Actor-nominated Colin Firth) in the sorrowful love story A Single Man, and German actress Diane Kruger for her role as German movie starlet turned Allied spy Bridget von Hammersmark in Quentin Tarantino's lengthy WWII epic Inglourious Basterds. Brad Pitt was also bypassed in Tarantino's film as Tennessee-born Lt. Aldo Raine - leader of the Jewish commandoes eager for Nazi scalps. Actor Michael Stuhlbarg was missing from the nominees for his central role as physics professor Larry Gopnik in A Serious Man. Christian McKay was ignored for his supporting performance as the legendary filmmaker Orson Welles in Me and Orson Welles. Also neglected was Sam Rockwell's tour-de-force role in director Duncan Jones' Moon (no nominations, for either its director or screenplay) as solitary lunar mining specialist Sam Bell slowly driven insane and interacting with a mysterious doppelganger of himself. Both Oscar-nominated actors George Clooney and Jeff Bridges might have been nominated for Best Supporting Actor for their roles as US Army psychic soldiers (dubbed "Jedi Warriors" in a New Earth Army), Lyn Cassady and Bill Django, in the M*A*S*H (1970)-like satire The Men Who Stare At Goats, Grant Heslov's directorial debut film.
The recognition given to Kathryn Bigelow for The Hurt Locker was well deserved, but two other women were denied Best Picture, Best Director, and Best Screenplay nominations: Nora Ephron for Julie & Julia (with its sole nomination for Meryl Streep), and New Zealander writer/director Jane Campion for the romantic period piece about young British poet John Keats, Bright Star (with only one nomination for Best Costume Design). In the latter film, Abbie Cornish was also ignored for her critically-praised performance as Frances "Fanny" Brawne, an outspoken student who began a passionate but tragically short love affair with the poet.
In the Best Animated Feature Film category, Hayao Miyazaki's critically-acclaimed Ponyo was left out, as was the heavily-marketed animation Cloudy With a Chance of Meatballs. Also ignored was Shane Acker's 9, a frightening, awe-inspiring PG-13 CGI-animated, post-apocalyptic film about small burlap "stitchpunk" robots who attempt to survive in a dark world full of terrifying machines; the film itself was an expansion of Acker's Oscar-nominated short 9 (2004).