Background
---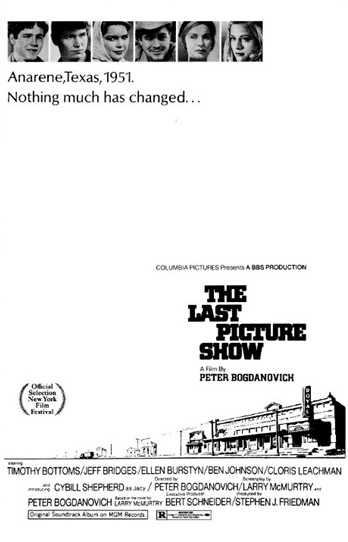 The Last Picture Show (1971) is an evocative and bittersweet slice-of-life 'picture show' from young newcomer, 31 year-old director Peter Bogdanovich, formerly a stage actor and film writer/critic. The screenplay was based on the novel of the same name by Larry McMurtry. [Note: Bogdanovich had previously directed only two other smaller feature films, the low-budget Targets (1967) with Boris Karloff cast as a horror-movie star, and the awful Voyage to the Planet of Prehistoric Women (1968) with Mamie Van Doren.] This great picture, Bogdanovich's first major film, was a gritty, authentic-looking, black and white film (considered obsolete at the time since it was the first mainstream Hollywood feature film shot in B/W since the early 60s), with expressive, high-contrast cinematography by Robert Surtees. It was widely acclaimed at the time of its release.
The film was noted as the director's tribute and homage to the classic films of legendary directors Howard Hawks (Red River (1948)), John Ford (The Grapes of Wrath (1940)), and Welles himself (Citizen Kane (1941)). [Old-time western film star Ben Johnson, who had starred in many classic films of the genre, including Ford's She Wore a Yellow Ribbon (1949), Shane (1953), and The Wild Bunch (1969), played the role of an old-time cowboy in the film. Orson Welles suggested to Bogdanovich that he should film in black and white. The film's theme is similar to Welles' The Magnificent Ambersons (1942) - about the passing of an earlier way of life due to the advent of the automobile at the turn of the century.]
The episodic, bleak and mournful film was shot on location over an eleven-week period in northwestern Texas in a dusty, wind-swept, one-horse, declining small-town that was on the verge of being forgotten in the early 1950s. Bogdanovich's work recaptures and recreates the period of the early 50s (between WWII and the Korean War). One of the film's posters declared it as "the picture show that introduced America to the forgotten 50's." Another pointed out its locale:
Anarene, Texas, 1951.
Nothing much has changed...
The rich character study with a non-star cast dispassionately (but affectionately) depicts the contrasting, mediocre lives of two generations of aimless townspeople with frustrated, unhappy, unfulfilled, routine, despairing and shallow lives (middle-aged adults and naive adolescent teenagers) who cling to the dying and barren town, and try to find solace and escape from boredom in lost dreams, drinking, temporary and manipulative sexual encounters (adulterous and promiscuous relationships), the local movie theatre's shows (and television), or by moving to the big city. Everyone knows everything about everyone else in the insular, claustrophobic town. The coming-of-age characters in the younger generation, and the characters in the older generation who only have their memories, include:
Younger Generation

Older Generation

a likeable, high-school athlete and senior (Jeff Bridges)
another quiet, serious senior, his friend (Timothy Bottoms)
his slow-witted, mute pal (Sam Bottoms)
a teenaged temptress (Cybill Shepherd)

an old-timer and ex-cowboy (Ben Johnson)
a once-beautiful, lonely, alcoholic, philandering rich wife (Ellen Burstyn)
a neglected, middle-aged (homosexual) coach's wife (Cloris Leachman)
The time frame of the film, about a year-long period from November 1951 to the next late fall and told from the point-of-view of an 18 year old boy, chronicles how changes in the world, his own personal rites of passage, and the closing of the forlorn town's only 'picture show' (due to the coming of the isolating pablum of television) that marked the economically-battered community's death knell and the passing of an earlier era. The younger generation has little to look forward to, based on their elder's experiences. Another film poster declared: "Anarene, Texas, 1951, Nothing much has changed...", with the implication that change is inevitable and life-altering. Only nostalgia for the remembered past may bring some sense of nurturing comfort and ease from the pain of life's experiences, lost loves and disappointments.
The town in McMurtry's novel was the small town of Thalia. But the film was actually shot in Archer City, Larry McMurtry's hometown, and bears a strong resemblance to Thalia. Archer City is located at the intersection of Texas State Highways 25 and 79, about 150 miles northwest of Dallas/Fort Worth. The name of the town in the film, Anarene, located 8 miles South of Archer City, was chosen to provide correspondence to the cow-town of Abilene in Hawks' Red River (1948).
The naturalistically-frank R-rated film reflecting social and sexual mores (with full frontal nudity and explicit sexual situations) was nominated for eight Academy Awards (including four for its ensemble cast), and was awarded two Oscars for two supporting actors of the older generation: Ben Johnson (Best Supporting Actor) and Cloris Leachman (Best Supporting Actress). The other six nominations included: Best Picture, Best Supporting Actor (Jeff Bridges), Best Supporting Actress (Ellen Burstyn), Best Director, Best Cinematography (Robert Surtees known for his work on The Bad and the Beautiful (1952)), and Best Adapted Screenplay (Larry McMurtry and Peter Bogdanovich). The film's sequel Texasville (1990), also by Bogdanovich, featured Jeff Bridges and Cybill Shepherd (and others in the principal cast) reprising their original roles.
To provide further authenticity and a melancholy counter-point to the film's characters and motivations, the film employs a carefully-chosen soundtrack (heard on car and truck radios, 45 rpm phonographs, jukeboxes, etc.) full of early 50s country western songs (recordings by Hank Williams, Bob Wills and His Texas Playboys, Eddy Arnold, Eddie Fisher, Phil Harris, Pee Wee King, Hank Snow, Tony Bennett, Lefty Frizzell, Frankie Laine, Johnnie Ray, Johnny Standley, Kay Starr, Hank Thompson, Webb Pierce, and Jo Stafford).
Plot Synopsis
---
The generational, rites-of-passage film opens in late November, 1951 during the time of the Korean War and the emergence of television. [The time period is identified later by a scrawled date on a blackboard in a school classroom.]
After a stark white-on-black title, the opening shot, symmetrical to the film's closing shot, there is a pan from right to left down the empty main street of the deserted, desolate, wind-blown, dust-bowl town of Anarene. The pan starts at the town's sole 'picture show' palace named the Royal (the marquee broadcasts the current feature "Spencer Tracy, Father of the Bride"). The camera passes by the Alsup's City Cleaners and the Texas Moon Cafe, and views a distant Texaco gas station.
A sensitive, coming-of-age youth in the town is introduced in his black 1941 Chevrolet pickup truck on a Saturday - he is football-playing high-school senior Sonny Crawford (Timothy Bottoms in his debut film), in the class of 1951. He fiddles with the choke (metaphoric for the claustrophic hold the environment has on the hamlet) and accelerator to keep the vintage truck from stalling, while his radio blares a Hank Williams tune (the film's theme song: "Why Don't You Love Me (Like You Used to Do)?"). Down the street, he spots his grinning pal Billy (Sam Bottoms, his real-life brother), a slow-witted and mute kid, who ineffectually and obsessively sweeps the dust away with a broom. After picking up his friend, Sonny - with a trademark action (that signifies their special relationship), turns Billy's cap around backwards, and then drives to the local pool hall. The broken-down venue has a candy-case at the counter, a soda machine, a few snooker tables, and a gas stove.
The pool hall owner, ex-cowboy Sam 'the Lion' (Ben Johnson) is bent over one of the pool tables while brushing the felt surface. The cold wind from the open door causes him to be seized with a coughing fit. They listen to the program "Cowboy Rhythms" on the local radio station KPRN (in Wichita Falls). The next song is announced - Hank Williams singing his hit tune: 'Cold, Cold Heart.' [The song illustrates the emotional, frozen nature of the town.] Sam, who serves as Billy's ward and looks after Sonny as his surrogate father, chastises Sonny for not eating a "decent breakfast" and for getting "stomped" in the previous night's football game (Sonny's last game as a lackluster senior player) - because of missed tackles and lousy athleticism:
Sonny: Coulda been worse...
Sam: Yeah. You can say that about nearly everything, I guess.
Abilene (Clu Gulager), a well-off oil-rig worker (for the Farrow Oil Company), drives up in a souped-up shiny car and enters the poolhall. He assembles his own fancy pool cue and then collects his wagered $50 football game bet made earlier with Sam. Contrary to logic, Sam is still loyal and supportive of his hometown team:
Now you see - this is what I get for bettin' on my own hometown ball team - oughta have better sense.
Outside, another pickup pulls up and drops off a second high-school senior, Duane Jackson (Jeff Bridges), who also plays football and works part-time on the weekends for the Farrow Oil Company. The two teenagers, both best buddy-friends, deliver a sack of change to Genevieve (Eileen Brennan), the waitress at Sam's greasy-spoon, run-down cafe down the street. [Sam, the town's elder statesman, owns the town's three establishments where the community gathers socially: the cafe, the pool hall, and the movie house.] The local hangout is populated by oil drillers, grizzled cowboys, and other town residents. Duane jokes that "nobody prosperous would eat here." As always, Duane will use a shared pickup first - for Saturday night necking and petting after the show with his girlfriend. Meanwhile that afternoon, Sonny drives a truck to deliver propane and butane gas to neighboring country farms outside of town. The surrounding prairie landscape is flat, dusty, empty, and drab.
In the picture show lobby that evening [the Royal's outdoor stand advertises a coming feature, John Ford's western Wagonmaster (1950) - with Ben Johnson in his first starring role], Sonny arrives late and pays his discounted admission to kindly Miss Mosey (Jessie Lee Fulton) behind the popcorn machine ("...you ain't got any time to see the comedy in three weeks...And you missed the newsreel too, and the main show has done started so I'll just charge you thirty cents"). The main show is already playing - it is the first-run, fantasy mill feature by director Vincente Minnelli titled Father of the Bride (1950) - a romantic 50s comedy starring young Elizabeth Taylor as Kay, a middle-class teenager on the verge of getting married, and the paternal figure of Spencer Tracy. [The first film shown in the theatre portrays an idealized father-daughter relationship, while the second film shown in the Royal toward the film's end, Red River (1948) is about a strained father-son relationship.]
Sonny's unattractive, steady girlfriend of one year, Charlene Duggs (Sharon Taggart, aka Sharon Ullrick), is perturbed that Sonny has already missed the cartoon and the newsreel. The couple move to the back row of the dark theatre, where she extracts her chewing gum and they start kissing. During the unemotional embrace, Sonny peers over Charlene's shoulder and concentrates his eye on the bright face of the young star on the big screen, presumably wishing that he was kissing Elizabeth Taylor in never-never land, instead of being in Anarene. She then hints that she is expecting a one-year anniversary present:
Charlene: We've been goin' steady a year tonight.
Sonny: (tiredly) Yeah? Seems like a lot longer.
Charlene: (pouting) You shoulda got me some anniversary present.
Sonny: You can have another stick of gum - that's all I got on me.
During the show, Duane arrives with the town's rich local belle, a rich-girl and icy blonde beauty named Jacy Farrow (Cybill Shepherd in her film debut). As the teenager's leave, Sam and Miss Mosey are posting the next film's poster and marquee for - Sands of Iwo Jima (1949). Duane leaves with Jacy in her shiny convertible, while Sonny drives in the pickup to a deserted lakeside, lover's lane area with Charlene. As they listen to the radio, she methodically removes her own sweater (he unhooks her pointed bra and hangs it on the rear-view mirror), and routinely permits him to cup her full right breast (with his cold left hand) while they kiss. When he looks away distractedly, she asks angrily: "What's the matter with you? You act plain bored." He suggests doing "something different" on their anniversary, causing Charlene to accuse him of wanting to get her pregnant before getting married. Their spat leads to their breakup, when she complains that he isn't good-looking (because he doesn't have a ducktail) and that he didn't even play in the backfield. She pouts and demands that he return her sexy pictures. Sonny drawls back: "I don't want to spoil no more anniversaries for you."
One night in the cafe, Genevieve commiserates with Sonny about his non-existent love life and his jealous envy of Duane with Jacy. Although Sonny is both infatuated and lustful over Jacy, he keeps a distance from her out of respect for his buddy:
Genevieve: She (Charlene) doesn't have a good disposition - what are you blue about then?
Sonny: Ain't nobody to go with in this town. Jacy's the only pretty girl in school and Duane's got her.
Genevieve: I'd call that his tough luck...Jacy'll bring him more misery than she'll ever be worth.
Genevieve is saddened that Sonny and Duane are both rootless. They live in a boarding house and lack parental guidance and love - something she had also experienced with her own mother. She is saddled with heavy debts from her husband's medical bills. In separate generations, both are caught in a cycle of poverty:
Genevieve: I don't know. You and Duane - both in a boardinghouse - him with a mother, and you with a father. Don't seem right. And your dad's takin' too many pills, you know...But then I'm no one to talk. I never did get on with Mama - I still don't.
Sonny: Say, I hear Dan's goin' back to work soon. I guess you'll be quittin' before long.
Genevieve: (ruefully) Honey, we got four thousand dollars worth of doctor bills to pay. I will probably be makin' cheeseburgers for your grandkids.
In a high-school classroom, English teacher Mr. Cecil (John Hillerman of TV's Magnum, P.I. fame) struggles to interest his students in John Keats. The camera records the class of Anarene's seniors - Duane and Sonny playfully wrestle, the narcissistic tease Jacy primps in her vanity mirror, and the wimpy preacher's kid Joe Bob Blanton (Barc Doyle) has his hair mussed. The teacher reads a passage to the disinterested class, while Sonny daydreams and watches two dogs humping on the front lawn:
When old age shall this generation waste
Thou shalt remain, in midst of other woe
Than ours, a friend to man
To whom thou sayest, 'Beauty is truth, Truth Beauty'
That is all ye know on Earth
And all ye need to know
Now that the football season is over, after-school basketball practice has begun for the high-school athletes. Tobacco juice-spitting Coach Popper (Bill Thurman), with a big gut and homosexual tendencies toward some of his star male players (probably as compensation for his marital failures), exhorts his team to run laps around the gym floor: "You gotta be men like the rest of us - ain't none of you pretty enough to be women...If you'all didn't jack off so damn much, maybe you could stay in shape." Sonny eagerly accepts to do a favor for the coach - to drive Popper's wife Ruth (Cloris Leachman) to a doctor's clinic in Olney the next day, in exchange for the bribe of getting him out of Civics class. Sonny is thrilled by the offer: "That's the best offer I've had all day."
At the local Rig-Wam drive-in after practice, Duane has his head cradled in Jacy's lap in the front seat of her convertible as she dangles french fries above his mouth. Sonny sits by himself in the back seat. The town's overweight prostitute Jimmie Sue (Helena Humann) works part-time as the drive-in's car-hop. When Jacy's wealthy parents drive up in a Cadillac convertible, Jacy quickly poses demurely. Her rich father Gene Farrow (Robert Glenn) and stern mother Lois (Ellen Burstyn) expect Jacy to return home for supper in fifteen minutes. One of Gene's workers, Abilene, acknowledges Lois (both look at each other through expressionless sunglasses) - she shoots him a middle finger as they pull away.