2019
The winner is listed first, in CAPITAL letters.
Best Picture


PARASITE (2019)


Ford v Ferrari (2019)


The Irishman (2019)


Jojo Rabbit (2019)


Joker (2019)


Little Women (2019)


Marriage Story (2019)


1917 (2019)


Once Upon a Time...in Hollywood (2019)
Best Animated Feature Film


TOY STORY 4 (2019)


How to Train Your Dragon: The Hidden World (2019)


I Lost My Body (Fr.) (aka J'ai Perdu Mon Corps) (2019)


Klaus (Sp./UK) (2019)


Missing Link (2019)

Actor:
JOAQUIN PHOENIX in "Joker," Antonio Banderas in "Pain and Glory," Leonardo DiCaprio in "Once Upon a Time...in Hollywood," Adam Driver in "Marriage Story," Jonathan Pryce in "The Two Popes"
Actress:
RENEE ZELLWEGER in "Judy," Cynthia Erivo in "Harriet," Scarlett Johansson in "Marriage Story," Saoirse Ronan in "Little Women," Charlize Theron in "Bombshell"
Supporting Actor:
BRAD PITT in "Once Upon a Time...in Hollywood," Tom Hanks in "A Beautiful Day in the Neighborhood," Anthony Hopkins in "The Two Popes," Al Pacino in "The Irishman," Joe Pesci in "The Irishman"
Supporting Actress:
LAURA DERN in "Marriage Story," Kathy Bates in "Richard Jewell," Scarlett Johansson in "Jojo Rabbit," Florence Pugh in "Little Women," Margot Robbie in "Bombshell"
Director:
BONG JOON HO for "Parasite," Martin Scorsese for "The Irishman," Todd Phillips for "Joker," Sam Mendes for "1917," Quentin Tarantino for "Once Upon a Time...in Hollywood"


---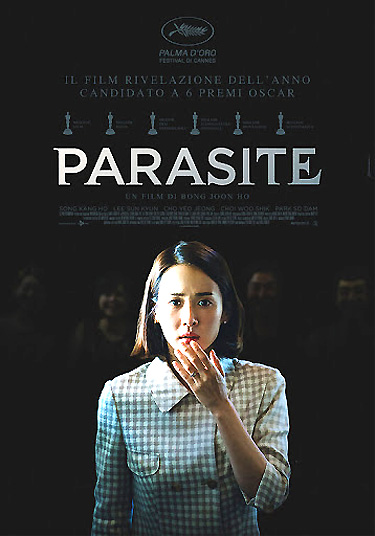 Again this year, there were 24 categories of awards, amounting to a total of 124 Oscar nominees. However, the announcement of nominees and winners (on January 13th and February 9th) was earlier than in previous years, as part of a strategy to increase television ratings. Also, for the second year in a row, the televised show was host-free. One other major change was that the title of Best Foreign-Language Film was retired and replaced with Best International Feature.
The Best Picture category may have as many as 10 or as few as five nominees, depending on how the AMPAS voters spread their votes. This year, there were nine contenders for the top prize. The nine films nominated for Best Picture included four films with double-digit nominations. This was an Academy record - it was the first time four films achieved double-digit nominations in the same year. Joker received 11 nominations, including Best Picture. Three films tied for 10 nominations: The Irishman, 1917, and Once Upon a Time...in Hollywood. Four films had six nominations apiece, and the last film, Ford v Ferrari had only four nominations. Jojo Rabbit lacked nominations in the lead acting category, and both 1917 and the character-driven Parasite had no acting nominations at all.
Streaming giant Netflix led the studios with 24 nominations, the most of any entertainment company, including Best Picture nominations for Marriage Story and The Irishman. It bested the newly-formed Disney-Fox conglomerate (with the largest box-office totals for the year), one more than Disney and four more than Sony, which came in third place with 20 nominations. However, by the end of the Oscars show, Netflix had only two Oscar wins: Best Documentary (American Factory, produced by Barack Obama and Michelle Obama's production company) and Laura Dern's Best Supporting Actress award.
Some reviewers have noted how many of the Best Picture nominees had plots that were dark, gloomy, hope-deprived, often violent, and despairing. The Best Picture winner was a surprise upset:
Parasite (with 6 nominations and 4 wins, Best Director, Best Original Screenplay, Best International Feature Film, and Best Picture), South Korean writer/director Bong Joon Ho's subtitled psychological thriller, twisting drama and dark comedy about class struggle and social inequality, in which a poor family (the Kims) infiltrated into the rich Park family household by posing as skilled workers. Backed by the small New York indie upstart Neon, its other two losing nominations included Best Film Editing, and Best Production Design.
[Note: This was the first Best Picture nomination for a South Korean film in the Academy's history. It was the first non-English language film to ever win the top honor. It was only the 10th foreign-language film to be nominated for Best Picture. It was the first nomination and win in the category of Best International Feature Film for a South Korean film. It also won the Palme d'Or at Cannes (the first Korean film to do so). To date, it was one of only 12 films that won Best Picture without receiving a single acting nomination. The Best Original Screenplay Oscar awarded to Parasite was the first writing win for an entirely Foreign-Language film since Talk to Her (2002, Sp.), and it was the first time Asian writers had ever won an Oscar.]
Eight of the nine nominated Best Pictures earned at least one award (arranged in descending order of wins below):
1917 (with 10 nominations and 3 wins, Best Sound Mixing, Best Cinematography, and Best Visual Effects), Universal's and director Sam Mendes' World War I epic about two British soldiers racing over no-man's-land to hand-deliver a critical life-saving message (to save their fellow 1,600 troops), with nods to its director and screenplay among other accolades (but without any acting nominations); with superb cinematography by Oscar-winning Roger Deakins, who received his second career Cinematography Oscar (with his 15th nomination - noms stretched way back to 1994), who digitally stitched together the entire two-hour film to make it look continuous; Deakins had previously won his first Oscar for Best Cinematography for Blade Runner 2049 (2017)
Joker (with 11 nominations and 2 wins, Best Original Score and Best Actor), Warner Bros' and director Todd Phillips' R-rated, revisionist comic-book portrait of a DC Comics superhero (an origin story about a mentally-ill Batman villain), with nods for Best Director and Best Actor (Joaquin Phoenix) among others
[Note: This marked the most nominations for a comic book-based superhero movie in Academy history. It was also only the second comic-book superhero (or super-villain) movie in history to earn a Best-Picture nomination, following the previous year's Black Panther (2018) (with six nominations and three wins). In addition, the film was the highest-grossing movie nominated for Best Picture this year, with over $1 billion revenue (worldwide), and $334 million (domestic) at the time of the nominations. Since its release, it became the top-grossing R-rated film of all time (worldwide). Phillips' film paid homage to two classic Martin Scorsese films: Taxi Driver (1976), and The King of Comedy (1982).]
Once Upon a Time...in Hollywood (with 10 nominations and 2 wins, including Best Supporting Actor and Best Production Design), Sony Pictures' and director Quentin Tarantino's fictional homage to late-1960s Hollywood show-business during the rise of the Manson Family (and its notorious murder of Sharon Tate (Margot Robbie)), with nods to its two actors (Oscar-winning Brad Pitt as a stuntman and Leonardo DiCaprio as a has-been actor), and Tarantino (for his Original Screenplay and Directing)
Ford v Ferrari (with 4 nominations and 2 wins, Best Sound Editing and Best Film Editing), Fox's and director James Mangold's entertaining action-oriented biography - based on the true competitive story of the race in the mid-1960s to make a faster car, a rivalry between the Ford Motor Company's American car designer Carroll Shelby (Matt Damon) and engineer-driver Ken Miles (Christian Bale), and Ferrari at the 24 Hours of Le Mans in 1966
Jojo Rabbit (with 6 nominations and 1 win for Best Adapted Screenplay), Fox Searchlight's and writer/director Taika Waititi's satirical tale of a young German boy named Jojo (Roman Griffin Davis) who imagined Hitler as his friend, and found a Jewish girl hidden in his attic by his mother (Scarlett Johansson)
Little Women (with 6 nominations and 1 win for Best Costume Design), Sony Pictures' and un-nominated director Greta Gerwig's coming-of-age version of Louisa May Alcott's post-Civil War tale, an exquisite period drama about four sisters (portrayed by Saoirse Ronan, Florence Pugh, Emma Watson, and Eliza Scanlen) growing up in Massachusetts with their mother Marmee March (Laura Dern)
[Note: This version became the most nominated adaptation of Louisa May Alcott's book ever filmed. It became the 3rd film in Oscar history solely written, directed and produced by a woman, that also received a Best Picture nomination:]
Marriage Story (with 6 nominations and 1 win for Best Supporting Actress), Netflix's and writer/director Noah Baumbach's drama about a vicious divorce and custody battle between a married couple, Charlie (Adam Driver) and Nicole Barber (Scarlett Johansson), conducted in part (between New York and Los Angeles) by Nora's high-powered divorce attorney Nora Fanshaw (Oscar-winning Laura Dern)
The Irishman (with 10 nominations and 0 wins), Netflix's and director Martin Scorsese's lengthy mob drama based on Charles Brandt's 2004 book I Heard You Paint Houses, with nods to Scorsese as director, and its two supporting actors (Joe Pesci and Al Pacino), in a tale of elderly hit-man Frank Sheeran (Robert DeNiro) recalling his part in the killing of union labor leader Jimmy Hoffa; it was the only Best Picture nominee that was Oscar-less - marking it as one of the worst shut-outs in Oscars history
Three additional films received three nominations each - without receiving Best Picture nominations, but they did not fare well:
Liongate's and director Jay Roach's Bombshell (with a sole win for Best Makeup and Hairstyling), a serious look at sexual harrassment allegations leveled at former CEO Roger Ailes at the Fox News Channel in mid-2016
Disney's Star Wars: Episode IX - The Rise of Skywalker (with zero wins), the newest installment of the sci-fi space saga, with nominations for Best Sound Editing, Best Visual Effects, and Best Original Score (John Williams)
[Note: John Williams' nomination was his 52nd Oscar nomination.]
Netflix's and director Fernando Meirelles' thoughtful religious drama The Two Popes (with zero wins), adapted from Anthony McCarten's play The Pope (2017), was about conversations between Pope Benedict (Hopkins) and Pope Francis (Pryce) at the Vatican
For the second year in a row, there were no women nominated in the Best Director category. The nominees for Best Director had an average age of 57. Four out of the five nominees for Best Director also received nods for their Adapted and Original Screenplays.

The winner of Best Director was 50 year-old writer/director Bong Joon Ho (with his first directorial nomination) for Parasite. He also won the Oscar for Best International Feature Film and Best Picture. Bong Joon Ho became the 8th director to have accomplished the 'hat trick' of triple Oscar wins for Producing, Directing, and Writing in a single year. He was only the second Asian director ever to win a directing Oscar, following two-time champ Ang Lee (for Brokeback Mountain (2005) and Life of Pi (2012)).

The other nominees in the Best Director category were:
77 year-old Martin Scorsese (with his ninth nomination) for The Irishman
[Note: This nomination made Scorsese the most-nominated living director in Academy history. He surpassed Billy Wilder (with eight career directorial nominations), although still trailed the 12 nominations held by William Wyler. He became the second most-nominated director in history. His previous nominations, with one win, include Raging Bull (1980), The Last Temptation of Christ (1988), GoodFellas (1990), Gangs of New York (2002), The Aviator (2004), The Departed (2006) (win), Hugo (2011), and The Wolf of Wall Street (2013). If Scorsese had won, he would have been the oldest director to win a Best Director Oscar.]
56 year-old writer/director Quentin Tarantino (with his third directorial nomination) for Once Upon a Time...in Hollywood
[Note: Tarantino had never won a Best Director Oscar; he won twice before for Best Original Screenplay, for Pulp Fiction (1994), and Django Unchained (2012).]
54 year-old writer/director Sam Mendes (with his second nomination) for 1917
[Note: Mendes previously won Best Director for his directorial debut film American Beauty (1999).]
49 year-old writer/director Todd Phillips (with his first directorial nomination) for Joker
[Note: Phillips was previously co-nominated for Best Adapted Screenplay for Borat (2006), and also received a co-nomination for Best Adapted Screenplay for this film.]
Within the twenty acting nominations, there were about a third that were offered to performers who have a long history with Oscar, including Kathy Bates, Tom Hanks, Anthony Hopkins, Al Pacino, Joe Pesci, Charlize Theron, and Renée Zellweger. Five of the acting nominees were over 70 years of age. Black actors and actresses were largely overlooked this year, however, with only one nominee among the twenty slots - the British-Nigerian actress Cynthia Erivo as the sole nominee for Harriet, a biopic about Harriet Tubman. There was only one nominated international star as well, Antonio Banderas for Pain and Glory. All of the winners in the acting categories were predicted to win.
The winner of Best Actor was 45 year-old Joaquin Phoenix (with his third Best Actor nomination and first Oscar win), for his portrayal of the violent, delusional, sociopathic Gotham City title character - mentally-ill outcast, aspiring comedian and party clown Arthur Fleck, in Joker. [Note: Phoenix' previous nominations included Best Supporting Actor for Gladiator (2000), and Best Actor for Walk the Line (2005) and The Master (2012). He became the second-ever to win for a role based on a superhero comic book character. The first was Heath Ledger's posthumous Best Supporting Actor Oscar for his version of the Joker in The Dark Knight (2008). Oscar history was also made: it was only the second time that two actors won Oscars for playing the same character. The first instance was when Marlon Brando won for playing Don Corleone in The Godfather (1972) and Robert De Niro won for the same role in The Godfather, Part II (1974).]
The other nominees in the Best Actor category were:
45 year-old Leonardo DiCaprio (with his fifth Best Actor nomination), for his role as washed-up, hard-drinking 1950s TV-westerns actor Rick Dalton, in Once Upon a Time...in Hollywood
[Note: DiCaprio's first nomination was for a supporting role in What's Eating Gilbert Grape? (1993). He also had four previous Best Actor nominations with one win: The Aviator (2004), Blood Diamond (2006), The Wolf of Wall Street (2013), and The Revenant (2015) (win).]
36 year-old Adam Driver (with his first Best Actor nomination), for his portrayal of a husband - NYC avant-garde theatre director Charlie Barber whose wife (Johansson) moved to Los Angeles and filed for divorce, in Marriage Story
[Note: Driver was previously nominated as Best Supporting Actor for BlacKkKlansman (2018).]
59 year-old Spanish actor Antonio Banderas (with his first nomination), portraying gravely depressed, ailing and declining Spanish filmmaker Salvador Mallo, in Pedro Almodóvar's little-known and viewed Pain and Glory (Sp.)
72 year-old Jonathan Pryce (with his first nomination), for his portrayal of progressive Cardinal Jorge Bergoglio (later Pope Francis), in The Two Popes
The winner of Best Actress was 50 year-old Renée Zellweger (with her third nomination in the category, and second Oscar win), for her casting as American singer/actress Judy Garland during the last year of her career in Britain before her death, in director Rupert Goold's biopic Judy - based on the Tony-nominated play End of the Rainbow. [Note: Zellweger was previously nominated twice as Best Actress for Bridget Jones's Diary (2001), and Chicago (2002). She won Best Supporting Actress for Cold Mountain (2003). She became the 7th female performer in Academy history to win both a lead and supporting Oscar.]
The other nominees in the Best Actress category were:
44 year-old Charlize Theron (with her third nomination in the category, including one win), for her role as FOX News-caster Megyn Kelly, in the semi-biographical drama Bombshell (with only one win, Best Makeup and Hairstyling)
[Note: Theron was previously nominated twice for Best Actress, with one win: Monster (2003) (win) and North Country (2005).]
25 year-old Irish actress Saoirse Ronan (with her third nomination in the category) for playing headstrong heroine Josephine "Jo" March, in the re-adaptation of Little Women
[Note: She became the second-youngest four-time nominee, male or female, in Academy history, behind Jennifer Lawrence. Ronan was previously nominated for: Best Supporting Actress for Atonement (2007), and Best Actress for Brooklyn (2015) and Lady Bird (2017).]
33 year-old Cynthia Erivo (with her first nomination), for her portrayal of slave-turned Underground Railroad abolitionist leader Harriet Tubman (aka Araminta "Minty" Ross), in director Kasi Lemmons' Harriet
35 year-old Scarlett Johansson (with her first nomination), for her portrayal of an ex-teen film actress Nicole, married to successful NYC theater director, and undergoing a difficult marriage breakup, in Marriage Story
[Note: This was the first double nomination in 13 years - since Cate Blanchett was nominated for Best Actress and Best Supporting Actress for Elizabeth: The Golden Age (2007) and I'm Not There (2007). See Johansson's second nomination below.]
The five nominees for Best Supporting Actor included a very aging group of male performers (and surprisingly, Oscar-winner Brad Pitt at 56 years of age was the youngest of the group). All five of the nominees were previous Oscar winners (in various categories).
The Best Supporting Actor winner was Brad Pitt (with one previous nomination in the category, and three acting nominations overall). It was Pitt's first acting Oscar win. He was honored for his role as stoic, loyal stunt double Cliff Booth, the best friend of aging Hollywood actor Rick Dalton (DiCaprio), in Once Upon a Time...in Hollywood. [Note: Pitt had three previous acting nominations: Best Supporting Actor for Twelve Monkeys (1995), and Best Actor for The Curious Case of Benjamin Button (2008) and Moneyball (2011). He also was previously nominated as Best Picture producer for 12 Years a Slave (2013) (win), Moneybal (2011) and The Big Short (2015).]
The other nominees in the Best Supporting Actor category were:
79 year-old Al Pacino (with his fourth nomination in the category, and ninth nomination overall), for his role as Teamsters labor union head Jimmy Hoffa, in The Irishman
[Note: Over his decades-long career, Pacino has a total of eight previous nominations, five for Best Actor (Serpico (1973), The Godfather Part II (1974), Dog Day Afternoon (1975), ...And Justice For All (1979), and a sole win for Scent of a Woman (1992)). Then, his previous three Best Supporting Actor nominations include The Godfather (1972), Dick Tracy (1990), and Glengarry Glen Ross (1992). The gap between his last nomination and this year's nomination was 27 years! With this nomination, Pacino tied for third place amongst the most-nominated male performers, joining Spencer Tracy and Paul Newman also with 9 nominations each - all running behind Laurence Olivier (with 10) and Jack Nicholson (with 12).]
76 year-old Joe Pesci (with his third nomination in the category, with one previous win), for his portrayal of Italian crime family boss Russell Bufalino, the cousin of Jimmy Hoffa's attorney, in The Irishman
[Note: Pesci's previous nods were Best Supporting Actor for Raging Bull (1980), and a win for GoodFellas (1990). The gap between his last nomination and this year's nomination was 29 years!]
82 year-old Anthony Hopkins (with his second nomination in the category), for his role as conservative Pope Benedict XVI (formerly German Cardinal Joseph Ratzinger) embroiled in corruption and cover-up, in director Fernando Meirelles' biopic drama The Two Popes
[Note: Hopkins had three previous Best Actor nominations (with one win): The Silence of the Lambs (1991) (win), The Remains of the Day (1993), and Nixon (1995), and a Supporting Actor nomination for Amistad (1997). The gap between his last nomination and this year's nomination was 22 years!]
63 year-old Tom Hanks (with his first nomination in the category), for his role as the beloved television icon Fred Rogers of the show Mister Rogers' Neighborhood, in Sony's and Marielle Heller's biopic A Beautiful Day in the Neighborhood (the film's sole nomination)
[Note: Hanks had five previous Best Actor nominations, including two wins: Big (1988), Philadelphia (1993) (win), Forrest Gump (1994) (win), Saving Private Ryan (1998), and Cast Away (2000). The gap between his last nomination and this year's nomination was 19 years!]
The winner of Best Supporting Actress was 52 year-old Laura Dern (with her first win, with two previous nominations, one in this category), for her role as persuasive family divorce attorney Nora Fanshaw on the side of Nicole Barber (Johansson), in Marriage Story. [Note: Dern was nominated for Best Actress for Rambling Rose (1991), and Best Supporting Actress for Wild (2014).]
The other nominees in the Best Supporting Actress category were:
71 year-old Kathy Bates (with three previous nominations, two in this category), for her motherly role as Barbara "Bobi" Jewell, in the Clint Eastwood-directed biographical drama Richard Jewell (the film's sole nomination), about the wrongly-accused security guard who became the main suspect involved in the 1996 Olympics pipe- bombing case in Atlanta, Georgia; the film was based upon the 1997 Vanity Fair article The Ballad of Richard Jewell by Marie Brenner
[Note: Bates won Best Actress for Misery (1990), and had two previous Best Supporting Actress nominations for Primary Colors (1998) and About Schmidt (2002).]
35 year-old Scarlett Johansson (with a second nomination this year - spanning two categories), for her role as single mother Rosie Betzler in Nazi Germany who was hiding a teenaged Jewish girl in the attic, in Jojo Rabbit
24 year-old English actress Florence Pugh (with her first nomination), for her role as sullen Amy March, the youngest of the four sisters, in Little Women
29 year-old Australian actress Margot Robbie (with one previous nomination), for her role as Kayla Pospisil, a fictional, newly-hired Fox News employee (a compilation of multiple Fox employees), in Bombshell
[Note: Robbie was nominated for Best Actress for I, Tonya (2017).]
Oscar Omissions and Snubs:
Best Picture:
Lulu Wang's and A24's sleeper hit The Farewell (with zero nominations) - the drama about a Chinese-American family's decision to hide the grandmother's terminal cancer diagnosis

Best Director:


writer/director Greta Gerwig's Little Women (with six nominations and only one win) received a nomination for Best Adapted Screenplay and two acting nods (Ronan and Pugh), but Gerwig was denied a Best Director nomination. Gerwig would have made history as the first woman to become a two-time directing nominee. She remained one of only five women nominated in the category.
[Note: Gerwig was nominated as Best Director for Lady Bird (2017).]
writer/director Lulu Wang for The Farewell
[Note: Wang would have become the first woman of Asian descent to be nominated].
other neglected female directors: Marielle Heller for A Beautiful Day in the Neighborhood, Lorene Scafaria for Hustlers, Melina Matsoukas for Queen & Slim, and Kasi Lemmons for Harriet
writer/director Noah Baumbach - passed over for his intensely-wrought divorce drama Marriage Story
Best Actor:
Eddie Murphy for his role as black entertainer and blaxploitation legend Rudy Ray Moore (and star of the 1970s Dolemite movies), in Netflix's and director Craig Brewer's biopic Dolemite Is My Name (with zero nominations)
Adam Sandler for his role as Howard Ratner, an indebted jeweler and degenerate gambling addict in NYC's Diamond District, always in trouble with loan sharks, in the A24 (and Netflix) crime-thriller and drama Uncut Gems (with zero nominations)
Robert De Niro for his decades-long title role as Frank Sheeran, a truck driver who turned hit man and was paired up with crime family mobster Russell Bufalino (Pesci), in Scorsese's expensively-produced and lengthy Netflix epic crime film The Irishman
Christian Bale for his role as a British World War II veteran, Ford Motor Company car mechanic and hot-headed professional race car driver, culminating in a 1966 race at Le Mans against the Ferraris, in Ford v Ferrari
Taron Egerton for his portrayal of gay rocker Elton John / Reginald Dwight and his friendship and musical partnership with lyricist Bernie Taupin (Jamie Bell), in the biographical musical Rocketman (with one win from its sole nomination, Best Original Song: "(I'm Gonna) Love Me Again")
Best Actress:
Awkwafina for her role as aspiring Chinese-American writer Billi Wang, who kept a terminal illness diagnosis from her matriarchial grandmother during a family wedding in China, in The Farewell
Lupita Nyong'o for her role as the haunted Adelaide Wilson, whose family was attacked by a group of menacing doppelgängers, in Jordan Peele's well-received horror film Us (with zero nominations) - with a great twist ending

Best Supporting Actor:


Jamie Foxx was snubbed for his role as wrongly condemned, Alabama death row prisoner Walter McMillian, in writer/director Destin Daniel Cretton's true-life drama Just Mercy (with zero nominations)
Song Kang-Ho was overlooked for his role as Kim Ki-taek, the impoverished patriarch of the Kim family in Seoul, involved in a manipulative con against the affluent Park family to take over their household, in the much-lauded black comedy-thriller from South Korea, Parasite

Best Supporting Actress:


Jennifer Lopez was deprived of an expected nomination for portraying stripper Ramona, in director Lorene Scafaria's Hustlers (with zero nominations)
Nicole Kidman didn't get honored with a nomination for her role as real-life FOX newscaster Gretchen Carlson, co-anchor of the Fox & Friends show, who filed suit against FOX news head Roger Ailes (John Lithgow) for sexual harrassment, in Bombshell
Zhao Shuzhen was passed over for her role as Billi's ailing paternal grandmother Nai Nai with a cancer diagnosis, hidden from her, in The Farewell
Best Animated Feature Film:
Disney's blockbuster sequel Frozen II (with only one nomination, Best Original Song) was knocked out of contention by Netflix's two foreign entries: Klaus (Sp./UK), an origin story about Santa Klaus, and/or by I Lost My Body (Fr.) (aka J'ai Perdu Mon Corps)