Background
---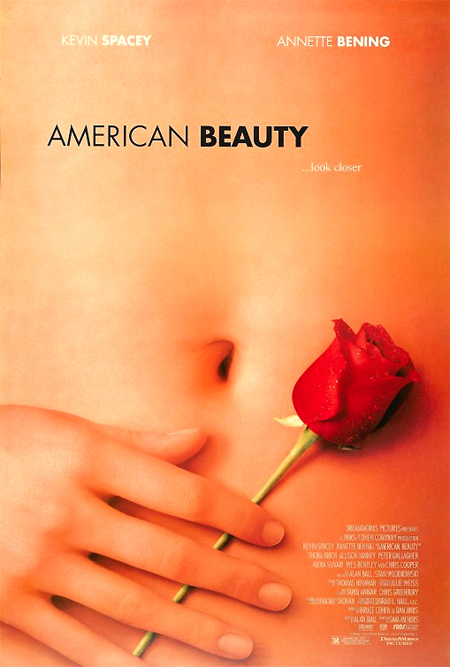 American Beauty (1999) is a tragic, absurdist, satirical and dark domestic tale - and the debut feature film of British-London theatrical-stage director Sam Mendes. With an ensemble cast, the low-budget R-rated, Best Picture-winning hybrid film viewed a dysfunctional family's angst and crisis in suburbia. The extremely dark comedy/drama - about the emptiness of contemporary American suburban life and a family's meltdown, was compressed into the last remaining months of the life of a husband facing mental and emotional collapse, who was also experiencing both a mid-career crisis and spiritual awakening.
The story was told through the eyes of the main protagonist - a "chronic loser" named Lester Burnham (Kevin Spacey), a casualty of suburban family life. He was living the materialistic, suburban "American dream," although his life was quietly-desperate and miserable. He calmly narrated his own story posthumously (a la Joe Gillis from Sunset Boulevard (1950)). Throughout the film, he was unable to speak his mind or actually feel much of anything. There were a number of instances of obscenities, drug dealing and drug use, implied masturbation, child-abuse, voyeurism, two brief female topless nudity of high school teens, statutory rape, a homosexual kiss, and adultery, with a violent climactic ending.
The film was a superb re-envisioning of the insightful Nicholas Ray, Eisenhower-Era melodrama about the family, Bigger Than Life (1956) - that also critiqued the suffocating and claustrophobic conformity of 1950s middle-class life in an earlier era. Another more extreme film that portrayed hidden problems in suburbia was David Lynch's Blue Velvet (1986). Two melodramas that commented on restrictive social norms included Douglas Sirk's All That Heaven Allows (1955), and Todd Haynes' Far From Heaven (2002). Allegedly, this soaper drama was the influential inspiration for the TV series Desperate Housewives (2004-2012) - a dark comedy about female spouses and their nefarious behind-closed-doors intrigue in an idyllic suburban setting. Hungarian Beauty (2006, Hungary) was a shot-for-shot remake, with only the names changed.
The rebellious, beleaguered and doomed Lester Burnham dropped out from his demeaning, downsized job for the advertising magazine Media Monthly, felt liberated and began working at a low-stress, fast-food place called Mr. Smiley's. He was involved in a dysfunctional marriage to his obsessive-compulsive, judgmental, disrespectful, perfectly bitchy wife Carolyn Burnham (Annette Bening). Meanwhile, novice, success-oriented, image-conscious realtor Carolyn (bolstered by motivational tapes and a belief in positive thinking) was committing adultery with self-dubbed rival "King of Real Estate" Buddy Kane (Peter Gallagher), and taking up gun-range shooting lessons. Lester also had become uncommunicative with his self-loathing, glum, moody, sullen and confused daughter Jane (Thora Birch) and felt disrespectul loathing from her. She had fallen for the drug-peddling, 18 year-old shy video-voyeur neighbor next door Ricky Fitts (Wes Bentley), the son of abusive and homophobic US Marine Col. Fitts (Chris Cooper) and his passively troubled wife Barbara (Allison Janey).
Lester became transformed out of his malaise when he lustfully fantasized about Jane's under-aged, 16 year-old cheerleader high-school friend and seductive temptress Angela Hayes (Mena Suvari), a blonde, self-possessed nymphet and aspiring model, who he eventually seduced. During his possible mental breakdown, Lester's decision to make radical, ultimately fatal changes to his depressing suburban life also led to his demise. Originally, the film was to be bookended with Lester Burnham's murder trial, with Ricky and Jane being tried and convicted for the crime about being set up by Colonel Fitts, but those scenes were edited out.
Significant images and central motifs included symbolically-used, computer-generated fresh rose petals (fantasies in Lester's mind that often covered the seductive image of Angela), and the 'beautiful' sight of a wind-tossed plastic garbage bag - literally trash. The film's title referred to a type of specially-cultivated, expensive, strong-smelling rose hybrid in the US that was beautiful to look at, but often was subject to fungus rot, mildew, black spots and decay in its underlying roots deep below. [Note: The "American Beauty" rose is the official flower of the District of Columbia.] It could be very attractive for a short while after being cut, but the beauty was only illusory, empty or artificial.
The movie's short tagline "...look closer" suggested that one needed to inspect more thoroughly beneath surface appearances to find real truth and possible subversion. [Trivia: Lester's work cubicle had a small plaque reading: Look Closer.] Another major motif was the color red, that was significantly present in many of the film's frames - as the color of doors, flowers, cars, other objects, accent colors, etc. Each of the main characters, living in despair, sought to choose more attractive or 'beautiful' situations, materialistic objects, or people to align themselves with. Each of the disparate individuals presented a skewed look at beauty from many different vantage points.
It was shot for a production budget of roughly $15 million in 55 days. The drama took in $130 million in revenue (domestic) and $356.3 million (worldwide) and was the 13th highest-ranked film of its year. The film's setting was the suburbs of Chicago, Illinois (based on the presence of area codes 312 and 847, and a Chicago Sun Times newspaper, plus other signifiers) although the film was shot in the Sacramento, California area. License plates read "The Primrose State" - although there was no state with that designated nickname.
From DreamWorks, it was the top Oscar-winning film of its year (with eight significant nominations and five wins), including Best Picture, Best Director (Mendes), Best Actor (Kevin Spacey), Best Original Screenplay (Alan Ball), and Best Cinematography (Conrad L. Hall). The other three nominations were for Best Actress (Annette Bening), Best Original Score (Thomas Newman), and Best Editing. It was the first non-historical epic (or non-period film) to win the top honor since The Silence of the Lambs (1991). Although heavily praised and lauded, the film was also criticized for being over-rated.
Plot Synopsis
---
Prologue:
In the film's misleading prologue (it was an excerpt of a scene repeated later), the shutter of a camera whirred on. A 16 year-old female teen, later identified as Jane Burnham (Thora Birch), was being filmed by her next-door neighbor and boyfriend - obsessed video cam-corder documentarian Ricky Fitts (Wes Bentley). She was lying back on her bed, complaining about her immature, adolescent-acting father Lester:
I need a father who's a role model, not some horny geek-boy who's gonna spray his shorts whenever I bring a girlfriend home from school. What a lame-o. Somebody really should just put him out of his misery
Off-camera, Ricky asked: "Want me to kill him for you?" She sat up and looked directly at him: "Yeah, would you?"
Title Credits - A Posthumous Voice-Over:
During the title credits, the camera floated over a suburban area with rows of similar houses on tree-lined streets - an aerial shot from a helicopter. In the film's calm but startling opening voice-over, a depressed, cynical, middle-aged, 42 year-old suburban father Lester Burnham (Kevin Spacey) briefly introduced himself, while foreshadowing his own death - he would be dead in less than a year:
(voice-over) My name is Lester Burnham. This is my neighborhood. This is my street. This is my life. I am 42 years old. In less than a year, I'll be dead. Of course, I don't know that yet, and in a way, I'm dead already.
After awakening one morning, the highlight of his day was masturbating in the shower (he was seen jerking off from the back through a foggy glass shower enclosure):
(voice-over) Look at me, jerking off in the shower. This will be the high point of my day. It's all downhill from here.
He briefly introduced his conformist, emotionally-tight wife - a shrill and materialistic, frigid 40-ish wife Carolyn (Annette Bening) who sported color-coordinated gardening shears, gloves and clogs while snipping at roses ("American Beauties") lining her white picket fence, to superficially make her home's appearance more beautiful and perfect. Next door homosexual neighbors were both named Jim, tending to a spoiled dog named Bitsy. Carolyn bragged to them about the secret to her flourishing garden: "Egg shells and Miracle Grow." In his manicured suburbia home (with a bright red front door), Lester was experiencing a major breakdown (male powerlessness or castration, similar to the cut off roses):
(voice-over) That's my wife Carolyn. See the way the handle on those pruning shears match her gardening clogs? That's not an accident. That's our neighbor, Jim, and that's his lover, Jim...Man, I get exhausted just watching her. She wasn't always like this. She used to be happy. We used to be happy.
He also mentioned the strained relationship with his angst-filled, 'goth' teen daughter Jane, an unconventional beauty who was going through a phase with self-image and self-esteem issues, sensing she was an unwanted, invisible wallflower. She was at her computer considering plastic surgery and breast augmentation (something she did not need since she had full breasts):
(voice-over) My daughter, Jane. Only child. Janie's a pretty typical teenager: angry, insecure, confused. I wish I could tell her that's all going to pass, but I don't want to lie to her...
Lester was living an unhappy, meaningless existence (an admittedly-sedated life) with an unfulfilling job (as an advertising executive) and a family of two contemptuous females who both regarded him as a "gigantic loser." He admitted that he had lost his will to live, but maybe he would be able to overcome the mid-life crisis he was suffering if he made some drastic changes - otherwise, he would soon die:
(voice-over) Both my wife and daughter think I'm this gigantic loser. And they're right. I have lost something. I'm not exactly sure what it is, but I know I didn't always feel this -- sedated. But you know what? It's never too late to get it back.
Lester's Employment at Media Monthly:
In his workstation cubicle (notice the sign "LOOK CLOSER") at Media Monthly Magazine where he had worked for 14 years, the beleaguered Lester (wearing a phone headset) was making a round of ritualistic phone calls. He was summoned into the office of Brad Dupree (Barry Del Sherman), a new hire, who portended the end of Lester's job: "I'm sure you can understand our need to cut corners around here." Lester sat as a tiny figure at a distance from Brad in the middle of the office, and ranted about wasteful company spending. He was cautioned to calm down, and to participate in a winnowing process: "We're having everyone write out a job description, mapping out in detail how they contribute. That way, management can assess who's valuable" - Lester interrupted: "...and who's expendable." Brad pretended to confide with Lester, claiming he was one of the "good guys" -- "This is your one chance to save your job."
As he was driven home in their Mercedes Benz SUV by Carolyn following work, Lester denounced the job description duty as "fascist" and felt like he was selling his soul and working for Satan. Carolyn commented about how their next-door neighbors the Lomans had moved out without her representing them, replaced by the pair of homosexual Jim's. She was beat out by "The Real Estate King" - her major rival, who let the house sit on the market for six months.
Dinner with the Burnhams:
In a stark dinner table scene (with a centerpiece of red roses) to the tune of Bali Hai "elevator music," Carolyn made a snotty comment about having "prepared a nutritious yet savory meal" for the family without any gratitude. Lester felt compelled to talk about his "bad day" at the office, and chastize his company's newest friendly "efficiency expert" Brad, who was preparing to justify how to fire a number of employees. Both parents were having problems communicating with their teen daughter Jane - Lester had barely spoken to her for months, although Lester thought Carolyn was worse and treated her "like an employee." In the kitchen, Lester apologized to Jane: "I'm sorry I haven't been more available..." He sincerely wondered: "What happened? You and I used to be pals."
The view changed to a grainy, washed-out image without sound - seen from an outdoor vantage perspective shot through the kitchen's bay window. The Burnham's new 18 year-old next door neighbor Ricky was videotaping their strained conversation, and watching through his viewfinder. Before leaving the kitchen, Lester threw his dish towel onto the counter - it landed next to a black and white family portrait from happier days.
Carolyn's Disastrous Open House:
Acting as her own real estate firm's head, Burnham & Associates, the next day, an emotionally-frayed yet falsely perky Carolyn was planting her realty sign in front of a dilapidated home for an upcoming open house showing. She unloaded her cleaning supplies and a boom box from the back of her car, when she happened to notice a bright red sign across the street. It was advertising for her major competitor, who was promoting his continuing success: SOLD - Another One Sold By Buddy Kane, The "King" of Real Estate. As she entered the home, she solemnly proclaimed her deepest wish as a mantra for positive thinking: "I will sell this house today." In a montage, she began her day's work:
assembled sales materials at the front entrance
stripped down to her underwear to use a squeegee to wash glass patio doors leading to the pool
scrubbed a kitchen countertop
dusted an out-of-date ceiling fan while on a step-ladder, causing her to cough
vacuumed the carpeted floor in the orange-painted living room
Her mantra persisted as she applied lipstick to herself, now back in her formal suit, before her first open house clients arrived to preview the home. She led a variety of unimpressed clients through a dramatic tour of the fixer-upper home while endlessly trying to promote the home's mismatching and outdated features, and how they could be improved:
Wait 'til you see the native stone fireplace! A simple cream would really lighten things up. You could even put in a skylight. Well, why don't we go into the kitchen. It's a dream come true for any cook. Just filled with positive energy, huh? And you'll be surprised how much a ceiling fan can cut down on your energy costs. You know, you could have some really fun backyard get-togethers out here...If you have a problem with the plants, I can always call my landscape architect. Solved...I have some tiki torches in the garage.
After a day of total frustration, she closed up the house by first locking the patio glass doors and closing the vertical blinds. She restrained herself from letting out a series of tremendously hysterical sobs. Catching herself in a moment of weakness and self-loathing, she slapped herself and wouldn't allow it: "Shut up. Stop it. You weak! You baby! Shut up! Shut up! Shut up!" She gasped for air, took a few deep breaths, wiped her eyes, and composed herself before calmly marching off.
The Basketball Game - and the Introduction of Spartanette Cheerleader Angela:
The local gymnasium was the setting for a crowd cheering on the HS basketball team. In the bleachers were the HS band and a group of Rockwell HS cheerleaders in dark green and white school uniforms. Jane sat next to her best girlfriend - a slutty, pouting, blonde high-school vamp and femme fatale, Angela Hayes (Mena Suvari):
[Note: Angela's last name, Hayes, was a reference to the last name of nymphet 'Lolita' (or Dolores Haze) in Vladimir Nabokov's 1955 novel and in Kubrick's film Lolita (1962).]
Jane was dismissive of her parents, who were on their way to attend the game as a way to take an "active interest" in her life: "They're such assholes. Why can't they just have their own lives?" On the way to the game, the Burnhams were also skeptical about bringing themselves closer to Jane's life - Lester most of all regretted missing "the James Bond marathon on TNT." He disagreed that there was only a "growing" distance between both of them and their daughter: "Growing? She hates me...She hates you too."
Bored, frustrated, rebellious, feeling "sedated" and intolerant of life as it was, little did Lester know that he would be transformed and brought back to life that evening. In the bleacher stands during half-time, Lester and Carolyn listened as the HS band played "On Broadway," while twelve Dancing Spartanettes (with derby hats) provided a well-choreographed routine of entertainment on the gym floor.
The scene of Lester's lustful entrancement with the sexpot Angela was remarkable. As Lester watched high up in the bleachers, he began to stare - becoming focused solely on Angela at the center of the group. He imagined her lustfully performing just for him. Staring at her and sexually desirous of her in his fantasies, his jaw dropped as the spotlight fell on her and she became the only one on the gym-floor in his view - and he was the only one in the stands. The ambient noise of the band faded in his mind as the camera focused on his spellbound gaze. The Lolita-esque female teasingly winked at him and then performed (in his fantasizing projective mind) a personal, one-on-one clothed striptease for him. She gave a knowing look, then moved her hands sensuously down her chest and over her breasts and crotch area. Then after another smirk, she unzipped the front of her team jacket uniform to slowly reveal her breasts, causing a torrent and cascading profusion of red rose petals to spill forth from her bare chest. After a smash-cut back to the full cheerleader group, the band hit its final note and the Spartanettes struck their final pose. The crowd cheered vigorously, but Lester was still transfixed and frozen.
After the game, Janie introduced her friend Angela to her parents waiting for them in the parking lot. While Carolyn was ready to leave after briefly expressing her gushing pride in Janie, Lester wanted to linger and talk frivolously with the two females. Janie was fed up with his embarrassing behavior and hinted: "Dad. Mom's waiting for you." Lester bid goodbye to Angela, revealing his over-solicitous infatuation with her: "Well, it was very nice meeting you, Angela. Any friend of Janie's is a friend of mine. Well, I'll be seeing you around, then." As Lester turned to leave, Janie muttered to Angela: "Could he be any more pathetic?" Angela was more knowing: "I think it's sweet. And I think he and your mother have not had sex in a long time."
Lester's Continuing Rose Petal Fantasies:
In the next scene after retiring for the night, red rose petals lazily floated downward onto the sleeping Burnham couple (from an overhead view), particularly falling over the dreaming Lester:
(voice-over) It's the weirdest thing. I feel like I've been in a coma for about 20 years, and I'm just now waking up.
His libido had been aroused by Angela - and he fantasized her lying naked on a huge platform of red rose petals (and covered in strategic private parts). He smiled as he imagined that she was beckoning him by raising her arms. The camera successively moved closer to Angela, as Lester began to be covered by the roses himself. When she gestured to him and smiled, he slowly whispered in response: "Spectacular."
Angela's Sexual Self-Awareness - and Ricky's Intrusive Video Camcorder:
Meanwhile in the middle of the night after the game, Angela and Jane were parked in Angela's white BMW convertible outside the Burnham home, giggling girlishly and passing a joint between them. Jane was apologetic about her father: "I'm sorry my dad was so weird tonight." Angela was sexually self-aware of the reaction she brought from all males - she was a wanna-be model to keep herself from the worst fate of all - "being ordinary":
It's OK. I'm used to guys drooling over me. It started when I was about twelve, I'd go to dinner with my parents. Every Thursday night, Red Lobster. And every guy there would stare at me when I walked in. And I knew what they were thinking. Just like I knew guys at school thought about me when they jerked off...I liked it. And I still like it. If people I don't even know look at me and want to fuck me, it means I really have a shot at being a model. Which is great, because there's nothing worse in life than being ordinary.
Jane was encouraging, but also sad about her own comparatively awful and sexless life: "I really think it'll happen for you." When Jane exited the car and walked to her front door, the view changed to videographer Ricky's peeping-tom POV through his camera lens as he filmed Jane. She stopped and realized he was closeby - shrouded in darkness on the neighbor's porch, until he turned on the light above him. She became angry and self-conscious at the intrusion and called him an "asshole." When he continued filming, she shot him the finger. But once inside, she peeked through a side window to see if he was still there, but he had vanished. She smiled to herself.
The Beginning of Lester's Focused Obsession on Angela:
The next morning as Jane showered, Lester rifled through her address/contact book and located Angela's name and phone number. He dialed her number, but when Angela answered, he was nervously frozen in fear and hung up. A few moments later, Angela called back and Jane picked up the phone. Angela explained the strange 'stalker'-like phone call, and returned the call by dialing *69. Jane noticed her open phone book and realized her father was responsible: "Oh, gross!" At the same time, Ricky was again intrusively filming Jane through her window.
The New Burnham Neighbors - Homophobic Colonel Fitts:
In the Fitts home, the recently-moved in neighbors, Ricky was eating breakfast before school with his withdrawn, nearly-comatose mother Barbara (Allison Janney) and retired, ramrod-strict Marine Corps officer father Col. Frank Fitts (Chris Cooper). His father was an angry, conservative, Nazi-loving, paranoid and bigoted man who feared - "This country is going straight to hell" (his first words). The meal was interrupted by the two openly-homosexual neighbors two doors down, Jim Olmeyer (Scott Bakula) and Jim Berkley or "JB" (Sam Robards), who delivered a gift basket of flowers and other gifts as a "Welcome to the neighborhood" good-will gesture. Col. Fitts was taken aback by the two who said they were 'partners', and suspiciously asked: "What are you guys selling?" When they answered that they were both professionals - a tax attorney and anesthesiologist, then it dawned on Fitts that they were gay men.
On the drive to school with his son, Col. Fitts revealed his homophobic fears: "How come these faggots always have to rub it in your face? How can they be so shameless?" His father's fears had rubbed off on the mildly-subversive Ricky, who protected himself from his father's perception that he also might be gay by a more extreme denoucement of homosexuality: "Those fags make me want to puke my fucking guts out." During the ride, Ricky was totaling up numbers in a notebook with a calculator - he was the neighborhood's pot dealer:
Total Gross: $28,692.50
Total Expenses: $3,742.50
Total Income: $24,950.00
Wanna-Be Model Angela's Sluttiness And Need For Approval and Attention:
At the high school before school commenced, the sex-crazed Angela bragged about her latest sexual partner ("a well-known photographer") to other teenaged girls - and she revealed that she wasn't shy about using her sexuality to get ahead in life:
He just pulled down his pants and yanked it out. You know, like, say hello to Mr. Happy....It wasn't gross. It was kinda cool...He shoots for Elle on, like, a regular basis? It would've been so majorly stupid of me to turn him down....Hey, that's how things really are. You just don't know, because you're this pampered little suburban chick.
However, one of the girls called out Angela for her delusional aspirations and the crass 'prostitution' of herself: "You've only been in Seventeen once, and you looked fat, so stop acting like you're goddamn Christy Turlington." Angela was pissed: "Cunt! I am so sick of people taking their insecurities out on me." Jane noticed Ricky getting out of his father's vehicle - "That's the pervert who filmed me last night." Angela gossiped about Ricky, calling him a "total lunatic" who said "random weird things" and was put in a mental institution by his parents, but Jane thought her comments were unfounded. And then Angela suspiciously assumed that Jane defended him because of her hidden feelings for him:
You total slut. You've got a crush on him...You were defending him! You love him. You want to have, like, ten thousand of his babies.
First Impressions of Ricky and the Fitts Family:
At school, Ricky walked up to Jane and introduced himself as the new neighbor, and apologized for scaring her with his incessant filming: "I just think you're interesting." She curtly dismissed him as an obsessed 'psycho': "Thanks, but I really don't need to have some psycho obsessing about me right now." As he stared at Jane, he again reiterated that he was just "curious" about her. Jane wondered about Ricky's air of confidence, but Angela thought he was a "freak" who dressed like "a Bible salesman" - she was especially critical of him because he hadn't looked at her once.
In the Fitts home that evening, the passive and delusional Barbara and the Colonel watched This Is The Army (1943), an old Ronald Reagan military movie on television. The uncommunicative couple were joined by their equally-quiet son who joined them on the couch.