1929-30
The winner is listed first, in CAPITAL letters.
Actor:
GEORGE ARLISS in "Disraeli", George Arliss in "The Green Goddess", Wallace Beery in "The Big House", Maurice Chevalier in "The Big Pond", Maurice Chevalier in "The Love Parade", Ronald Colman in "Bulldog Drummond", Ronald Colman in "Condemned", Lawrence Tibbett in "The Rogue Song"
Actress:
NORMA SHEARER in "The Divorcee", Nancy Carroll in "The Devil's Holiday", Ruth Chatterton in "Sarah and Son", Greta Garbo in "Anna Christie", Greta Garbo in "Romance", Norma Shearer in "Their Own Desire", Gloria Swanson in "The Trespasser"
Director:
LEWIS MILESTONE for "All Quiet On The Western Front", Clarence Brown for "Anna Christie", Robert Z. Leonard for "The Divorcee", Ernst Lubitsch for "The Love Parade", King Vidor for "Hallelujah
---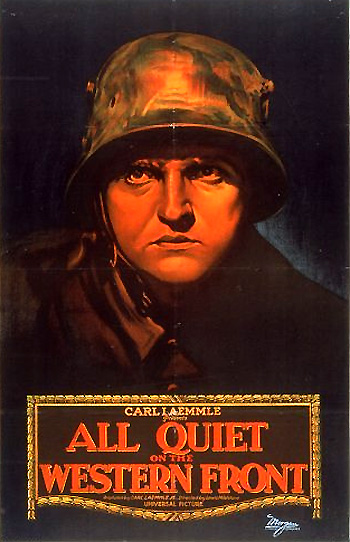 For the first and only time in Academy history, multiple nominations were permitted for individual categories (notice that George Arliss defeated himself in the Best Actor category). [With a change of rules, this would be the last year in which performers could be nominated for roles in more than one film.]
One of the greatest of all anti-war films, Universal Studios' and director Lewis Milestone's controversial All Quiet On The Western Front (with four nominations) won two major awards - Best Picture (for producer Carl Laemmle, Jr.) and Best Director (Milestone had won his first director's award for Best Comedy Direction -- the only winner in a short-lived category -- for Two Arabian Nights (1927/28) in the first Academy ceremony). These wins marked the first time that the film's director was also honored as Best Director along with the Best Picture win.
The anti-war film was based upon Erich Maria Remarque's grim anti-war novel (by playwright Maxwell Anderson and others) about a group of German school boys (with a focus on one in particular, Lew Ayres) who excitedly served the Fatherland, became disillusioned, and learned about fear and death during the Great War's weary combat. Due to its bleak picture of war, the film was banned in Germany after Hitler's rise to power.
The other Best Picture nominees were:
the genre-defining prison picture The Big House (with four nominations and two wins - Best Writing Achievement and Best Sound Recording)
Alfred E. Green's Disraeli (with three nominations and one win - Best Actor)
Robert Z. Leonard's The Divorcee (with four nominations and one win - Best Actress)
director Ernst Lubitsch's The Love Parade (with six nominations and no wins)
Some of the greatest early film directors lost to Lewis Milestone this year: Clarence Brown for Anna Christie, King Vidor for his first talkie - MGM's Hallelujah! (and the first all-black feature film), and Ernst Lubitsch for The Love Parade.
George Arliss' win for Best Actor made him the first British star to win an award. He won the award for his role as wily Benjamin Disraeli, the famous, wily 19th century British prime minister of No. 10 Downing Street to Queen Victoria in one of the earliest of Warners' biographical pictures, Disraeli, an American film. [This was Arliss' third performance as England's Prime Minister - he had played the role on stage in 1911 and in an earlier silent film version in 1921. His win made him the first to win the award for a role he'd played in film and on the stage.] He defeated himself - he was also nominated for his role as the Rajah of Rukh in The Green Goddess.
The other Best Actor nominees were:
Wallace Beery (with his first nomination) as rebellious convict Machine Gun Butch Schmidt in the exceptional prison melodrama The Big House
Maurice Chevalier (with his only two career nominations) as amorous Count Alfred in Lubitsch's The Love Parade AND as Frenchman Pierre Mirande in The Big Pond
Ronald Colman (with his first two career nominations) as adventurous detective Bulldog Drummond in the first sound film/installment of the long-running series Bulldog Drummond (with two nominations and no wins) AND as Devil's Island escaped prisoner Michel Oban in Condemned (the film's sole nomination)
opera star Lawrence Tibbett (in his debut film) as Russian bandit Yegor in MGM's and director Lionel Barrymore's The Rogue Song (the film's sole nomination)
There were two double-nominees in the Best Actress category: Norma Shearer and Greta Garbo. Norma Shearer (with her first nomination), the wife of MGM's Vice President and production head Irving Thalberg, won the Best Actress award for her role as free-spirited Jerry - the vengeful wife of her philandering journalist husband whose marriage is shattered by adultery in director Robert Z. Leonard's pre-Code melodramatic tearjerker The Divorcee (with four nominations and one win) based on Ursula Parrott's novel "Ex-Wife." [The Hays Office ordered that the original title of the film be changed from Ex-Wife.] Shearer was also simultaneously nominated for her role as Lally in Their Own Desire (the film's sole nomination), another MGM film.
To everyone's surprise, Shearer (favored by being married to MGM studio's Irving Thalberg) won over Greta Garbo's two nominations:
as waterfront streetwalker in the highly-tauted "Garbo Talks" film Anna Christie (with three nominations and no wins)
and as opera star Rita Cavallini in Romance (with two nominations and no wins)
[In fact, Greta Garbo, with a total of four nominations in her short career never won an award for any of her films - she was also nominated for the superb Camille (1936) and Ninotchka (1939). Garbo's favorite director Clarence Brown, the director for Anna Christie and six other Garbo films, never won an award for himself either.]
Trivia: This was the first instance in which blood relatives won awards in the same year: Best Actress Norma Shearer, and her brother, sound engineer Douglas Shearer. This also occurred in 1948 (for Walter and John Huston) and in 1974 (for Francis Ford Coppola and his father Carmine). See more below.
The other Best Actress nominees included:
Nancy Carroll (with her sole career nomination) as marrying-for-money manicurist Hallie Hobart in writer/director Edmund Goulding's The Devil's Holiday (with the film's sole nomination)
Ruth Chatterton (with her second and last unsuccessful nomination) as opera singer Jacqueline who searches for her son in Sarah and Son (the film's sole nomination)
Gloria Swanson (with her second nomination) as stenographer Marion Donnell in another film by director Edmund Goulding - the melodramatic The Trespasser (the film's sole nomination)
Frances Marion won the Best Writing Achievement Award for the prison drama The Big House - it was a pioneering effort because she was the first woman to win an award for a non-acting achievement (the award was not given after this year). The Big House also won the award for Best Sound. One of the films that lost in the competition for Best Cinematography was Howard Hughes' Hell's Angels - it featured the debut of platinum blonde Jean Harlow. A unique first: Best Actress winner Norma Shearer and Best Sound Recording winner Douglas Shearer for The Big House were blood relatives (sister/brother).
[Other blood-relative winners in future years: Father Walter Huston won Best Supporting Actor and son John Huston won for Best Director and Best Screenplay (Adaptation) for the same film The Treasure of the Sierra Madre (1948). Their daughter/granddaughter Anjelica was Best Supporting Actress for Prizzi's Honor (1985); Francis Ford Coppola won numerous awards in 1974 for The Godfather, Part II - his father Carmine Coppola won in the same year for the same film for Best Original Dramatic Score. Peter Fonda's nomination in 1997 for Ulee's Gold made him the third member of his family over two generations of Fondas to be nominated for an Oscar. Henry Fonda won his first ever statuette in 1981 for his last film performance in On Golden Pond. His daughter Jane Fonda had seven performance nominations (in both lead and supporting categories) from 1969-1986, and won the Best Actress award twice: Klute in 1971, and Coming Home in 1978.]
Oscar Snubs and Omissions:
Curiously, none of the actors in the Best Picture-winning All Quiet On The Western Front - Louis Wolheim or Lew Ayres - received a nomination for Best Actor.
G. W. Pabst's silent German film Pandora's Box and its American star Louise Brooks, with an erotic performance as a seductress, were un-nominated.
Rouben Mamoulian's first film Applause, a melodramatic backstage look at show business often noted for its innovations in sound technology and camera movements/angles, was ignored.