1930-31
The winner is listed first, in CAPITAL letters.
Production (Picture):


CIMARRON (1931)

East Lynne (1931)
(rare film)


The Front Page (1931)


Skippy (1930)


Trader Horn (1931)
Actor:
LIONEL BARRYMORE in "A Free Soul", Jackie Cooper in "Skippy", Richard Dix in "Cimarron", Fredric March in "The Royal Family of Broadway", Adolphe Menjou in "The Front Page"
Actress:
MARIE DRESSLER in "Min and Bill", Marlene Dietrich in "Morocco", Irene Dunne in "Cimarron", Ann Harding in "Holiday", Norma Shearer in "A Free Soul"
Director:
NORMAN TAUROG for "Skippy", Clarence Brown for "A Free Soul", Lewis Milestone for "The Front Page", Wesley Ruggles for "Cimarron", Josef von Sternberg for "Morocco"
---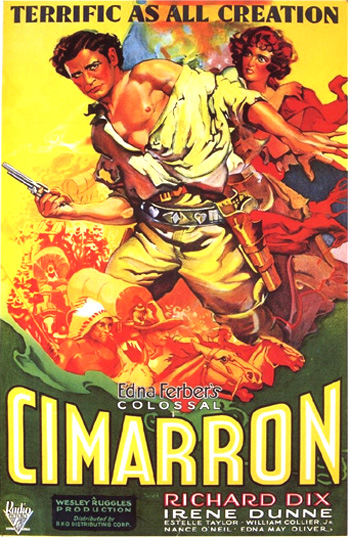 The 1930/1 ceremony was the first in which the 'Best Picture' category was officially recognized (previously in the first three years in which awards were presented, the top award had been termed 'Best Production'). So technically, Cimarron was the first film to win 'Best Picture'.
The filmed version of Edna Ferber's best-selling western tale about a typical American frontier family (the Cravats: Richard Dix and Irene Dunne, from 1890-1915) and the rise of Oklahoma to statehood, RKO's Cimarron (with seven nominations and three wins - Best Picture, Best (Writing) Adaptation, Best Interior Decoration), was directed by Wesley Ruggles and won for Best Picture. Although it didn't win Best Director, it won most of the major non-acting awards.
The winner was an extremely expensive production, at a cost of about $1.5 million. It was one of the few Westerns so honored and one of the weakest Best Picture winners in Academy history - it may be more properly categorized as a melodrama. [It would be another 60 years until another western, Dances With Wolves (1990) would receive the same honor.]
The remaining four Best Picture nominees were:
director Frank Lloyd's melodrama East Lynne (with one nomination and no wins)
director Norman Taurog's Skippy (with four nominations and one win - Best Director)
director W. S. Van Dyke jungle adventure tale about explorer Horn (Harry Carey) searching for a long-lost 'white goddess' in darkest Africa, MGM's Trader Horn (with one nomination and no wins) - it was the first Hollywood picture filmed on-location in Africa
director Lewis Milestone's high-speed newspaper drama The Front Page (with three nominations and no wins - remade later as His Girl Friday (1940) by director Howard Hawks and starring Cary Grant and Rosalind Russell)
Norman Taurog won the Best Director award for Skippy - he was directing his own ten year-old nephew Jackie Cooper - as a health inspector's son who wishes to save an impounded dog and befriends slum children in a second crisis in Shantytown. The film's screenplay was written by young Joseph L. Mankiewicz - and was based on a popular comic strip, Percy L. Crosby's Skippy. Two directors and their much more enduring films - Josef von Sternberg's tale of a romance between foreign legion soldier (Gary Cooper) and a singer (Marlene Dietrich) in Morocco and Lewis Milestone's The Front Page were unfortunate losers. Clarence Brown was also nominated as Best Director for his adaptation of Adela Rogers St. Johns' magazine-story memoirs, A Free Soul (with three nominations and one win - Best Actor) - it starred Lionel Barrymore as a hard-drinking criminal lawyer who helps low-life mobster/gambler Clark Gable beat a murder rap (this film made Clark Gable a sex symbol).
The Best Actor award went to veteran actor Lionel Barrymore (with his sole nomination for acting - and sole award about mid-way through his career) as dissolute and drunken lawyer Stephen Ashe in A Free Soul, who wants Norma Shearer to court Leslie Howard instead of Clark Gable. He won the award mainly for his final classic courtroom scene. He became the only Barrymore (among brother John and sister Ethel) to win a major acting award. [Two years earlier, actor/director Barrymore was nominated for directing Madame X - he was the only dual nominee for actor and director until Orson Welles received the same two nominations for Citizen Kane (1941).]
Barrymore defeated younger stars including:
Richard Dix (with his sole nomination) as dashing, pioneering and restless Oklahoma settler/family head and romantic hero Yancy Cravat in Cimarron who participated in the 1889 land grab and helped to civilize the lawless town of Osage
Fredric March (with the first of five career nominations) as Tony Cavendish (a satirical lampooning of actor John Barrymore, Lionel's brother) in The Royal Family of Broadway (the film's sole nomination)
Adolphe Menjou as newspaper editor Walter Burns in The Front Page
10-year-old child-star Jackie Cooper in the title role of Skippy [Cooper is the youngest nominee in the Best Actor category in Academy history.]
"The Grand Lady of Hollywood" - the elderly (62 year old) actress Marie Dressler (with her first nomination and sole win) won the Best Actress award, a 'career' win, for director George Hill's Min and Bill (the film's sole nomination). She played the role of Min, a rough-talking boozer who was paired up with actor Wallace Beery as a battling waterfront couple (proprietors of a hotel) who risk losing the custody of their adopted daughter due to their tippling.
In similar fashion, Dressler won the award over four more attractive Hollywood lovelies:
Norma Shearer (with her third nomination) as Jan Ashe - Clark Gable's mistress and Barrymore's spoiled daughter in A Free Soul
Ann Harding (with her sole nomination) as Linda Seton - a rich girl who steals co-star Mary Astor's fiancee in director Edward Griffith's screwball comedy Holiday (with two nominations and no wins)
Irene Dunne (with the first of five unsuccessful nominations) in an early role as young, timid but resourceful frontier wife Sabra Cravat in the town of Osage in Cimarron
Marlene Dietrich (with her sole career nomination in her American film debut and her second film with director von Sternberg) as German, world-weary chanteuse Amy Jolly, a cross-dressing nightclub singer (in top hat and tails) who found romance with a legionnaire (co-star Gary Cooper), in Morocco (with four nominations and no wins)
Note: The award-winning cinematographer for Murnau's Tabu was Floyd Crosby, the father of rock singer David Crosby (of Crosby, Stills and Nash).
Oscar Snubs and Omissions:
Two other early, violent gangster films were almost entirely neglected: The Public Enemy and Little Caesar. The former received a Best Writing (Original) nomination, and the latter received a Best Writing (Adaptation) nomination, but both James Cagney and Edward G. Robinson ( who never received a nomination for an award in his entire career) were ignored as actors in star-making roles. In addition, although The Dawn Patrol was nominated (and won) for Best Original Screenplay, it didn't receive any other nominations.
Charlie Chaplin's greatest film with the Little Tramp character, City Lights (1931), a silent film (with a musical soundtrack and sound effects, however) released three years after the talkies were introduced (and presumably the victim of pro-talking film prejudice), was not nominated for a single Academy Award.
Also, Josef von Sternberg's The Blue Angel (1930) with Marlene Dietrich in her first role with the director, Tod Browning's Dracula with Bela Lugosi as the famed vampire, and James Whale's Frankenstein with Boris Karloff as the Monster were unrecognized. A worthy Best Picture runner-up was also ignored - F. W. Murnau's Tabu. German director Fritz Lang was un-nominated as Best Director for M.