1932-33
The winner is listed first, in CAPITAL letters.
Actor:
CHARLES LAUGHTON in "The Private Life of Henry VIII", Leslie Howard in "Berkeley Square", Paul Muni in "I Am a Fugitive From a Chain Gang"
Actress:
KATHARINE HEPBURN in "Morning Glory", May Robson in "Lady for a Day", Diana Wynyard in "Cavalcade"
Director:
FRANK LLOYD for "Cavalcade", Frank Capra for "Lady For a Day", George Cukor for "Little Women
---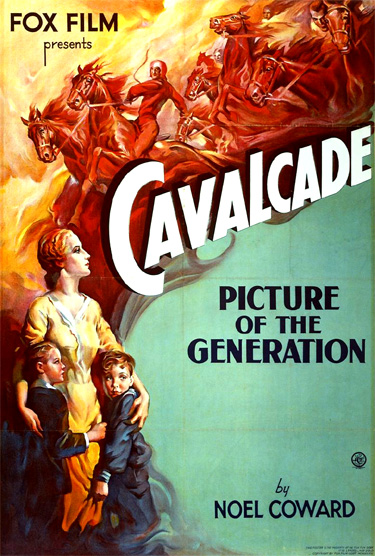 There was no awards ceremony in 1933. The 1932/33 Academy Awards were presented on March 16, 1934 and covered a full 17 months period (August 1932 - December 1933). 1932-33 was the last year that eligibility for Oscar nominees ran for films released from August thru July (actually December this time) - to allow the next ceremony to cover films for a single calendar year. The Academy had finally decided to match the eligibility period to the calendar year, beginning in the next year, 1934. (From then on, the nominating selections and the award ceremony would cover the same calendar year.)
For just a few years - for films in the years 1933-1937, awards were given for Best Assistant Director. This year, there were seven winners and an additional eleven nominees!
Remarkably, the Best Picture and Director winner were for the same film - Fox's and director Frank Lloyd's over-produced Cavalcade - a portent of other British costume drama award-winners in future years. The oft-forgotten Fox film, based on Noel Coward's dramatic stage play (adapted by Reginald Berkeley), was honored with four nominations and three wins - Best Picture, Best Director, and Art Direction/Decoration.
The sweeping, episodic film, spanning over thirty years, featured an all-British cast (including Clive Brooks, Diana Wynyard, and young Frank Lawton) and traced the lives of the British upper-class Marryot turn-of-the-century family, from an 1899 New Year's Eve celebration around the time of the Boer War and the death of Queen Victoria through the sinking of the Titanic, World War I, the 1920s, the Depression, and up to a second New Year's Eve celebration in 1932. The effects of good and bad times and world events on the family's lives were chronicled (wartime, the death of the Queen, the husband's knighthood, the loss of one son on the Titanic and another in the Great War). [Lloyd would be the director for 1935's Best Picture winner, Mutiny on the Bounty although he lost for Best Director.]
Director Lloyd won his second Best Director award over only two other competing directors:
Frank Capra for the adaptation of Damon Runyon's comedy story Madame La Gimp - Lady for a Day (with four nominations and no wins) about a down-and-out apple vendor who is transformed into a socialite to impress her visiting, unknowing daughter
George Cukor for Little Women (with three nominations and one win - Best Adaptation), the best of many film versions of Louisa May Alcott's Civil War story of the March family of four sisters.
[Frank Capra embarrassed himself during the awards ceremony - he rushed to the stage thinking he had won Best Director for Lady For a Day when master of ceremonies Will Rogers announced vaguely: "Come up and get it, Frank!" When things were clarified, the award was for Frank Lloyd instead of Frank Capra.]
Many of the nine contenders for Best Picture were better pictures and much more enduring films than Cavalcade (it received only three Oscars from its four nominations: Best Picture, Best Director, and Best Art Direction for William S. Darling), so the competition was stiff from the other nine nominees:
director Lloyd Bacon's 42nd Street (with two nominations and no wins), one of the greatest backstage musicals of all time with choreography by Busby Berkeley
director Frank Borzage's original film version of Ernest Hemingway's novel, A Farewell to Arms (with four nominations and two wins - Best Cinematography and Best Sound Recording), about a tragic love affair between an American ambulance driver (Gary Cooper) and an English nurse (Helen Hayes) during the Italian campaign of World War I
director Lowell Sherman's She Done Him Wrong (with one nomination and no wins) featuring the bawdy and sassy Mae West as 1890s saloon singer Lil and Cary Grant as an undercover cop [This was the only Mae West film ever nominated, and it wouldn't have been nominated a year later after the Hays Production Code began to be enforced]
Frank Capra's Lady For a Day (with four nominations and no wins) - the first Best Picture nomination for Columbia, the film's studio
George Cukor's classic Little Women (with three nominations and one win, Best Adapted Screenplay by Victor Heerman and Sarah Y. Mason), adapted from Louisa May Alcott's novel, with Katharine Hepburn as Jo March in the New England family
the grim, socially conscious, haunting semi-documentary by director Mervyn LeRoy, I Am a Fugitive From a Chain Gang (with three nominations and no wins) about a brutally-treated chain gang prisoner
director Sidney Franklin's melodramatic/romance, Smilin' Through (with one nomination and no wins)
director Henry King's non-musical slice of Americana, State Fair (with two nominations and no wins) about an Iowa family at the state fair
director Alexander Korda's portrait of the gluttonous king in The Private Life of Henry VIII (with two nominations and one win - Best Actor) - it was the first foreign-made, non-Hollywood film to be nominated for Best Picture
Charles Laughton (with his first nomination) won the Best Actor Award for Alexander Korda's British picture The Private Life of Henry VIII. [Laughton was the first British actor/performer in a foreign/British film to win an acting Academy Award.] He portrayed the notorious, corpulent and autocratic Tudor king as a flamboyant, loud and lusty character with despicable table manners - belching while eating capon. The monarch was noted for his six marriages and wives - Catherine of Aragon, Anne Boleyn (Merle Oberon), Jane Seymour, Anne of Cleves (portrayed by Laughton's real-life wife Elsa Lanchester), Catherine Howard, and Katherine Parr. [Throughout awards history, more Oscar nominations have been given for the character of sixteenth-century King Henry VIII (1491-1547) than any other historical/literary figure. Robert Shaw was nominated for playing Henry VIII in A Man for All Seasons (1966), and Richard Burton was nominated for the same character role in Anne of the Thousand Days (1969).]
The other two Best Actor nominees were:
Paul Muni (with his second unsuccessful nomination) as fugitive chain-gang criminal James Allen in the gritty I Am a Fugitive From a Chain Gang
Leslie Howard (with his first of two career nominations) as Peter Standish, an American living in London who is sent back to 18th century England in director Frank Lloyd's fantasy film Berkeley Square (the film's sole nomination)
Young and thin 24 year-old Katharine Hepburn's third screen role was rewarded, unpopularly at the time, with her first Academy Award as Best Actress in director Lowell Sherman's Morning Glory, based on a Zoe Akins play. She co-starred as Eva Lovelace, a stage-struck, naive aspiring young socialite and understudy actress from Vermont aided in her career by Douglas Fairbanks, Jr. and tough producer Adolphe Menjou. [The award launched Hepburn's career, but it would be more than 30 years before she would win her next Oscar for Guess Who's Coming to Dinner (1967) - in between, she was nominated and lost for eight other films, including her masterful roles in The Philadelphia Story (1940) and The African Queen (1951).]
The other two Best Actress nominees were:
Australian-born actress May Robson (with her sole nomination) as Apple Annie in Lady for a Day
Diana Wynyard (with her sole nomination) as the strong wife/mother Jane Marryot of the British family who loses both of her sons due to tragic circumstances in Cavalcade (she was the only member of the cast to be award-nominated)
Walt Disney again won an award (his second consecutive honor in this category) for his Technicolor Short Subject: Cartoon, The Three Little Pigs. Its optimistic hit theme song: "Who's Afraid of the Big Bad Wolf?" (based upon the tune of Happy Birthday) became a Depression-era anthem. It was one of the earliest films displaying 'personality animation' - each of the three pigs had a distinctive personality. During his acceptance speech, he referred to the statuette as "Oscar" - and was the first winner to publicly acknowledge the award's pet name (although the Academy didn't officially adopt the nickname until 1939).
Oscar Snubs and Omissions:
Alexander Korda, director of Best Actor-winning The Private Life of Henry VIII was not nominated.
Many actresses and actors were neglected this year:
Ann Harding was un-nominated for her work as an artist and modern woman in The Animal Kingdom
Barbara Stanwyck was unrecognized for her role as a conniving, power-lusting, gold-digging tramp in Baby Face
Equally unnoticed were Warner Baxter as the rattled Broadway director in 42nd Street
Fredric March as the disintegrating British WWI flying ace in The Eagle and the Hawk
Mae West with a career defining performance as Diamond Lil in She Done Him Wrong
There were many all-time classic films that went unnominated in many categories this time around:
Due to the fact that the category of Special Visual Effects hadn't been introduced yet, and it was released by the minor RKO film studio, the adventure/horror film from co-directors Merian C. Cooper and Ernest B. Schoedsack - King Kong, also failed to win any nominations!