1931-32
The winner is listed first, in CAPITAL letters.
Actor:
FREDRIC MARCH in "Dr. Jekyll and Mr. Hyde" and WALLACE BEERY in "The Champ" (tie), Alfred Lunt in "The Guardsman"
Actress:
HELEN HAYES in "The Sin of Madelon Claudet", Marie Dressler in "Emma", Lynn Fontanne in "The Guardsman"
Director:
FRANK BORZAGE for "Bad Girl", King Vidor for "The Champ", Josef von Sternberg for "Shanghai Express"
Special Award: Walt Disney for creating Mickey Mouse
---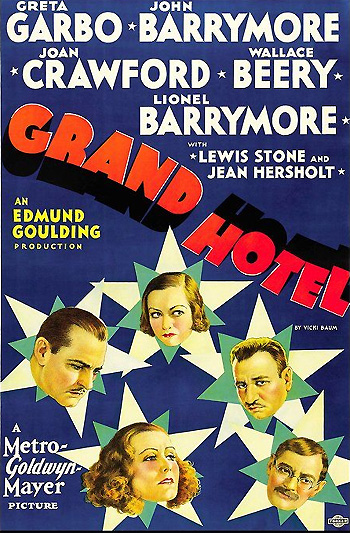 This was the first year that the ceremony was broadcast nationally on radio. It was also the year that a Short Subject category was added to the awards, bringing the total number to ten:
Picture
Actor
Actress
Direction
Writing: Based on Material From Another Medium
Writing: Original Story
Cinematography
Art Direction
Sound Recording
Short Subject: Cartoon, Comedy, and Novelty
MGM's Best Picture winner - director Edmund Goulding's and legendary MGM executive and producer Irving Thalberg's Grand Hotel, was an all-star extravaganza soap opera, with Greta Garbo (as a fragile, forlorn and aging ballerina dancer), John Barrymore (as an impoverished, desperate baron/jewel thief), Lionel Barrymore (as a terminally-sick factory clerk/bookkeeper), Joan Crawford (as a hired stenographer), Lewis Stone (as a disfigured physician), and Wallace Beery (as a shady industrialist). The setting of the slick, large-budgeted, 'prestige' film, based upon Vicki Baum's best-seller, was within the ritzy confines of a glamorous Berlin hotel, and it followed the intermingling lives of the characters over a brief two-day period, with romance, solitude, and murder.
[Grand Hotel was one of only three 'Best Picture' winners that was not also nominated for Best Director. More deserving of winning recognition for directing was Edmund Goulding for Grand Hotel instead of Frank Borzage. [The other two were William Wellman for Wings (1927/28) and director Bruce Beresford for Driving Miss Daisy (1989).] To date, the film is still exceptional because it is the only Best Picture winner that received no other nominations. And it is only one of a few films that was named Best Picture, but failed to win any other awards. [The other two films that won the Best Picture award without winning any other awards were Broadway Melody (1928/29) and Mutiny on the Bounty (1935).]
A sure-fire popular and crowd-pleasing choice, Grand Hotel won over seven other nominees:
Shanghai Express (with three nominations and one win - Cinematography) - director Josef von Sternberg's superior masterpiece - his third of seven films with Marlene Dietrich about a reunion between Shanghai Lily and an ex-lover aboard a slow-moving train in China
two Ernst Lubitsch/Maurice Chevalier musical comedies (One Hour With You (with one nomination) and The Smiling Lieutenant (with one nomination))
director John Ford's Arrowsmith (with four nominations and no wins) about a young, small-town North Dakota medical doctor who eventually travels to the West Indies searching for a plague cure
director Frank Borzage's Bad Girl (with three nominations and two wins - Best Director and Best Adaptation) about a struggling, very young couple in their first year of marriage whose lives become strained by a coming baby
director Mervyn LeRoy's Five Star Final (with one nomination) about a ruthless newspaper editor
director King Vidor's The Champ (with four nominations and two wins - Best Actor and Best Original Story) about an ex-fighter who dreams of a comeback and receives support from his devoted son
Frank Borzage won his second (and last) Best Director Award for Bad Girl, defeating directors Josef von Sternberg for Shanghai Express and King Vidor for The Champ. Borzage had won in the very first award ceremony for Best Dramatic Picture Direction for Seventh Heaven (1927/28).
For the first and only time in Academy history, a tie was declared in the Best Actor category between two actors:
Fredric March (with his second nomination and first win) won for his dual, split personality role as a respected doctor and as a fiendish mad-man menacing Miriam Hopkins in director Rouben Mamoulian's Dr. Jekyll and Mr. Hyde (with three nominations and one win) - the first sound version of Robert Louis Stevenson's 1885 novel. [It would be the only award given for a major horror role until Anthony Hopkins won for The Silence of the Lambs (1991).]
Wallace Beery (with his second and last career nomination and first win) also won for his role as drunken, ex-champ prizefighter Andy Purcell, who trains for a comeback in the heart-warming The Champ with idolizing son, child-actor Jackie Cooper driving him onto success [Trivia Note: Of all the Best Actor and Best Actress nominees, only Wallace Beery was a nominee in a Best Picture contender - The Champ. This wouldn't happen again until 75 years later when Helen Mirren was the only nominee of ten lead performers who was in a Best Picture nominee, The Queen (2006).]
The remaining actor nominee was Alfred Lunt (with his sole career nomination) as "The Actor" in director Sidney Franklin's The Guardsman (with two nominations and no wins).
All three of the Best Actress nominees were from MGM Studios - the first time that this had occurred. Broadway stage actress Helen Hayes (with her first nomination), later known as the "First Lady of the American Theater," won her first award for her melodramatic role (in her screen debut) as a self-sacrificing mother (Madelon Claudet) who had to give up her illegitimate son in director Edgar Selwyn's short, 73-minute tearjerker The Sin of Madelon Claudet (the film's sole nomination and win). It was based on the 1920s Broadway play The Lullaby. [Hayes performed more memorably in the year's award-nominated Arrowsmith. It would be another 38 years until she won the Best Supporting Actress award for Airport (1970), her only other nomination. Note: She is also noted for being the first woman to win these four different awards - Oscar (1932, 1970), Tony (1947, 1958), Emmy (1953), and Grammy (1976), by 1976!]
Hayes defeated two other actress nominees:
Marie Dressler (with her second and last career nomination) as faithful housekeeper Emma/Thatcher Smith in director Clarence Brown's Emma (the film's sole nomination)
Lynn Fontanne (with her sole career nomination), another Broadway stage veteran, as "The Actress" in The Guardsman (with two nominations and no wins)
[Real-life husband and wife theatrical co-stars, Lunt and Fontanne re-created their stage roles in Ferenc Molnar's marital comedy Broadway stage play - the film turned out to be the sole sound film the couple made in their careers. It was also the first time a married couple received simultaneous acting nominations.]
Walt Disney won two citations for animation: one, the first award for the newly-established category of Short Subject: Cartoon with the first Technicolor cartoon Flowers and Trees; and the second, a Special Award for his four-year-old creation, Mickey Mouse. [The first Mickey Mouse sound cartoon with Mickey's screen debut performance was Steamboat Willie (1928), released on November 18, 1928. The date is considered Mickey Mouse's birthdate. Strangely, Mickey's first sound cartoon didn't include Mickey's voice -- he didn't speak until his ninth short, The Karnival Kid (1929) when he said the words: "Hot dogs!" Walt's voice was used for Mickey.]
The comedy duo Laurel and Hardy received a Short Subject: Comedy award for The Music Box (their first and only award) about the struggles of moving a piano up a flight of stairs (an apt analogy of the common man struggling against insurmountable odds during the Depression).
Oscar Snubs and Omissions:
Howard Hawks' classic gangster film Scarface: The Shame of the Nation went un-nominated for Best Picture, Best Director, and Best Actor (Paul Muni).
Charlie Chaplin's greatest film with the Little Tramp character, City Lights (1931), a silent film (with a musical soundtrack and sound effects, however) released three years after the talkies were introduced (and presumably the victim of pro-talking film prejudice), was not nominated for a single Academy Award.
Nominated and winning actor Fredric March's deserving co-star Miriam Hopkins and director Rouben Mamoulian did not receive nominations for Dr. Jekyll and Mr. Hyde. [March already had one Oscar nomination to his credit for The Royal Family of Broadway (1930/31).] Two powerful actors in James Whale's archetypal horror genre film Frankenstein went un-recognized: Colin Clive as Dr. Frankenstein (who attempted to 'play God') and Boris Karloff as the Monster.
The Academy failed to nominate a number of deserving actresses:
Marlene Dietrich in Shanghai Express
Norma Shearer in Private Lives
Constance Bennett in What Price Hollywood?
Joan Crawford in Grand Hotel
Barbara Stanwyck in The Miracle Woman
Miriam Hopkins in The Smiling Lieutenant