1947
The winner is listed first, in CAPITAL letters.
Actor:
RONALD COLMAN in "A Double Life", John Garfield in "Body and Soul", Gregory Peck in "Gentleman's Agreement", William Powell in "Life With Father", Michael Redgrave in "Mourning Becomes Electra"
Actress:
LORETTA YOUNG in "The Farmer's Daughter", Joan Crawford in "Possessed", Susan Hayward in "Smash Up - The Story of a Woman", Dorothy McGuire in "Gentleman's Agreement", Rosalind Russell in "Mourning Becomes Electra"
Supporting Actor:
EDMUND GWENN in "Miracle on 34th Street", Charles Bickford in "The Farmer's Daughter", Thomas Gomez in "Ride the Pink Horse", Robert Ryan in "Crossfire", Richard Widmark in "Kiss of Death"
Supporting Actress:
CELESTE HOLM in "Gentleman's Agreement", Ethel Barrymore in "The Paradine Case", Gloria Grahame in "Crossfire", Marjorie Main in "The Egg and I", Anne Revere in "Gentleman's Agreement"
Director:
ELIA KAZAN for "Gentleman's Agreement", George Cukor for "A Double Life", Edward Dmytryk for "Crossfire", Henry Koster for "The Bishop's Wife", David Lean for "Great Expectations"
---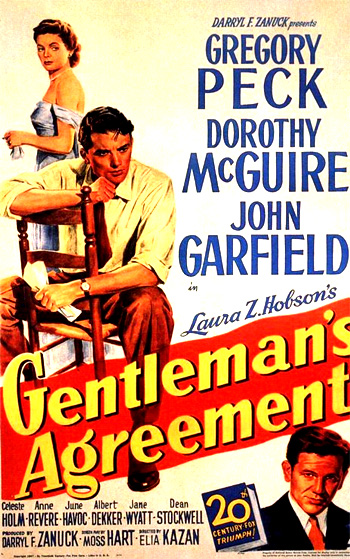 After two previous years of Best Picture winners with socially-conscious themes in the post-war period, 1947 was not much different. Two of the Best Picture nominees were Hollywood's first significant attempts to explore racial bigotry and prejudice and attack anti-Semitism following the horror of the Holocaust.
The Best Picture winner was producer Darryl F. Zanuck's Gentleman's Agreement (with a total of eight nominations and three wins - Best Picture, Best Supporting Actress, and Best Director), a serious, preachy melodramatic film by director Elia Kazan. Adapted from Laura Z. Hobson's best selling novel (initially serialized in the magazine Cosmopolitan) by Moss Hart, it was an expose of anti-Semitism through a story about a crusading, non-Jewish magazine writer who assumed a Jewish identity for six months to gather material, write a series of articles, and at first hand experience and understand discrimination and anti-Semitism. The title of the film was taken from the concept of unwritten 'gentleman's agreements' that keep religious prejudices alive in every area of life.
Another Best Picture nominee that also combated anti-Semitism was RKO's tense, B-movie thriller/film noir by producer Adrian Scott and director Edward Dmytryk, Crossfire (with five nominations and no wins). Its screenplay by John Paxton was based on Richard Brooks' novel The Brick Foxhole. The film told the story of the murder of a Jewish hotel guest and the search for the anti-Semite murderer. The original novel was about gay-bashing and murder, and the protagonist was not Jewish -- but homosexual. [It was the first B-film to receive a Best Picture nomination. And it was notable that Scott and Dmytryk were two of the original "Hollywood Ten," who were blacklisted as a result of the HUAC hearings. They were cited for contempt for refusing to testify, and sentenced to a year in prison.]
The other three Best Picture nominees included:
the charming Christmas story by director George Seaton, Miracle on 34th Street (with four nominations and three wins - Best Original Story, Best Screenplay, and Best Supporting Actor) with nine-year-old child star Natalie Wood as a skeptical Santa Claus believer
the angel-fantasy film produced by Samuel Goldwyn and directed by Henry Koster, The Bishop's Wife (with five nominations and one win - Best Sound Recording) about an angel which comes down to Earth at Christmastime; this film appeared only one year after another less successful one (originally) about a visiting angel, It's a Wonderful Life (1946)
and the brilliant British adaptation of Charles Dicken's classic novel by British director/writer David Lean, Great Expectations (with five nominations and two wins - Best Black and White Cinematography and Best B/W Art Direction/Set Decoration)
[Another British film, Michael Powell's Black Narcissus about a convent and group of British nuns in the Himalayans, won the award for Jack Cardiff for Best Color Cinematography. The same two British films were awarded the Art Direction-Set Decoration awards (black and white and color respectively) and Hollywood began to appear nervous over European competition.]
Four of the five directors of the Best Film nominees were nominated for Best Director. The director who didn't receive a Best Director nomination was George Seaton for the whimsical Miracle on 34th Street, yet Seaton did win the Best Screenplay award for his film. The fifth nominated director was George Cukor for the melodramatic crime film A Double Life (with four nominations and two wins - Best Actor and Best Dramatic Score), about a Shakespearean actor whose characters take over his personal life. All lost to director Elia Kazan - it was Kazan's first nomination and win. (Later in his career, Kazan would also be nominated four more times for A Streetcar Named Desire (1951), East of Eden (1955) and America, America (1963), and he would win one more time for On The Waterfront (1954). Ironically, Kazan won this year over Dmytryk, who was blacklisted by the industry.)
The two lead performers in the Best Picture winner (Gregory Peck and Dorothy McGuire) lost in the Best Actor and Best Actress categories respectively, but Celeste Holm, in her third film, did win the Best Supporting Actress award (she defeated her own nominated co-star Anne Revere, who had won the same award two years earlier for National Velvet (1945)).
The Best Actor nominees (who didn't win the award) included:
young star Gregory Peck (with his third nomination) as Phil Green - a crusading journalist writing a story about anti-Semitism while posing as a Jew in Gentleman's Agreement
William Powell (with his third and last unsuccessful career nomination) as the stern but loveable father Clarence Day (of four red-headed boys) in the family comedy directed by Michael Curtiz titled Life With Father (with four nominations and no wins)
John Garfield (with his second and last unsuccessful nomination) as mobster-controlled Jewish prizefighter Charlie Davis in director Robert Rossen's powerful, quintessential boxing film Body and Soul (with three nominations and one win - Best Film Editing)
English actor Michael Redgrave (with his sole career nomination) as doomed Orin Mannon in the adapted Eugene O'Neill play Mourning Becomes Electra. [This was Redgrave's only nomination in a long career on stage and screen, including Hitchcock's The Lady Vanishes (1938), Dead of Night (1945), The Browning Version (1951), The Importance of Being Earnest (1952), and The Innocents (1961)). Redgrave is the only Best Actor nominee whose two daughters also received Best Actress nominations - Lynn for Georgy Girl (1966) and Vanessa for The Bostonians (1984).]
The Best Actor Oscar winner was 56 year-old Ronald Colman (with his fourth and last career nomination and belated sole Oscar win - it was considered a 'career' Oscar) for his role as Anthony John - a schizoid Shakespearean actor gone mad on-stage while playing Othello and off-stage in George Cukor's A Double Life. The performance was a double (Jekyll-Hyde type) role that Colman had excelled in over the years (e.g., The Masquerader (1933), A Tale of Two Cities (1935), and The Prisoner of Zenda (1937)). [Colman was one of Hollywood's long-standing romantic actors without any previous Oscar awards although he had been nominated three times earlier. Therefore, the award was a consolation prize and a tribute for his entire Oscar-denied career - and not only for the quality of the performance. Colman was the first major star to move from silent films (his first film was in 1918) to talkies with his first two nominations for performances for two films in the same year - Bulldog Drummond (1929-30) and Condemned (1929-30), and a later nomination for Random Harvest (1942).]
The winner in the Best Actress award category was a big surprise and upset - Loretta Young (with her first of two career nominations - and only Oscar win) won for her role as Katrin Holstrom, a Swedish-American farm girl in Minnesota (a maid in the house of a mid-western Congressman) who ended up elected to Congress where she faces a showdown with her lover and rival Joseph Cotten in director H. C. Potter's The Farmer's Daughter (with two nominations and one win - Best Actress). Young was a respected and dependable, but minor film actress who made her first screen appearance in 1928, and had appeared on the screen 84 times by 1947 (in non-nominated roles including Capra's Platinum Blonde (1931), Zoo in Budapest (1933), Borzage's Man's Castle (1933), and The Stranger (1946)). The Oscar-winning part was given to her after Ingrid Bergman turned down the role.
Competitor and long-time star Rosalind Russell (with her third of four unsuccessful career nominations) was also nominated in the category for her critically-acclaimed, award-winning role as Lavinia Mannon in the film adaptation of Eugene O'Neill's portentous Mourning Becomes Electra. Russell was generally considered the odds-on favorite, since she was also considered the probable winner in the previous year for her portrayal of the title role in Sister Kenny.
The other rivals for the Best Actress award included two other first time nominees:
Dorothy McGuire (with her sole career nomination) as Gregory Peck's cowardly fiancee Kathy Lacy (a divorcee and his publisher's niece) in Gentleman's Agreement
Susan Hayward (with the first of five career nominations) for her performance as alcoholic Angie Evans in director Stuart Heisler's melodramatic Smash Up - the Story of a Woman (with two nominations and no wins) - Hayward would eventually win an Oscar eleven years later with her last nomination for I Want to Live! (1958)
The fifth competitor was the previous Oscar winner from two years earlier - Joan Crawford (with her second of three career nominations), who was nominated for her performance as factory girl and murderous schizophrenic Louise Howell in director Curtis Bernhardt's melodramatic Possessed (the film's sole nomination). [Possessed was a different film and not a remake of her 1931 film of the same name co-starring Clark Gable.]
The Best Supporting Actor winner was Welsh-born actor Edmund Gwenn (with his first of two career nominations - and his sole Oscar win) as the believable, plump, department store Kris Kringle - a smiling, real "Santa Claus " in Miracle on 34th Street.
The other nominees included:
Charles Bickford (with his second of three nominations) for his role as family butler Clancy in The Farmer's Daughter
Robert Ryan (with his sole career nomination) as obsessive, anti-Semitic murderer Sergeant Monty Montgomery who beats a Jewish ex-sergeant to death in Crossfire
Thomas Gomez (with his sole career nomination) as small-town carousel operator Pancho in actor/director Robert Montgomery's film noir thriller Ride the Pink Horse (the film's sole nomination)
Richard Widmark (with his sole career nomination in his film debut) as the psychopathic, giggling hired killer Tommy Udo in Kiss of Death (with two nominations and no wins)
The Best Supporting Actress victor was Celeste Holm (with the first of three career nominations - and her sole Oscar win for her third film) as magazine fashion editor Anne Detrie (Gregory Peck's co-worker and confidante) in Gentleman's Agreement. [With each of the three supporting actress nominations Celeste Holm received - also in 1949 and in 1950 - she was competing against a nominated supporting actress from the same film.]
The other Best Supporting Actress nominees were:
Gloria Grahame (with her first of two career nominations) as floozie dance hall girl Ginny Tremaine in Crossfire
Ethel Barrymore (with her third nomination) as Lady Sophie Horfield (as trial judge Charles Laughton's wife) in director Alfred Hitchcock's The Paradine Case (the film's sole nomination)
Marjorie Main (with her sole career nomination) as hillbilly mother Ma Kettle in director Chester Erskine's comedy The Egg and I (the film's sole nomination)
Anne Revere (with her third and last career nomination) as Mrs. Green (Gregory Peck's mother) in Gentleman's Agreement
Instead of a Best Supporting Actor or Best Actor nomination, James Baskett received an Honorary award for his performance as happy-go-lucky Uncle Remus in Disney's Song of the South. He was the first African-American man to receive an acting award, and the first Disney actor to receive an Academy Award - although it was non-competitive. [It would be a decade before an African-American male performer would be nominated for a competitive acting award, Sidney Poitier as Best Actor for The Defiant Ones (1958).] This live action/animated musical also won an Oscar for Best Song "Zip-A-Dee-Doo-Dah," and was nominated for Best Score.
Oscar Anomalies:
The Original Screenplay nominees were a distinguished group: Ruth Gordon and Garson Kanin for A Double Life, Abraham Polonsky for the boxing tale Body and Soul, Charles Chaplin for Monsieur Verdoux (although Chaplin considered it his best film, it was a box-office flop) and the screenplay for the Italian neo-realistic classic Shoeshine by Vittorio De Sica, but the award went to pop-fiction novelist Sidney Sheldon for the weak and inferior screenplay for The Bachelor and the Bobby-Soxer.
The Academy had no separate category to recognize foreign language films until 1956 when it established the Best Foreign Language Film category. However, 1947 was the first year in which an outstanding foreign film would be honored each year by a special non-competitive statuette awarded by committee. Italy's Shoeshine was the first foreign film to receive a special Academy Award: "the high quality of this Italian-made motion picture, brought to eloquent life in a country scarred by war, is proof to the world that the creative spirit can triumph over adversity." The film also received only one unrewarded Oscar nomination, Best Original Screenplay. Entirely overlooked among the foreign film nominees this year was Jean Cocteau's lyrically imaginative version of Beauty and the Beast, La Belle et La Bête.
Maybe it was a mistake to have Edmund Gwenn nominated for a supporting role - which he won - for Miracle on 34th Street. If he had been nominated for a leading role, then Richard Widmark should have won for Kiss of Death.
Oscar Snubs and Omissions:
Charlie Chaplin's Monsieur Verdoux received only one minor nomination - Best Original Screenplay, and it lost that one. Chaplin should have been nominated as Best Director and Best Actor, and supporting star Martha Raye should at least have been awarded a nomination. Black Narcissus, from the producing/directing/writing pair of Michael Powell and Emeric Pressburger won its two nominations (Best Color Cinematography and Color Art Direction/Set Decoration), but its director and star Deborah Kerr as Sister Clodagh went un-nominated. Jacques Tourneur's superbly-made pulp film noir Out Of The Past was completely ignored - the acting performances of Robert Mitchum, Kirk Douglas and Jane Greer were outstanding and unnoticed by the Academy.
A number of fine films were up for awards in various categories but usually lost, including The Ghost and Mrs. Muir (for Black and White Cinematography), Green Dolphin Street (it lost for Editing, Recording, and Black and White Cinematography, but won the Special Effects Award for an earthquake), the colorful epic with Tyrone Power - Captain From Castile (for Alfred Newman's excellent score), and Otto Preminger's Forever Amber (for David Raskin's score).