1949
The winner is listed first, in CAPITAL letters.
Actor:
BRODERICK CRAWFORD in "All the King's Men", Kirk Douglas in "Champion", Gregory Peck in "Twelve O'Clock High", Richard Todd in "The Hasty Heart", John Wayne in "Sands of Iwo Jima"
Actress:
OLIVIA DE HAVILLAND in "The Heiress", Jeanne Crain in "Pinky", Susan Hayward in "My Foolish Heart", Deborah Kerr in "Edward, My Son", Loretta Young in "Come to the Stable"
Supporting Actor:
DEAN JAGGER in "Twelve O'Clock High", John Ireland in "All the King's Men", Arthur Kennedy in "Champion", Ralph Richardson in "The Heiress", James Whitmore in "Battleground"
Supporting Actress:
MERCEDES MCCAMBRIDGE in "All the King's Men", Ethel Barrymore in "Pinky", Celeste Holm in "Come to the Stable", Elsa Lanchester in "Come to the Stable", Ethel Waters in "Pinky"
Director:
JOSEPH L. MANKIEWICZ for "A Letter to Three Wives", Carol Reed for "The Fallen Idol", Robert Rossen for "All the King's Men", William A. Wellman for "Battleground", William Wyler for "The Heiress"
---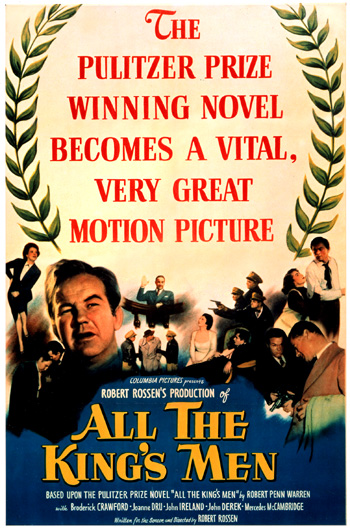 In 1949, the Best Picture Award was presented to the predicted front-runner film, All the King's Men, based on the 1946 Pulitzer Prize-winning novel by poet Robert Penn Warren about a corrupt, rising politician/boss (based on the life of assassinated Louisiana demagogue Senator Huey Long). It was the second Best Picture-winning film that was a Pulitzer Prize-winning novel (the first was Gone With the Wind (1939)). The absorbing political drama about the dangers of a populist dictatorship in the US was nominated for seven major award nominations and won in only three categories (Best Picture, Best Actor, and Best Supporting Actress). It was director/producer/writer Robert Rossen's third film (his previous films were the acclaimed drama Body and Soul (1947) and Johnny O'Clock (1947)).
Other Best Picture nominees included a number of other serious films:
director William A. Wellman's Battleground (with six nominations and two wins - Best Story/Screenplay, and Best B/W Cinematography) - an excellent Battle of the Bulge war film that followed a platoon of American soldiers. [Wellman had directed another war film - Wings (1927/8), the first Best Picture winner.]
director William Wyler's dramatic adaptation of the Henry James novel Washington Square, The Heiress (with eight nominations and four wins - Best Actress, Best B/W Art/Set Decoration, Best Dramatic Score, and Best B/W Costume Design) about a 'plain Jane' heiress, her tyrannical father and a fortune-hunting, greedy scoundrel/suitor
a second war film - a psychological drama of the heroic 8th Air Force and the strains of World War II warfare directed by Henry King - Twelve O'Clock High (with four nominations and two wins - Best Supporting Actor and Best Sound Recording)
the Best Director winning picture - screenwriter/director Joseph L. Mankiewicz' sophisticated and satirical examination of surburban life and marriage, A Letter to Three Wives (with three nominations and two wins - Best Director and Best Screenplay) about three female friends who each receive a confessional letter about a possible unfaithful husband (without specifically identifying the local man)
The Best Picture nominees split the nominations and wins fairly evenly. No film had fewer than three nominations and no film had more than eight. Every one of the nominees won multiple Oscars, something that had never happened before and has never happened since.
Relative unknown B-movie actor Broderick Crawford (with his sole career nomination - and sole win) was nominated for Best Actor and won for his role as bullying, self-styled Southern populist demagogue Willie Stark (who starts out as a small-town, backwoods politician/lawyer and eventually loses his principles and becomes corrupted and Fascist-minded on his progression to the governorship, before his assassination). His performance propelled him into lead roles, notably George Cukor's Born Yesterday (1950) and Federico Fellini's Il Bidone (1955). (He also went on to star in the TV series Highway Patrol (1955-1959).)
Other Best Actor nominees included:
Gregory Peck (with his fourth non-winning nomination in the 1940s) for his role as bomber-group commander General Frank Savage who breaks under the pressure in Twelve O'Clock High
Kirk Douglas (with his first of three unsuccessful career nominations) was also nominated as Best Actor for his star-making role as ruthless prizefighter Midge Kelly in director Mark Robson's version of Ring Lardner's story Champion (with six nominations and one win - Best Film Editing). [Douglas' other two future nominations were for The Bad and the Beautiful (1952) and Lust for Life (1956) - he would never win an Oscar!]
Richard Todd (with his sole career nomination) as the terminally ill "The Scot" in director Vincent Sherman's The Hasty Heart (the film's sole nomination)
John Wayne (with his first of two career acting nominations) as tough WW II Marine Sgt. John M. Stryker in director Allan Dwan's Sands of Iwo Jima (with four nominations and no wins)
Director Elia Kazan's Pinky, another daring social problems drama in the 1940s about a black woman who passed as white to gain a better life, was honored with three acting nominations for all three of its female actresses. It was one of the earliest nominated films about inter-racial relations (one of the earliest was Imitation of Life (1934)).
33 year-old Olivia de Havilland (with her fifth and final career nomination - and winning her second Oscar) won the Best Actress Oscar for her brilliant performance as Catherine Sloper in The Heiress. The stunningly-beautiful actress portrayed a plain, frumpy, vulnerable, spinster heiress courted by a fortune-hunter Morris Townsend (played by Montgomery Clift). After hearing from her father Ralph Richardson that her eligible bachelor/lover was interested only in her money, she eventually took bitter revenge upon Clift in the final scene. [Trivia Note: At 33 years of age, Olivia de Havilland became the youngest performer to receive five acting nominations. This record wasn't surpassed for 57 years -- until 31 year old Kate Winslet received her fifth acting nomination for Little Children (2006).]
Other Best Actress nominees were:
Jeanne Crain (with her sole career nomination) as light-skinned black nurse Pinky/Patricia Johnson (co-star Ethel Waters' grand-daughter) trying to pass for white in Pinky (with three nominations and no wins)
Susan Hayward (with her second nomination) as unmarried mother Eloise Winters in director Mark Robson's My Foolish Heart (with two nominations and no wins)
Deborah Kerr (with her first of a career total of six unsuccessful nominations) as Evelyn Boult in director George Cukor's Edward My Son (the film's sole nomination)
Loretta Young (with her second and final career nomination) as French nun Sister Margaret who raises funds to build a children's hospital in New England in director Henry Koster's Come To the Stable (with seven nominations and no wins)
Bald character actor Dean Jagger (with his sole career nomination - and Oscar win) won the Best Supporting Actor Oscar for his role as Major Harvey Stovall - a middle-aged commanding major in the air force who witnesses the strain upon flying leader Gregory Peck in the all-male cast of Twelve O'Clock High. Other Best Supporting Actor nominees included:
Arthur Kennedy (with his first of five unsuccessful career nominations) was nominated for his role as co-star Kirk Douglas' crippled brother Connie Kelly in Champion
James Whitmore (with his first of two unsuccessful career nominations in only his second film) as tough platoon Sergeant Kinnie in Battleground
John Ireland (with his sole career nomination) as reporter Jack Burden in All the King's Men
Ralph Richardson (with his first of two unsuccessful career nominations) as Olivia de Havilland's emotionally abusive, domineering father Dr. Austin Sloper in The Heiress
Broderick Crawford's co-star was Best Supporting Actress winner Mercedes McCambridge (with her first nomination and sole Oscar win in her 17-minute debut film role) who played the part of his conniving, tough, and unscrupulous political aide and sexually-frustrated secretary-mistress Sadie Burke. [In future years, McCambridge would star in some off-beat cult films, Johnny Guitar (1954) and Orson Welles' Touch Of Evil (1958), and as the voice of the demonically-possessed Linda Blair in The Exorcist (1973).]
The other Best Supporting Actress nominees included two sets of co-stars:
Ethel Barrymore (with her fourth and last career nomination) as as old Southern matriarch Miss Em in Pinky
Ethel Waters (with her sole career nomination) as Granny Dysey (Pinky's benign grandmother) in Pinky [Waters was the first black actress to be nominated for an Oscar since Hattie McDaniels' nomination and win in Gone With The Wind (1939) ten years earlier. Waters was not nominated for her earlier memorable performance in Cabin in the Sky (1943).]
Celeste Holm (with her second career nomination) as tennis-playing French nun Sister Scolastica in Come to the Stable
Elsa Lanchester (with her first nomination) as religious artist Miss Potts in Come to the Stable
Famous composer Aaron Copland received his fourth nomination for a Dramatic Film Score (and only Oscar win) for The Heiress. For the same film, legendary costume designer Edith Head won the Best Black and White Costume Design Award, her first of eight career Oscars. She would win Best Costume Design honors seven more times, in 1950 (twice), in 1951, in 1953, in 1954, in 1960, and in 1973. [She would be nominated each year (and sometimes twice) from 1948 to 1966 for Costume Design - an unprecedented accomplishment! By her final film Airport '77 (1977), she had a total of 35 nominations in the category.]
Famed danceman Fred Astaire was presented with an Honorary Award (by Ginger Rogers) "for his unique artistry and his contributions to the technique of musical pictures." In addition, legendary director Cecil B. DeMille was given a Special Award for "37 years of brilliant showmanship."
Oscar Anomalies:
Best Picture-winning director Robert Rossen, who was nominated in the Best Director category and Best Screenplay categories for All the King's Men, lost the Best Director and Screenplay races to Joseph L. Mankiewicz's A Letter to Three Wives, a biting but entertaining commentary on marriage and faithfulness in a carefully-constructed story about three wives.
Oscar Snubs and Omissions:
Some of the year's best films and acting roles were largely un-nominated and bypassed by the Academy, including:
Stanley Donen's and Gene Kelly's On the Town (with only one winning nomination for Best Score)
Nicholas Ray's They Live By Night (un-nominated for any awards)
director Raoul Walsh's White Heat (with one unsuccessful nomination for Best Story) with a spectacular performance by screen legend James Cagney as violent, mother-fixated gangster Cody Jarrett, noted for his final words as he blew himself up: "Made it, Ma! Top of the world!"
and the quintessential 'Bonnie-and-Clyde'-like film Gun Crazy (un-nominated for any awards) - an undervalued, yet definitive 'B' picture with its two leads John Dall and Peggy Cummins
Clarence Brown's Intruder in the Dust was a superior racial conflict picture when compared to the absurd plot of Pinky, yet it was not nominated for a single award. One of the best foreign films ever made -- unrecognized by the Academy -- was this year's The Bicycle Thief by Italian director Vittorio De Sica. It could easily have received a Best Picture or a Best Director nomination, but only achieved a Best Original Screenplay nomination (its sole, unrewarded nomination) for Cesare Zavattini. It was also honored with a Special Academy Award as the "most outstanding foreign film released in the United States during 1949" - many years before an official category was created. [The film served as the impetus for the creation of an official Oscar for Best Foreign Language Film in 1956.]
Linda Darnell's performance in A Letter to Three Wives as Lora May Hollingsway was generally considered her greatest career role, but it was not nominated for an award. In fact, none of the members of the cast (Kirk Douglas, Jeanne Crain, Ann Sothern, or Paul Douglas) of A Letter to Three Wives received nominations, although director/writer Mankiewicz received two nominations and awards for the same film. Ralph Richardson was nominated as Olivia de Havilland's heartless father in The Heiress, but he was also excellent and more impressive (but un-nominated) in his role as murder-implicated butler Baines in nominated director Carol Reed's British thriller The Fallen Idol. Although John Ford's second film in the 'cavalry trilogy' She Wore a Yellow Ribbon won the Oscar for its technicolor cinematography (Winton Hoch), John Wayne was un-nominated for his performance as Capt. Nathan Brittles. Robert Ryan was also un-nominated as Bill "Stoker" Thompson, an aging boxer who refused to throw a fight in Robert Wise's excellent and realistic boxing film The Set-Up (with no nominations).