1950
The winner is listed first, in CAPITAL letters.
Actor:
JOSE FERRER in "Cyrano de Bergerac", Louis Calhern in "The Magnificent Yankee", William Holden in "Sunset Boulevard", James Stewart in "Harvey", Spencer Tracy in "Father of the Bride"
Actress:
JUDY HOLLIDAY in "Born Yesterday", Anne Baxter in "All About Eve", Bette Davis in "All About Eve", Eleanor Parker in "Caged", Gloria Swanson in "Sunset Boulevard"
Supporting Actor:
GEORGE SANDERS in "All About Eve", Jeff Chandler in "Broken Arrow", Edmund Gwenn in "Mister 880", Sam Jaffe in "The Asphalt Jungle", Erich von Stroheim in "Sunset Boulevard"
Supporting Actress:
JOSEPHINE HULL in "Harvey", Hope Emerson in "Caged", Celeste Holm in "All About Eve", Nancy Olson in "Sunset Boulevard", Thelma Ritter in "All About Eve"
Director:
JOSEPH L. MANKIEWICZ for "All About Eve", George Cukor for "Born Yesterday", John Huston for "The Asphalt Jungle", Carol Reed for "The Third Man", Billy Wilder for "Sunset Boulevard"
---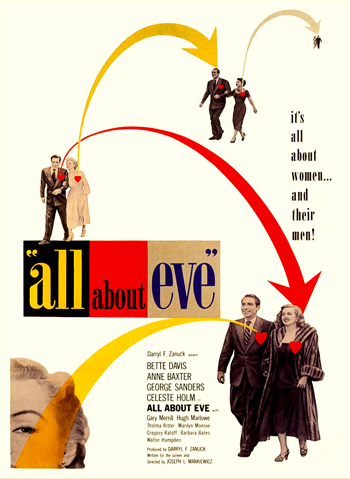 Many Hollywood films and nominees in 1950 had their roots in Broadway, as either their subject matter, or by the fact that the actors/actresses had first created their Academy Award-winning or nominated roles on the New York stage.
The Best Picture race at the start of the decade was a race between five very different films, but one thing was for sure - one of the nominees, director Joseph L. Mankiewicz's witty, theatrical, backstage comedy and expose All About Eve was the recipient of a record-breaking number of nominations - fourteen! It was the first most-nominated film with 14 bids in Oscar history. All About Eve received more nominations than any other picture in Oscar history - until James Cameron's Titanic (1997) tied the record 47 years later.
The two front-runners in the race, All About Eve and Sunset Boulevard racked up a total of 25 nominations between them.
All About Eve won six Oscars - Best Picture (producer Darryl F. Zanuck), Best Director and Best Writing: Screenplay (both for director/writer Joseph L. Mankiewicz), Best Supporting Actor, Best Costume Design (Edith Head again), and Best Sound Recording. While targeting New York theatre life, the film chronicled the intermingling lives of an aging Broadway stage actress (Bette Davis), a cynical drama critic (George Sanders), a young director, a playwriter (and his wife), a pretty but untalented protege (a bit role for Marilyn Monroe), and an aspiring and talented young actress named Eve (Anne Baxter). [As an aside, the film reinvigorated Bette Davis' career, and introduced her to cast member and fourth husband Gary Merrill.] The film was full of one-liners, including one of the most famous of all time, spoken by Davis: "Fasten your seat belts, it's going to be a bumpy night!"
Another Best Picture nominee, director George Cukor's Born Yesterday (with five nominations and one win - Best Actress), was an adaptation of Garson Kanin's Broadway stage-play comedy about an uneducated, 'dumb blonde' mistress (Judy Holliday) victimized by a rough-hewn and rude millionaire junk dealer (Broderick Crawford). One of the losing nominees was writer/co-director Billy Wilder's black comedy Sunset Boulevard (with eleven nominations and three wins - Best Writing: Story and Screenplay, Best B/W Art Direction and Set Decoration, and Best Dramatic Score by Franz Waxman), a combination horror/film noir that was both a tribute to film-making and a searing film about Hollywood and one of its fading silent screen stars of the past. [Sunset Boulevard was also distinguished as one of about a dozen films in Academy history which had nominees in all four acting categories.]
The other two nominees were the great MGM domestic comedy - director Vincente Minnelli's Father of the Bride (with three nominations and no wins) about the trials and tribulations of an overwhelmed father preparing for his daughter's (Elizabeth Taylor) wedding, and MGM's epic adventure film about explorers looking for a fabled African diamond mine and a lost explorer-husband - a colorful version of the H. Rider Haggard tales which was filmed on exotic location by director Compton Bennett and Andrew Marton, King Solomon's Mines (with three nominations and two wins - Best Color Cinematography (Robert Surtees) and Best Film Editing (Ralph E. Winters and Conrad A. Nervig)).
Joseph Mankiewicz, the previous year's twin Oscar winner (for Best Director and Best Writing: Screenplay for A Letter to Three Wives) repeated his two Oscar wins in 1950 as director and screenplay writer for All About Eve . He became the first and only person ever to win writing and directing Oscars in consecutive years. His screenplay was based on Mary Orr's short story titled The Wisdom of Eve.
Five of the cast of the Best Picture All About Eve were nominated for acting roles, but only one nominee of its cast was successful - George Sanders. Four actresses in the film were nominated and all lost). The film holds the record for having the most female acting nominees:
two as Best Actress - Bette Davis and Anne Baxter
two as Best Supporting Actress - Celeste Holm and Thelma Ritter
The Best Actor race was won by Puerto Rican-born Broadway star Jose Ferrer (with his second career nomination and his sole Oscar win) - he was a versatile, well-known stage actor/director in a virtuoso performance. He re-created his stage role as the long-nosed, eloquent, 17th century poet-sword duellist who helps his friend win a woman's love in the film version of Edmond Rostand's classic romance directed by Michael Gordon, Cyrano de Bergerac (the film's sole nomination). (Ferrer received his first Oscar nomination two years earlier for his screen debut as the Dauphin - a Best Supporting Actor role in Joan of Arc (1948). His third and last career nomination was for his Best Actor performance as dwarf Toulouse-Lautrec in John Huston's biographical Moulin Rouge (1952).)
Ferrer defeated four other well-qualified nominees:
The race for Best Actress was one of the best in the history of the Academy Awards (four of the five nominees were equally deserving). The winner of the Best Actress award was rookie film actress Judy Holliday (with her sole career nomination - and sole Oscar win for her first starring film role) reprising her priceless Broadway role as "dumb blonde" Billie Dawn, the bimbo mistress of a corrupt, rude junk-man tycoon (Broderick Crawford) in Washington DC, who is tutored with culture by a young, sensitive newspaperman (William Holden). (A year earlier, Holliday played a small part in her debut film Adam's Rib (1949).) It was the only comedic role among the nominees.
Bette Davis (with her eighth career nomination) had one of the greatest, most definitive, nominated roles of her screen life as aging Broadway actress Margo Channing. Anne Baxter (with her second and last career nomination) played the role of a scheming and ruthless younger admirer and aspiring actress Eve Harrington in the same film - All About Eve. Although both Anne Baxter's and Bette Davis' performances as competing co-stars were exceptional, they unfortunately cancelled each other out due to the shared nomination. Interestingly, their competitive tension for an Oscar was a repeat of their rivalry in the film.
[Baxter had won a Best Supporting Actress Oscar in 1945 for The Razor's Edge and so her studio 20th Century Fox unwisely placed her in the running for a lead award. She had little chance against her co-star Bette Davis or Gloria Swanson, or even Judy Holliday. If she had been placed among the Best Supporting Actress nominees, joining nominated co-stars Celeste Holm and Thelma Ritter, she might have defeated Josephine Hull, and that would have conclusively given the Best Actress award to Davis rather than Judy Holliday.]
Immortal Gloria Swanson (with her third and last unsuccessful career nomination) came out of retirement and was nominated for her performance as a once-famous silent film star Norma Desmond plotting a comeback in Sunset Boulevard, one of the best films about Hollywood ever made. Another nominee was Eleanor Parker (with her first of three unsuccessful career nominations) for her hardened wife and woman-in-prison role as Marie Allen in director John Cromwell's prison drama Caged (with three nominations and no wins).
George Sanders (with his sole career nomination - and Oscar win) won for his Best Supporting Actor role as the skillfully, manipulative, conspiratorial and ascerbic-tongued drama critic Addison DeWitt in All About Eve. The other nominated Best Supporting Actor roles that didn't win included:
Sam Jaffe (with his sole career nomination) as Doc Riedenschneider - the criminal mastermind of the safecracking job in director John Huston's The Asphalt Jungle. (Earlier in Jaffe's career, he had played the High Lama in Capra's Lost Horizon (1937) and the title role in the classic adventure tale Gunga Din (1939))
Erich von Stroheim (with his sole career nomination) as the ex-director/valet-butler Max Von Mayerling who faithfully serves former wife/silent film queen Gloria Swanson in Sunset Boulevard. (Earlier in his acting career, he appeared in Grand Illusion (1937), and his directorial masterpiece was Greed (1924)) [Reportedly, von Stroheim was insulted by his supporting nomination and threatened to sue Paramount]
Jeff Chandler (with his sole career nomination) as pacifist Apache Indian leader Cochise in director Delmer Daves' Broken Arrow (with three nominations and no wins), a pro-Indian western starring James Stewart
Edmund Gwenn (with his second and last career nomination) as a benevolent counterfeiter named Skipper in director Edmund Goulding's comedy Mister 880 (the film's sole nomination)
Josephine Hull (with her sole career nomination - and Oscar win) won the Best Supporting Actress award for her re-created role (from Broadway) as Stewart's exasperated, distraught, long-suffering sister Veta Louise Simmons in Harvey. (Hull earlier had also re-created her stage role in the un-nominated film comedy about a poison-serving Aunt, Arsenic and Old Lace (1944).) The other Best Supporting Actress nominees included Nancy Olson (with her sole career nomination) as aspiring screenwriter and ingenue Betty Schaefer in Sunset Boulevard, and Hope Emerson (with her sole career nomination) as sadistic prison guard Evelyn Harper in Caged. Two co-stars of All About Eve were nominated: Thelma Ritter (with her first of six unsuccessful career nominations) as Birdie (Bette Davis' maid), and Celeste Holm (with her third and last career nomination) as Karen Richards.
As a footnote, rising sex starlet Marilyn Monroe was featured in two nominated films (although un-nominated herself) - as the dumb blonde stereotype character of Miss Casswell ("an actress - a graduate of the Copacabana School of Dramatic Art") in All About Eve, and in a cameo role as Louis Calhern's mistress in The Asphalt Jungle. She also made her first and only Academy Award ceremony appearance this year, presenting the Technical Achievement Oscar.
Edith Head won two Best Costume Design awards this year, one for a color film (Samson and Delilah), and one for a black and white film (All About Eve).
The last of the big studio bosses received an Honorary Award, MGM's Louis B. Mayer, "for distinguished service to the motion picture industry."
Oscar Snubs and Omissions:
The most obvious omissions in 1950 involved British director Carol Reed's three-time nominated thriller The Third Man. Although justly awarded the Best Cinematography Award (to Robert Krasker for his striking visuals) and nominated for Best Director and Best Editing, the film was not nominated for Best Picture, or Best Actor or Supporting Actor (for Orson Welles as the evil Harry Lime) or Best Screenplay (for Graham Greene's intelligent and suspenseful script), or for Anton Karas's zither theme music.
An odd choice was made for Best Foreign Film -- René Clément's The Walls of Malapaga (Fr/It).
Quite a few superb acting performances were neglected this year, including:
Marlon Brando as paraplegic WWII veteran Lt. 'Bud' Ken Wilozek in Fred Zinnemann's The Men (with only one nomination for Carl Foreman's Best Writing, Story and Screenplay)
Gregory Peck as mustached, aging gunslinger Jimmy Ringo in Henry King's noirish western The Gunfighter (with only one nomination for Best Writing, Motion Picture Story)
Clifton Webb (with three previous career nominations in 1944, 1946, and 1948 - all of which lost) as the stern but loving patriarch and "efficiency expert" Frank Bunker Gilbreth in Walter Lang's Cheaper By The Dozen (with no nominations)
Alec Guinness in a virtuoso performance as eight different murder victims in an aristocratic clan in Robert Hamer's comedy Kind Hearts and Coronets (UK) (with no nominations)
Kirk Douglas as jazz trumpet player Rick Martin, Doris Day as band singer and Rick's supportive wife Jo Jordan, and Lauren Bacall as disturbed and self-loathing Amy North in director Michael Curtiz' Young Man with a Horn (with no nominations)
Joseph Cotten as pulp writer Holly Martins in Carol Reed's The Third Man
Sterling Hayden as small-town jewel crook Dix Handley in John Huston's The Asphalt Jungle
James Stewart as vengeful Lin McAdam in Anthony Mann's adult-psychological western Winchester '73 (with no nominations)
Director John Huston was nominated for the astringent The Asphalt Jungle, but his film was neglected and un-nominated in the Best Picture category. Two other performances deserved at least some recognition: Nicholas Ray's great film noir In A Lonely Place with Humphrey Bogart as a hard-drinking, violent screenwriter and Gloria Grahame as a sympathetic love interest.
Although Spencer Tracy was nominated for Father of the Bride, he and Katharine Hepburn were both denied Oscar nominations for their inspired pairing as dueling husband/wife lawyers in Adam's Rib (the film's sole nomination was for its original screenplay). And both John Wayne and Maureen O'Hara were overlooked in John Ford's un-nominated Rio Grande, Ford's third and last in his celebrated 'cavalry' trilogy.