Background
---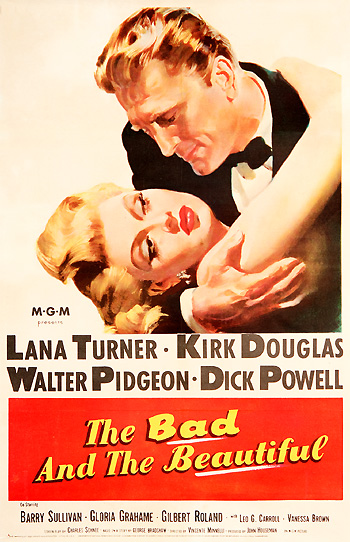 The Bad and the Beautiful (1952) is director Vincente Minnelli's (and producer John Houseman's) quintessential movie about Hollywood and moviemaking. MGM's popular hit, with David Raskin's soundtrack and Robert Surtees' great B/W cinematography, was an entertaining, noirish melodrama. It tells the steamy story of the ruthless eighteen-year rise and fall of a tyrannical, manipulative Hollywood movie tycoon - told in flashback and from multiple perspectives (from the point of view of a director, actress, and Pulitzer Prize-winning writer).
The brilliant film about the behind-the-scenes machinations, workings and atmosphere of the celluloid world was written by Charles Schnee and based upon a short story (in the February 1951 issue of Ladies' Home Journal) by George Bradshaw titled "Tribute to a Bad Man." The film's original title was changed because it didn't make any reference to the female star, Lana Turner. [Note: The central character, a recently-deceased, scheming, unscrupulous Broadway producer, was shifted to a living, megalo-maniacal Hollywood producer seeking a comeback.]
It was one of the earliest in a long succession of films (some cynical and critical) that satirized, skewered or examined the makings of films in the tawdry 'Hollywood' dream factory, including (among others):
Show People (1928)
A Star is Born (1937)
Preston Sturges' Sullivan's Travels (1941)
Billy Wilder's Sunset Boulevard (1950)
the same year's and studio's Singin' in the Rain (1952)
Joseph L. Mankiewicz' The Barefoot Contessa (1954)
Robert Aldrich's The Big Knife (1955)
The Goddess (1958)
Vincente Minnelli's Two Weeks in Another Town (1962)
The Oscar (1966)
Truffaut's Day for Night (1973)
John Schlesinger's The Day of the Locust (1975)
The Last Tycoon (1976)
The French Lieutenant's Woman (1981)
Robert Altman's The Player (1992)
Trailers, however, described this picture as "not the Hollywood of yesterday, but Today's Hollywood, showing the working of both a great motion picture Studio and behind-the-scenes of what makes Hollywood tick."
Viewers and critics have enjoyed the inside jokes and guessing the possible associations between the fictional, prototypical characters and real-life movie personalities:
| | | |
| --- | --- | --- |
| Actor/Actress | Film Role | Fictional Prototype(s) |
| Kirk Douglas | Film producer Jonathan Shields (the "Bad" of the film's title) | Darryl F. Zanuck |
| | | David O. Selznick (whose father was Lewis J. Selznick, similar to Shields' father); Selznick had a similar Svengali relationship with starlet Jennifer Jones (the Lana Turner character), and made a similar costume drama (Anna Karenina, or The Scarlet Empress) and Civil War epic (Gone With The Wind (1939) = The Proud Land) |
| | | Val Lewton (B horror-film producer of Cat People (1942)) |
| | | Orson Welles ("genius boy") |
| Lana Turner | Actress Georgia Lorrison (the "Beautiful" of the film's title, although originally "Bad" herself) | John Barrymore's tragic daughter Diana |
| Walter Pidgeon | Studio executive Harry Pebbel | Herman Mankiewicz |
| | | Harry Rapf (B-film production chief at MGM) |
| Leo G. Carroll | British director Henry Whitfield | Alfred Hitchcock |
| Dick Powell | Screenwriter/Southern novelist James Lee Bartlow | William Faulkner |
| | | F. Scott Fitzgerald (who was married to a Southern belle named Zelda Sayre who died in a conflagration rather than a plane crash) |
| Barry Sullivan | Director Fred Amiel | ? |
| Ivan Triesault | Director Von Ellstein | Director Erich von Stroheim |
| | | Director Josef von Sternberg |
| Gilbert Roland | Latin lover film star Victor "Gaucho" Ribera | Himself, Lothario Gilbert Roland |
| | Two female singers in film, at a Hollywood party and in a nightclub | Judy Garland, Lena Horne |
The film earned six Academy Award nominations and won five of them excluding Best Actor (Kirk Douglas lost to Gary Cooper for his role in High Noon (1952): Best Supporting Actress (Gloria Grahame), Best Screenplay (Charles Schnee), Best B/W Cinematography (Robert Surtees), Best B/W Art Direction-Set Decoration (Cedric Gibbons and Edward Carfagno; Edwin B. Willis and Keogh Gleason), and Best B/W Costume Design (Helen Rose). Unfortunately, director Minnelli was denied a nomination, and the much-praised film uncharacteristically wasn't nominated for Best Picture. He was best known and loved for his musicals, including Meet Me in St. Louis (1944), An American in Paris (1951), and The Band Wagon (1953).
Plot Synopsis
---
The film's credits play above the escutcheon (emblem or insignia) of SHIELDS Pictures, Inc. with the French words NON: SANS: DROIT (translated Not Without Right) on a ribbon below a profile of a single, medieval plumed knight. A phone rings backstage on Stage 5 for acclaimed director Fred Amiel (Barry Sullivan) as he directs a picture atop a camera boom. The apparatus, pushed by a team of laborers, looms into view for a dolly shot and closeup of a reclining female star with plunging decolletage as he accepts the telephone for a transatlantic call from Paris from independent producer Jonathan Shields (Kirk Douglas). As Amiel instructs the actress: "Say honey, could you put that other hand up around your throat?" she obliges - and then he refuses to answer the call. A second phone rings in the dressing room of actress "Miss Georgia" Lorrison (Lana Turner) and is answered by her black assistant (Marietta Canty). The camera pans left, passing the mirror's side-image of Georgia and locating her from behind before her vanity while she is adjusting a black veil for her equally-black costume. She also ignores the call and the maid apologizes that she is out, although Georgia listens in on a second extension. A third phone rings in the home of award-winning screenwriter James Lee Bartlow (Dick Powell) as he is typing his latest novel. He answers his own phone, but then bluntly tells Jonathan: "Drop dead!"
The film's similarities to Citizen Kane (1941) begin with an automobile driving up to the iron gates of the Shields movie studio [a residence resembling Xanadu] and illuminating it with its headlights. The gates are opened and the vehicle chauffeuring the three individuals from the opening vignette lets them off at the office of put-upon movie studio manager/executive Harry Pebbel (Walter Pidgeon). On their way in for an evening meeting, the celebrated star Georgia uses her lipstick to deface the Shields' Pictures insignia with a dark mustache, and then laughs aloud. [Later in the film, Shields advised her to draw a mustache on her father's photograph - now she is only following his recommendation and painting the mustache on her adopted 'father figure.'] The interior of the office holds a distinctive object that provokes memories for each of them - a framed, hand-drawn cartoon picture of a Devil (for Georgia), one of five Oscar statuettes (for Fred), and a book A Woman of Taste (for Bartlow) based upon memories of his Southern belle wife.
On the same day as the three Shields phone calls, Pebbel has assembled the three individuals - a director, actress, and Pulitzer Prize-winning writer - to "flatter" each of them and to attempt to appeal to them and persuade them to go back to work for independent producer Jonathan Shields. Following a career-damaging flop, he is now broke and exiled from Hollywood and a comeback is proposed ("after two years, Jonathan is ready to produce a picture"). The sage studio head Pebbel requests that Fred Amiel direct the picture, actress Georgia Lorrison star in it, and the novelist James Lee Bartlow write the scenario. Jonathan's three former colleagues all flatly refuse (by not responding to Pebbel), each having their own reasons for hating him:
On the name Jonathan Shields, it's impossible to raise five cents, but on Fred Amiel, Georgia Lorrison, James Lee Bartlow, I can raise two million dollars by tomorrow noon. I'm not going to beg you to say yes, I've had two years of begging for Jonathan. That's enough. I know you'll never work with him again. But he can't seem to get it through his head. Please, a favor to me, not to him. Will you give me your answer while I get him on the phone?...I know that you'll never work with him again, and I don't blame you. Why should you? You've done enough for him already, then, vice versa maybe.
The resulting episodic stories are told in flashback style. In each retrospective or narrated flashback, Shields' legendary life is seen through their eyes. In each story, their careers have benefitted from contact with him (all of them have found success in their careers), but each of them also suffered a personal price. Jonathan alienates, seduces, double-crosses, betrays, and nearly destroys each of them, in his own self-seeking, prodigious rise to the top.