Background
---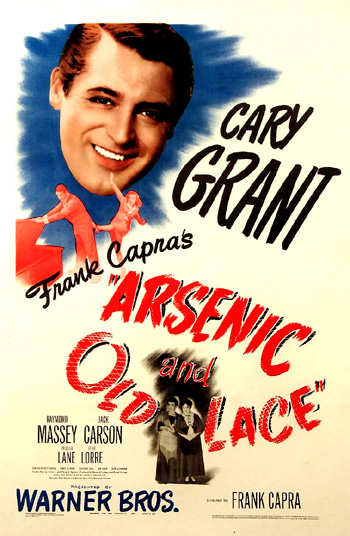 Arsenic and Old Lace (1944) is a frenzied, hilarious, madcap black comedy from celebrated director Frank Capra. The slapstick film, with murderous aunts compassionately serving up elderberry wine to elderly gentlemen - with their crazy nephew assisting by burying the unfortunate victims, is unlike most of the other reform-minded Capra-corn films with a social conscience that became his trademark, e.g., Mr. Deeds Goes to Town (1936), Meet John Doe (1941), or Mr. Smith Goes to Washington (1939). It is more similar in tone to his screwball romantic comedy It Happened One Night (1934) and to Capra's other adaptation from a Broadway play You Can't Take It With You (1938). Cary Grant does a marvelous job of exaggerated acting with constant mugging and other facial plasticity, amazing double-takes, slapstick and general befuddlement.
This macabre comedy film was un-nominated for Academy Awards. The film's screenplay was written by Julius J. Epstein and Philip G. Epstein. The macabre farce was based on Joseph Kesselring's successful Broadway play of the same name, and delayed in its exhibition and release for three years until the New York play ended its run. [Note: The film's opening was on September 23, 1944.] The original cast stars of the Kesselring play, Jean Adair, Josephine Hull, and John Alexander, were released for a short while (for four weeks, the duration of the film shoot) to reprise their roles in the film, and joined established stars - such as Cary Grant.
Plot Synopsis
---
The frenzied, energetic comedy-farce opens with the title screen after the credits play above drawings indicating that it is Halloween time:
This is a Hallowe'en tale of Brooklyn, where anything can happen - - and it usually does. At 3 P.M. on this particular day, this was happening -
A riotous fist-fight erupts during a baseball game between the Brooklyn Dodgers and the New York Yankees at Ebbetts Field. The film comments upon the unruly and foreign nature of the town of Brooklyn with the next title card: "While at the same time across the river in the UNITED STATES PROPER, there was romance in the air."
Surreptitiously in line to apply for a marriage license in the City Clerk's Office is sunglasses ("cheaters")-wearing, respected NY drama critic Mortimer Brewster (Cary Grant). An avowed bachelor ("the guy who wrote the bachelor's bible finally getting hooked himself"), he is with lovely girl-next-door Elaine Harper (Priscilla Lane), a minister's daughter. Mortimer tells the hard-of-hearing clerk (Spencer Charters): "I don't want this to get out for a while." When his cover is blown, he retreats from curious photographers looking for a story and hides in an already-occupied public telephone booth. Exasperated, he exclaims to his fiancee that he is reluctant to be "hooked" while she patiently listens to his outburst:
Mortimer: Don't you understand? How can I marry you? Me! The symbol of bachelorhood. I've sneered at every love scene in every play. I've written four million words against marriage. Now I'll be hooked to a minister's daughter. And not only a minister's daughter but a girl from Brooklyn. And look at ya! Look at the way you look. What is that infernal contraption you've got there? (He gestures toward her lapel pin)
Elaine: (calmly) That's a pin I borrowed from your aunts. You know what they say, Mortimer, something borrowed and something...
Mortimer: Yeah, yeah, yeah, I know that bromide. Something borrowed and something blue, old, new. Rice and old shoes, carry you over the threshold, Niagara Falls, all the silly tripe I've made fun of for years. Is this what I've come to? I can't go through with it. I won't marry you - and that's that!
Elaine: (adoringly and softly) Yes, Mortimer.
Mortimer: What do you mean, "Yes, Mortimer"? Aren't you insulted? Aren't you gonna cry? Aren't you gonna make a scene?
Elaine: (wet-eyed) No, Mortimer.
Mortimer: And don't "No, Mortimer" me, either! Don't, don't you see, marriage is a superstition, it - it's old-fashioned, it's - I - I - Ohhh.
He succumbs to her wide-eyed innocence, kisses her, and then drags her back into the license bureau to be quickly and secretly hitched together.
The next title card introduces the old Brewster family mansion in the Brooklyn neighborhood: "And now, back to one of Brooklyn's most charming residential districts - -." In the cemetery's graveyard, established in April 1654, next to the house is one tombstone for JACOB JOHN VANDEMEER, died 1654, accompanied by an ominous subtitle: " -- From here in you're on your own." A elderly cop Officer Brophy (Edward McNamara) on the beat tells a younger police officer named Patrick 'Pat' O'Hara (Jack Carson) who is taking over his duties: "I'm turning over to you the nicest, the best beat in Brooklyn...This whole neighborhood just stinks with atmosphere." Mortimer's two gentle, wealthy and kindly maiden aunts live in the historical mansion on the middle-class block, with a "ROOM FOR RENT" sign posted in front:
They're two of the dearest, sweetest, kindest old ladies that ever walked the earth. They're out of this world...They're like pressed rose leaves...Their old man left them fixed for life..
Brophy insists that the ladies don't need to rent out a room, and praises their charitable nature: "They don't rent rooms, but you can bet if anybody came around looking for a room, they wouldn't go away without a good meal and probably a couple of bucks in their pocket. That's just their way of digging up people to do good to." Aunt Abby (Josephine Hull), one of the Brewster sisters, is having tea with Elaine's father, Reverend Harper (Grant Mitchell) from the church (and parsonage) next door. He disapproves of her nephew's romance with his daughter because of Mortimer's published literary work and anti-matrimonial viewpoint in: Marriage: A Fraud and a Failure:
No man with this published attitude on marriage should take any man's daughter any place at any time.
Mortimer's bizarre, eccentric younger brother, their nephew Theodore Brewster (John Alexander), fantasizes that he is President Teddy Roosevelt. His first line in the film, after Reverend Harper sneezes, indicates his "cuckoo" nature:
Teddy: I must be catching cold.
Abby: No dear, it was Reverend Harper who sneezed.
He delivers a yell of "CHAAAARGGGE" and then charges up the staircase at every opportunity while blowing his bugle, believing it is San Juan Hill all over again ("the stairs are always San Juan Hill"). The spinsters are again commended by Reverend Harper: "If I know what pure kindness and absolute generosity are, it's because I've known the Brewster sisters." The second Brewster sister, Aunt Martha (Jean Adair), arrives just as Reverend Harper is leaving - and expresses concern over Teddy:
Reverend Harper: Have you ever tried to persuade him that he wasn't Teddy Roosevelt?
Abby: Oh, no!
Martha: Oh, he's so happy being Teddy Roosevelt.
Abby: Oh, do you remember, Martha, once a long time ago, we thought if he'd be George Washington, it might be a change for him, and we suggested it.
Martha: And do you know what happened? He just stayed under his bed for days and wouldn't be anybody.
The Aunts assure the Reverend that Mortimer has made arrangements for Teddy to be institutionalized in the Happydale Sanitarium after their passing.
The newlyweds take a taxicab to Brooklyn to briefly tell their families (his aunts and her father) about their recent marriage, and their intentions to set off on a honeymoon to Niagara Falls: "We're gonna go whole hog. Niagara Falls - everybody ought to go to Niagara Falls...We've got a drawing room on the train, the bridal suite in the hotel, and tomorrow morning, we go over the falls in a barrel." Mortimer instructs the cab driver (Garry Owen) to wait for a moment before taking them to the train station. With a lascivious look on his face, he chases after Elaine for a playful tryst in the cemetery "right out here in the open with everyone looking." After emerging from behind a tree, the two are hopelessly and crazy in love:
Elaine: But Mortimer, you're going to love me for my mind, too?
Mortimer: One thing at a time.
To celebrate the news of Mortimer's marriage, his thrilled, match-making aunts (who had long ago predicted he would tie the knot) propose opening a bottle of wine, singing, inviting over a few of the neighbors, and having some wedding cake. He inquires about the whereabouts of the notes for his new anti-marriage book, Mind over Matrimony that Abby had hidden from him. While searching for his papers, Mortimer opens up the window seat where he stumbles upon and discovers the results of his spinster aunts' latest charity act - a dead body. In one of the film's classic scenes, a flabbergasted Mortimer does multiple double-takes and eyeball rolls. He wrongly believes that Teddy, who is happily digging in the cellar (thinking he is digging locks for the Panama Canal), is responsible, and is determined to get him promptly committed in the Happydale Sanitarium: "Teddy's got to go to Happydale now, at once!"
When he informs his aunts that Teddy's "killed a man," they react with laughter: "Nonsense!" And off-handedly, when they proudly admit their complicity in first-degree murder of a 'Mr. Hoskins,' he is shocked and mortified to discover their secret - and actually doubts his own sanity:
Mortimer: But there's a body in the window seat!
Abby: Yes, dear. We know.
Mortimer: You know??
Martha: Of course.
Abby: Yes, but it has nothing to do with Teddy.
Mortimer: But, but...
Abby: Now Mortimer, you just forget about it. Forget you ever saw the gentleman.
Mortimer: Forget?
Abby: We never dreamed you'd peek.
His inquisitiveness forces them to explain their own "little secret" - they poison unsuspecting old men who seek lodging with their special homemade elderberry wine (a gallon mixed with a teaspoonful of arsenic, a half-teaspoon of strychnine and a "pinch of cyanide") as a charity act - to end their loneliness and find ultimate peace: "If we could help other lonely old men to find that same peace, we would." They are blissfully unaware that their humanely murderous acts ("Murders Incorporated") are immoral. Abby also delivers one of the film's most memorable lines - a sentimental remembrance of the last words of one of their victims:
One of our gentlemen found time to say, 'How delicious!'
When Mortimer insists that they must do something, Abby reprimands him for acting crazy: "Now Mortimer, you behave. You're too old to be flying off the handle like this." But he continues to argue with them: "He's dead and you can't leave him in there." He is astounded when they tell him that Panama Canal-building Teddy assists them in digging graves and conducting proper and "decent" Christian ceremonies and burials in the cellar graveyard for the "yellow fever" victims that must be buried immediately to prevent contagion - and that their latest victim "makes twelve...just an even dozen."
Meanwhile, Elaine has become impatient for being held up and delayed after repeatedly signaling with a sexy whistle (Here Comes the Bride) for Mortimer. She is surprised by his weird behavior, appearance and angered by his desire to get rid of his new bride (because he cannot explain what he has learned to her):
Mortimer: Oh, Elaine, I'm so sorry but something happened.
Elaine: What'd you do? Lose your nerve? Hey, where's that look I was gonna see so often? (She whistles into his ear)
Mortimer: Whoa, no, stop. Don't whistle in my ear, please.
Elaine: Mortimer, what is wrong? Look at your hair.
To protect his two aunts with a plausible coverup plan - a responsibility that takes precedence over his duty to his new wife - Mortimer phones Judge Cullman (Vaughan Glaser) to try to have an obviously-crazy Teddy blamed for the murders and legally committed to the state institution: "We've got to do something about Teddy immediately. Well, it's practically a matter of life and..." While Mortimer is shouting into the phone during a long-distance call to the Happydale Sanitarium to make arrangements, a thirteenth elderly prospective boarder, Mr. Gibbs (Edward McWade) inquires about a room for rent. When the sisters determine that the gentleman is a suitable match for their poisoning scheme (he's "all alone in the world" and lives in a hotel), they bring out the decanter of spiked elderberry wine and offer him a glass. When Mortimer finishes the call, he absent-mindedly pours himself a glass and is about to drink the potion himself until it slowly dawns on him:
Martha: Mortimer, ah, ah, ah, ah!
Mortimer: Darling, don't 'ah, ah, ah, ah.' I'm nervous now. Don't do that.
Abby: Mortimer, not THAT.
Mortimer: Oh! (He exhales and looks over at the gentleman about to sip the wine.) (screaming) Iiiiaaaaaoooo! (He points accusingly and chases the old man out the front door.) Get out of here. Do you want to be poisoned? Do you want to be murdered? Do you want to be killed? Do ya? (He pratfalls over a living room chair) (To his dismayed aunts in a scolding tone) Look, you can't do things like that. Now I don't know how I can explain this to you, but it's not only against the law. It's wrong! It's not a nice thing to do. People wouldn't understand. He wouldn't understand. What I mean is, well, this is developing into a very bad habit.
Mortimer discusses committing Teddy at Happydale with the head of the insane asylum, Mr. Witherspoon (Edward Everett Horton), but he is reluctant to accept the schizophrenic patient: "We have several Theodore Roosevelts at the moment and it would lead to trouble. Oh trouble, oh. Now if he thought that, uh, well, Mr. Brewster, we're a bit short of Napoleons at present, Bonaparte..." When Mortimer leaves to draw up commitment papers with the Judge, he urges his "darling" sisters: "Don't do anything," and vainly instructs them to not let anyone into the house.
The manic lunacy is enhanced by the stealthy, nocturnal arrival of additional crazy characters on-the-run. Their shadowy silhouettes appear at the front door: a short, demented, round-eye-balled and disreputable plastic surgeon "Doctor" Herman Einstein (Peter Lorre), and Mortimer's other long-lost brother - a tall, insane, murderous, cold-blooded, sadistic killer named Jonathan (Raymond Massey). Jonathan recognizes "the home of my youth," returning as a "prodigal" son after twenty years. He bears a striking resemblance to "Boris Karloff" (and the monster in the horror film Frankenstein (1931)) [Karloff originated the homicidal role on stage, but wasn't released to star in the film, so Massey was 'made up' to look like him], due to a previous bungled, face-scarring third operation (in a period of five years) while the careless Einstein was drunk: "That last face - I saw that picture too just before I operated. I was intoxicated." Jonathan is frequently angered when reminded of the hideous resemblance that the doctor's "work" created.
They have come for refuge to the respectable Brewster house since it will be the perfect quiet hideout for them while eluding police. They need to find time for another face-changing operation ("this time, I want the face of an absolute non-entity"), and to dispose of the "hot stiff" body of 'Mr. Spinalzo' in their car's rumble seat - he was killed because of Jonathan's murderous reaction: "He said I looked like Boris Karloff."
Judge Cullman signs Mortimer's commitment papers and admits, to Mortimer's horror, that he feels "rather lonely" and occasionally drinks wine. As Mortimer leaves, the Judge wonders in a quip: "I may be committing the wrong Brewster." Teddy races down the stairs, finding Dr. Einstein and Jonathan seated at the Brewster's dinner table. He greets them: "Gentlemen, be seated." The two of them ironically rise to attention. Having heard enough of the rantings and ravings of Teddy, Jonathan orders him: "Teddy, I think it's time for you to go to bed." Teddy responds in typically amusing fashion:
Teddy: I beg your pardon. Who are you?
Jonathan: I'm Woodrow Wilson. Go to bed.
Teddy: No, you're not Wilson, but your face is familiar. Let me see. You're not anyone I know now. Perhaps later on my hunting trip to Africa. Yes, you look like someone I might meet in the jungle.
The two aunts consider the intimidating Jonathan (and his companion) a terrifying menace ("This is not your home, and I'm afraid you can't stay here"), but cannot convince them to leave. After witnessing Teddy's digging of a body-sized hole ("just the right size") in the basement (in Panama), Jonathan and the doctor plan to bring their corpse into the house later that night. After they move their car next to the house (outside the window), Jonathan shocks his two aunts by bursting through the open window above the window seat and announcing: "We're bringing the luggage through here." When the lights are turned out and everyone is forced to retreat to their upstairs rooms, Teddy carries the new "yellow fever victim" Mr. Hoskins from the window seat down to the cellar ("canal") for burial, according to a pre-arranged plan with his aunts. Then in the dark, Einstein and Jonathan sneak downstairs and clumsily haul the body of Mr. Spinalzo into the house (and hide him in the window seat) when Elaine unexpectedly arrives searching for Mortimer. They suspect that she is a "dangerous" witness - they threaten her, gag and half-strangle her, and drag her into the cellar.
The hyper-active commotion causes the two aunts, dressed in black mourning gowns in preparation for the burial rites, to inquire about the noise - Jonathan explains: "We caught a burglar, a sneak thief...I'll handle this." Elaine escapes from Einstein's grasp as Mortimer returns to the house, and is promptly overwhelmed by the news everyone offers him. Mortimer finally grasps that his brother Jonathan has returned after being reminded of a childhood torture: "When you were tied to the bedpost, the needles under your fingernails." He angers his deformed sibling with another allusion to the Frankenstein monster: "Where'd you get that face - Hollywood?" Everyone wishes to hide the evidence of past crimes, and all of them volunteer to sleep on the window seat. Preoccupied and suddenly non-committal, the high-strung Mortimer suddenly recognizes Elaine ("What are you doing here?") - she is hysterically dismayed by the stumbling blocks to their honeymoon plans and storms out of the house:
We were married today. We were going over Niagara Falls in a barrel. Your brother tries to strangle me. A taxi is waiting, and now you want to sleep on a window seat...You can take your honeymoon, your wedding ring, your taxi, your window seat, and put 'em in a barrel and push 'em all over Niagara Falls!